If you need copy-paste Instagram poll questions to skyrocket views and user engagement, you're in luck.
This epic list of 143 poll questions will help your clients—from life coaches to food bloggers—skyrocket their reach.
You'll also find essential IG tools tips, and FAQs to build a successful poll strategy on Instagram.
Let's jump right in.
Table of Contents
What are Instagram Story Polls?
Instagram polls work through the interactive sticker found in Instagram Stories.
The poll sticker allows two different answers ('Yes' or 'No' by default) to a customizable question. You can check the poll results as soon as they're entered by respondents.
There are three reasons why an Instagram Story poll is an excellent tool for social media marketing agencies.
First, a poll is a form of interactive content that can pique the interest of your client's target audience. And depending on your question, they can be really fun to answer.
The second reason is that polls help you extract valuable insights from the target audience.
Lastly, you can create polls using a mix of content types—not just images. You can add a poll on top of your client's most viewed Instagram video, their feed posts, and so on.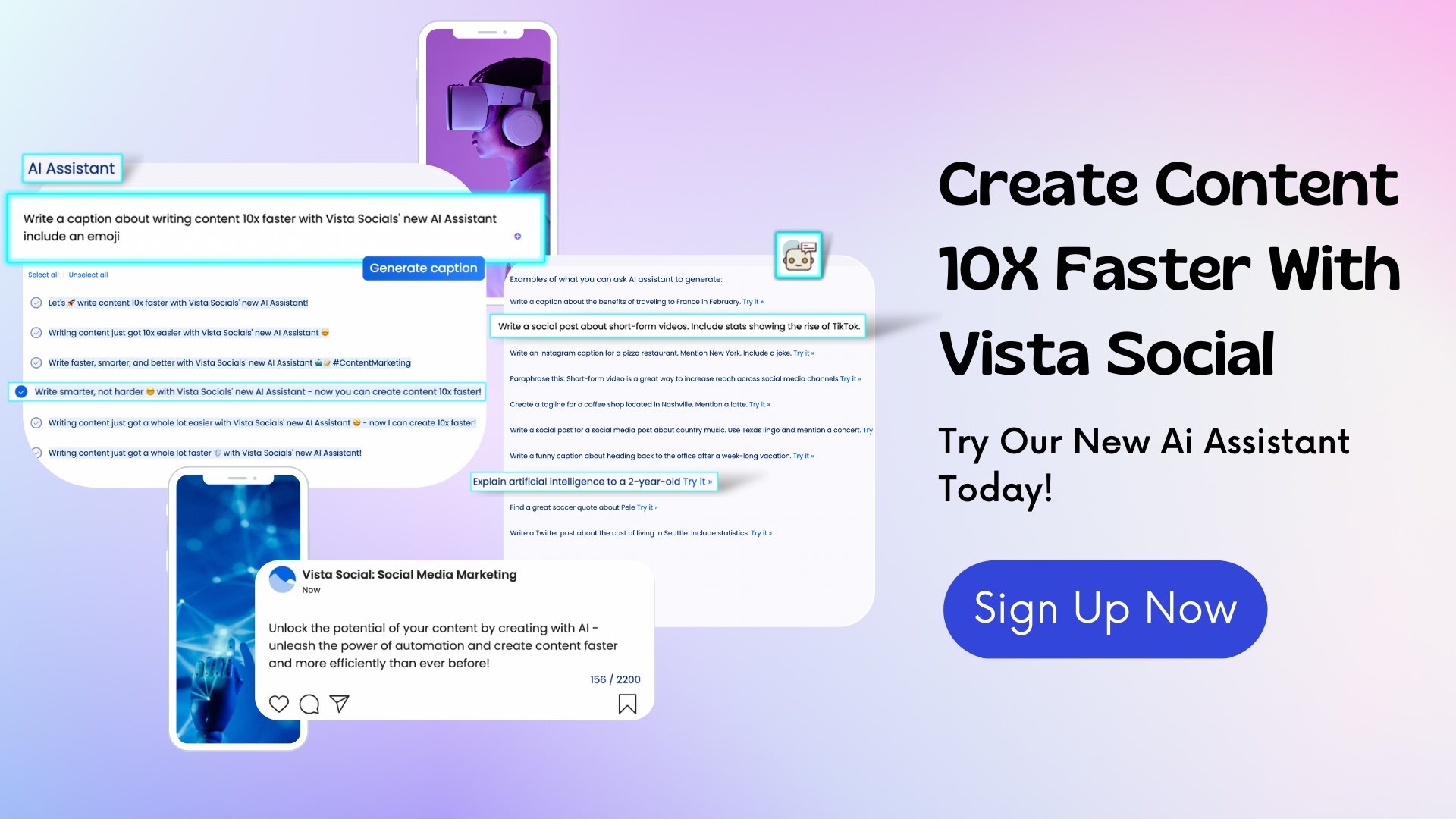 Ready to give your content workflow and posts a major upgrade? Try AI Assistant powered by ChatGPT today! 🤖💙
Instagram poll questions formats 
Poll question formats you use can vary and depend on each client's campaign and objective.
Check out the common Instagram poll question format types below.
This or that
Instagram polls that ask to choose between This or That is a great way to spark audience interest and narrow their focus on things your clients want to highlight.
For instance, you could run a versus style poll for a client's retail product or fashion-related campaign. You can even use it as a way to conduct competitive research.
Yes or No
Leverage Yes or No style polls to get a quick pulse on client audiences' feelings or two cents about a product, offer, or topic.
It's a more creative and engaging way to get instant feedback and understand your client's audiences and their preferences better.
Emoji sliders
Using reaction stickers or emoji sliders in your Instagram polls offers a more fun and interactive way to capture viewer responses.
You can select the Emoji Slider in the Instagram Stickers icon on the menu to add it to your Story.
Instead of selecting or providing answers to your client's poll questions, the polling feature allows audiences to rate how much they enjoy something on a sliding scale.
For instance, viewers can choose a heart eyes emoji to show high interest.
Consider using emojis associated with each client's brand to give the poll questions a more branded experience for audiences and boost engagement.
Would you rather
Create polls that ask "Would You Rather" questions to get audiences to vote between two scenarios.
Creating Instagram polls like these are engaging since they're fun and they get audiences to imagine what they would rather do.
Ensure you present your scenarios clearly and concisely so it only takes a few seconds to understand the question, or you'll take the fun out of the experience. 
5 Top Tips for Asking Instagram Poll Questions in 2022
To make the most out of Instagram polls, here are a few quick tips you should remember:
1. Add teasers (for polls with a correct answer)
You can use Instagram polls to bring traffic back to your client's website. A cool trick is to insert a link sticker that takes users to your client's web content and write a caption like "tap here for the answer!"
Suggested Article: 431+ Best One-Word Instagram Captions to COPY & PASTE! [2022]
2. Use emoji slider polls
Emoji sliding scale polls are not only entertaining, they also allow you to collect a range of answers from Instagram users.
Polls are also incredibly flexible. You can customize the emoji, edit the question, and combine it with a range of other stickers and text.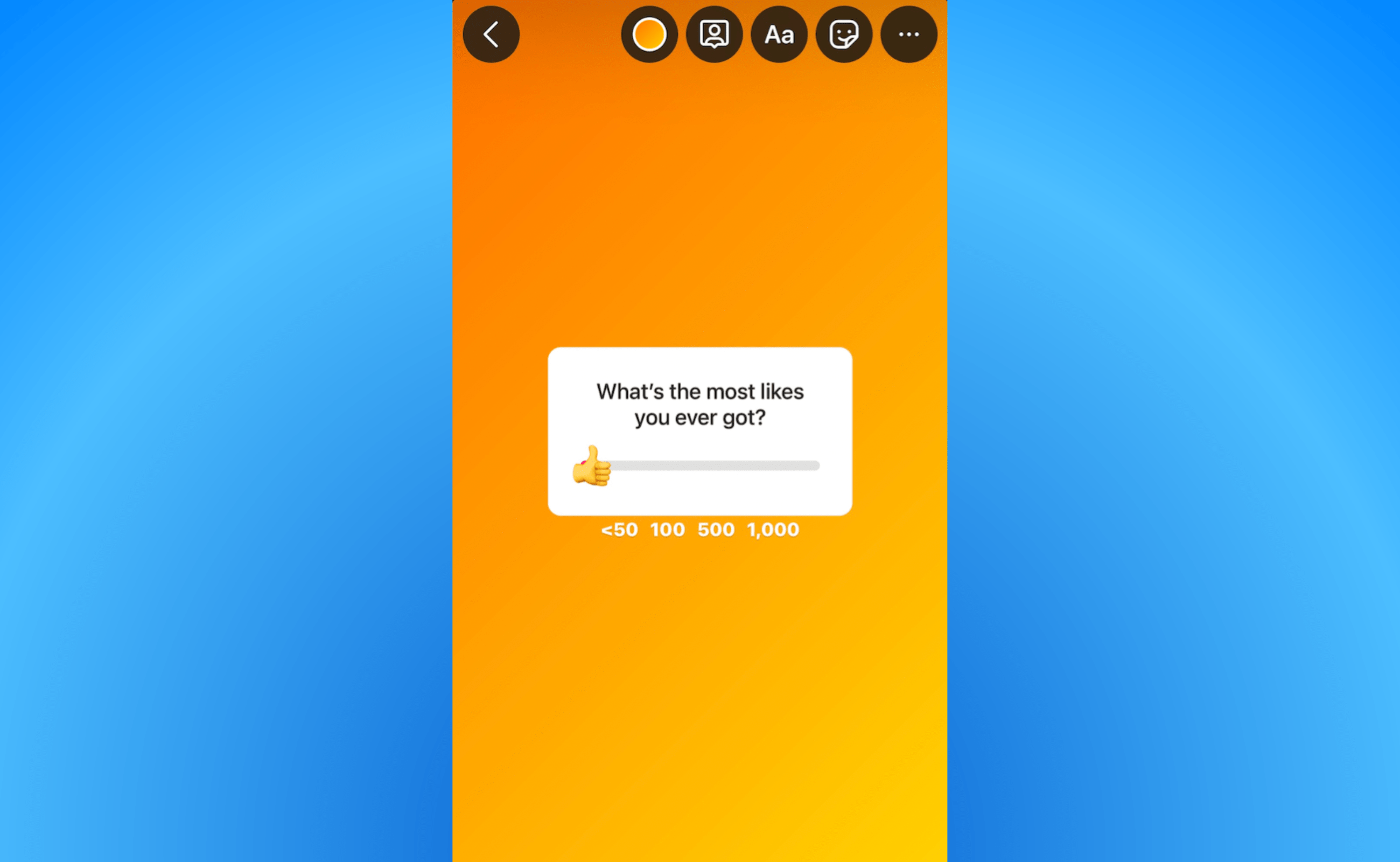 3. Let them pick what's better
If you can't decide between two options—no matter what it is about—you can always let your client's audience make the choice. For example, if your client recently launched two versions of the same product, ask them which version they prefer.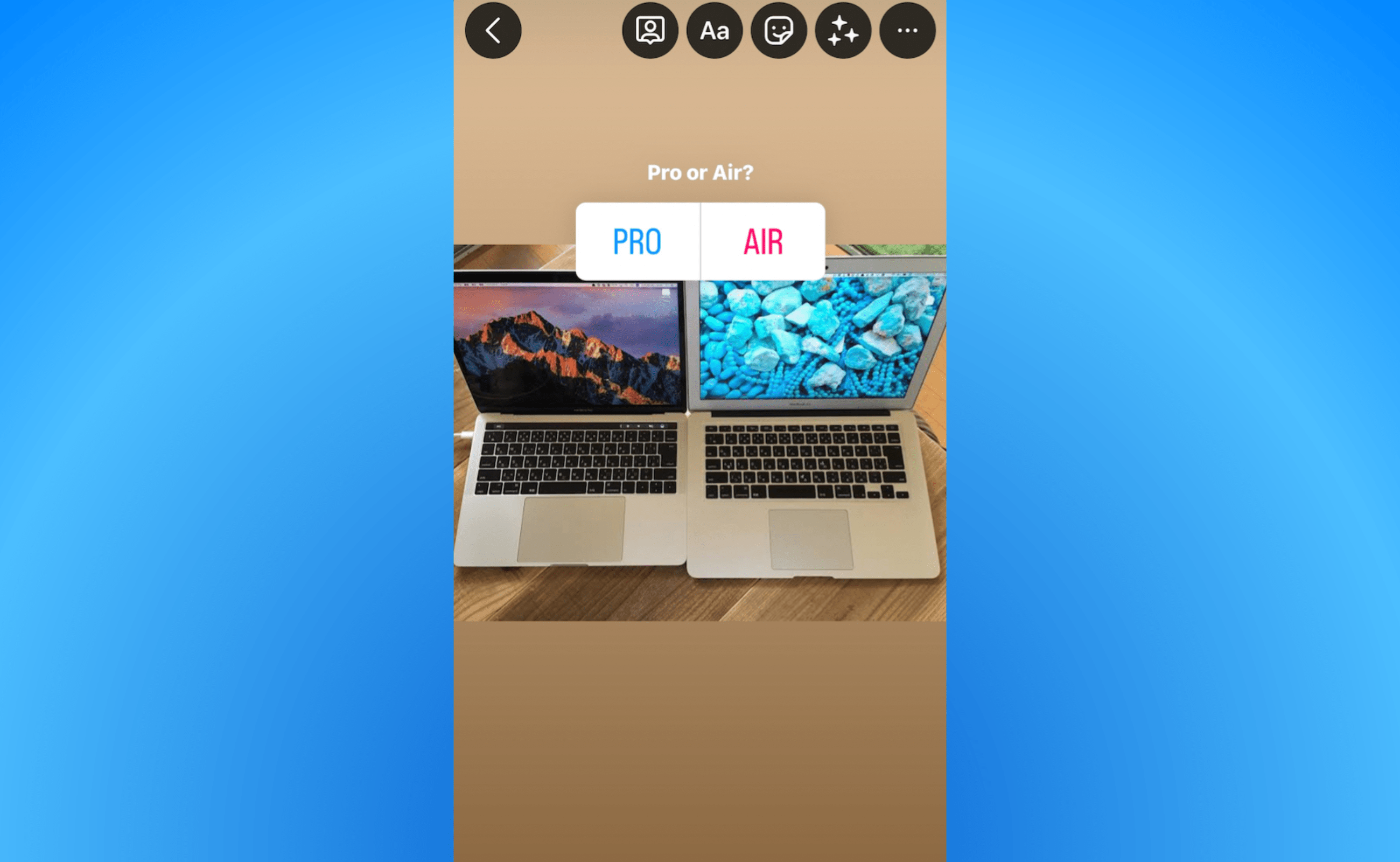 4. Use quizzes
Running a quiz with multiple choices on Instagram story is technically a poll. The only difference is, you can add up to four possible answers instead of just two.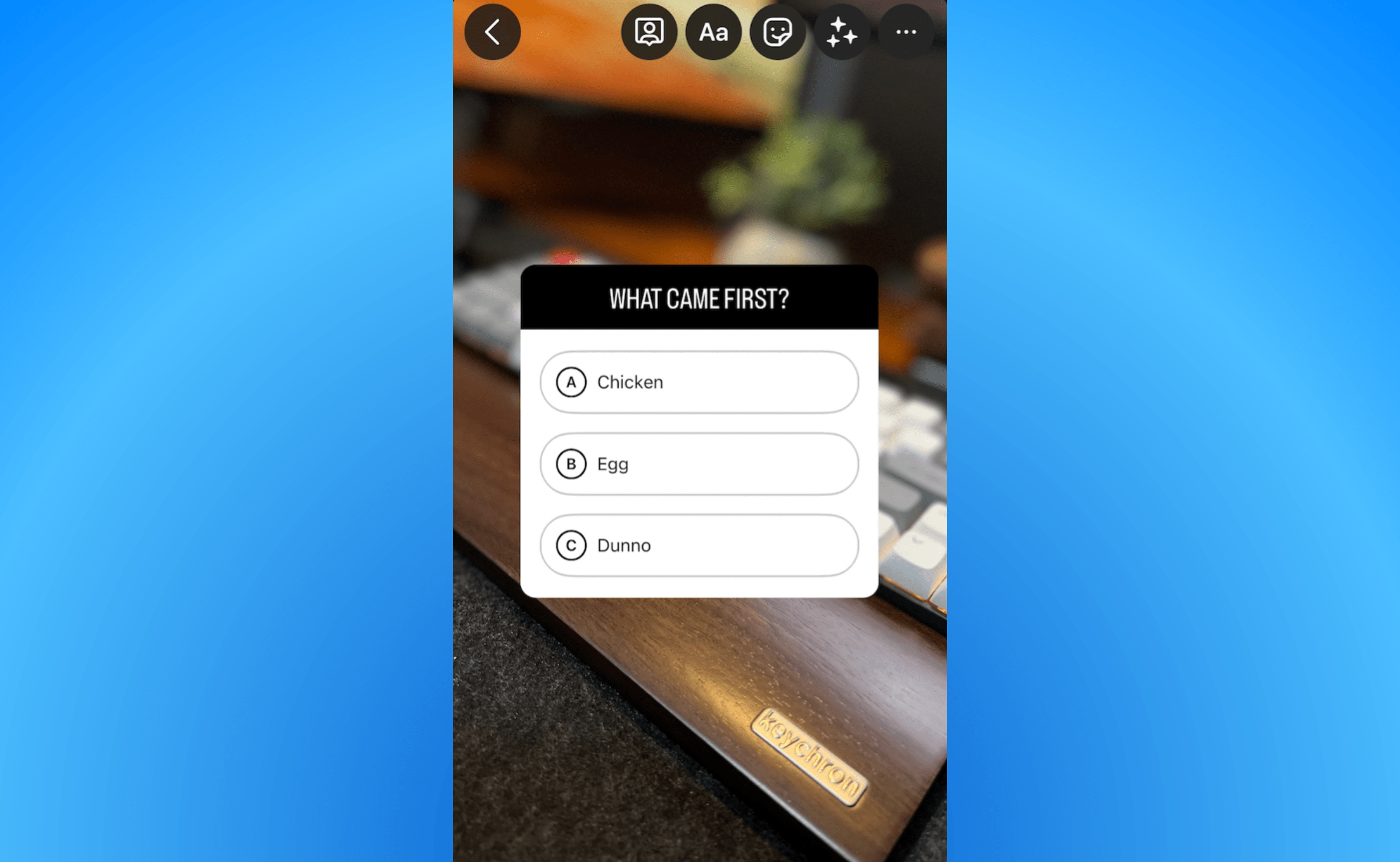 5. Time your polls wisely
To maximize the visibility of your client's poll, pick a time when you usually get the most engagement.
For starters, publish Stories between 11 AM and 12 PM on Mondays, Wednesdays, and Fridays. Just be sure to analyze user engagement and fine-tune your posting schedule over time.
Pro tip: Use Vista Social to create an automated posting schedule for your client's social media—not just on Instagram, but pretty much every other relevant social media network as well.
For more information, check out our in-depth comparison on Loomly vs Hootsuite vs Vista Social.
143 Instagram poll questions to ask your followers in 2022
Ready to have fun with Instagram poll stickers?
It's about time we get to the juicy stuff.
Best Instagram poll questions for generating user engagement in 2022
Let's kick things off with funny Instagram poll questions you can ask anytime.
Not only are these questions charming, they're also a great way to get to know your follower base on a personal level. These are also funny things to comment on Instagram posts, so read on and have some fun with these ideas.
1. Which superhero would you rather be in real life?
Ask your audience to pick between two famous superheroes, understand how their associated superpowers relate to your client's product's features, and use that information for future messaging. If they picked "The Flash," emphasize how your client can help their audience get speedy results.
Suggested Article: How to Get Followers on Instagram Without Following
2. How focused are you?
Ask this question simply to catch the audience off-guard and spark engagement. Some of the possible answers could be: A) Extremely focused, B) Sometimes focused, or C) The background image looks cool.
3. Which celebrity would make a …?
Vampire, werewolf, immortal—think of any noun and a couple of celebrities who could play the part.
4. Would you rather have this or that?
Think of two equally-rewarding things and have the audience worry about which one to choose.
A good example would be: "Would you rather have $50,000 monthly or $50 million right now?"
5. Do you like pineapple on pizza?
Some issues, like putting pineapple on pizza, divide people into two contrasting groups—usually resulting in intense, in-depth discussions.
Additional user engagement polls for Instagram in 2022
6. POV: You're a billionaire, but will lose one of your senses. What will it be?
7. You can have a lifetime supply of any food, but you can only choose one.
8. Have you ever answered a poll with a random answer?
9. For $1 million, you need to spend one week on a deserted island with just one tool. What will you bring?
10. Pick one: Love, wealth, or health?
11. Would you rather lose your voice or your hair?
12. Which fictional character would you rather have as president?
13. You can have the power to create, destroy, or change—choose one.
14. Pick a superhero you'd like to be with in a zombie apocalypse.
15. You can only use one social media platform, which is it?
Best Instagram poll questions for your client's marketing campaigns in 2022
The best questions to ask on Instagram Story aren't always fun.
Sometimes, they're asked solely to help your clients update their Instagram marketing strategy.
16. What should we talk about next?
Present your client's followers with two topics and ask them which one should they blog about next. Don't forget to share the post through the Instagram app to maximize reach.
17. How much do you love our product?
Use an emoji slider to have followers rate their experience with your client's product or service. This simple Story post allows you to extract feedback that clients can use for future improvements.
18. When do you check Instagram?
Ask your client's followers to state if they're more likely to check Instagram in the morning or at night.
19. Would you rather connect via email, live chat, or phone call?
Let your client's audience voice out their preferred communication channel. This can help B2C clients with customer service and B2B clients with lead generation.
20. What should we do next?
Present your client's audience with two items in your client's product roadmap and have them decide which one should be done first. Not only can this help clients improve user experience, it also shows followers that the brand is in-touch and listens to feedback.
Additional marketing polls for Instagram in 2022
21. Who is your favorite author from our blog?
22. What event will you attend in the coming months?
23. How would you rate your last conversation with us?
24. How do you use our product?
25. Where did you find out about us?
26. What's your preferred way to learn a new skill online?
27. When doing research, would you rather read blog posts or watch a tutorial video?
28. Would you rather shop online or in-store?
29. If you had $1,000 to spend today, what would you buy?
30. Do you use a credit card?
Best Instagram poll questions for real estate clients in 2022
If your agency manages real estate clients, here are some poll questions that can help them raise awareness and boost engagement.
31. Would you live here for a month for $10,000?
Show your client's followers a poorly-maintained living space and ask followers if they can live there in exchange for a reward. Another version of this question would be: "If you need to spend 10 days here with no supplies, who are you taking with you?"
32. Which interior/exterior do you prefer?
Have your client's audience vote for the exterior or interior design style they prefer out of two choices. Not only will this help real estate clients improve their service, it will also help them refine content ideas for their Instagram marketing strategy.
33. This property only costs $20,000: True or False?
Post about your client's most impressive and cost-effective project and have followers guess the price.
34. Wood flooring or carpet?
Create an Instagram Story poll question to help clients figure out the more popular option among two choices. You can ask similar questions regarding door finishes, yard ornaments, lighting, and so on.
Suggested Article: 487+ Best, Most Popular, Viral Hashtags for Instagram this 2022
35. What is more important when buying a new home?
Polls make it easy for real estate companies to understand what features potential home buyers look for.
Additional real estate polls for Instagram in 2022
36. Suburbs, country, or city?
37. What's the biggest reason to back out from purchasing a property?
38. Which celebrity has the best house?
39. Pools: Indoors or outdoors?
40. Your bedroom can only have one piece of furniture other than your bed, what will it be?
41. Mountainside or beachfront?
42. If you can only paint your house with one color, which would it be?
43. You're moving into a new home: which room would you remodel first?
44. Basements: Yes or No?
45. What would you do if you have a yard this big?
Best Instagram poll questions for fashion clients in 2022
For most fashion brands, building an Instagram presence is a must.
Below are some Instagram poll ideas agencies can use to help them.
46. Who rocked it better?
Compare two influencers or celebrities who wore the same outfit and have your client's followers decide who rocked it better.
47. Wear or tear?
Show off your fashion client's most unique outfits and ask their audience if they'd rather wear or tear them.
48. Left or right?
Show two outfit ideas from your client and ask their audience to pick their favorite. This poll idea can be used to compare whole outfits or individual pieces, like shoes or shirts.
49. Color choices
You can ask your fashion client's followers to pick between two colors of the same fashion item.
50. Would you buy this?
Look for original, eccentric outfits or fashion items and ask your client's followers if they would buy them.
Additional fashion polls for Instagram in 2022
51. You can only wear one color your whole life, which will it be?
52. Oversized or fit?
53. Pick your favorite fashion designer.
54. Flats or heels?
55. Slow fashion or Fast Fashion?
Brought to you by
Try Vista Social for Free
A social media management platform that actually helps you grow with easy-to-use content planning, scheduling, engagement and analytics tools.
Get Started Now
56. Do you change your bag for every outfit?
57. Which type of footwear can't you live without?
58. Have you started shopping for the Holidays?
59. Pants or shorts?
60. You can only wear one headwear for the rest of your life. What would you pick?
Best Instagram poll questions for food clients in 2022
Instagram and foodies have a long, wonderful history together. Here are some Instagram poll ideas for your food clients:
61. Where would you take your business clients to lunch/dinner?
Ask the Instagram audience where they'd take their business clients for lunch or dinner.
62. Which restaurant should I visit next?
If your client is a food blogger, you can let their Instagram followers decide which food place to cover next.
63. Would you eat this?
Look for your client's most bizarre food adventures and ask their followers if they'll give it a try.
64. You have 5 minutes to finish this with a person. Who are you taking?
Show a photo of an absurd quantity of food and ask followers who can help them finish it within a set time limit.
65. Yum or yuck?
Ask your client's Instagram audience if they think a particular food is appetizing or not.
66. One has to go
If your client is a restaurant, show their audience two items from their menu and ask which one they can live without.
Additional food polls for Instagram in 2022
67. Which condiment goes with everything?
68. How hot do you like your wings?
69. Which cuisine can't you live without?
70. You can only eat one cuisine for the rest of your life: Choose wisely.
71. Which goes better with this, wine or coffee?
72. Would you put cheese on this?
73. Can you eat this in one minute?
Best Instagram poll questions for health clients in 2022
The health niche, including topics like fitness, dieting, and home remedies, is big on Instagram. Below are some poll questions for clients in this niche:
74. How many glasses of water do you drink a day?
Using an emoji slider, ask your client's followers to share how many glasses of water they drink in a day.
75. Would you rather exercise or change your diet?
Ask your client's followers if they'd rather exercise or change their diet to lose weight. This can help your health client get more engagement from their content in the future.
76. How many hours of sleep do you get?
Let your client's audience share the amount of sleep they get using an emoji slider.
77. Diet A vs Diet B?
Do a comparison of two popular diets and let followers pick which one they'd rather use. You can also compare health products, workout routines, and so on.
78. How stressed are you?
Ask your client's Instagram followers to share the level of stress they experience using the poll sticker or emoji scale slider.
Additional health polls for Instagram in 2022
79. What competitive sport is funniest with drunk players?
80. What is your fitness goal? (lose weight or gain muscle)
81. Which celebrity would you rather spot you at the gym?
82. Do you count calories?
83. When was your last physical examination?
84. Would you rather have great teeth or great hair?
85. This is healthy. Do you agree?
86. What's the best drink for a hangover?
Best Instagram poll questions for tech clients in 2022
Tech Instagram bloggers, brands, and influencers can use polls to get their audience's opinions on specific subjects.
Here are some of the poll question ideas you can use to help them with this goal:
87. Would you upgrade to the …?
If your client is covering the latest tech in their industry, use polls to check if their followers will upgrade to the new product.
88. Product A vs Product B
Instagram users in the tech space love to compare. So, use a poll and give them a platform for their opinions.
89. Would you rock this …?
Phone cases, custom keyboards, gaming setups—there's always room for choices in the tech niche. Poll them up and see which options stick out.
90. Battle of flagships
Ask your client's followers which flagship product from premium brands, like Apple, Samsung, and Microsoft, would they choose.
91. Do you use this tech feature?
You can use polls to determine how many of your client's followers use tech features like HDR, high refresh rates, and wireless charging.
Additional tech polls for Instagram in 2022
92. What smartphone are you getting this year?
93. Which is the least useful tech feature?
94. What keyboard shortcut can't you live without?
95. If you can pick a keyboard shortcut you can use in real life, what would it be?
96. Where do go for the latest in all things tech?
97. Which gadget have you spent the most on?
98. Which tech event have you attended?
Best Instagram poll questions for life coaches in 2022
Here are five Instagram poll ideas that agencies can use to increase engagement for personal development, productivity, and personal finance clients.
99. Will you attend this event?
Polls can be used to preemptively gauge the level of attendance to events like speaking engagements and seminars.
100. What's your go-to motivation source?
Let your client's audience choose between two things, like coffee, reading, or exercising.
101. Do you turn music on or off for productivity?
If the majority of answers are "Yes," you can post about productivity music playlists.
102. Investment A or Investment B?
For personal finance clients, you can run a poll that lets the audience pick between two or more investment opportunities.
103. How often do you read books?
If your client's followers are into books, you can plan for more book-related content on their Instagram accounts.
Suggested Article: Content Pillars for Instagram: Examples, Tips, And Steps
Additional life coach polls for Instagram in 2022
104. Which quality are you looking for in a life coach?
105. Would you openly share your personal achievements with the public?
106. Which self-help book have you read?
107. Are you a night owl or an early bird?
108. How often do you procrastinate?
109. If you have an hour to interview an author, who will it be?
110. You can replicate the success of one billionaire, who will it be?
111. Which time management tools do you use right now?
112. Pick the biggest obstacle between you and your goals this year.
113. You get to drive one car for a year: take your pick.
Best Instagram poll questions for travel clients in 2022
Here are some Instagram poll ideas for your travel clients.
114. Which is the best budget destination …?
Use polls to let the Instagram community decide the best budget travel destination.
115. What is your ideal adventure?
Give the audience contrasting choices like going to the beach versus hiking.
116. If you have to spend a week without internet, where would you rather be?
Compare two destinations, be it countries, resorts, or remote travel spots.
117. One thing you must check out when traveling
Some of the possible answers to this poll would be food, architecture, and local events.
118. Should I do this?
If your client is a solo blogger, post an Instagram Story about an activity like cliff diving or parasailing.
Additional travel polls for Instagram in 2022
119. You get to migrate to a country of your choice, but you can't travel anywhere else. Where will it be?
120. Which of the continents do you want to see next?
121. Pick one: travel agency or DIY?
122. If time travel exists, which era would you go to?
123. You can only visit one:
124. Have you ever gone cruising?
125. Which foreign language would you rather learn?
126. What's the best way to travel? (car, plane, boat, etc.)
127. Which place are you least likely to visit?
128. Who are you taking on this trip?
129. If you can teleport for 10 seconds, where would you go?
130. The best view: mountain range, sunset at the beach, or northern lights?
Best Instagram poll questions for beauty clients in 2022
Finally, here are some Instagram poll questions for your beauty clients.
131. Long hair or short hair?
For beauty blogger clients, you can poll followers on whether they like their hair long or short.
132. Would you rather have good hair or good eyebrows?
In the beauty niche, polls can be used to gauge which among two things is more important for the audience.
133. Cold or hot showers?
Simple questions like this can help beauty brands on Instagram get to know their audience on a deeper level.
134. Do you sleep with makeup on?
If the audience answers yes, you can create content about tips on effortless makeup removal.
135. Do you use the same products?
Depending on the audience's answer, your client may or may not have to start talking about new products from different manufacturers.
Additional beauty polls for Instagram in 2022
136. Straight or curly hair?
137. Which lipstick brand do you trust with your life?
138. You can only wear one: eyeshadow, lipstick, mascara, or foundation?
139. If you can do the makeup of one celebrity, who will it be?
140. Which Hollywood glow-up is the most impressive?
141. What the most disgusting skincare advice have you tried?
142. Which summertime makeup item can't you live without?
143. You're no longer allowed to use this makeup item, what are you using instead?
FAQs for creating Instagram poll questions in 2022
1. Are Instagram polls anonymous 2022?
No—Instagram polls are not anonymous. The user who created the poll will be able to see the users who participated as well as their answers.
2. Can you do a poll with 3 options on Instagram?
Yes, you can create a poll with 3 or more options using the quiz sticker rather than the classic poll sticker.
3. How do I do a poll on Instagram?
To run an Instagram poll, you need to do the following:
Open the Instagram app
Create a new Story
Insert the poll sticker
Type in your question along with the possible answers
Managing Instagram polls isn't as easy as it sounds. And with tons of potential questions to ask, the planning and execution stage can be exhausting for agencies.
Vista Social takes a lot of pressure off of social media marketers by automating a bunch of social media tasks. This includes scheduling content, automating first comments, and curating content.
To learn how Vista Social can streamline your social media marketing campaigns, create a free account today.