Create content pillars for Instagram easily and quickly using the steps detailed in this guide.
Content pillars help your clients establish their brand as an authority in their space and set their audience's expectations and amass their ideal followers on Instagram.
As an added bonus, it also makes content ideation and creation easy routines for your social media marketing team.
Sounds fantastic, right?
Here, we'll help you develop content pillars that will help your agency get reliable results out of your Instagram marketing campaigns.
You'll also find a couple of IG tools that will help you through certain steps.
Let's get this show on the road.
What is a content pillar?
In simple terms, content pillars are a handful of interconnected topics that a brand focuses on when publishing posts.
Think of them as clusters.
For example, a food blogger can create content pillars based on countries and the various types of dishes each country serves.
In the example above, the first pillar can be about the famous dishes in the United States. Within that pillar, the food blogger can post dishes that are grilled, steamed, fried, etc.
The second pillar can be about dishes famous in Canada. Within that pillar, the food blogger can cover grilled, steamed, and fried dishes, etc.
Using a content pillar creates a better structure for your posts, making it easier for your audience to digest your content.
How to create content pillars for Instagram
Follow the steps below to create content pillars for Instagram.
1. Start with your target followers, work your way backward
When it comes to Instagram marketing, follower count is a crucial Key Performance Indicator.
Instead of starting from the bottom and brainstorming what Instagram users "might like," do it the other way around. Start from the top and look at what your ideal customers already like.
A straightforward strategy is to look at the Instagram profile of someone you'd call your "ideal" audience. From there, check out the brands they follow and see if they like any of their content.
You can check a profile's list of followed accounts by clicking 'Following' on their profile page.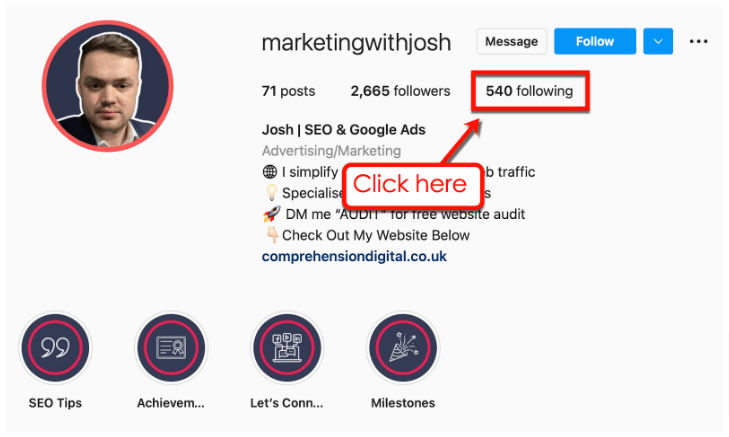 It should be easy to spot brands in a user's list of followed accounts. Simply look for brand names or logos and you'll do great.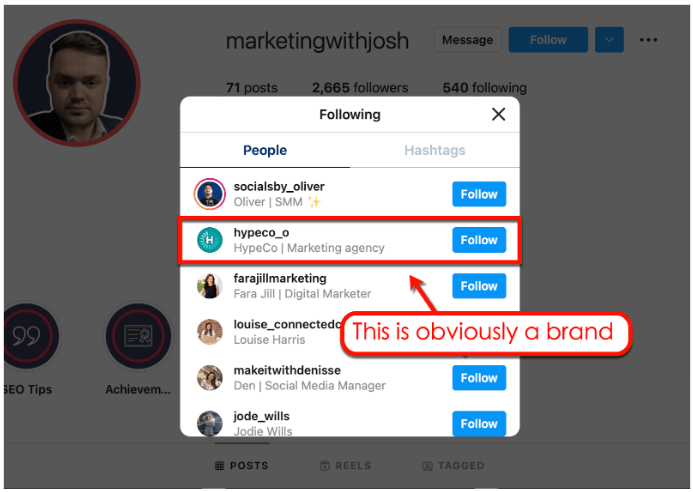 Of course, feel free to look at any competitors and observe what they've been doing. Pay close attention to the content formats they use regularly.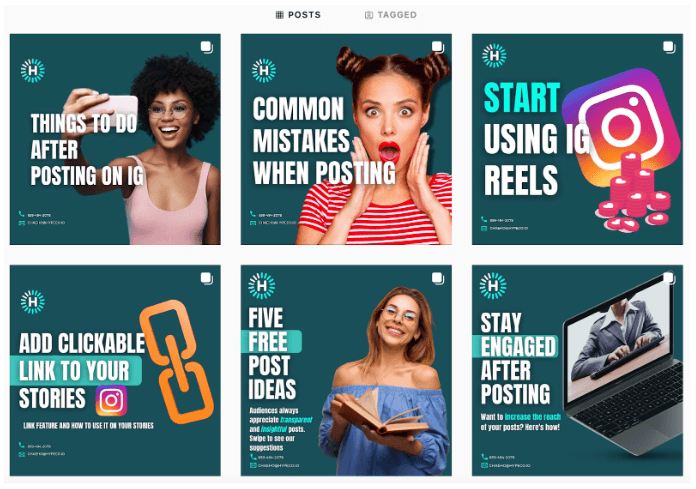 In the example above, you can see that the brand's top pillar is most likely social media marketing. At the same time, you can observe how they present their content in visual form.
While you're at it, look at details like their most viewed Instagram video, Story Highlights, and so on. Doing so will help you concoct a competitive Instagram marketing strategy for your client.
2. Check out your target audience's hashtags
The next step is to look at the hashtags that your ideal audience follows. 
Suggested Article: 487+ Best, Most Popular, Viral Hashtags for Instagram this 2022
Again, you can research this by looking at their 'Following' list.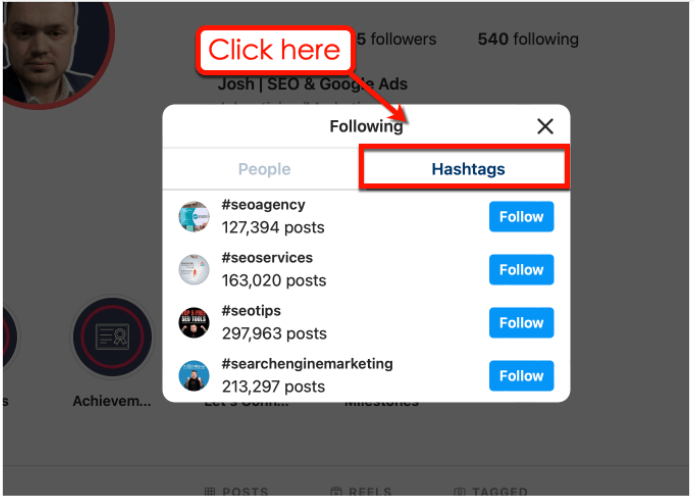 Looking at your ideal audience's followed hashtags is a more direct way to discover potential content pillars.
In the example above, it's pretty transparent that the user is into SEO. You can use that to come up with more specific content pillars, like SEO agency reviews, SEO tips, SEO tools, and so on.
3. Align your strategy with website content pillars
If your client runs a blog, there's a good chance your client already has content pillars. You can then absorb these verticals into their Instagram strategy.
The best-case scenario is, they feature a ton of visual content on their website. That should make your content ideation for Instagram a whole lot easier.
You can easily identify content pillars by looking at their blog categories.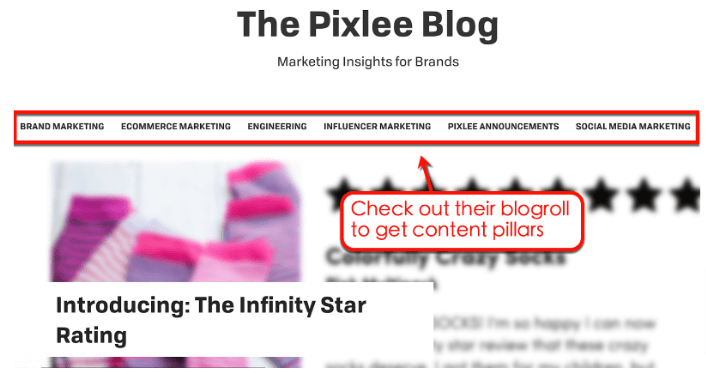 4. Check out industry trends
Keeping up with the latest trends and news in your industry will help you uncover potential content pillars for your client.
The downside is, there's no way to be sure that a particular trend will make a good content pillar for your client. You need to know your client well and understand their audience to determine if a topic will be a fit.
You can use tools like Google Trends to easily spot trends in specific industries.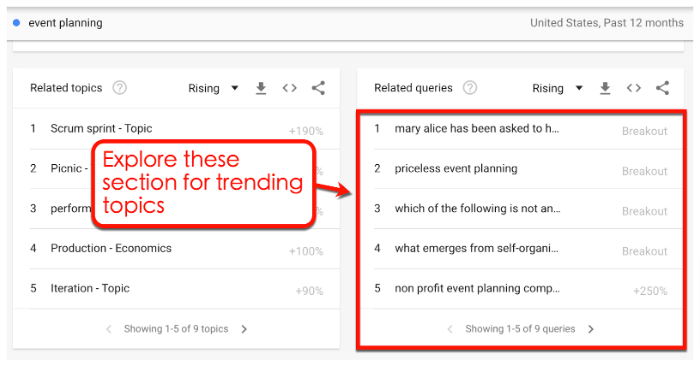 5. Define Instagram-level content pillars
Take note that you still have to define content pillars for the types of visuals you'll promote on Instagram. These will function like a style guide that your content team will follow to keep your client's messaging consistent.
For example, SEO keyword research could be your client's overarching content pillar. But, on Instagram, their pillar would be tutorial videos, infographics, and SEO-related quotes.
Those will be the types of content your client's Instagram profile should upload regularly.
Again, you can check the Instagram accounts of similar brands to collect ideas. Don't forget to analyze the little things to bolster your Instagram strategy, like:
Comments: You can borrow ideas on how to respond to comments by checking competitors' posts. Look specifically for the way they handle negative feedback and some of the funniest things to comment on Instagram. 
Hashtags: Of course, you can't ignore the hashtags that competitors use when posting content, particularly those under your target pillars. This will help you maximize the searchability of your client's content. 
Descriptions: Your clients' top competitors, of all people, should know how to craft spicy post descriptions that will engage Instagram users. Don't hesitate to borrow powerful one-liners and tweak them to match your client's brand.
Stories: Looking at the Instagram Stories of competitors is another surefire way to beef up your client's Instagram strategy. Gather ideas like the best questions to ask on Instagram Story, video types to upload, and ideas for Highlights.  
Suggested Article: 142+ Instagram Poll Questions to Ask Your Followers
Instagram content pillar examples
At this point, you should have a clear idea of what overarching content pillars to prioritize for your client's Instagram campaign.
To get your planning phase up to speed, here are a few Instagram content pillar examples you can use:
1. Product photos
Product photos should be a staple in your client's Instagram Feed.
Just be sure to tie it in with relevant and useful content. For example, you could link to an informative guide on how the product can help users solve their problems.
2. Behind-the-scenes content
Be it a story or a regular post, posting about your client's culture will make them more relatable and likable.
You can upload an Instagram Story that features the company having lunch. Or, you can upload a photo of your client's field team doing their best work.
Match it up with a motivational or reassuring caption and you're golden.
Suggested Article: 431+ Best One-Word Instagram Captions to COPY & PASTE! [2022]
3. User-generated content
If you understand the importance of influencer marketing, you should also know why it's important to utilize user-generated content.
This pertains to posts uploaded by users, including influencers, that feature your brand—directly or not. This can be a customer success story, review, or just a plain photo featuring your product.
You can feature user-generated content on your client's Instagram as is. A better approach, however, is to create custom visuals that highlight what the user or influencer said along with some branding elements.
4. Informative content
A lot of agencies feature educational Instagram posts that focus on a relevant tip or piece of data.
You can do the same with your client's Instagram marketing strategy to generate more followers and improve their credibility in their niche.
Some examples of content that falls under this pillar are:
Short-form tutorial videos
Text-based information
Data visualizations (charts, graphs, etc.)
Screenshots
Lists
Suggested Article: How to Get Followers on Instagram Without Following
Make the most out of content pillars with Vista Social
Are you ready to use content pillars to boost your client's Instagram presence?
Vista Social is armed to the teeth with features that can help you reap the full benefits of content pillars.
It can help you automate posting schedules, edit your content, obtain customer reviews, track Instagram content performance, and so on.
You can also use Vista Social to create white-label reports that can communicate your results with clients.
The best part is, you can get started with Vista Social without paying a single cent. Create your free Vista Social account today!