If you're looking for the best questions to ask on Instagram story, you came to the right place.
A lot of brands on social media underutilize Instagram Stories by only posting promotional content.
Some get it right by sharing unstaged, authentic clips that show off their company culture. They even use IG tools to auto-post Stories and pepper their content with well-researched hashtags.
But if you want to make the most out of Instagram Stories, you need to make them more interactive.
That's when it pays to ask your audience interesting questions.
Today, we'll help you come up with some of the best questions you can ask your Instagram followers.
How questions on Instagram Stories work
There are a couple of ways to ask questions using Instagram stories:
Use the 'Questions' sticker
The simplest way to ask questions on Instagram Stories is to use stickers.
When creating your story, tap the stickers icon.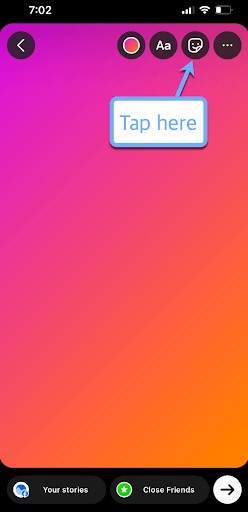 On the stickers menu, tap on 'Questions' to add it to your story.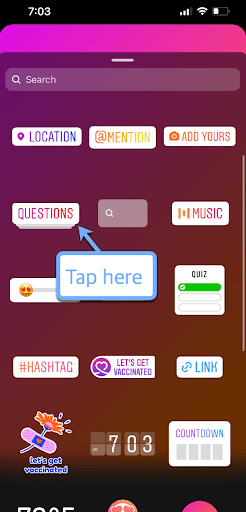 Next, simply type your question, and you're done.
Your Instagram viewers should be able to provide their answers straight from the Instagram story viewer.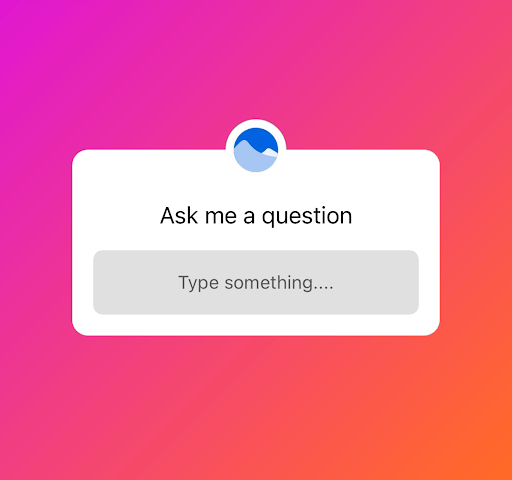 Create a poll
Instagram Stories also allow you to ask questions through polls. This is useful if your question has two possible answers.
To create a poll, create a new story and head back to the stickers menu. But this time, tap the 'Poll' sticker and edit your question.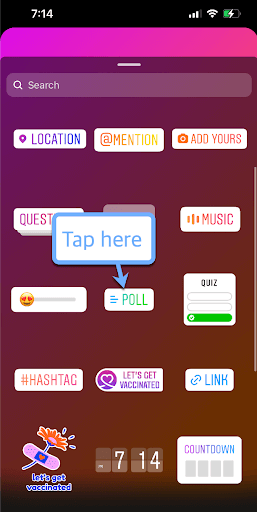 You can also edit the options by tapping on them when customizing your sticker.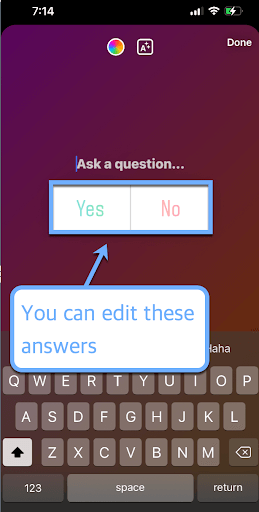 Your poll can be about the best tools or features your audience can't get enough of, what one improvement would they like about your services, etc.
Create a quiz
A fun way to ask questions via Instagram Stories is to create a quiz.
Similar to polls, quizzes work by giving your audience multiple choices. The only difference is quizzes let you add more than two possible options.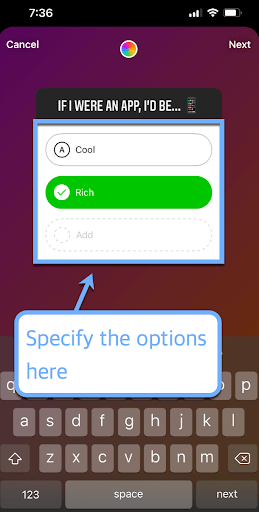 Quizzes are great if you're running a simple giveaway for your followers. Just be sure to tap on the correct answer before posting your story.
Of course, you're free to use whatever sticker that matches the question format you need.
Instagram Stories will do the rest by presenting it to your followers and tallying the results. Answers can be collected as long as your story is live.
7 questions to ask on Instagram story
Now that you know how to ask questions on Instagram Stories, it's time for some ideas:
1. Who is your favorite Instagram influencer?
You can't downplay the importance of influencer marketing.
By asking your audience who their favorite Instagram influencers are and studying the posts of the Instagram influencers they're following, you gain invaluable insights about your audience.
You learn what type of content your audience wants to consume, what's an effective way to present your content, when and what to post, etc.
2. What products would you recommend for…?
Asking your audience about the products they like will help you identify potential improvements in your own offerings.
It could even help you discover potential partnerships. You just need to pick a topic that will help you find non-competing brands.
3. What is your favorite video on Instagram?
Do you ever dream about creating the most viewed Instagram video?
You can borrow inspiration from Instagram videos that are already popular with your audience. Simply ask them to share their favorite Instagram videos, view them yourself, and take some notes.
4. What do you love/hate about our product?
If there's a group of people who can tell you if something's wrong with your product, it's your own customers.
It's pretty much social media listening on a direct level.
You can also ask your audience about the things they love about your products or services. By identifying what works, you can build on that feature and model future offerings around it.
5. What feature would you like to see implemented next?
Questions on Instagram Stories allow you to leverage customer feedback for product development.
A good example is to ask them about the features they want to see in the future.
The mere gesture of asking for your audience's input is good enough to foster loyalty. Even if you can't follow through with all requests, let your audience know that they have a voice.
6. Ask about something fun
Your Instagram, your rules.
Nothing feels more authentic than an Instagram story question about something fun.
For example, if you know how to add multiple pictures on Instagram story, ask your audience to choose their favorite. You can do this when picking winners for an Instagram photo contest.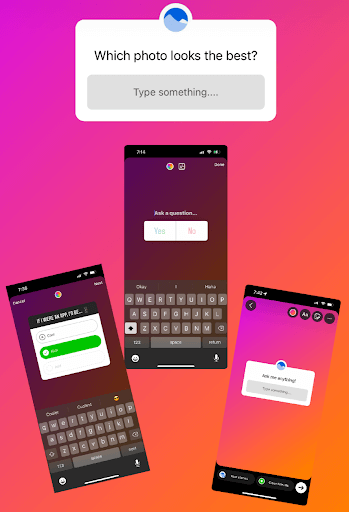 It's also a good idea to ask questions that will help you get to know your audience better. Some other ideas include:
How old were you when you discovered that 'gruntled' is an actual word?
What weekend destinations would you recommend this holiday? 
If you had superpowers, what is your superhero name?
What book are you reading right now?
No cheating: what's the last song you listened to?
What is your most exciting moment?
What is your favorite childhood treat?
What is your most embarrassing moment?
What is your worst online shopping experience?
What is your dream guy or dream girl?
Pro tip: You can add multiple pictures to a single Instagram Story using grid layouts or photo stickers.
7. Let them ask anything they want
Questions on Instagram Stories can work both ways.
Rather than asking your audience questions on social media, you can answer theirs instead.
Brands can do this using the questions sticker and typing in "ask me anything" or something similar.
In addition to engaging your audience, this also gives you the opportunity to address their most pressing concerns.
Expect to receive inquiries about your products and your brand's story.
If you're an SMM agency, you may also receive Instagram-related questions from other marketers, like: 
What are the best ways to get more Instagram followers?
When is the best time to post on Instagram?
How can I get more likes on Instagram?
Which Instagram marketing tools would you recommend?
How to add multiple photos to Instagram story?
How does a typical day look for your social media managers?
What's the first thing the CEO or Founder do on a Monday morning?
What are your ultimate, best of the best strategies for running paid advertising campaigns?
Start asking questions on Instagram
Asking questions on Instagram Stories can drastically improve your social media engagement.
It's a fun and engaging strategy for gathering feedback, identifying top competitors, finding potential influencers, and more.
The questions above should help you understand the true potential of Instagram Stories. Now, it's your turn—what would you like to know about your followers?