Loomly vs Hootsuite vs Vista Social: which SMM platform deserves your money?
The internet is laden with social media management and marketing platforms that can do a bunch of neat stuff.
Sure, most of their core features are similar, like post scheduling and audience engagement tracking. But when it comes to the implementation of those features and pricing, the differences are glaring enough for marketers to favor one particular platform.
In this post, we'll compare three of the most powerful social media platforms in the market.
Apart from their social media marketing features, we'll also factor in their pricing plans, unique tools, and a few weaknesses.
TL;DR: Vista Social is the BEST platform for SMEs in terms of features and pricing
Whether you're an established brand or still learning how to start a digital marketing agency with no experience, Vista Social is the clear choice if you need a sophisticated social media management platform that does it all for a fraction of the price.
It has automated post scheduling, analytics, reporting, team collaboration features, and a selection of other tools that make other platforms seem outrageously overpriced.
Overview: Loomly vs Hootsuite vs Vista Social
Bold prediction: this is NOT your first comparison or listicle about social media marketing tools. In fact, you probably already went through dozens of posts about Instagram tools, content planners, and whatnot.
With all that being said, you're probably familiar with how this goes.
Before anything else, here's a quick look at our top contenders:
Loomly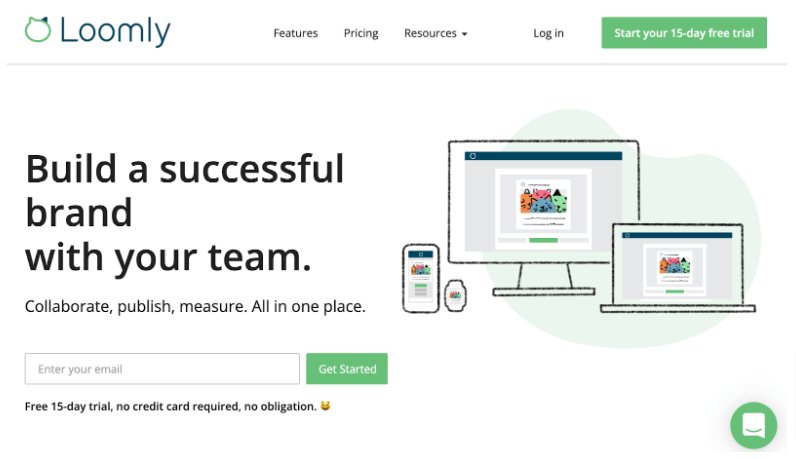 Loomly markets itself as a "brand success platform," but everything about it screams social media management. It lets you schedule posts, manage your content assets, track social media analytics—pretty much everything you'll find in a competitive social media marketing platform.
Loomly Supported Platforms
Facebook
Instagram
LinkedIn
Pinterest
Twitter
YouTube
TikTok
Google Business Profile
Snapchat
Hootsuite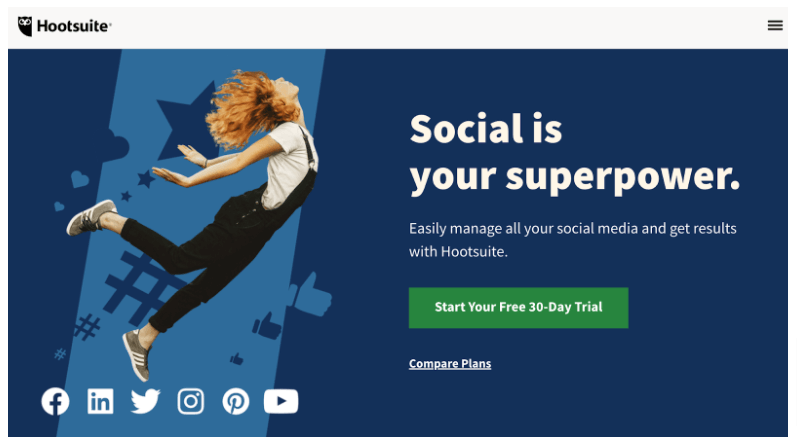 Undeniably, Hootsuite is probably the most popular name in this post. It is a full-featured social media marketing platform that lets you manage every aspect of your campaign straight from your browser.
Hootsuite Supported Platforms
Facebook
Instagram
Twitter
YouTube
LinkedIn
Pinterest
Vista Social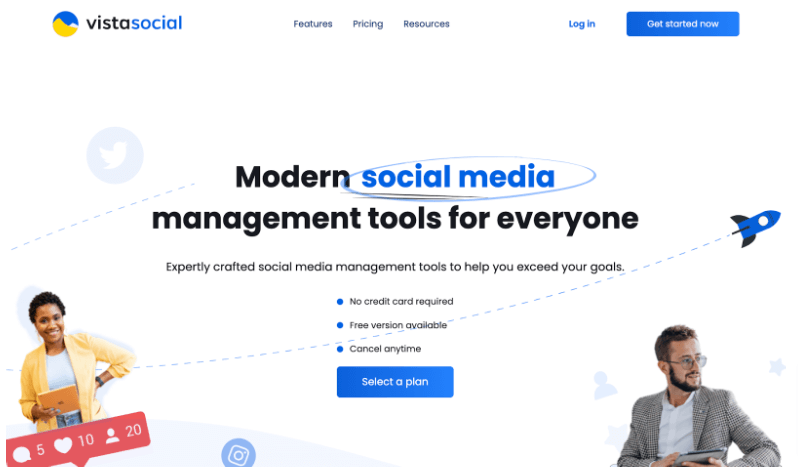 Last but definitely not least, Vista Social is a modern, user-friendly, and feature-packed social media management software.
Regardless of company size, Vista Social is ALWAYS the most cost-effective way to manage and grow your social accounts. You can use it to come up with post ideas, schedule multiple posts via an automated calendar, stay on track of social media messages, measure engagement metrics, and many more.
Vista Social Supported Platforms
Facebook
Google Business Profile
Instagram
LinkedIn
Reddit
Twitter
TikTok
Pinterest
YouTube
Bitly
TrustPilot
Yelp
TripAdvisor
OpenTable
Social media marketing features comparison
To kick things off, here's a quick, side-by-side comparison of our contenders' features. Take note that, for some features, we're looking at the entry-level, standard plan of each platform.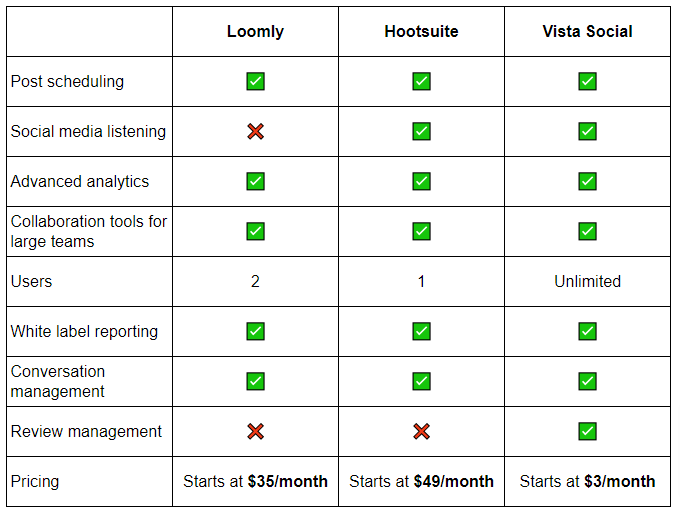 Loomly pros and cons
Loomly is widely considered a great Hootsuite alternative in terms of functionality. It even offers a few extra features that put it slightly ahead of Hootsuite.
Loomly pros
Good user experience: Use the intuitive, single dashboard to quickly access Loomly's advanced features.
Customizable team workflows: Configure approval and content planning workflows for any digital marketing team structure.
Post ideas and content library: Generate ideas for social media posts and manage assets in one place.
Hashtag suggestions: Spice up any post with hashtags on the fly using Loomly's hashtag suggestions.
Loomly cons
No social media listening: Loomly doesn't have a built-in listening tool for social media accounts.
No review management: You can't use Loomly for anything outside of social media management.
No free plan: Although Loomly offers a time-limited trial, it doesn't have a free plan you can use indefinitely.
Hootsuite
Hootsuite is a time-tested social media marketing platform with loyal customers consisting of agencies, socal media managers, and individual brands. But in recent years, the platform started lagging behind new platforms in terms of innovative features.
It does, however, come with essential features that still make it relevant.
Hootsuite pros
Loads of integrations: Thanks to Hootsuite's age, it supports numerous integrations with third-party service providers.
Employee advocacy tools: Hootsuite Amplify is a value-added service that consolidates employee advocacy efforts.
Hootsuite Impact: Measure the ROI of your social media campaigns using advanced analytics.
Good customer support: Hootsuite offers multiple ways to contact and connect with them for support.
Hootsuite cons
Expensive: The Hootsuite "Professional" plan, which is the standard plan, is already more expensive than other platforms.
No team access for entry-level plan: The standard plan is only good for one user and a limited number of social accounts.
No review management: Despite the high pricing, Hootsuite lacks in the reputation management department.
Vista Social
Finally, let's take a look at the pros and cons of Vista Socal—the platform designed to disrupt the social media management market. It is designed for social media managers, marketing agencies, individual brands, and even regular users.
Vista Social also supports the posting of different types of media, including images and videos.
Vista Social pros
Wide range of supported platforms: Vista Social supports several social networks, including video sharing sites like YouTube and review service sites like TrustPilot.
Create posts in bulk: Quickly switch between creating posts for YouTube, Instagram, Facebook page, and everything in between while using the same editor.
Most streamlined social media calendar to date: Schedule and track unlimited posts for all social profiles in one interactive calendar.
Manage reviews: Vista Social lets you manage and use customer reviews as user-generated content to enhance your content marketing.
Track tasks: Easily message members, approve posts, and assign flexible team tasks like brainstorming funny things to comment on Instagram and communicating with leads.
Extremely cheap: Pay only $3 per socal profile for unlimited users and unlimited posts.
Smart publishing: Automate content curation by specifying content sources and configuring distribution channels.
Vista Social cons
No ads manager: Perhaps the only thing missing from Vista Social's strong lineup of features is an ads manager, which could be useful for ad campaigns.
Pricing: Loomly vs Hootsuite vs Vista Social
It's true that every social media management platform has its own pros and cons.
That brings us to another important factor to consider, especially if you're searching for ways how to grow a digital marketing agency on a budget: the pricing. 
Looking for a free version?
Loomly currently does not offer a free version. It does offer a 15-day free trial plan—no credit card required.
Hootsuite does not offer a free version, but you can start a 30-day free trial. However, you need to provide your blling information, be it your credit card details or PayPal account.
Vista Social offers a free version for up to 1 user. You can add 3 social profiles and get access to ALL its premium features such as post scheduling, conversation management, and basic reporting.
Cost for managing 3 profiles or less
Loomly charges $26 per month for a plan that allows two users. Hootsuite's monthly price is at $49 per month for one user.
Vista Social's free version allows you to manage up to three social media profiles while giving you access to all of its features.
Cost for managing up to 35 profiles
For agencies that manage up to 35 profiles, using Loomly will cost you $129 per month for teams of 14. With Hootsuite, you'll need to spend a whopping of $739 per month for teams of 5.
Vista Social will only charge you $105 per month for 35 social profiles for unlimited users.
Cost for managing larger teams with 35+ profiles
Loomly's "Premium" plan costs $269 per month. It lets you manage up to 50 social profiles and add up to 30 users.
If you want to use Hootsuite, expect it to be measurably more expensive than $739 per month (plans with custom limits are only available as quote-based solutions).
But with Vista Social, you can easily and accurately calculate the cost by multiplying $3 with the number of profiles you need to manage. For example, if you have 50 social profiles, you only need to spend $150 per month total.
It's that simple.
Summary: Loomly vs Hootsuite vs Vista Social
In terms of features, pricing, and team collaboration, Vista Social is the clear winner.
With the exception of social media ad management, Vista Social does everything that heavy-hitters in the market do. You can also access all of its features for a significantly cheaper price.
You don't even need to spend a single cent to see these features for yourself. Get started today by creating your free account.