You don't need Hemingway-level writing skills to create engaging photo dump captions. (Caption #117 below works like magic for boosting engagement and building buyer confidence!)
You also don't need fancy IG tools to accomplish marketing goals with photo dumps.
All you need is the perfect photo dump caption and you're golden.
Take a look at how it works.
Table of Contents
Photo dump meaning: What's in it for marketing?
An Instagram photo dump is essentially a carousel post, which can contain up to 10 photos and videos. It is exactly what it sounds like: a "dump" of raw, unedited content that tells a story, shares a mood, or conveys a message.
Some Instagram creators use the "#photodump" hashtag to put their photography skills—not their editing or Instagram's filters—in the spotlight.
That means that, although none of the photos are edited or filtered, they are handpicked according to the quality of each shot. They also often follow an aesthetic theme, creating a seamless and engaging photo dump experience.
Check out this example from Instagram user and digital creator Kevin Schertl.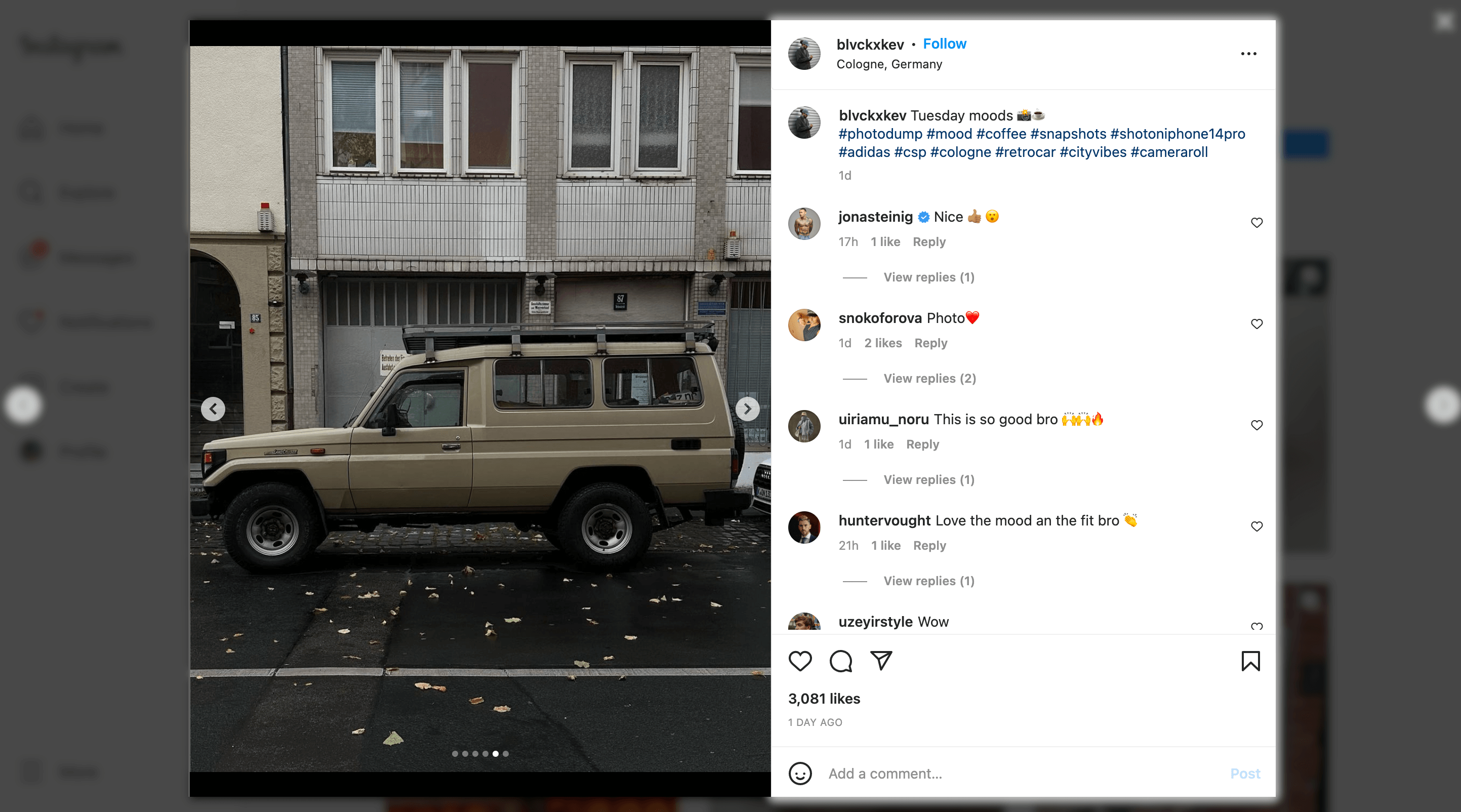 Below are a few additional benefits of uploading Instagram photo dumps:
They're easy to make. Your agency can pop out a photo dump for your client without investing hours into photo editing. Just upload the photos as a reel, slap on a creative photo dump caption, and you're done.
Show authenticity. Photo dumps are perfect for showcasing your client's internal company culture and building relatability. They give users an authentic, unadulterated look into your client's organization, the people in it, and their shared vision.
Repurpose old photos. If your client has assets gathering virtual dust, throw them into a photo dump to squeeze value out of them. You can repurpose behind-the-scenes video footage, impromptu photos around the office, designs that never made their way into publishing, and more.
Pack more information into a single post. A photo dump can communicate more information than just one picture. This can be augmented with the right content types and caption you'll use.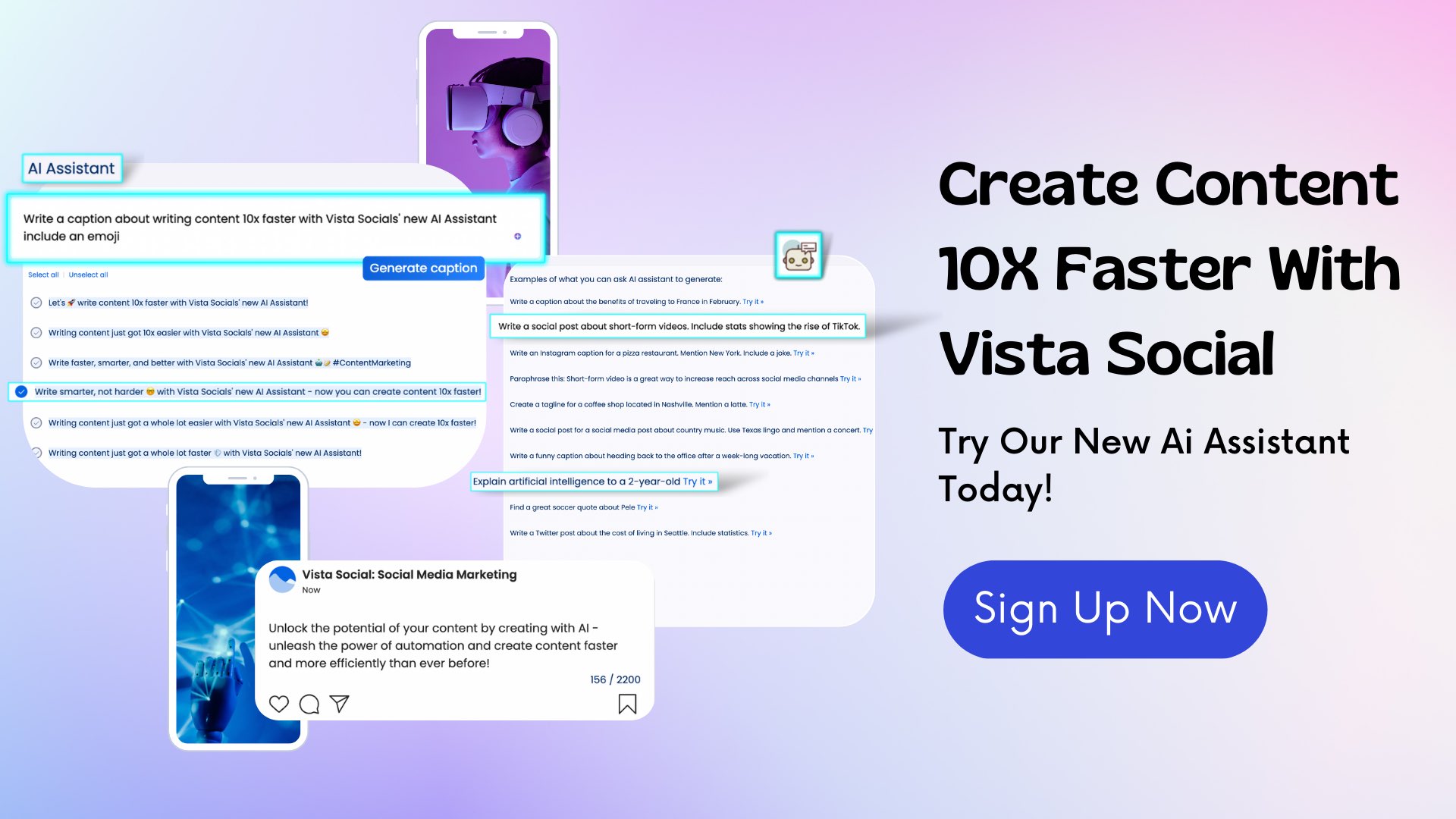 Ready to give your content workflow and posts a major upgrade? Try AI Assistant powered by ChatGPT today! 🤖💙
120+ best photo dump captions for Instagram
Make the most out of your photo dump with these 120+ caption ideas:
"Hi."
"Backyard photo shoot."
"Entire weekend in one dump."
"A sweet glimpse of our culture."
"Weekend photo dump."
"[name of event] photo dump."
"Just another roundup."
"Enjoying the little things in life."
"Grateful for these moments."
"Clearly, we couldn't pick just one photo."
"Monday/Tuesday/Wednesday/Thursday/Friday/Saturday/Sunday mood."
"Life is what happens while you scroll through Instagram."
"Random collection from over a thousand pictures."
"Some pics from the last week."
"A casual reminder that life is full of beauty."
"A casual reminder that happiness is a choice."
"Before and after."
"Excuse us, we have memories to share."
"Welcome to the best days of our lives."
"What happens if you give your team a camera."
"Post more unedited photos, they said."
"Everybody's gotta live."
"How is the [your client's product name] made?"
"[Holiday name] photo dump."
"More unedited pictures fresh from the office."
"Swipe left to make your day."
"We're all about winning…and making lovely memories."
"Dump day."
"This could be on a highlight reel."
"One post to rule them all ."
"Weekend mood board."
"Great weekend reveal."
"Choose your fighter."
"Meet the team."
"[Year] vision board."
"One man's photo dump is another's treasure."
"That's too many pictures…said no one ever."
"Life is too short to edit everything."
"Life is too short for aesthetic photo dump captions."
"Lost files—found and shared."
"Swiper, no swiping."
"Quick update."
"Life right now."
"A series of fortunate events."
"Our digital junk drawer."
"All the fun pics from our trip."
"Deleted scenes."
"A historic night for team [your client's company]."
"Album: recent."
"Our company in pictures."
"My life in pictures." [If your client is an individual blogger or influencer]
"Swipe for a surprise."
"One subtle flex after the next."
"These are the memories we never want to forget."
"Less perfection, more authenticity."
"Random photo dump."
"How we strive for perfection."
"Workplace culture done right."
"No time for the ordinary."
"What's been happening lately."
"Which picture gives you heart eyes the most?"
"Here's what really happened at [name of event]."
"When I said 'I love it here,' I meant it."
"A photo dump of all that's important."
"Unedited pictures hot off the camera roll."
"They told me to use anything from my own camera roll."
"…and, not once did we catch anyone looking at their phones."
"A company that eats together, stays together."
"Weekly roundup."
"Photo dumps are like vlogs…but in pictures."
"IG is our scrapbook."
"Proof of life."
"This is how we do it."
"Stolen moments."
"Camera crumbs."
"Stick around (sweet surprise at the end)."
"Morning/Afternoon/Evening dump."
"POV: You're checking our camera roll."
"Core memories."
"Home sweet home [or office sweet office]."
"Swipe for the weekend reveal."
"Captured moments. Circa: [date]."
"The world is our corkboard."
"Look for the awesome in each moment."
"Here's our latest film roll."
"The archives."
"Category: Our team."
"Our world."
"Having the time of our lives."
"Just pick one for today's IG post, they said."
"A collection of moments compiled this month."
"Life moves pretty fast. If you don't stop and look around once in a while, you could miss it." — Ferris Bueller
"Grind city."
"#photodump."
"Too many pictures, so little time."
"What are the 10 most recent photos from your camera roll? No cheating."
"Just a girl/boy on Instagram."
"Can we skip ahead to the good part?"
"Our company in 10 pictures [or less]."
"…and then we got to the good part."
"Work hard, play harder."
"Life lately."
"Paparazzi has been insane lately."
"(We) felt cute, might photo dump later."
"Digital drunk drawer."
"A crate full of moments."
"What the inside of our company looks like."
"Marketing agencies be like."
"Previously on [your client's company]."
"My vision board IRL."
"Current mood board."
"IYKWIM."
"Am I right?"
"Unrolling the B-roll."
"A little of this, a little of that."
"Dedicating this post to the best people."
"At [your client's company,] we work hard so you don't have to."
"Just me." [If your client is an individual]
"Will create a scrapbook soon—photo dump for now."
"Results, passion, and great friends."
"[Event] moments captured for your viewing pleasure."
"We love the real moments."
"They came for the job, but stayed for the family."
"We met as friends, but now we're family."
"Meet the people behind [your client's product]."
5 Ways to get maximum engagement with photo dumps
While important, the caption is just a part of a photo dump.
Here are five proven ways to get the most marketing value out of your photo dumps:
1. Define your goals
Identify your marketing goals to determine which photos should be included in your photo dump.
Do you want to build trust and raise buyer confidence? Curate a photo dump with user-generated content.
Do you want to establish your client's brand identity and increase brand awareness? Create a photo dump with behind-the-scenes pictures of your client's team.
Are you looking to generate user engagement? Incorporate interactivity into your photo dumps with these methods:
Ask questions
Run contests
Use Calls-To-Action (CTAs) that encourage users to leave a comment
Your photo dump strategy changes drastically depending on the marketing goals you want to achieve. Without clearly-defined goals, you may end up wasting time on photo dumps that serve no purpose.
2. Use comments wisely
Utilize the comments section to provide more information, inject more hashtags, and engage your client's audience.
Remember, photo dump captions work best when they're short. This makes the entire Instagram post cleaner, punchier, and authentic.
If you need to include more information, automate first Instagram comments using a tool like Vista Social.
On the "Publish" tool, write your comment in the "Leave first comment" field under the preview panel.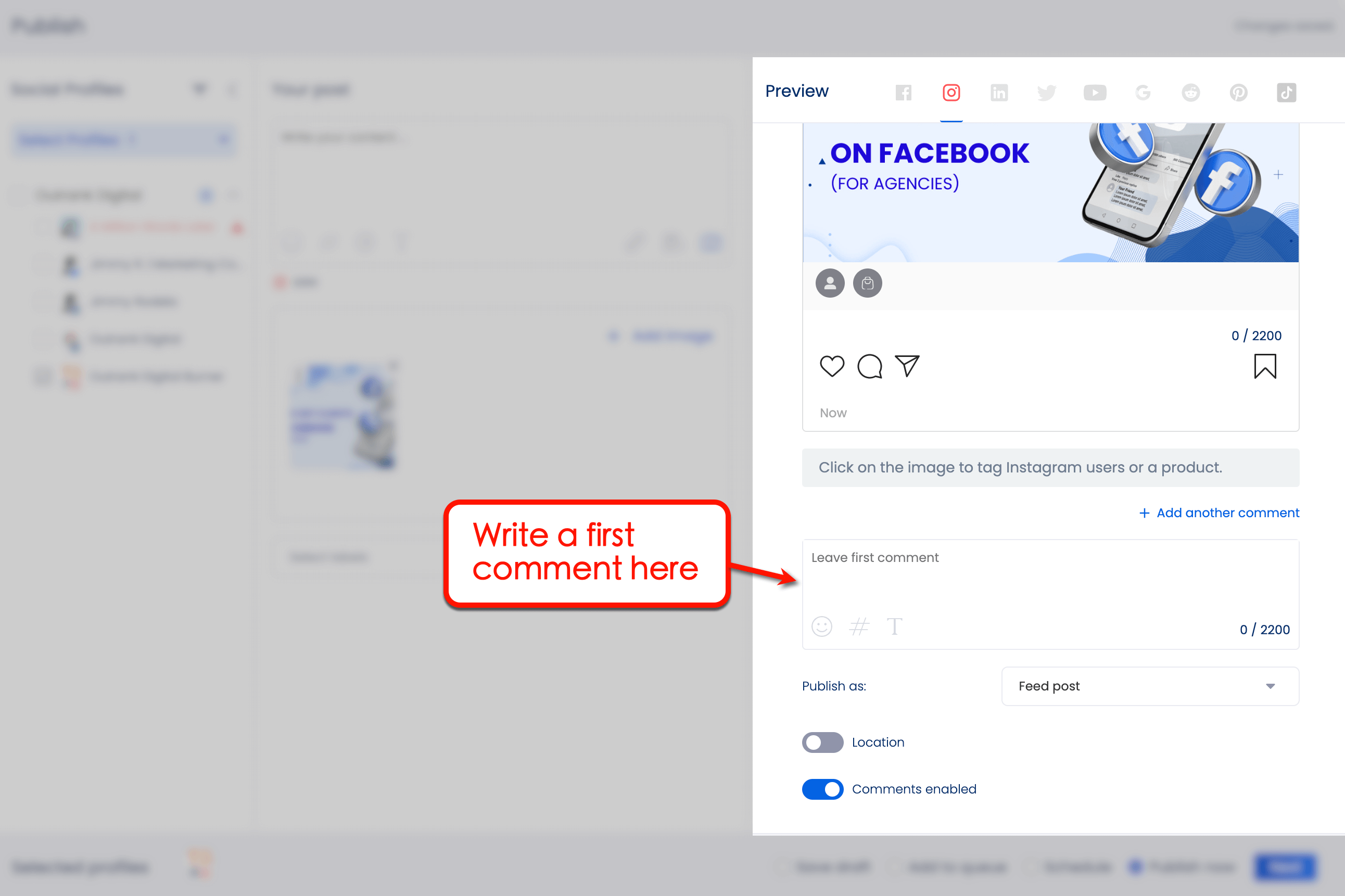 Use an automated first comment to spill more information about your photo dump. Also, use the opportunity to insert hashtags that wouldn't look attractive when inserted in your caption.
3. Create a photo dump of user-generated content
Brought to you by
Try Vista Social for Free
A social media management platform that actually helps you grow with easy-to-use content planning, scheduling, engagement and analytics tools.
Get Started Now
Compile user-generated content such as testimonials, ratings, positive comments, and Instagram content that mention your client into eye-catching, believable photo dumps.
You can do this using the native Instagram app. Simply use the built-in search bar, enter a branded hashtag, and look at what the Instagram community says about your client.
From there, snap a screenshot of the user-generated content piece and add them to your photo dump.
Must-read: Does Instagram Notify When You Screenshot?
A more efficient alternative is to use a social media management platform with social listening features.
Vista Social, for instance, lets you create proactive social media listeners that use keyword-based rules. This enables you to spot conversations and posts that mention your client—be it in a positive or negative way.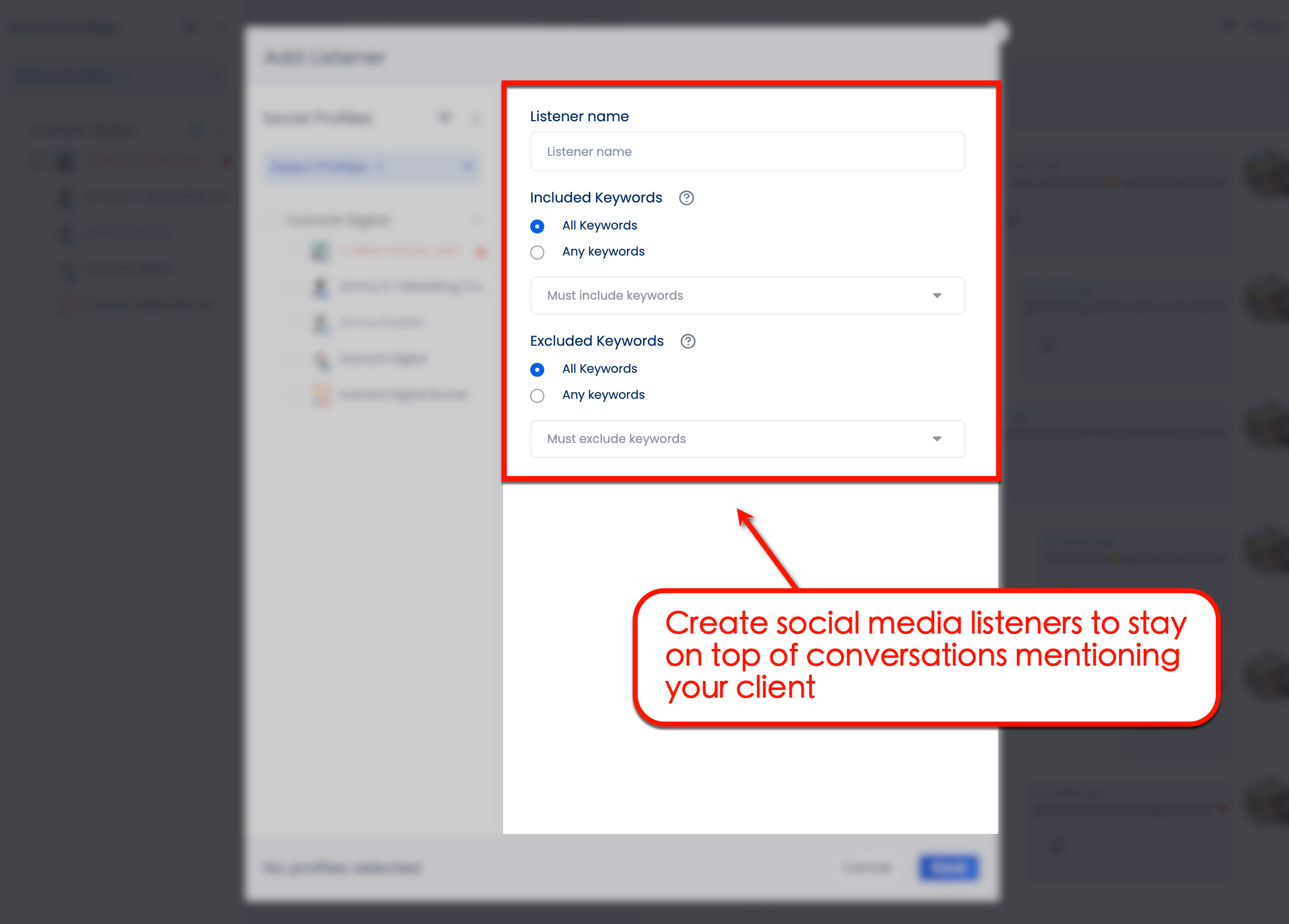 4. Look at how top influencers do photo dumps
Inspect how big Instagram influencers, including your client's top competitors, use photo dumps that grab the community's attention.
A cool way to find these accounts is to check your client's followers. This should lead you to popular accounts that are most likely to incorporate photo dumps into their content strategy.
On their profile, tap the 'Following' tab to start browsing accounts. The Instagram following list order ensures you find relevant accounts right on top—making it more likely for you to find your client's competitors.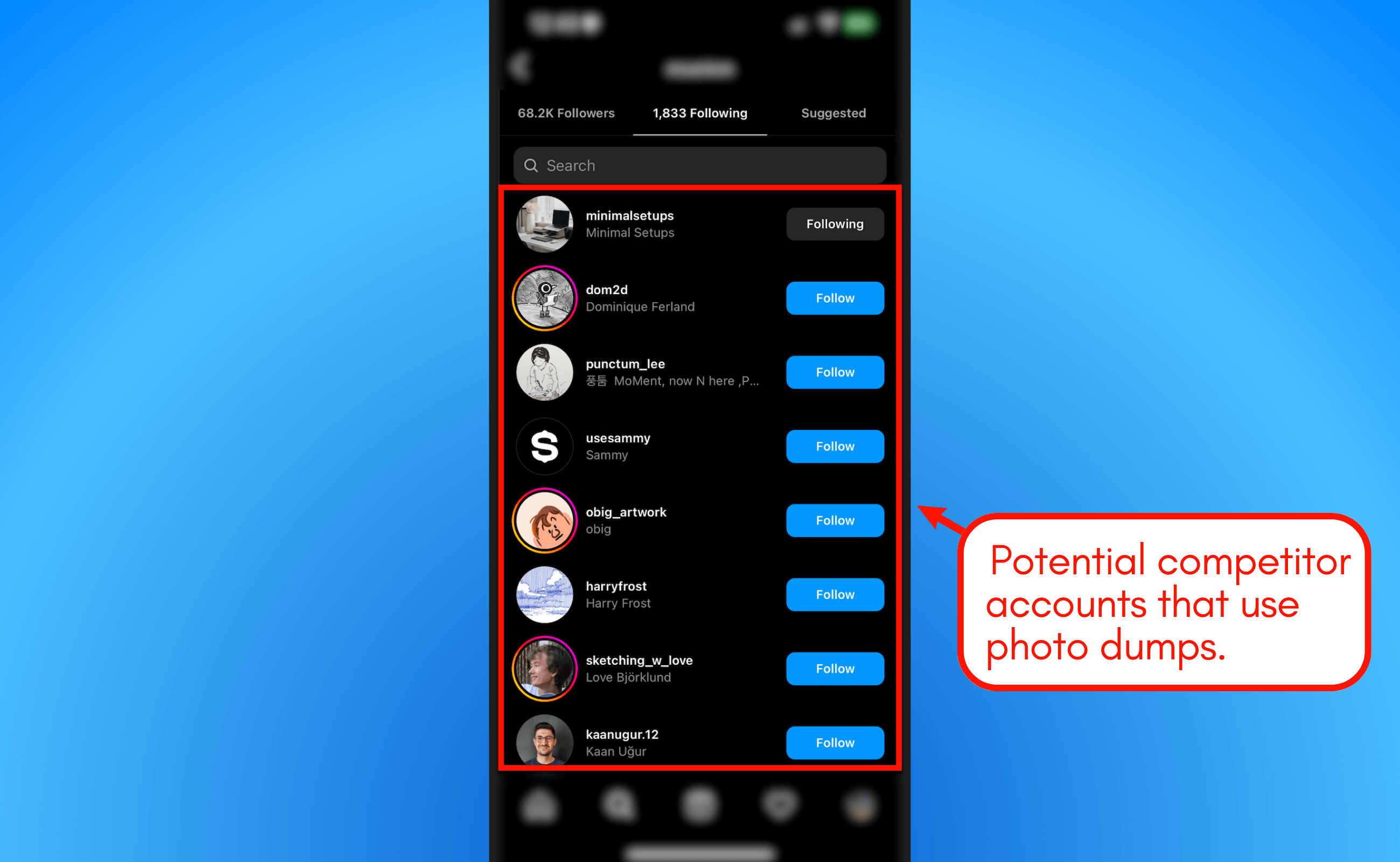 When searching for photo dumps for inspiration, look for the following characteristics:
Carousel indicator icon. Photo dumps are technically carousels in the eyes of Instagram. When browsing an account for photo dumps, look for the two-layered square icon, which indicates that the post has more than one photo.
Unstaged and unedited cover photo. Even without the "photo dump" keyword or "#photodump" hashtag, a post is still considered a photo dump if it contains raw, unedited content. Look for carousel posts with genuine-looking thumbnails to quickly find photo dumps.
Look at the number of slides in a carousel. The general consensus is that a carousel post must have around at least 4-5 pieces of content to be considered a photo dump. Observe the number of dots at the bottom of the carousel or the indicator in the upper-right corner to determine how many slides there are.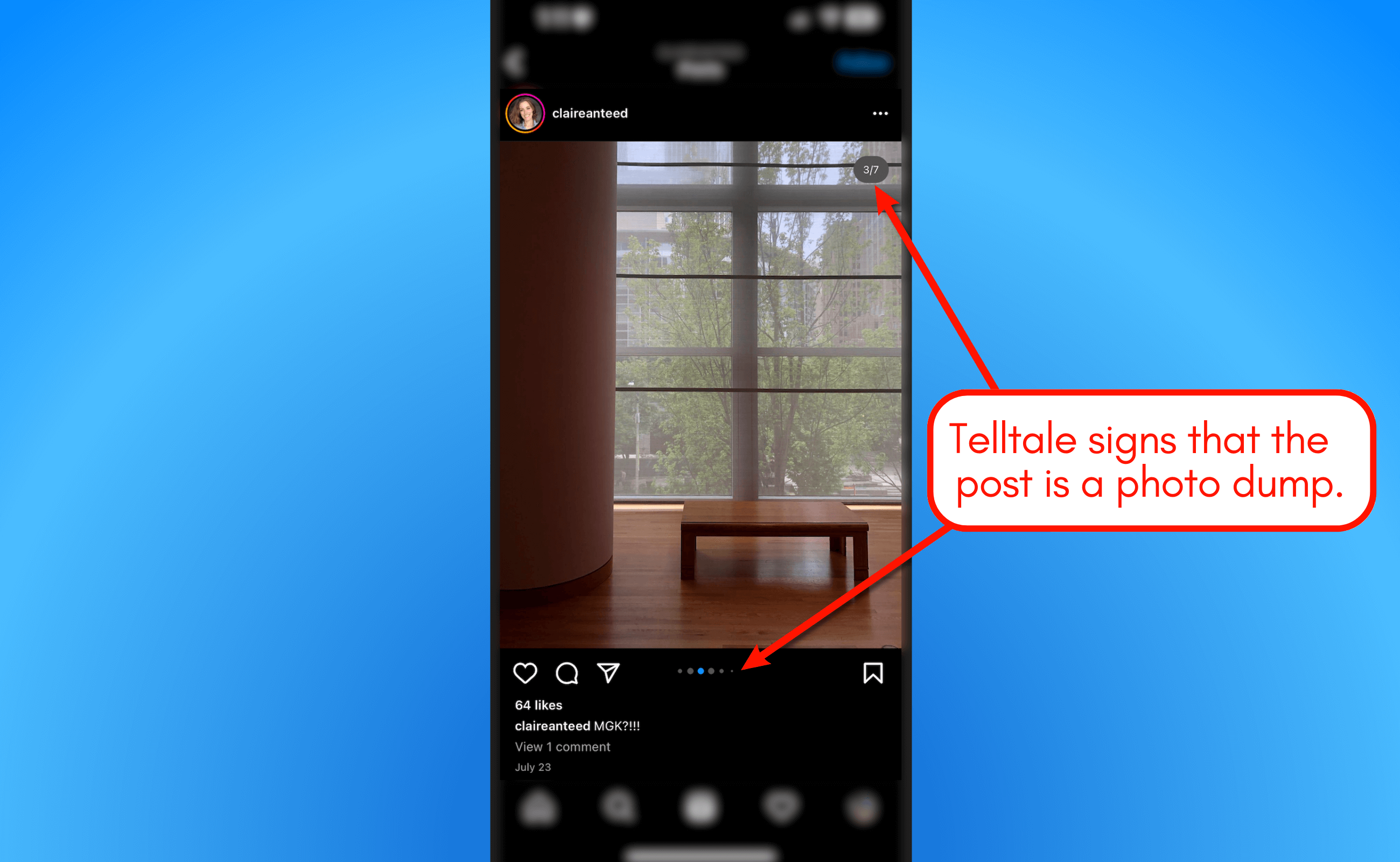 5. Repurpose, revamp, re-post
Make repurposing and re-posting ongoing processes to get the most mileage out of content.
User-generated content and old media assets can be repurposed into photo dumps.
These photo dumps can then be repurposed into reels, which can be re-distributed through other social networks and Instagram stories. Of course, you can compile the assets you've found to create an entirely different piece, such as an eBook, infographic, or YouTube video.
Must-read: How to Make a Reel with Photos
To squeeze every bit of traffic you can get with your photo dumps, implement an effective re-posting strategy.
Here's a quick rundown of how to repost a reel on Instagram:
Download your client's reel into your device.
Use image or video editing tools to retouch your photo dump assets (optional).
Import the content into new assets (eBooks, presentations, infographics, videos, etc.)
Re-post the retouched content back to Instagram (or other content sharing platforms).
Photo dump captions: Frequently Asked Questions
What should I caption a photo dump?
Use short, punchy statements for your Instagram photo dumps, like:
"Recent memories."
"Meet the team."
"They came for the job, they stayed for the family."
Why do people call it a photo dump?
"Photo dump" takes in the literal meanings of the words "photo" and "dump." It's basically a collection of photos you "dump" into a pile, which follow a theme or tell a story.
How do you do a dump on Instagram?
Use the Instagram app to create a carousel post, containing up to 10 photos. Don't use any editing tools or filters and just dump the raw photos and videos into the post.
Use Vista Social to jack up your engagement with photo dumps
Photo dumps are an easy and effective way to publish authentic and captivating social media posts without spending hours on video or image editing.
Make the process even easier with a comprehensive social media management platform like Vista Social.
Schedule your photo dumps, find the perfect hashtags, manage your assets in one place, track performance—you name it.
Understand why social media marketing agencies love Vista Social by opening a free account here.