I kid you not, this is the last Instagram Reels dimensions guide you'll ever need.
If you want to nail the perfect aspect ratio, margin, and sizes for your Instagram reels, then remember to bookmark this guide since it's got all the dimensions you're looking for.
But wait, there's more.
We also included five juuuicy tips to make your Instagram reel campaigns a massive success.
Do you like what you're reading so far?
Continue reading…
Table of Contents
What are Instagram Reels?
Reels are Instagram's response to TikTok's dominance during the pandemic. They are short-form videos up to 60 seconds long—perfect for the social media community's appetite for quick entertainment, education, or information about topics they care about.
Instagram Reels share a lot of similarities with stories, which are content that only stays online for 24 hours.
Both Reels and stories can contain photos, videos, and stickers to engage Instagram users. They can also use similar filters, effects, text overlays, and other important visual elements.
However, there are a few key differences between stories and Reels that make them perfect for certain social media marketing strategies:
Length. Instagram stories can only be up to 15 seconds long, whereas Reels can be up to a minute. This makes stories better for quick daily updates and behind-the-scenes clips.
Saving. Instagram Reels can be saved on your client's profile page—alongside their other Instagram feed posts and under the dedicated "Reels" tab. Stories, however, can only be seen from the stories toolbar or in their profile's "Highlights" section.
Stickers. Although Instagram Reels and stories share several stickers, some stickers are only available for Instagram stories. This mostly includes decorative stickers along with a few interactive stickers, like the emoji sticker and clickable links.
Discoverability. Reels can be seen by everyone on Instagram whether they follow your client or not. Stories, on the other hand, are only visible to your client's existing followers.
For a full comparison, check out our complete guide on Instagram Reels vs story.
Why are Instagram reel sizes important?
Creating Instagram Reels is a time-consuming and creativity-intensive process.
To make each ounce of effort count, make sure everything looks right upon publishing.
If your video's dimensions are too small for Reels, it may look "stretched out" and fuzzy when uploaded. If it's too large, you may have a tougher time editing and publishing your content—carefully polishing details that viewers won't see or notice anyway.
Uploading high-resolution videos, like 4K videos or higher, may also cause you to exceed the maximum file size allowed for Instagram Reels.
Using the ideal dimensions for Instagram Reels preserves video quality and sharpness. It ensures the final video is exactly how you pictured it.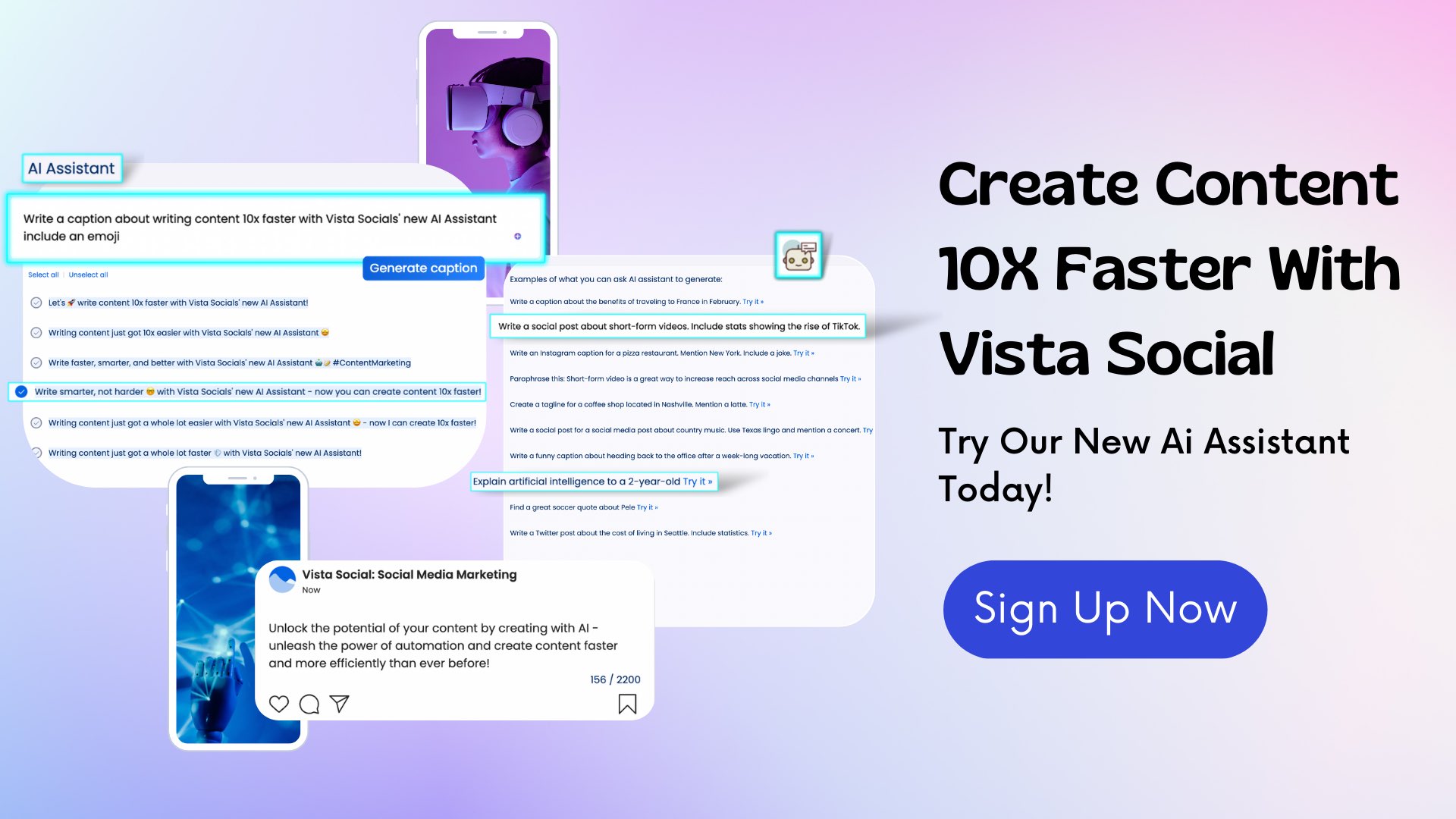 Ready to give your content workflow and posts a major upgrade? Try AI Assistant powered by ChatGPT today! 🤖💙
How to make Reels on Instagram
There are two ways to create Reels on Instagram.
First, you can capture clips beforehand, edit them with a third-party video editing tool (optional), and import it into the Instagram app.
Secondly, you can use Instagram's built-in video recording tool to record and upload clips directly from your phone camera.
The latter is advantageous for a few reasons:
You're guaranteed to use the best aspect ratio and dimensions. Using the Instagram app's video recording feature, the whole screen shows exactly how your reel will look when uploaded. This eliminates the need to manually crop and resize your video for Instagram Reels.
Use the alignment tool for seamless cuts. Instagram's reel recorder features an alignment tool that shows a silhouette of the last frame from the previous clip. This enables you to seamlessly stitch together clips without awkward jumps, shakes, and jitters.
Experiment with different effects and filters. The built-in Instagram video recorder lets you preview effects and filters before you hit the 'record' button. This makes it easier to find the best configuration for the scene you're trying to capture.
To record an Instagram Reels video in-app, launch the mobile app and tap the plus icon in the upper-right corner.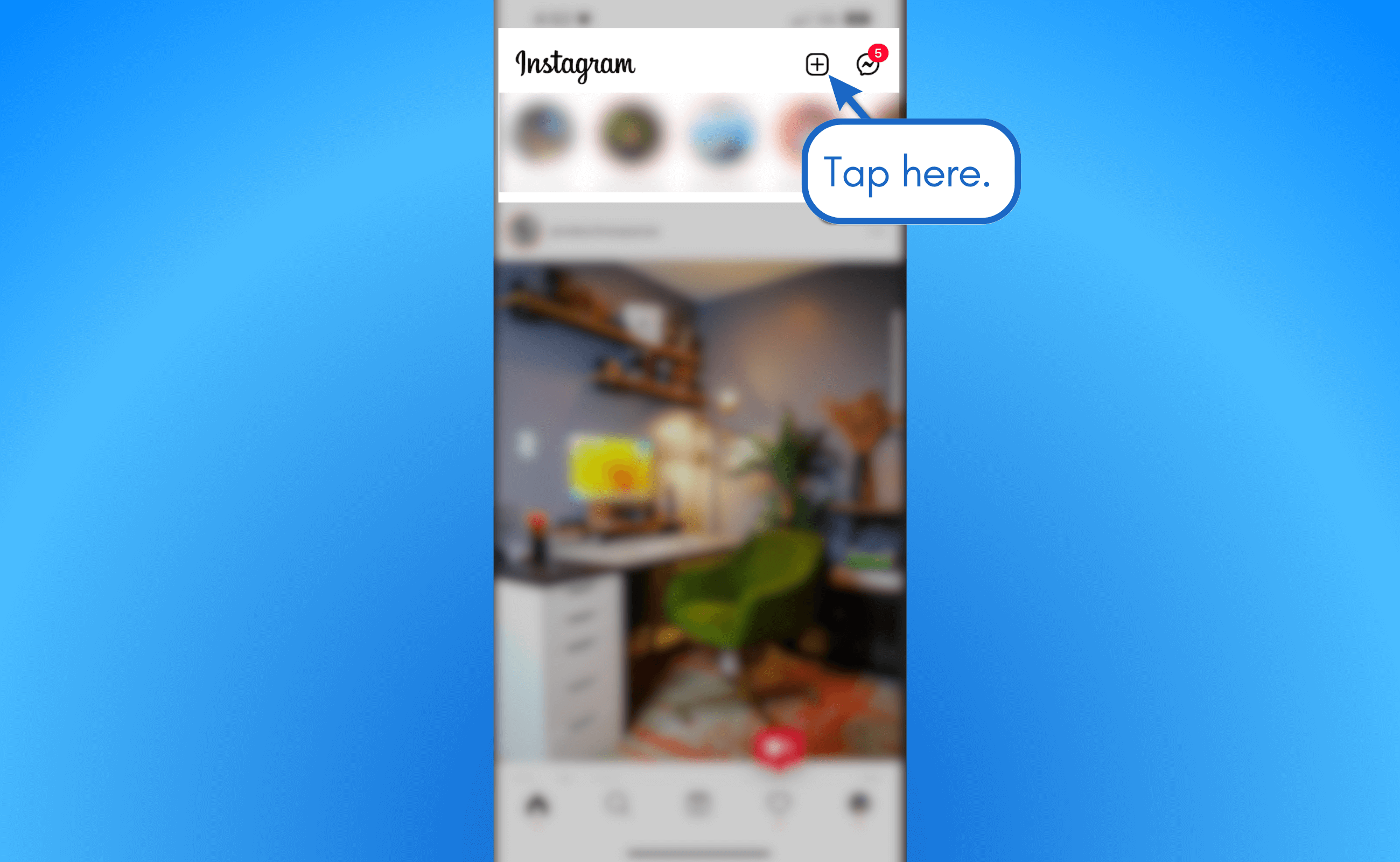 Tap "Reel" from the bottom carousel menu. This immediately switches you to the Instagram reel recording tool.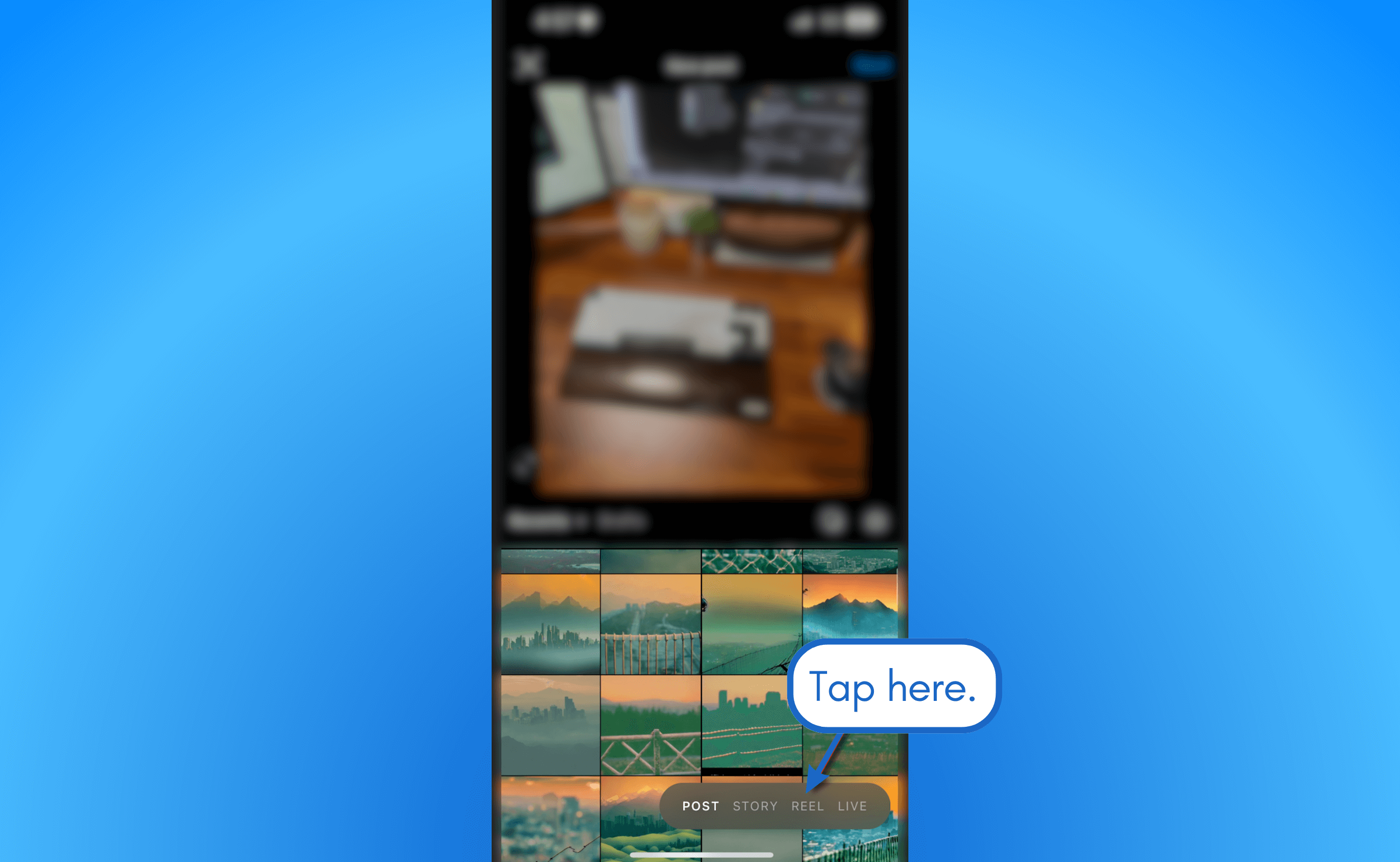 At this point, you can start recording your Instagram reel from scratch. Feel free to swipe through and preview the video effect suggestions at the bottom.
If you need to upload existing videos from your camera roll, tap the gallery icon in the bottom-left corner of the screen instead.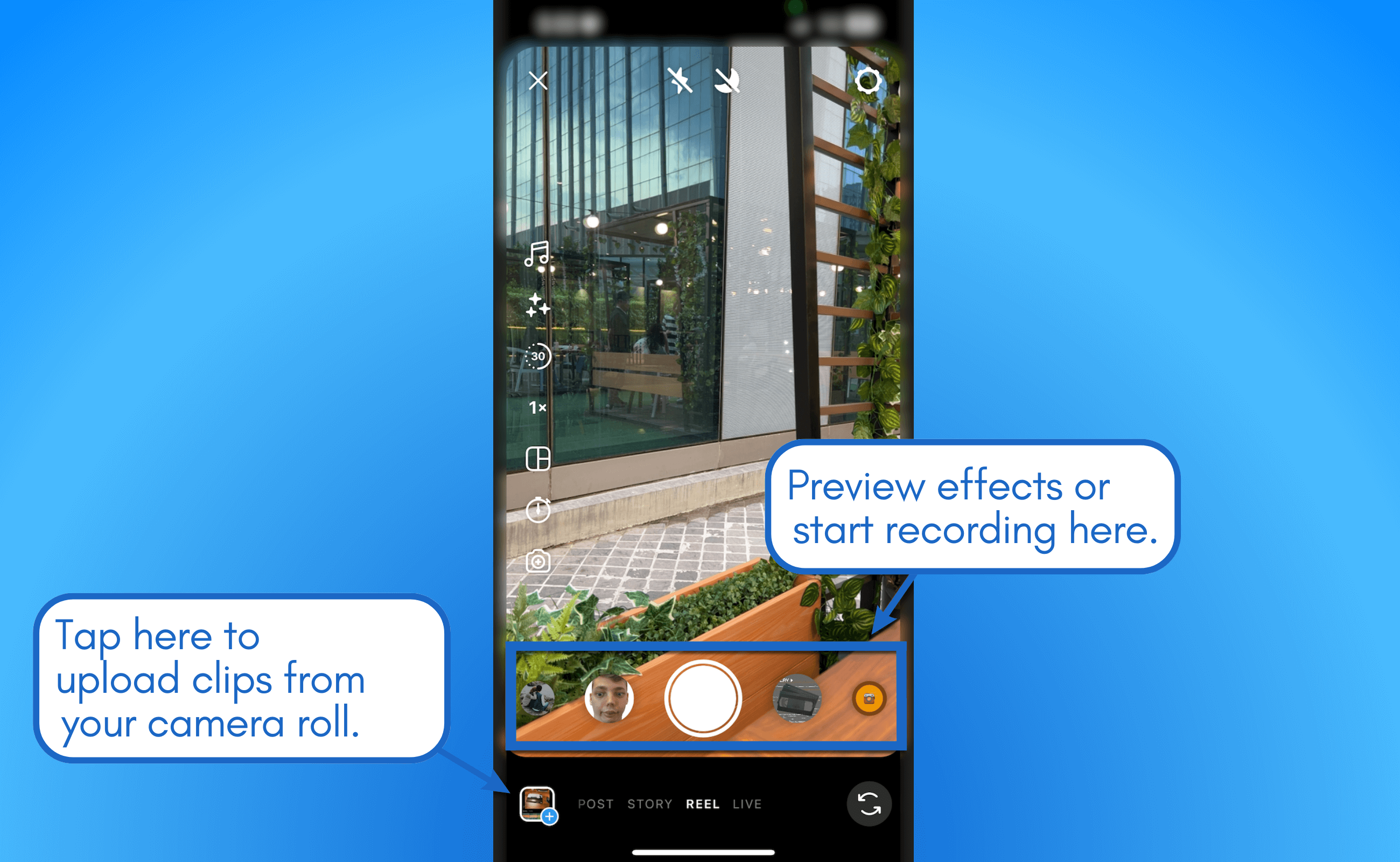 Important: When uploading video clips from your phone, the supported Instagram video formats are ".MOV" and ".MP4" only.
For more in-depth tips and strategies, read our complete IG Reels Tutorial: The Ultimate Guide.
How to add audio to Reels
Make your Reels more relatable and entertaining by adding popular audio clips as background music.
In the Instagram reel editor, tap the music icon from the left menu.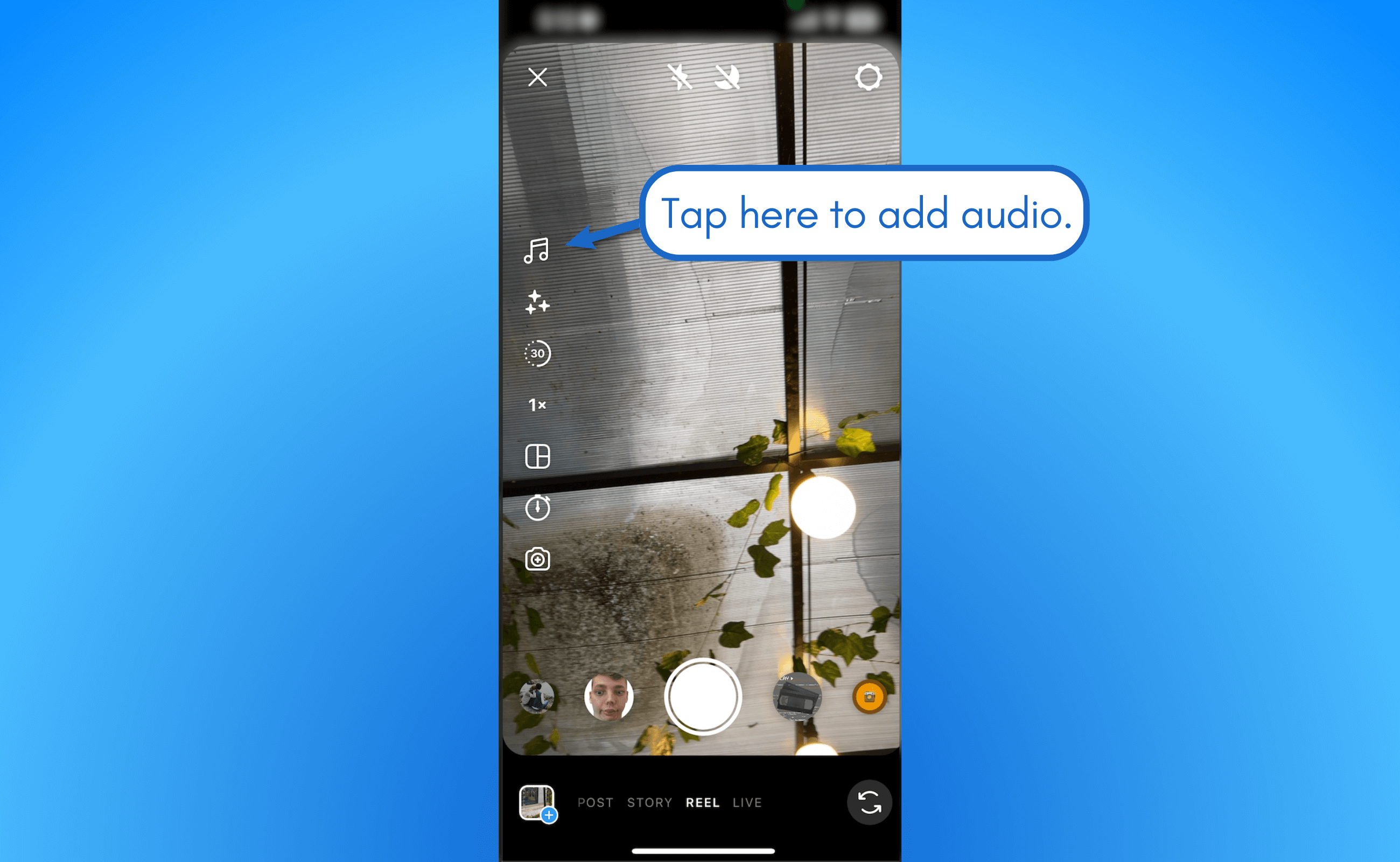 Pick from the suggested audio clips or search for a song using the top search bar. Feel free to preview any audio click by clicking the play button to the right.
You may also tap 'Import' to use the audio of another video from your device's gallery.
Once you find the audio you want to use, insert it into your reel by tapping on its name. Use the timeline scrubbing tool at the bottom to set which part of the clip gets played alongside your reel video.
Tap 'Done' and then tap 'Next' to proceed.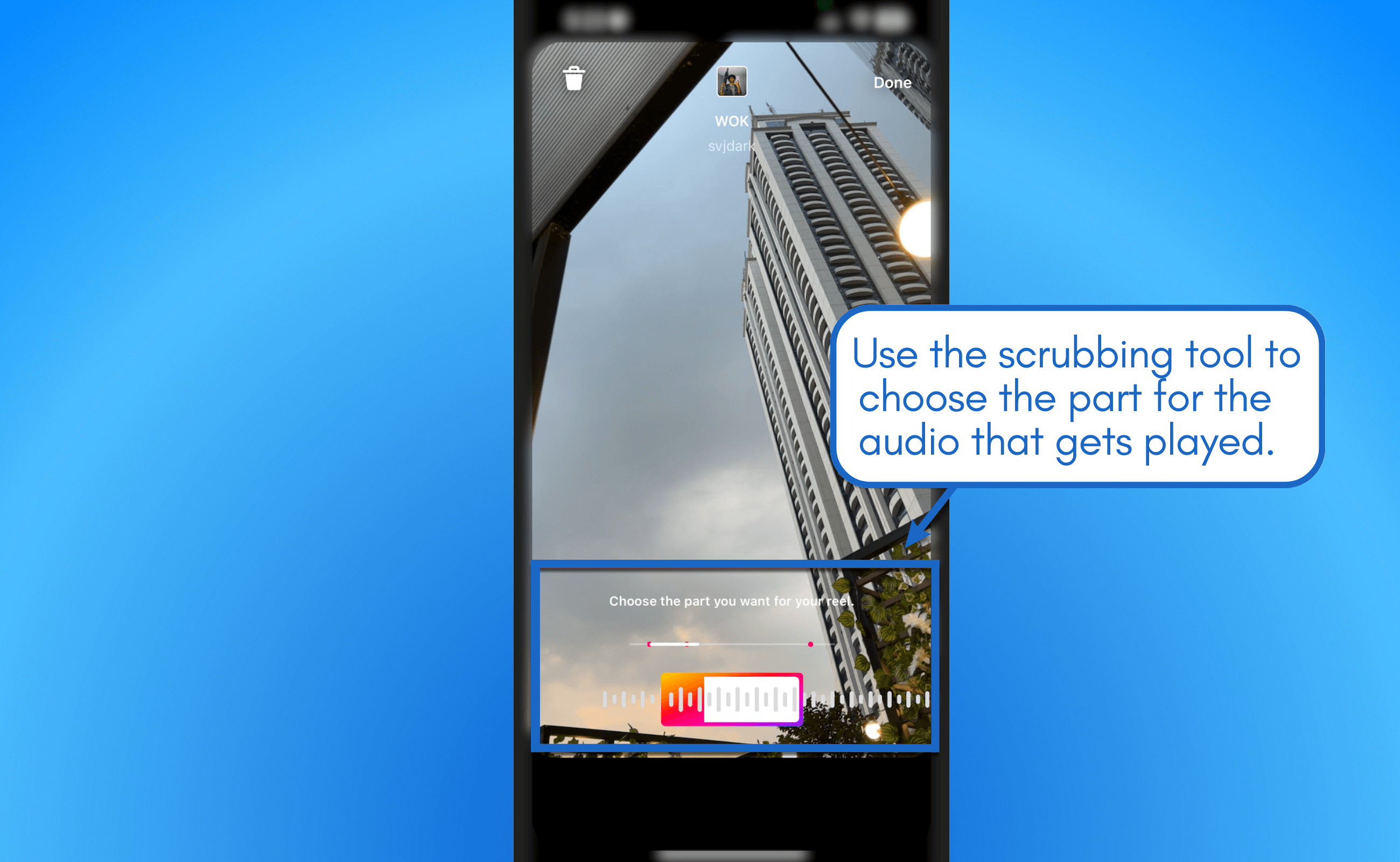 That's it—your selected audio clip will now play on top of your video's original audio.
Tap the music icon again on the top menu to balance the volume of the original and inserted audio clips. You can also use the voiceover and sound effect tools at the bottom to further customize your reel's audio.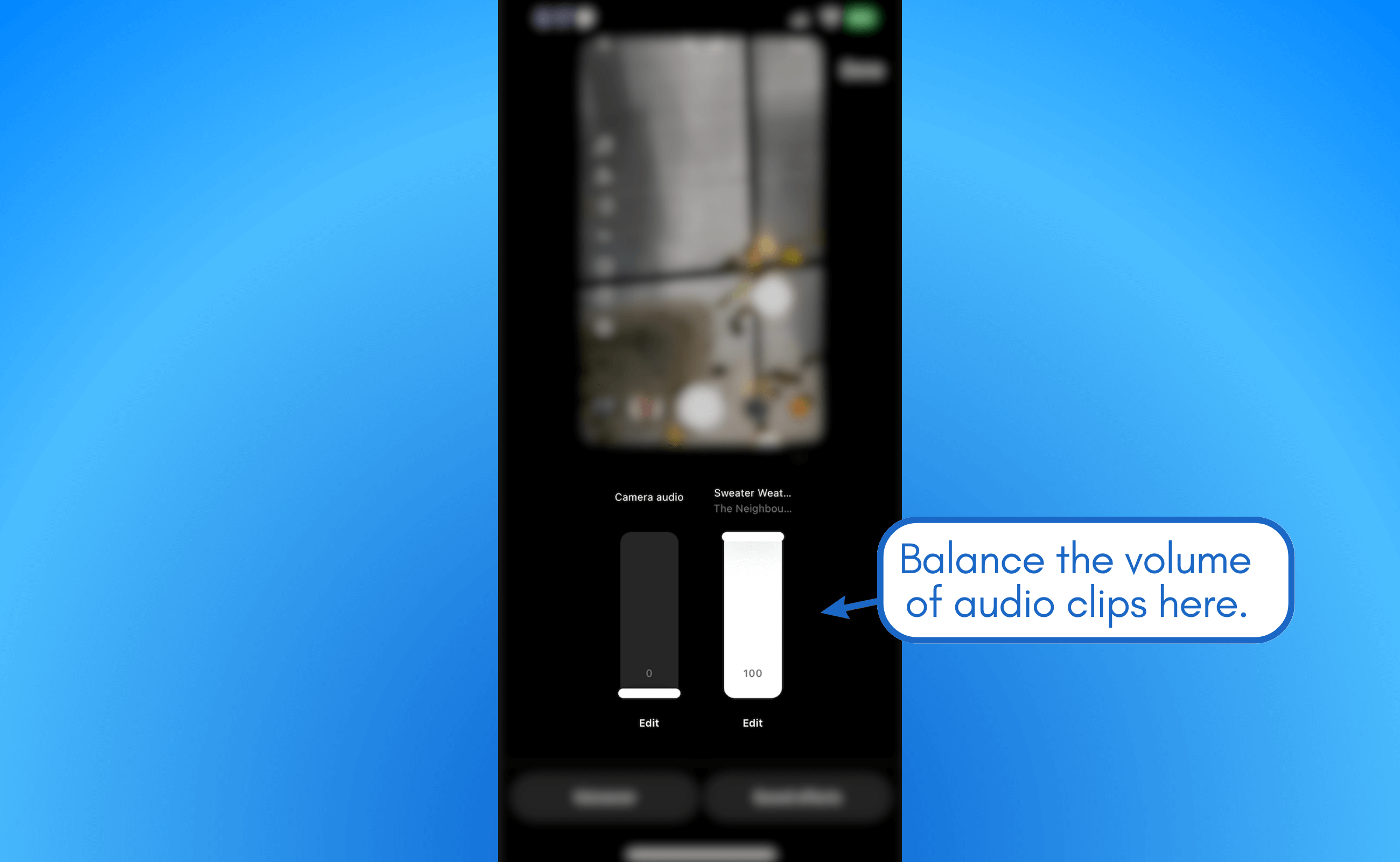 What are the ideal Instagram Reels dimensions and aspect ratios?
If you want to upload videos from your phone's gallery into Instagram Reels, remember the best Instagram Reels frame sizes, dimensions, aspect ratios, and cover dimensions:
Instagram Reels view aspect ratio: 1080 pixels x 1920 pixels
Dimensions: 1080×1920 (1080p)
Aspect ratio: 9:16
When viewed through the Instagram "Reels" tab, videos play at a resolution of 1080 pixels (width) by 1920 pixels (height).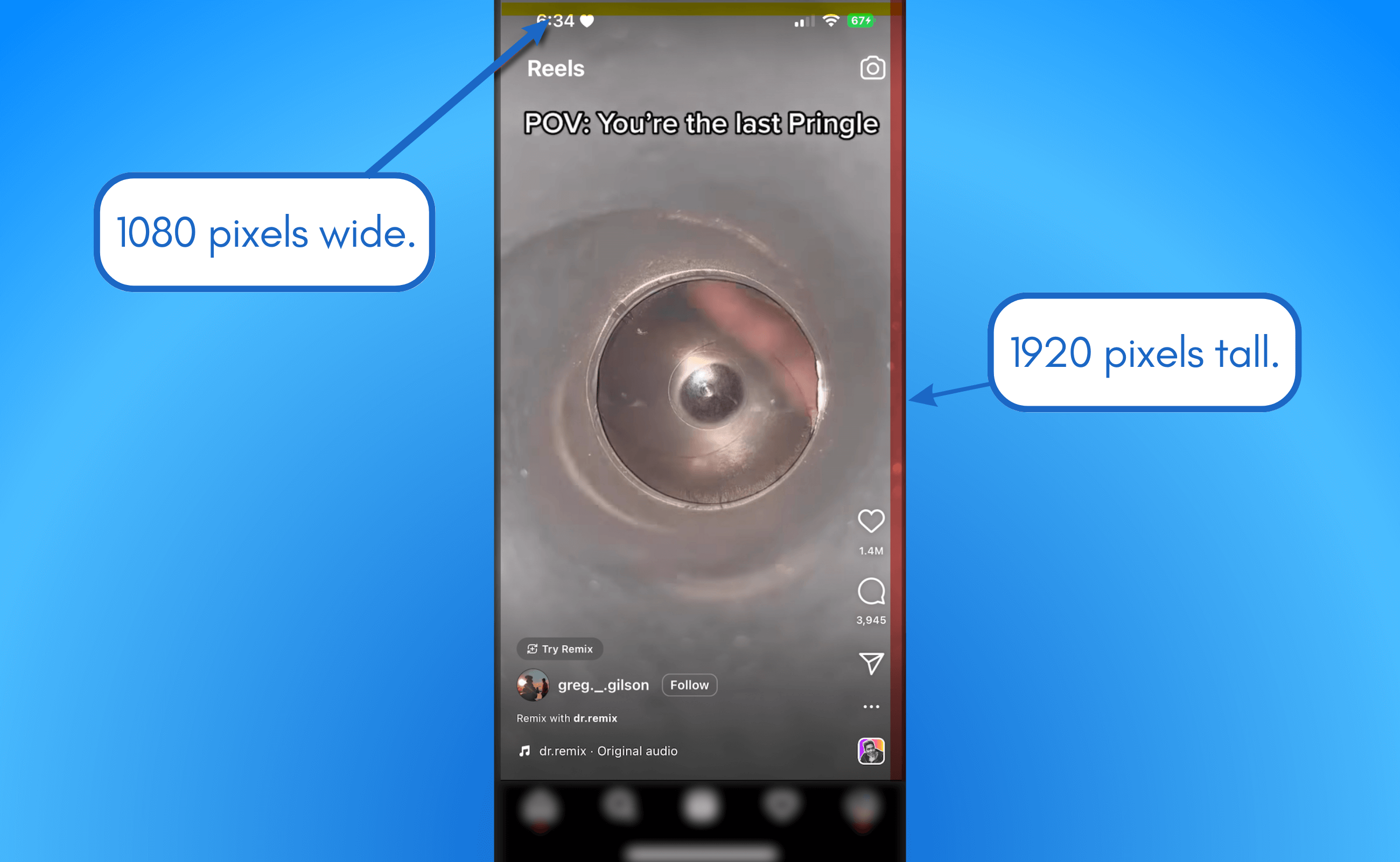 Tip: If you want to record using your phone's camera app, set video settings to Full HD (FHD), which records at a resolution of 1080p. Don't forget to shoot vertical videos so your Reels display correctly when viewed through the Instagram app.
Instagram Reels feed view aspect ratio: 1080 pixels x 1350 pixels
Dimensions: 1080×1350 (1080p)
Aspect ratio: 4:5
When viewed through your client's profile feed, or the user's home feed, Instagram doesn't play Reels in full screen. Instead, the video will be cropped vertically for a consistent scrolling experience.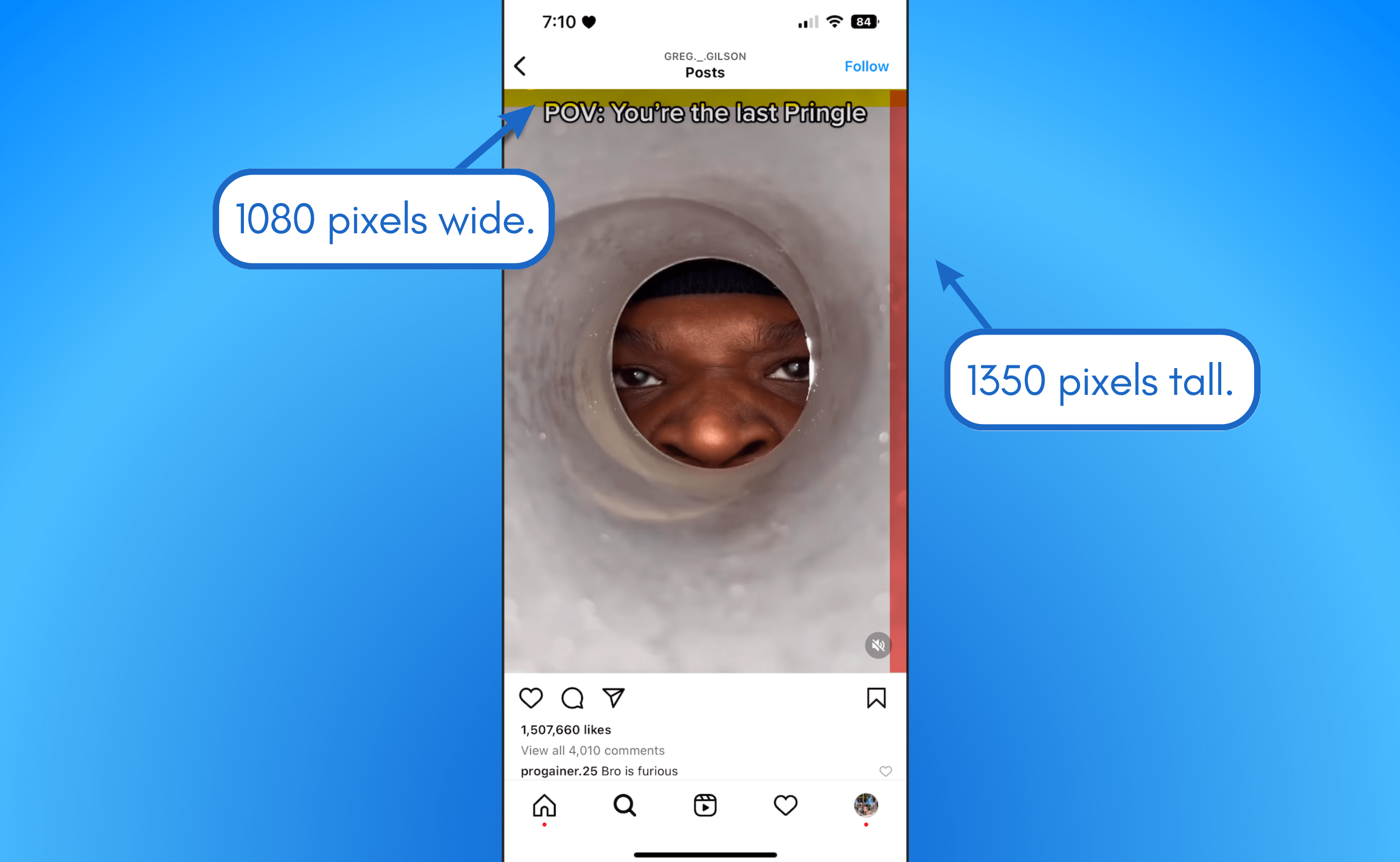 Text-safe area for Instagram Reels
Top margin: 220 pixels
Left margin: 35 pixels
Right margin: 35 pixels
Brought to you by
Try Vista Social for Free
A social media management platform that actually helps you grow with easy-to-use content planning, scheduling, engagement and analytics tools.
Get Started Now
Bottom margin: 420 pixels
A reel's feed view version reflects the "text-safe" area of the reel.
This is the portion of the reel that will always show, regardless if the reel is viewed through the Instagram feed or in full screen. It's also a part of the video that won't get covered up by interface elements, like the comment button, like button, and information about the reel's uploader.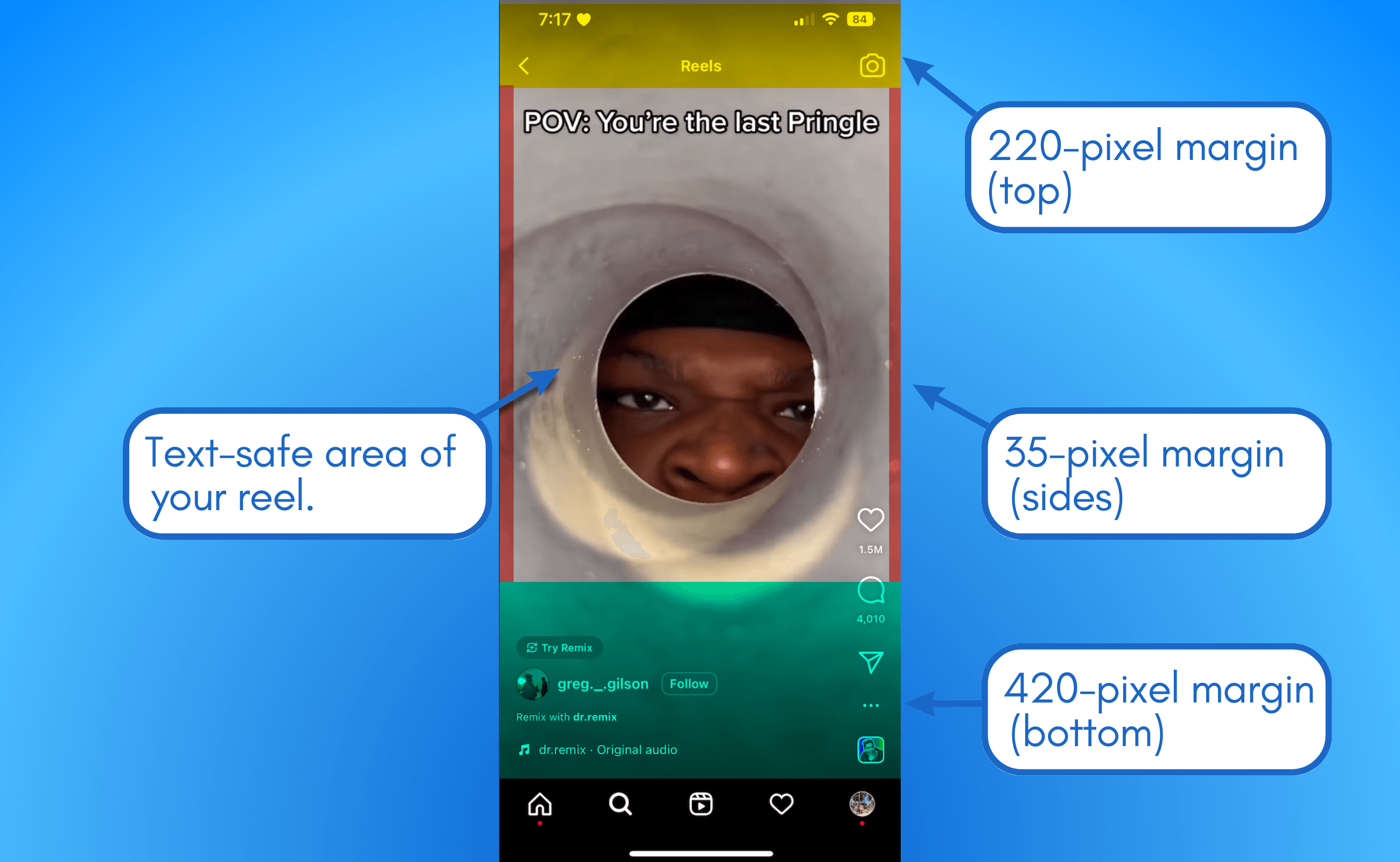 When creating Reels, position branding elements, Calls-To-Action (CTAs), and interactive stickers within the text-safe area. This ensures that they're visible to Instagram users via the Reels feed, home feed, or your client's profile page.
Creating thumb-stopping Instagram Reels covers
Instagram Reels cover dimensions: 1080 pixels x 1080 pixels (profile main feed grid) and 1080 pixels x 1920 pixels (profile Reels feed)
Instagram Reels cover aspect ratio: 1:1 (profile main feed grid) and 9:16 (profile Reels feed)
A thumbnail cover draws attention to your client's Reels when users visit their profile page.
However, Instagram reel thumbnail covers can be tricky.
One cover is displayed in your client's Reels feed, which uses the original aspect ratio of Instagram Reels. The other version uses a 1:1 aspect ratio, making Reels blend in with the other Instagram feed videos.
Although Instagram uses two versions of an Instagram reel's cover, you can only edit one of them directly. That's the cover found on your client's Instagram reel feed, which has its own dedicated tab on their profile page.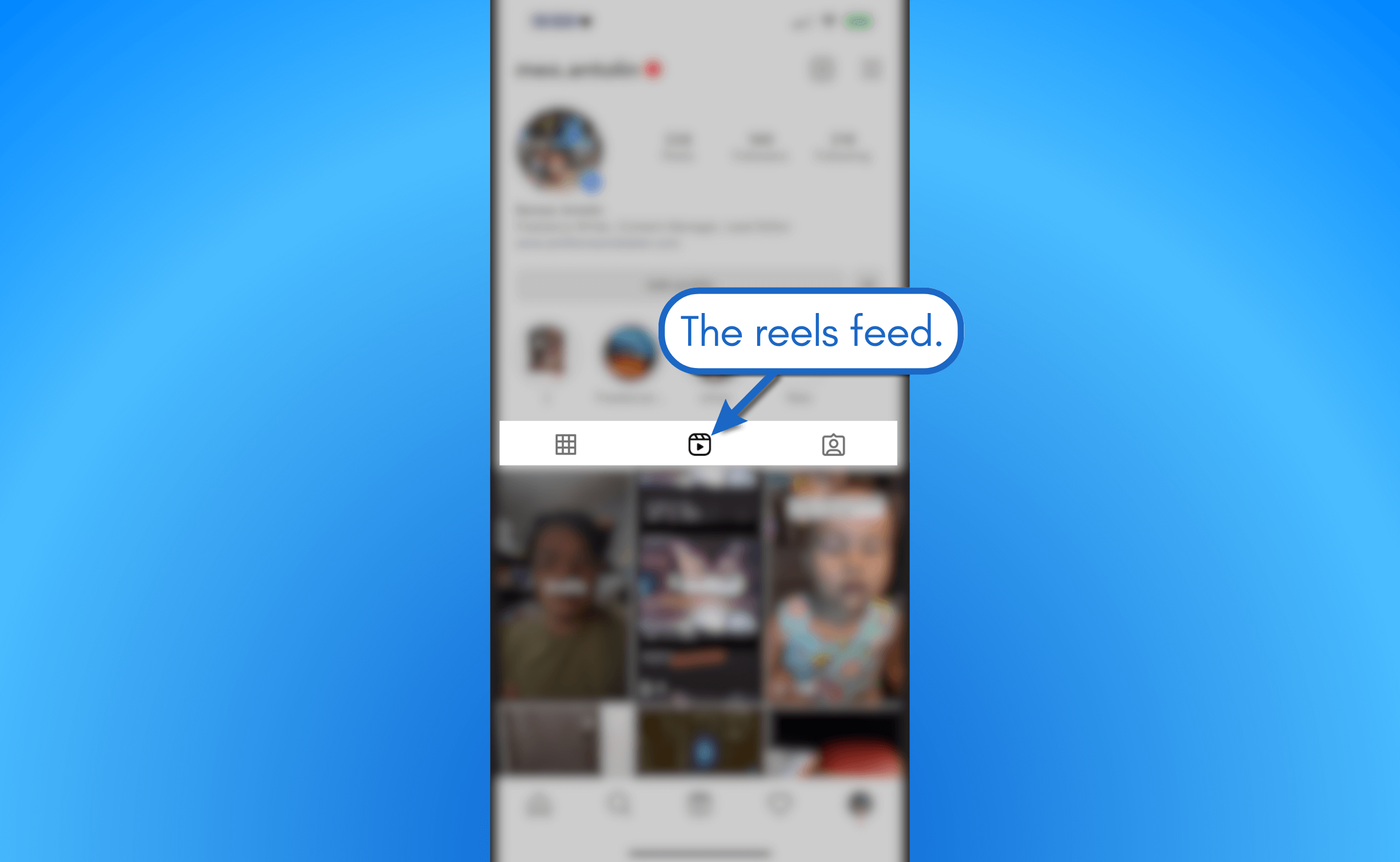 Follow the steps below to use a custom cover for an Instagram reel:
Step 1: Head to your client's profile page, head to their Reels feed, and open the reel you want to edit.
Step 2: Tap the triple-dot menu icon to open the settings menu and tap 'Manage.'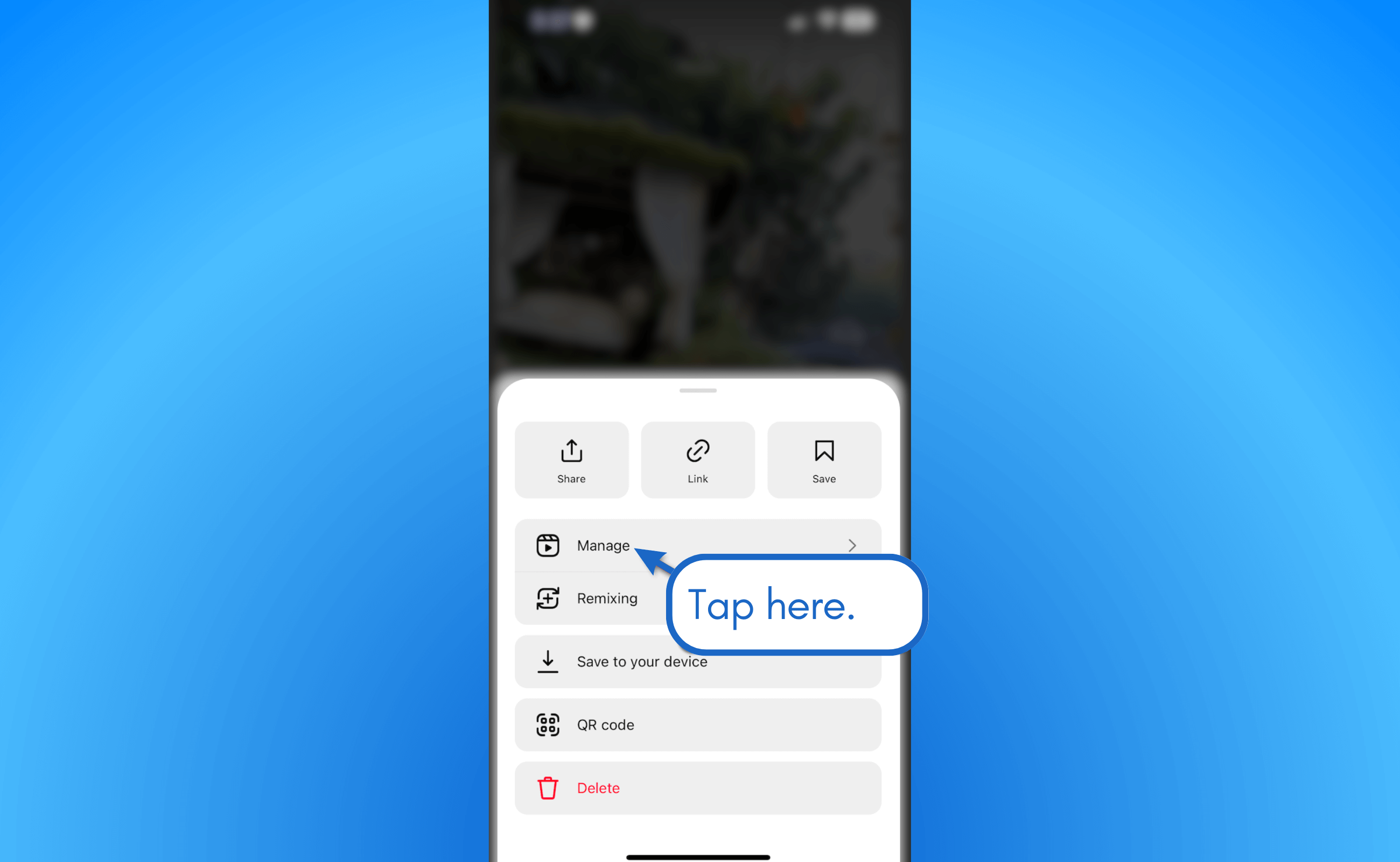 Step 3: Tap 'Edit' and then tap the 'Cover' button at the bottom of the reel preview.
Step 4: Choose a frame from your video or tap 'Add from camera roll' to use a custom reel cover.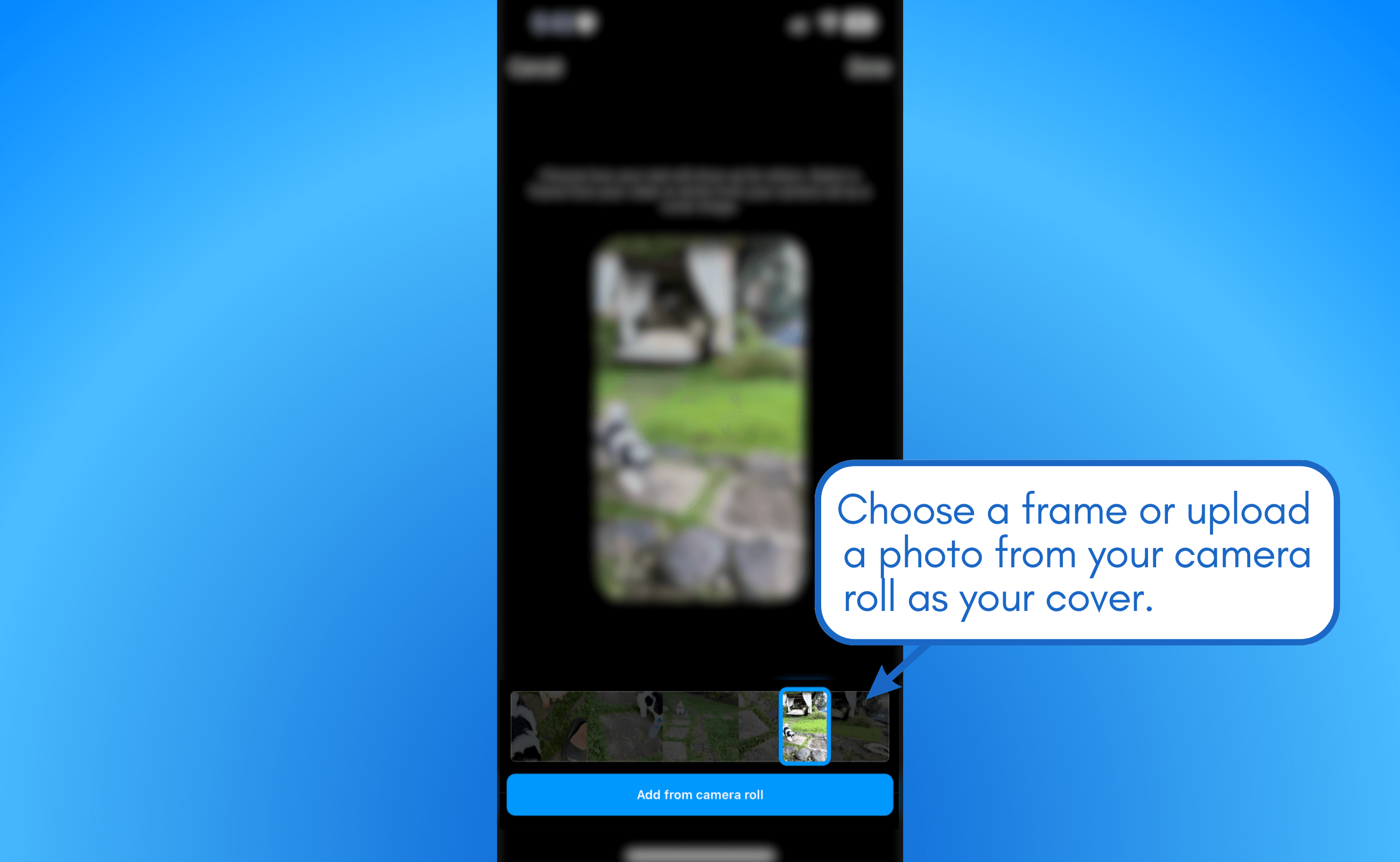 Step 5: Tap 'Done' twice to save your reel's new cover.
What is the best Instagram Reels length?
The maximum Instagram Reels length is 90 seconds, but you don't have to max it out every time.
Target a specific reel length that matches your objectives:
Best reel length for generating comments: 7-18 seconds
Best reel length for getting shares: Around 18 seconds
Best reel length for more views: 3-15 seconds
Best reel length for conversions: 30-90 seconds
What is the best Instagram Reels caption length?
Instagram Reels captions can be up to 2,200 characters long.
That's more than enough text real estate to provide more context to the video, tell a story, or communicate value propositions.
However, Instagram users don't watch Reels to read captions. Help them stay focused on the video by keeping captions short and to the point.
How does the Instagram Reels algorithm work?
The Instagram Reels algorithm decides the discoverability of videos to users, including those who don't follow your client.
It is influenced by a handful of factors:
User engagement (comments, shares, saves, total watch time, and likes)
Proper sizing (vertical videos perform better than landscape videos)
Creativity (using trending effects, filters, and audio)
Proper sizing is the one factor you can guarantee when publishing Instagram Reels. Just follow the information above when creating or editing videos and you're good to go.
User engagement, however, requires a strategic approach.
Top 5 tips when marketing with Instagram Reels
To get more user engagement with your Reels, here are tips you need to remember:
1. Use popular hashtags for discoverability
Sprinkle your Instagram reel with viral hashtags for Instagram to boost its in-app searchability.
Using branded hashtags (hashtags that are unique to your brand) is great for raising brand awareness and recognition. But if your short-term goal is to reach as many users as possible, go with hashtags that already get hundreds or thousands of daily searches.
2. Look at what's trending
Observe the top Instagram Reels examples to borrow inspiration and understand the type of video content your target audience prefers.
Do they want quick tutorials? How about product reviews, demos, or memes?
Don't hesitate to use ideas that already work for your competitors. They can't patent or copyright Instagram video formats!
3. Repost Instagram Reels
Repost Reels on Instagram and other social media networks to multiply its reach.
This also gives you the opportunity to try different hashtags, use new captions, or schedule content at different times. Read our guide on how to repost a reel on Instagram for the complete strategy.
4. Implement an approval method
Implement a thorough approval method to ensure you only publish relevant, top-quality, and brand-safe Reels.
Use a social media management platform like Vista Social to execute your approval method. You can also save Reels as Instagram drafts to let clients have the final say on whether or not a reel is ready to go live.
5. Consider investing in third-party video editing tools
Invest in IG tools for video editing to spice up your Reels with premium effects, filters, audio effects, and other unique features.
Some of the best tools for Instagram Reels are:
KineMaster
Pixelcut
Clips (for iOS)
InShot
Funimate
Instagram Reels Dimensions: Frequently Asked Questions
Can you post 16:9 on Instagram Reels?
Instagram accepts videos with an aspect ratio of between 1.91:1 and 9:16. The minimum frame rate required is 30 FPS, while the minimum resolution is 720 pixels.
What are reel sizes Instagram?
The recommended Instagram reel dimensions are 1080 pixels x 1920 pixels. That's exactly the same resolution as 1080p—only it's for videos designed to be viewed vertically.
How do I resize a reel for Instagram?
You can force your video to use the recommended Instagram reel dimensions by zooming in and out via the in-app reel editor. Alternatively, do pixel-perfect resizes using apps like Pixelcut, KineMaster, and InShot.
Nail your Instagram Reels strategy with Vista Social
Put your Instagram Reels strategy on steroids.
Use an all-in-one social media management platform like Vista Social to schedule, track, and optimize your Reels strategy over time. You can also get real-time hashtag suggestions to maximize your content's visibility.
Get started today with a free Vista Social account.