Caution: This IG Reels tutorial can skyrocket your Instagram traffic.

No, really!
While Instagram Reels can help agencies generate truckloads of views and engagements for their clients' IG profiles, not many agencies are getting great results out of the Reels feature.
Why you might ask?

That's because just like in most things in life, you need to use IG Reels the "right way."

And that's what we'll cover in this guide.

We'll talk about how to create amazing Instagram Reels using the steps, examples, and tools below.
Table of Contents
How to schedule Reels on Instagram to get more views
As of this time of writing, Vista Social is the first-ever social media management platform that supports direct publishing to Instagram Reels.
Other platforms label their Reels feature a "scheduler," but they only send reminders when it's time to post your Reel. You still have to publish the post manually.
Vista Social is the only one that does it on autopilot.
To schedule an Instagram Reel, go to 'Publish,' and click 'Publish a single post.'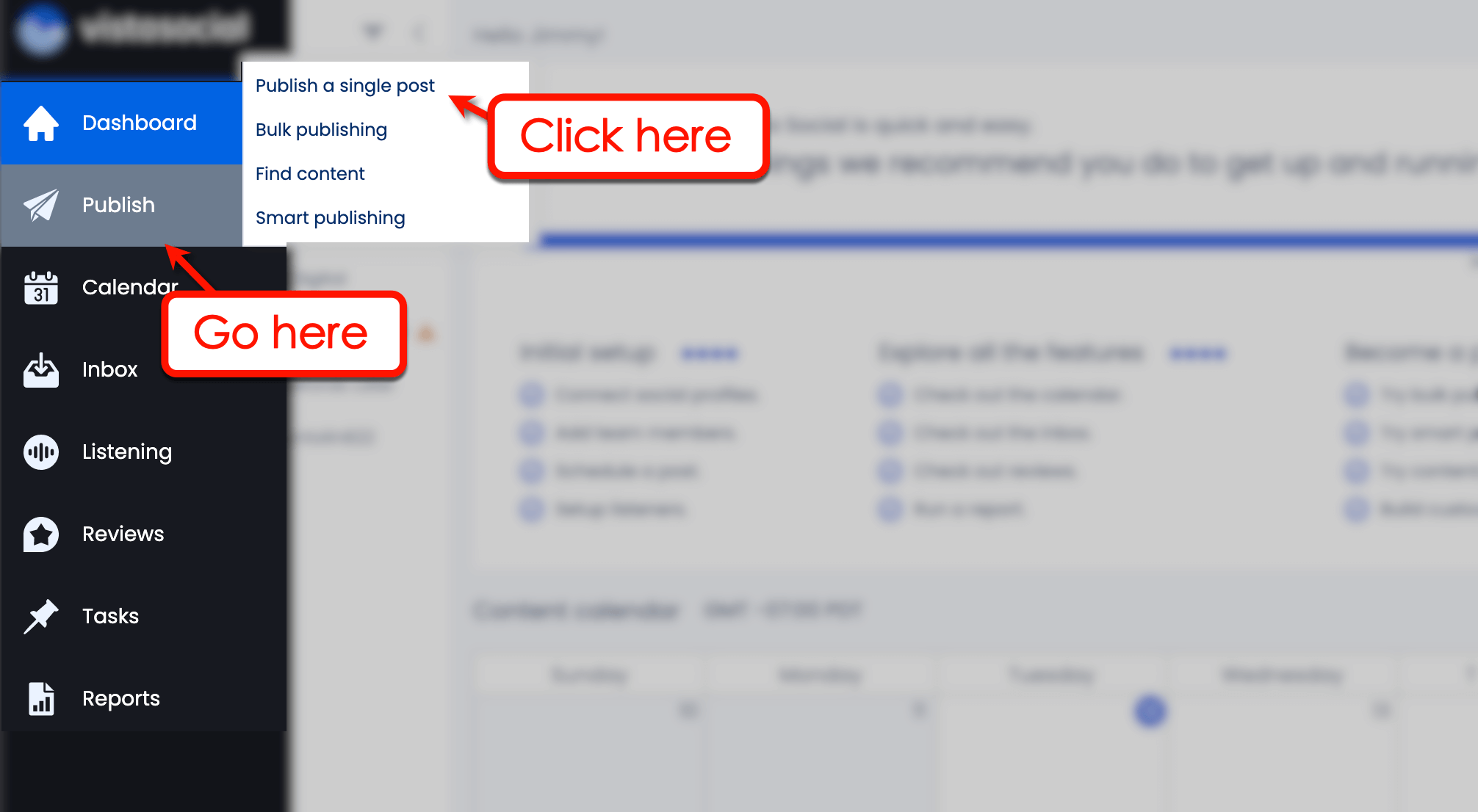 Ensure you selected your Instagram account under "Select Profiles" and on the "Preview" panel.
Click 'Add video' and choose the media source for your Instagram Reel.
Select 'Reel' from the drop-down menu to have Vista Social publish the post as a Reel. To schedule Instagram Reels, select 'Add to queue' or 'Schedule' before clicking 'Next.'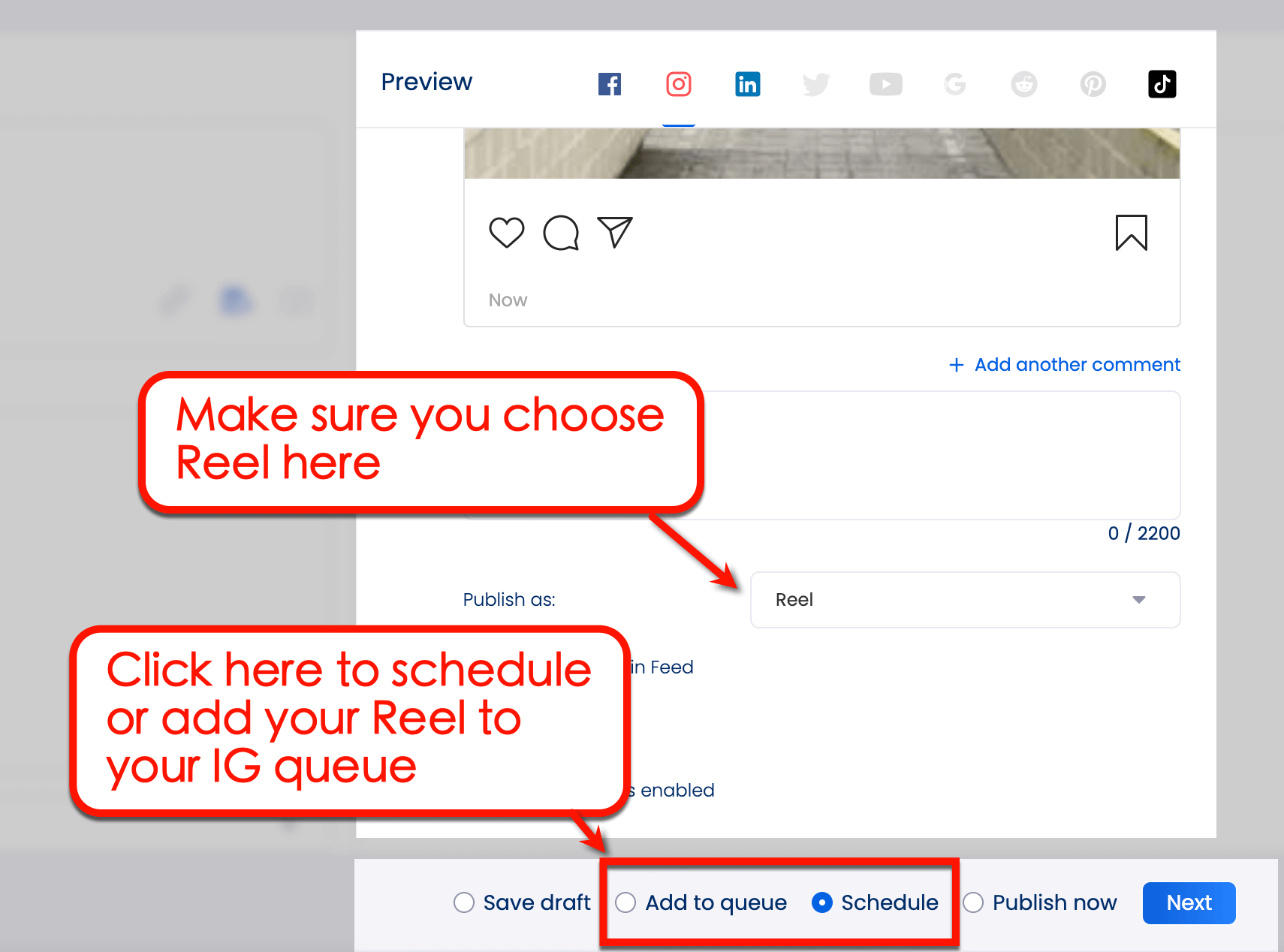 Use 'Add to queue' if you already prepared an automated posting schedule for your Instagram account. Otherwise, use 'Schedule' to set a custom posting date and time for your Instagram Reel.
Tip: Click 'Show optimal times' to identify the best posting times based on your audience's engagement patterns.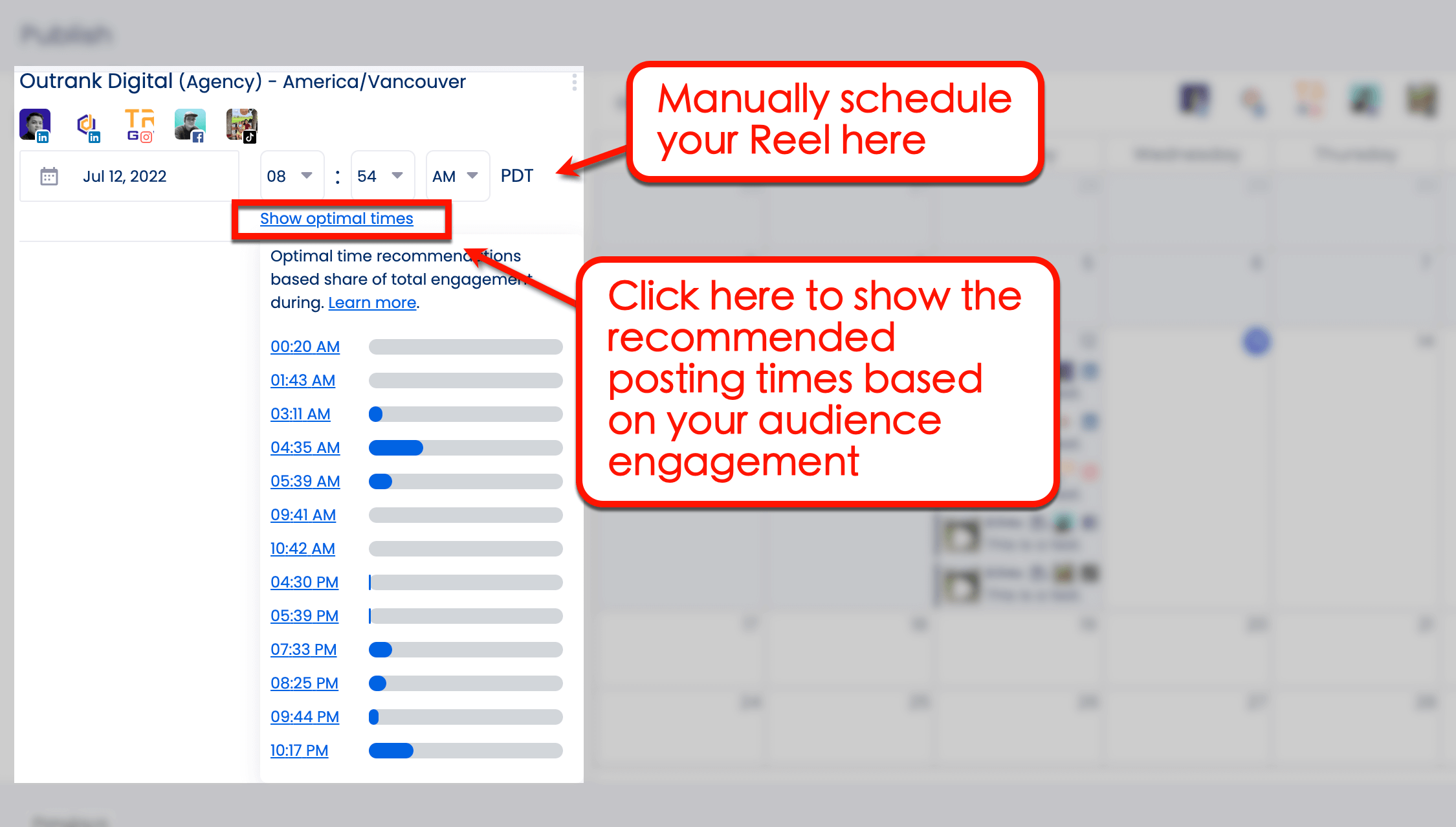 Instagram Reels vs Story: What's the difference?
Both Instagram Reels and Stories can publish short-form videos, but they have several differences.
Instagram Reels vs Story: Length
Instagram Reels let you post videos up to 90 seconds long. Instagram Stories, however, only allows 15 seconds per video clip. 
This makes Instagram Reels better for sharing valuable and informative social media content. Whereas Instagram Stories are better for events, experiences, and quick tutorials that can be encapsulated in 15 seconds or less.
For example, Instagram Reels is better equipped for detailed tutorial videos, interviews, and quick product reviews. Instagram Stories, however, is perfect for funny clips, travel videos, sports highlights, and "stolen" photos.
Instagram Reels vs Story: Features
Instagram Reels and Stories share a few features, like stickers, effects, and layouts. But the editing tools for Instagram Reels are significantly more advanced.
Instagram Stories let you use Boomerang, apply filters, add music, and use camera effects to convey your client's identity. Instagram Reels are more suitable for video content creation with features like:
Adjust video playback speed
Import your own original audio
Set Timers and Countdowns
Use the remix feature with videos by other Instagram users
Create a seamless transition with the align tool
Suggested Article: Most Viewed Instagram Videos that SMM Agencies Can Learn From
Instagram Reels also let you stitch together multiple clips to create a single Reel. This built-in editor is not as powerful as other IG tools, but it gets the job done.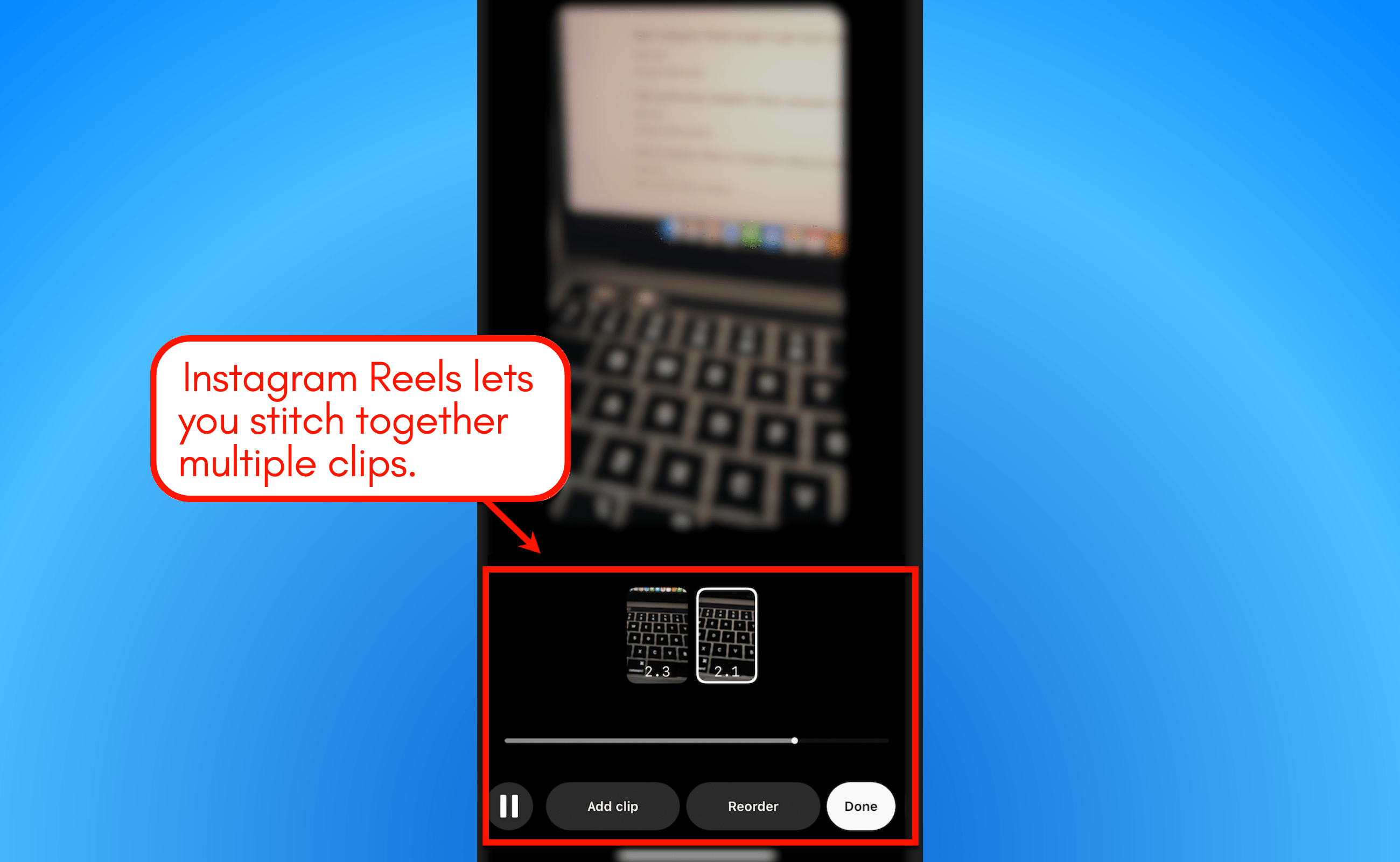 Instagram Reels vs Story: Availability
Instagram Stories only last 24 hours, while Instagram Reels can stay permanently on your feed or "Reels" tab.
Make Instagram Stories last longer by converting them into highlights, which will remain accessible on your Instagram profile.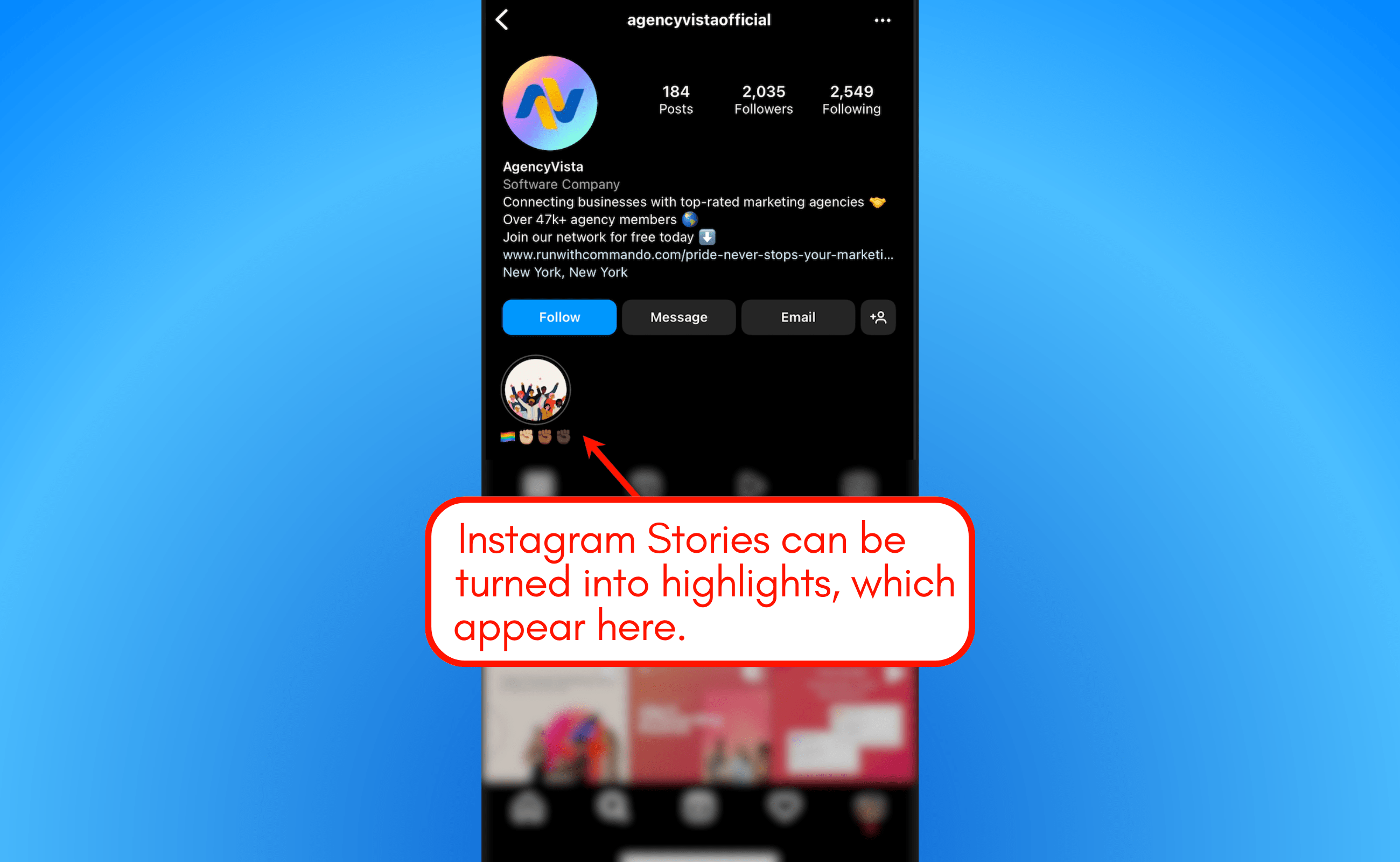 Instagram Reels vs Story: Discoverability
Both Instagram Reels and Stories are discoverable on the "Explore" page of the Instagram app. But Instagram Reels are more prominent, making them ideal for reaching new audiences.
Instagram Stories, however, are more discoverable to your existing followers.
Stories appear at the top of your follower's "Home" feed. Followers can also discover your Stories by swiping through the Stories uploaded by other accounts.
Suggested Article: Best Questions to Ask on Instagram Story for Brands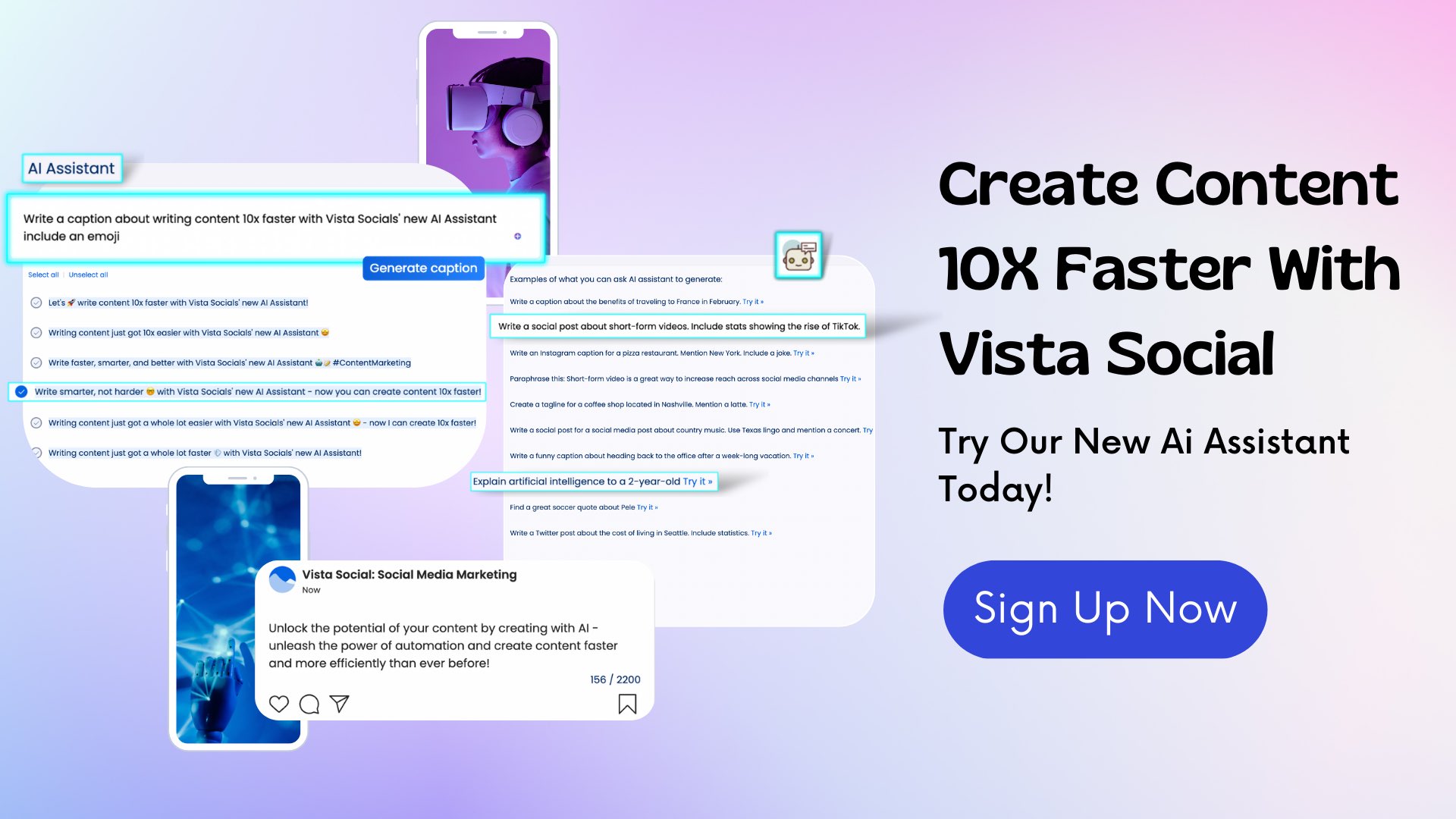 Ready to give your content workflow and posts a major upgrade? Try AI Assistant powered by ChatGPT today! 🤖💙
Best Instagram Reels length to get more views and shares
While Instagram Reels can be up to 90 seconds long, anything over three seconds long should work.
Instagram starts counting video views (including Reels) after three seconds. If the user stops watching before three seconds, it won't count as a view.
Some experts may recommend creating short Reels, which forces Instagram to loop the video and count more views. However, Instagram expressly stated that video views don't include loops.
Just focus on creating content rather than finding the "best" Instagram Reels length. Make your client's Reels compelling, relatable, and packed with useful information to generate more views and win followers.
Suggested Article: How to Get Followers on Instagram Without Following
If you prefer to have a benchmark, analyze your top competitor's Reels.
Check their Instagram profile, switch to the 'Reels' tab, and look for their most-viewed Reels.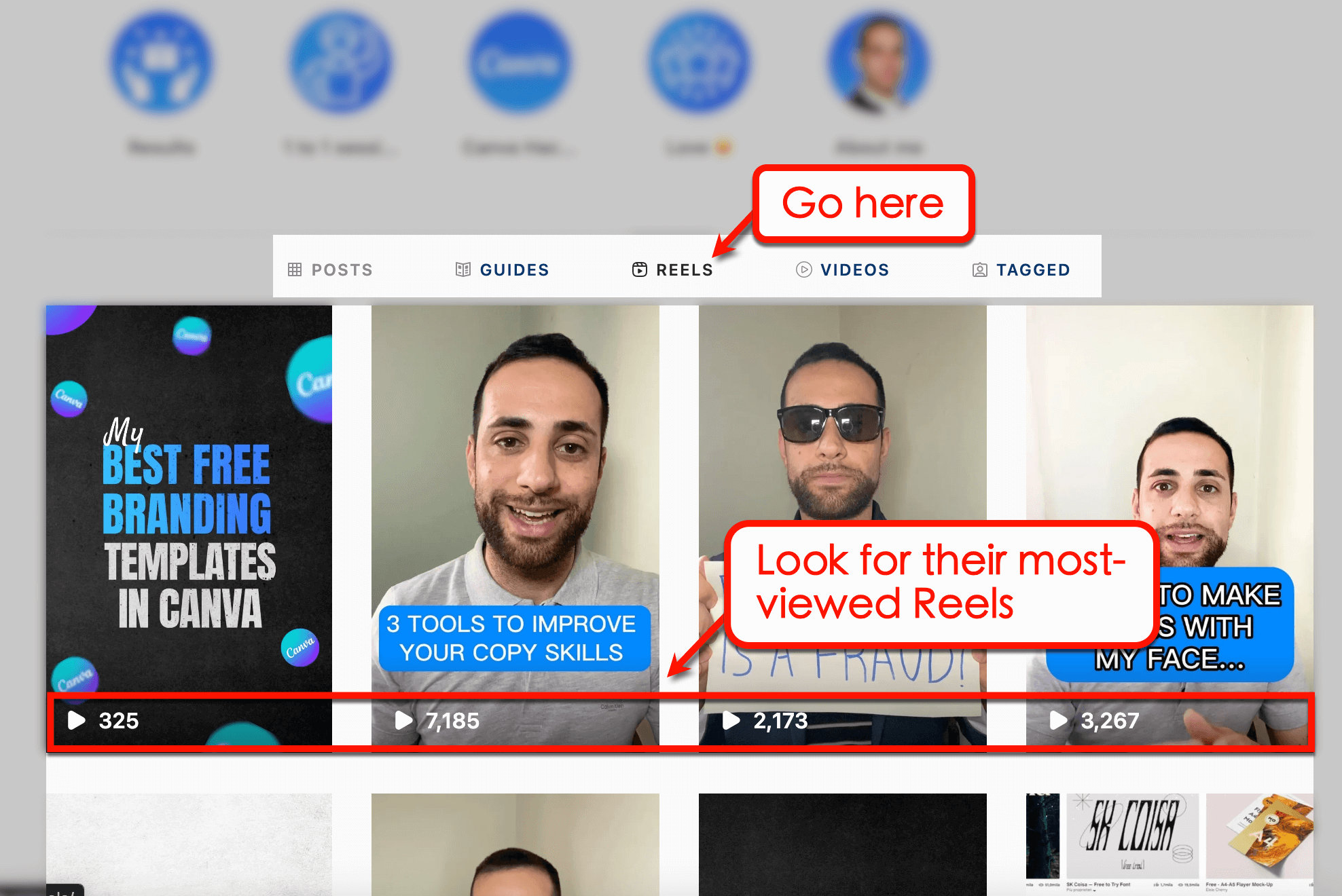 Instagram doesn't show the actual length of a Reel even if it's from your own account. Use a timer app or make a rough estimate to set a target Reel length based on competitors.
Other than length, pay attention to other elements like the Reel's music, caption, text overlays, thumbnails, and hashtags. Borrow these for your Instagram marketing strategy and see if they work for your clients.
Top video editing apps for Instagram Reels
The built-in video editor for Instagram Reels includes a host of features for beginners and veterans. It lets you seamlessly stitch together posts, use AR effects, create reusable templates, adjust playback speed, and so on.
Do more with Instagram Reels using these third-party video editing apps:
Brought to you by
Try Vista Social for Free
A social media management platform that actually helps you grow with easy-to-use content planning, scheduling, engagement and analytics tools.
Get Started Now
VEED: Spice up your Instagram Reels with filters, voiceovers, custom sounds, and unique effects.
Filmora 11: Use advanced tools like motion tracking, audio ducking, split screen effects, and color matching for professional-looking reels.
InShot: Utilize a set of easy-to-use video editing tools through a social media-like interface.
Funimate: Create vibrant Reels with stickers, animations, backgrounds, and text effects.
Clips: If you use an iOS device, use the Clips app to use AR spaces, add subtitles, insert emojis, and more.
High-performing Instagram Reels examples for agencies
To help you use Instagram Reels for your clients, let's look at some high-performing examples from other brands and agencies:
1. Starbucks – Coffee cubes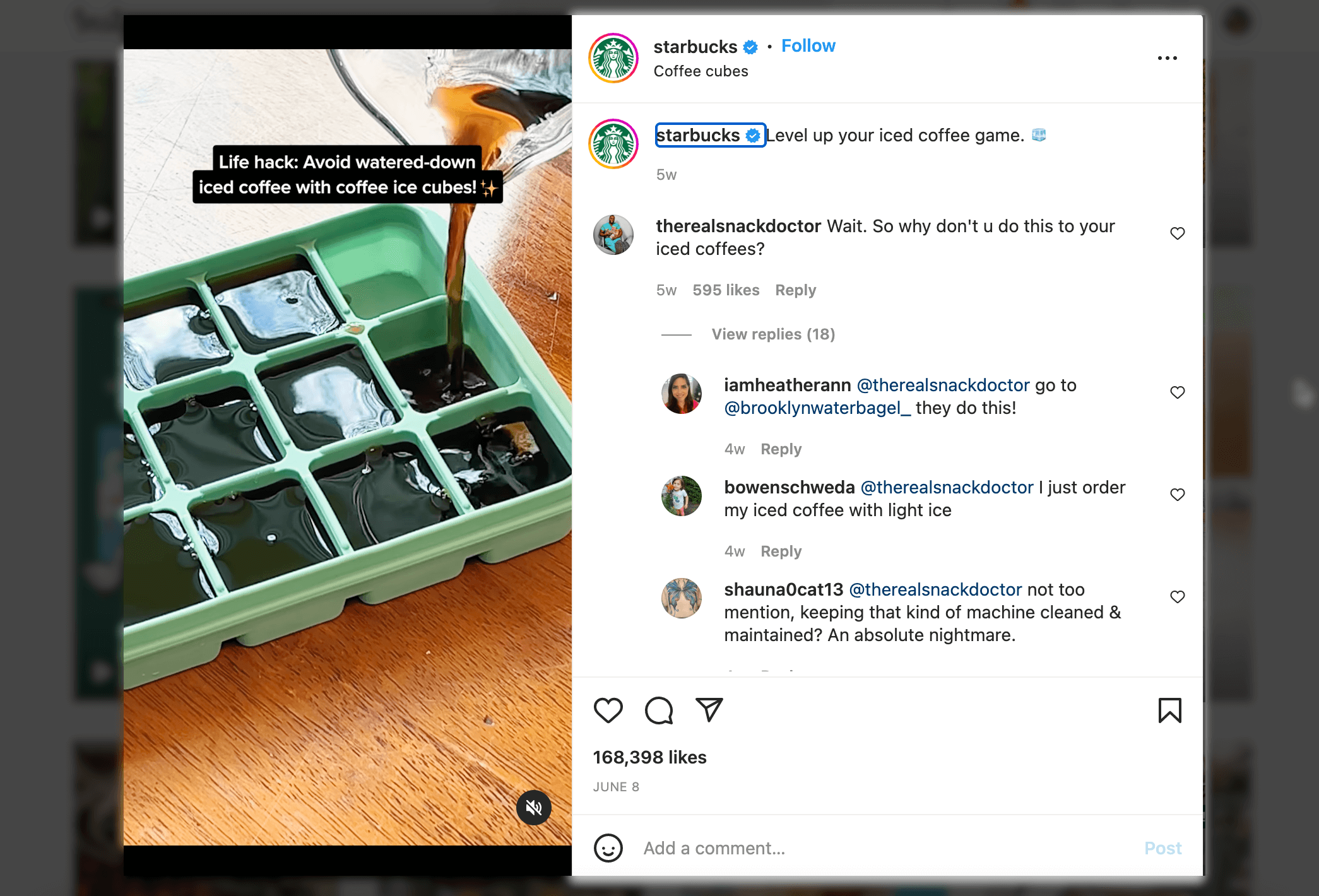 Create "life hack" Reels that help your client's audience make the most out of their products. Starbucks made a life hack Reel with text overlays and stitched clips showing each step.
2. Dain Walker – Open for business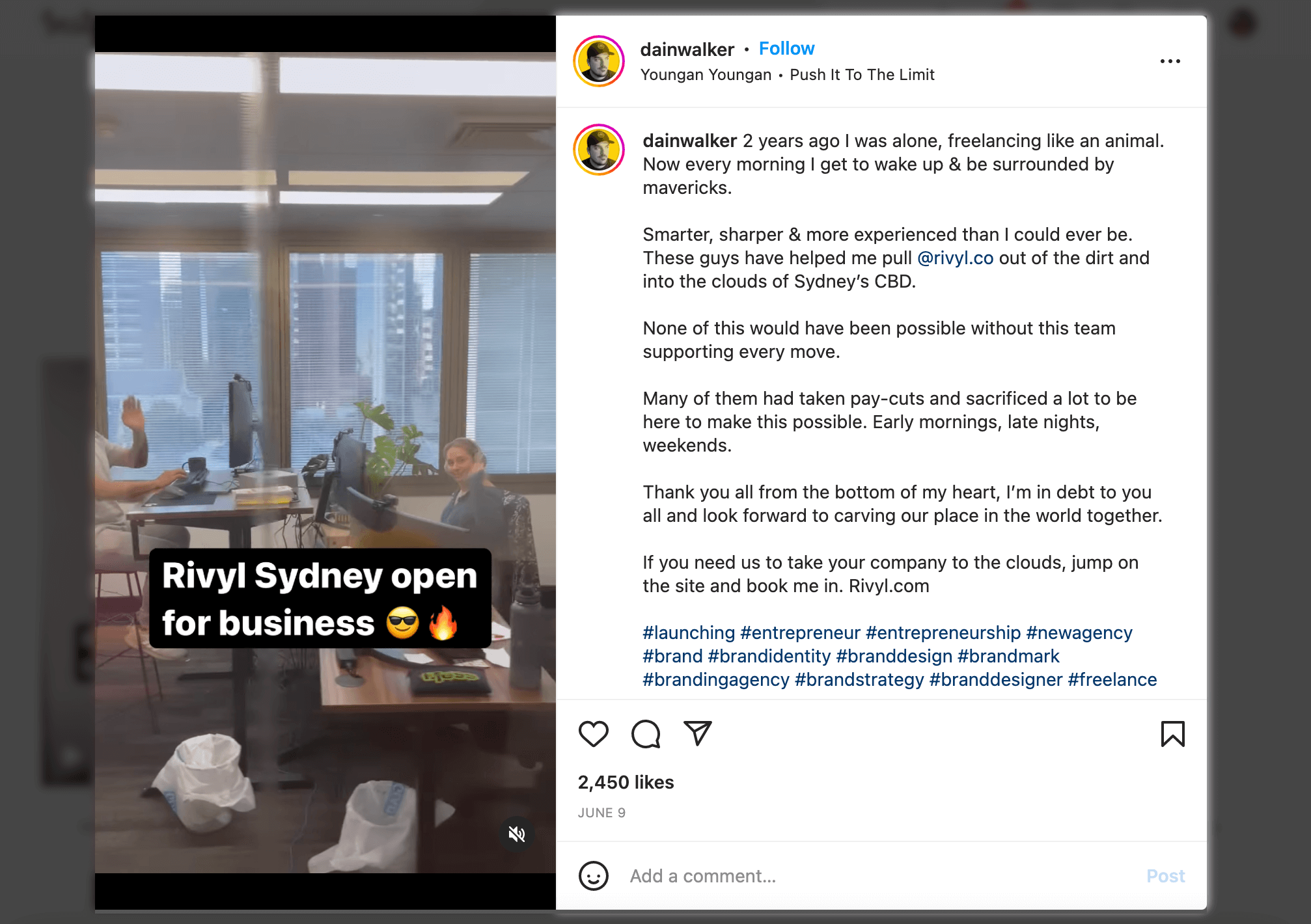 Give your target audience a "behind-the-scenes" look at your agency or client's business. Dain Walker's Reel featured a quick look at his team with a genuine message about the struggles of running an agency.
3. Canva – Father figures come in many forms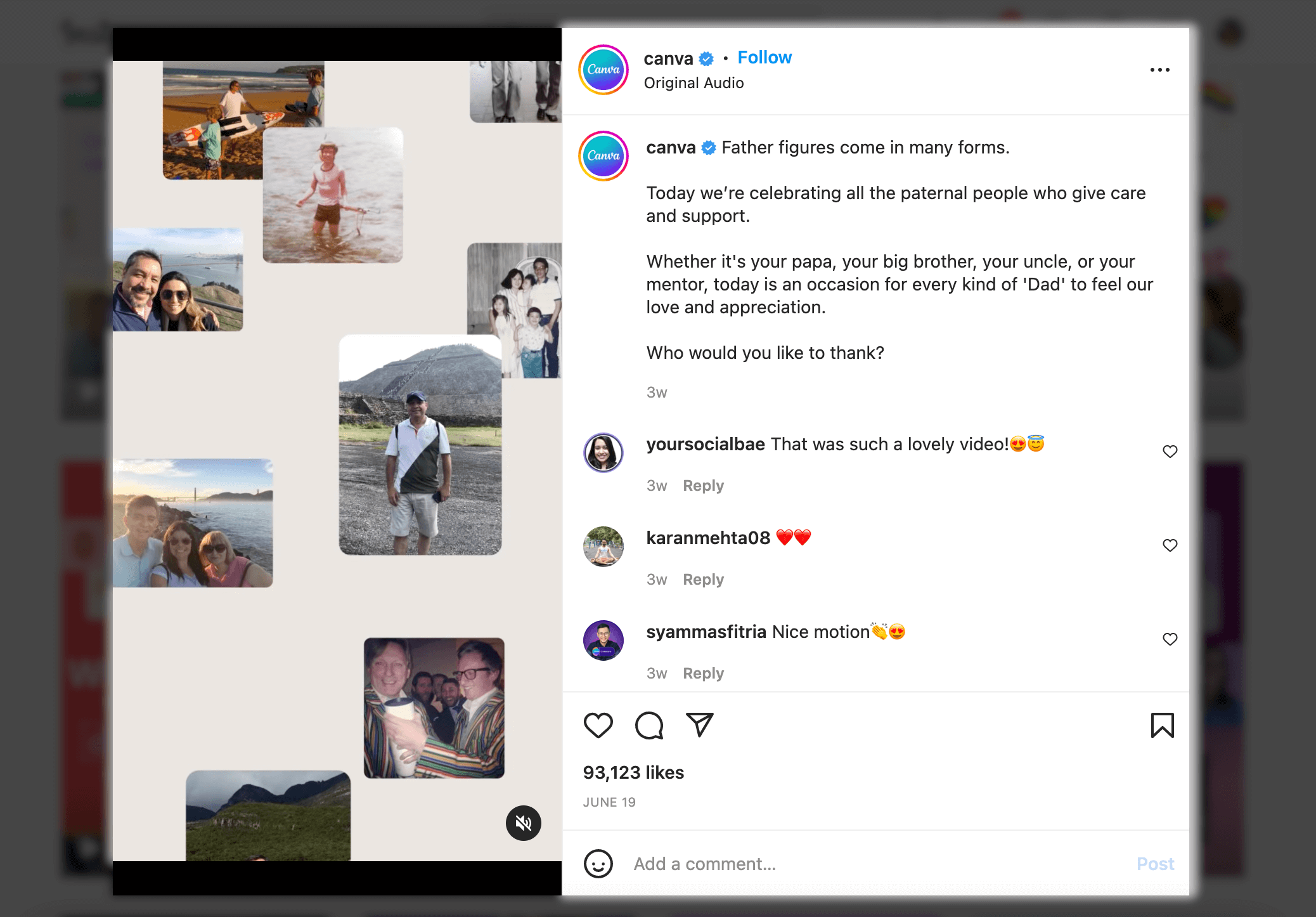 Create Reels about seasonal topics or holidays to boost relatability and engagement on the social media platform. Tie the topic to your client's product, like how Canva showcased templates and examples for Father's Day cards.
4. Google – First person on a conference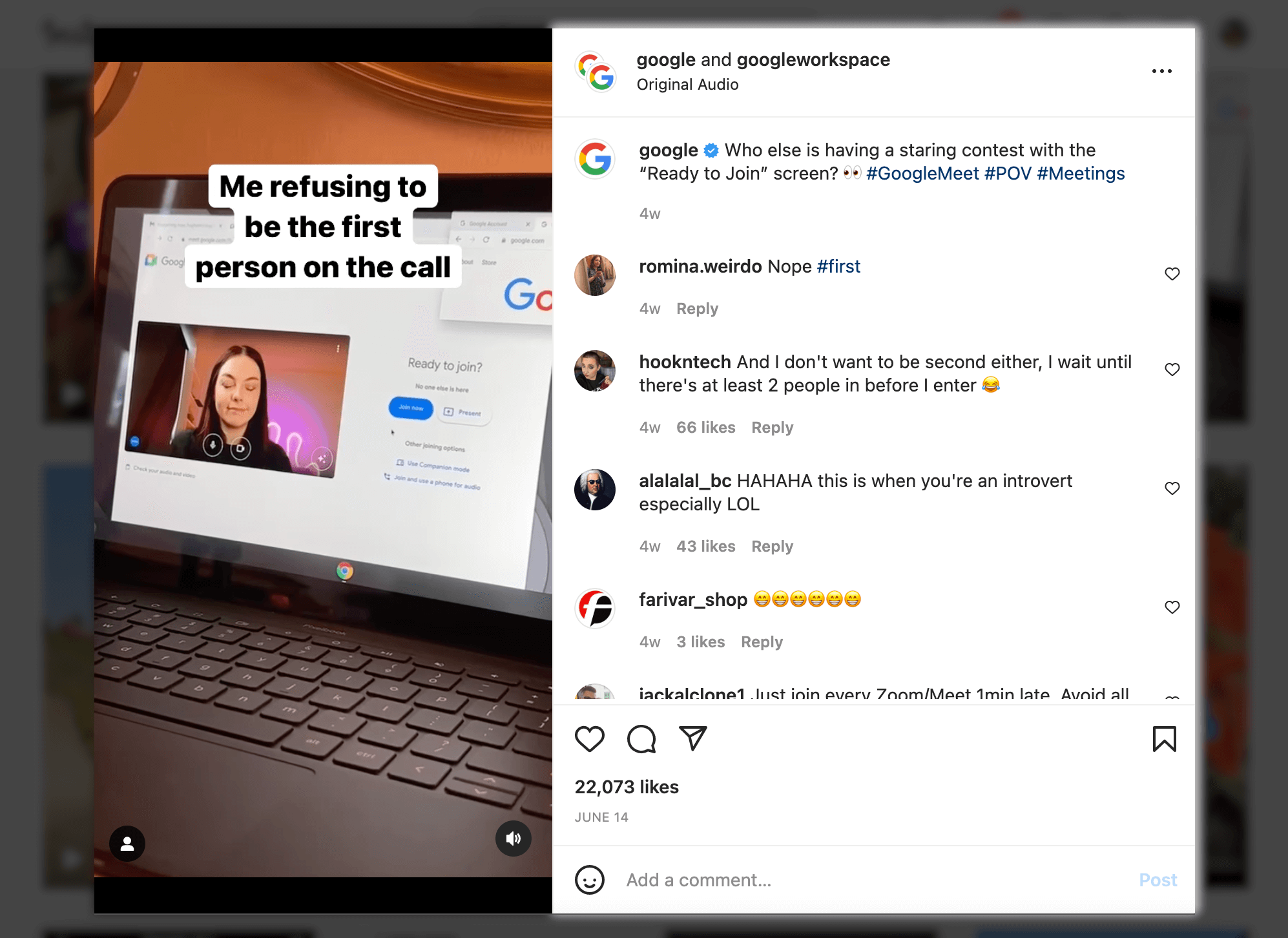 Upload entertaining Reels about the relatable issues or scenarios your client's customers may experience. Google uploaded an original Reel about how Workspace users refuse to be the first person at virtual conferences.
5. The SEO Punch – Life of SEOs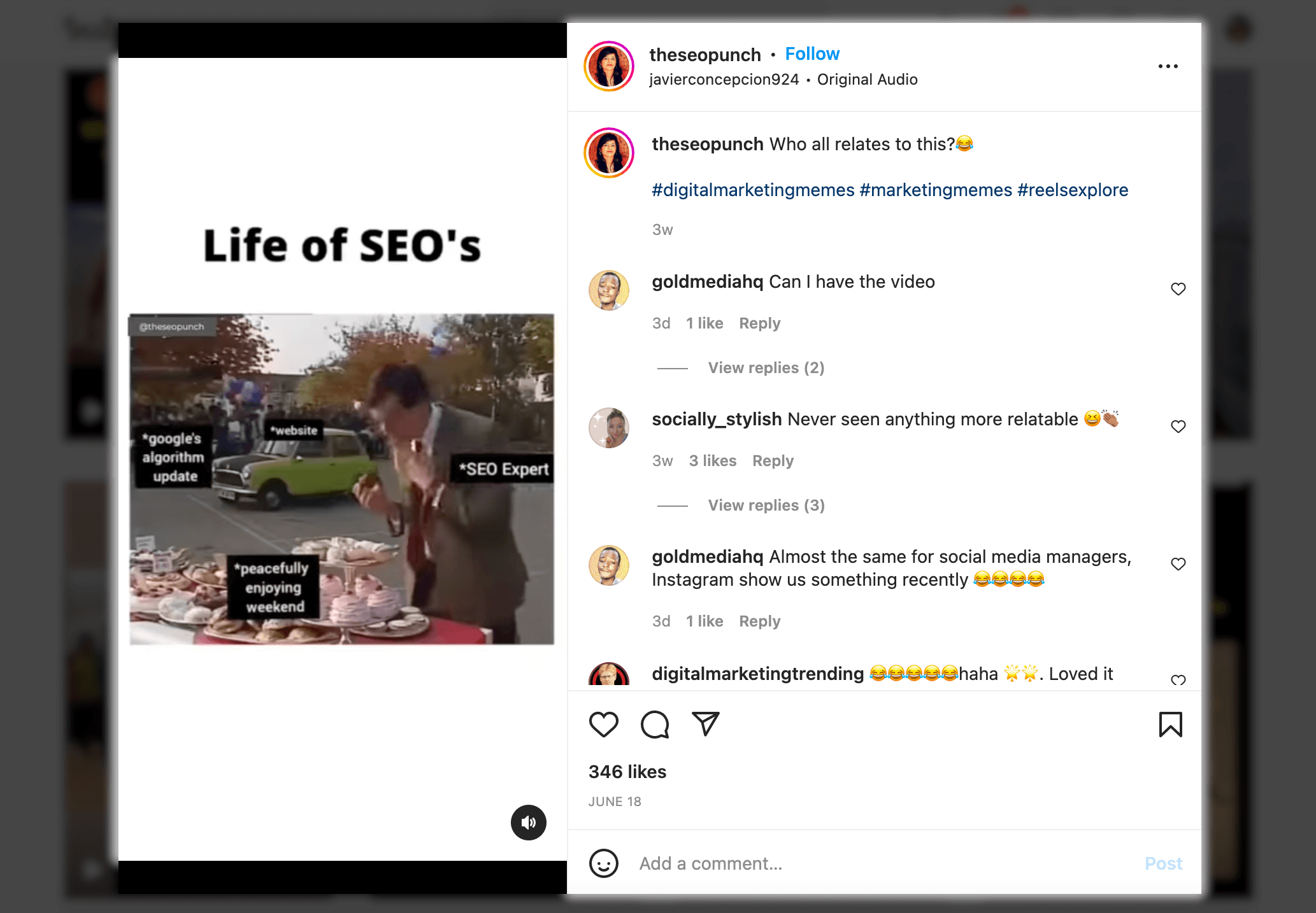 Use memes and funny clips to make lighthearted Reels about the challenges your agency (or client) faces. The SEO Punch published an Instagram Reel that depicts the way Google algorithm updates affect their work—using a well-loved character in a scene everybody's familiar with.
How to repost a Reel on Instagram [Step-by-step guide]
Reposting Reels helps maximize its reach. It also lets you pick a better posting time, which leads to more likes, comments, and shares.
Here's how to repost a Reel on Instagram via Vista Social:
Open the Instagram app.
Go to your profile and switch to the Reels tab.
Open the Reel you want to share.
Tap the three dots menu button and select 'Save to Camera Roll.' Move the clip to your computer.
Launch Vista Social.
Click 'Publish' and then 'Publish a single post.'
Click 'Add video' and then 'Upload from computer.' Find and upload the Reel you saved.
Write a caption and specify the hashtags you want to use.
Choose between 'Add to queue,' 'Schedule,' or 'Publish now.'
You can also use Vista Social to repost Instagram Reels on other social media platforms. Use the cross-channel social media calendar and publishing tool to schedule reposts at optimal times.
Suggested Article: 431+ Best One-Word Instagram Captions to COPY & PASTE! [2022]
How to share Reels on Instagram to get more engagement
Share existing Instagram Reels on other social media platforms to reach a wider audience. It also increases the overall views and engagement for reels.
How to share Reels on Instagram with Vista Social:
Open Instagram using your web browser.
Go to your profile and head to the Reels tab.
Open the Reel you want to share and copy the URL from the browser tab.
Launch Vista Social.
Click 'Publish' then select 'Publish a single post.'
On the left panel, select the profiles you want to use.
Click 'Add link' and paste the URL into the "Link URL" field.
Write a caption, add a photo thumbnail, and insert your hashtags.
Choose between 'Add to queue,' 'Schedule,' or 'Publish now.'
Maximize the searchability of your Instagram Reels using hashtags.
With Vista Social, organize your hashtag groups and seamlessly insert them into your Instagram posts and Reels—or add them to an automated first comment to keep your caption clean.
Below are some of the best Instagram Reels hashtags:
#instareel #videooftheday #reelsofinstagram #viralvideos #reels #reelitfeelit #trendingposts #firstreel #instagram #fashion #music #beauty #explore #instafamous #nature #travel #funny #trending #challenge #foryou #explorepage #marketing #style #newsfeed #bestreels #memes #instadaily #instagramreels #exploremore #dance #reelsvideo #insta
Also use viral hashtags for Instagram for your client's specific industry to improve the searchability of your Reels.
Check out some examples:
Fashion hashtags for IG Reels
#fashionblogger #fashionable #fashionstyle #fashionista #fashiongoals #fashionstudy #fashionby #fashionstyle #fashionbaby #fashionweek
Health hashtags for IG Reels
#healthychoices #healthandwellness #healthystart #healthydinner #healthcare #healthishappy #healthymindset #healthylife #healthyhabits #healthyeating
Marketing hashtags for IG Reels
#marketingteam #smallbusiness #marketingexpert #marketingvideo #marketingtips #marketingtools #marketingblog #marketingstrategy #marketingconsulting
IG Reels Tutorial: Frequently Asked Questions
How does IG Reel work?
Instagram Reels allow you to upload video content up to 90 seconds long with an array of editing tools. Reels are discoverable on the Instagram Explore page and can be shown on your profile's feed.
How do you make a Reel video?
Open the Instagram app, tap the '+' button, and select 'Reel.' You can use a variety of effects, stickers, templates, music, and other video tools to create entertaining Reels.
How do Reels get views?
Promote Reels with captivating captions, relevant hashtags, and shares on other social media platforms. Use trending effects to appear on the Reels feed of other users who want to use the same effect.
How long can a Instagram Reel be?
Instagram Reels can be up to 90 seconds long, which was increased from 60 seconds after TikTok extended their allowed video length to 10 minutes. This allowed Instagram creators to pack more value into their video content.
Suggested Article: Content Pillars for Instagram: Examples, Tips, And Steps
How do you make a Reel go viral?
Eight tips to go viral with Instagram Reels:
Remix existing Reels from popular Instagram accounts
Set an attention-grabbing thumbnail
Use text overlays that grab attention
Hook users for more than 3 seconds with eye-catching elements
Sprinkle your Reels with trending hashtags
Use trending effects and templates
Promote Instagram Reels on other social media networks
Follow our Instagram Reels tutorial to generate more engagement
Creating successful Instagram Reels is easier with Vista Social.
Schedule your Reels at the perfect time, cross-promote to other platforms, automate comments, and monitor user engagement.
Watch Vista Social in action with a free account today.