---
Did you know that a social media approval process could be the ultimate hack you've been searching for?
It can be challenging to get approval from clients, and the never-ending cycle of revisions and feedback can be frustrating.
Plus, if you're bringing out the best of your social media playbook – your workflow could become a bit complicated and overwhelming to someone not familiar with the space.
But don't stress!
We're going to share our top tips for streamlining the social media approval process and making your life a whole lot easier. 🤩
Table of Contents
A social media approval process is basically getting your client's approval for your social media content before it goes live. This can include everything from posts, stories, and ads to graphics, videos, and more.
Long story short, it gives posts a seal of approval before the final send-off.
In an average approval workflow, social media managers are usually in charge of greenlighting posts.
Typically, the social media approval process involves sharing drafts with your clients and getting their feedback and revisions.
This can sometimes involve multiple rounds of revisions and feedback, which can slow down the content creation process. 😵‍💫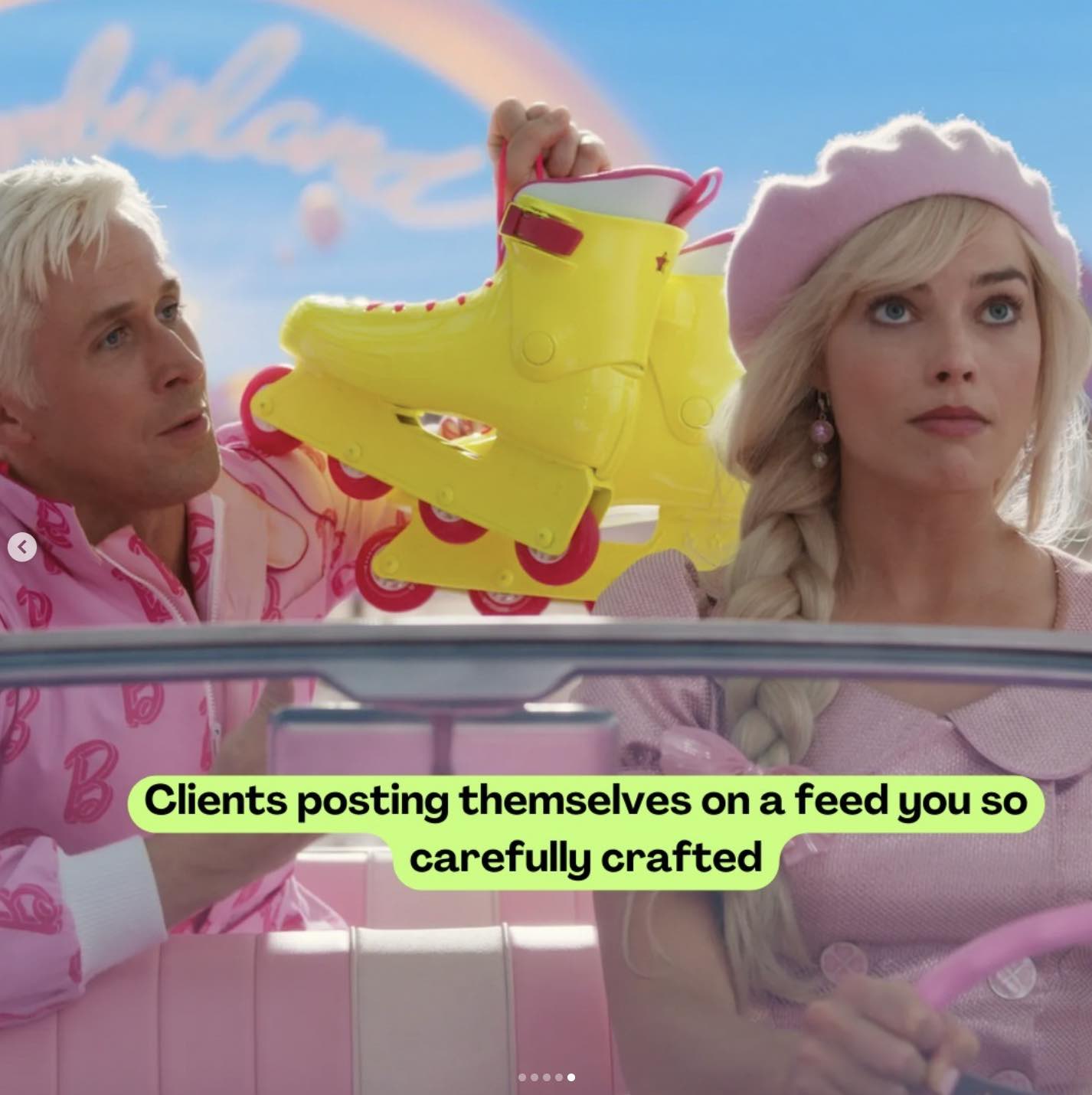 However, by streamlining the approval process and setting clear expectations with your clients, you can reduce the likelihood of misunderstandings and delays.
Why do you need to approve social media posts?
We get it – the social media approval process can sometimes feel like just another step in an already crowded workflow.
But here's the thing – the approval process is actually a critical step in ensuring that your brand's social media content is on point and on brand.
Without approvals, you run the risk of miscommunications and delayed launches, which can be a real drag on the process.
Plus, it's proven that bad content costs B2B companies a whopping $50 billion—$90 billion if you factor in B2C businesses.
But with the approval process in place, you can rest easy knowing that your content has been vetted, is on message, and is ready to go live.
Need a little more convincing? Here are more benefits of adding an approval process to your social media content workflow:
Avoid costly damage control. Implementing an effective social media workflow with an approval process can eliminate the need for crisis management. Otherwise, you risk losing your current and future clients.
Make your clients happy. Involving clients in social media workflows ensures satisfaction with your content strategy. This improves your chances of securing longer-term contracts and winning more business.
Build an efficient and successful social media workflow. An approval process baked into your social media team workflow helps keep everyone on the same page. Say goodbye to endless back-and-forths between team members just to greenlight a post.
In short, while it might feel like an extra step in your workflow, the approval process is a crucial part of ensuring that your brand's social media content is successful, impactful, and on brand.
Collaboration is key, so involving your clients in the process from the get-go is a great way to streamline your workflow and create content so that everyone is happy.
Here are a few tips to get you started:
1. Review your client's requirements
When it comes to managing social media for clients, it's crucial to have a clear understanding of their requirements and expectations.
Reviewing your client's requirements regularly can help ensure that your agency is meeting their needs and delivering the results they're looking for.
Because, let's get real, customer churn is a major concern for agencies!
To prevent churn, agencies need to prioritize building strong relationships with their clients.
Open and honest communication is essential to understand and meet client expectations.
Doing so will not only help you provide better service but will also strengthen the relationship between your agency and your clients. 💙✨
2. Build your content approval team
Having a team dedicated to reviewing and approving content ensures that your social media posts align with your brand's voice, guidelines, and values.
This team can consist of members from different departments, such as marketing, legal, and creative, and can work together to ensure all content is in compliance with any regulations or legal requirements.
Think of people in your digital marketing team structure with the expertise you need, such as:
Community managers
Copywriters and editors
Video editors
Graphic designers
Executives
Social media managers
After assembling your team, onboard them into a streamlined Social Media Management (SMM) platform.
Vista Social, for example, lets you add an unlimited number of users. You can also assign permissions specific to members of your approval team.
To do this, head to your Vista Social dashboard, click 'Quick Add,' and select 'Add Team Member.'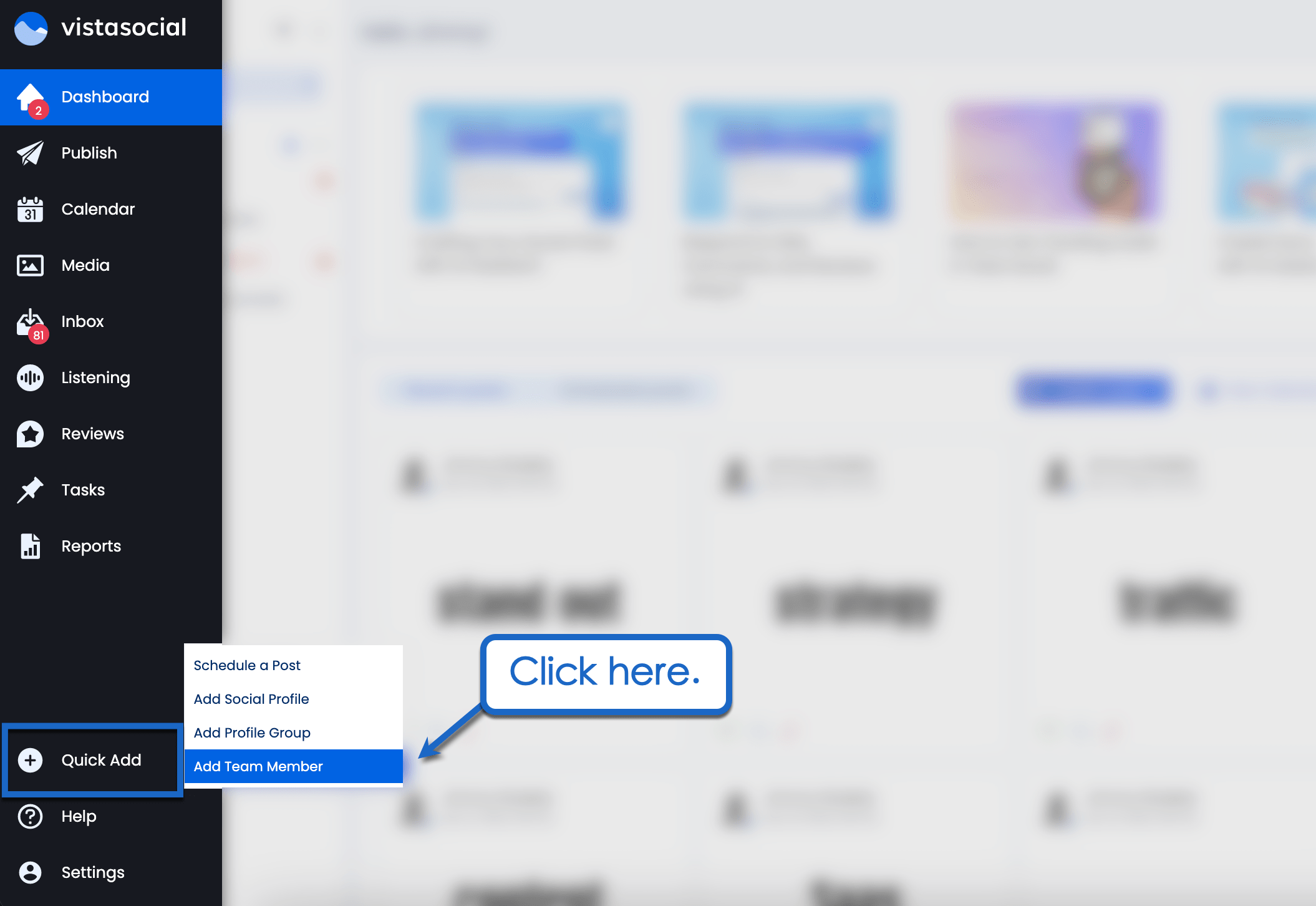 Fill in the details of your new team member, including their first name, last name, and email address. Select 'Invite as Restricted User' and click 'Next' to continue.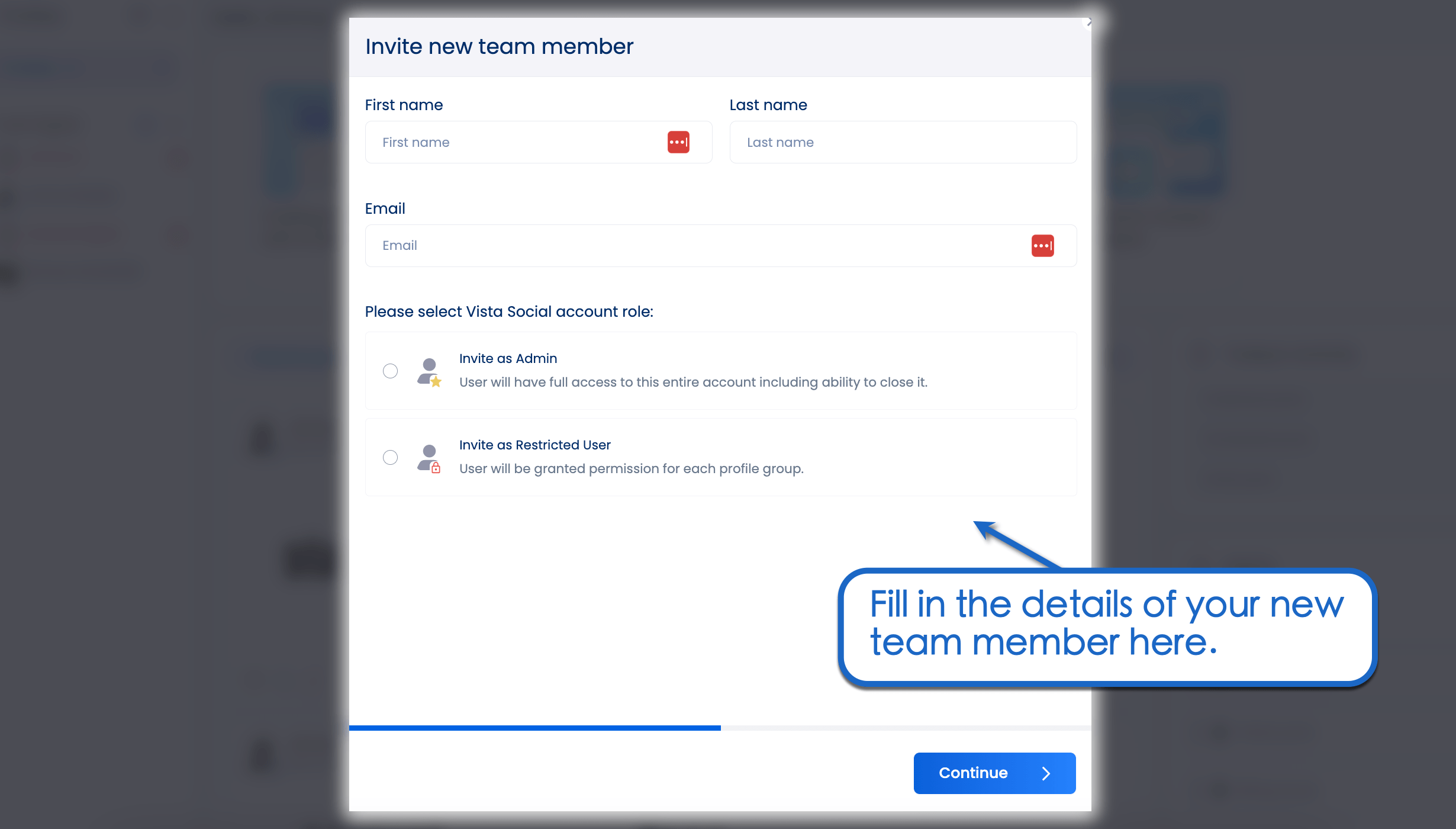 On the next page, select the profile group that the new user can access. At the bottom, select 'Invite as Restricted User' again and modify their access to specific Vista Social features.
To onboard them into your social media approval team, select 'Manage' next to the "Publish" permission. This allows them to schedule, delete, and approve posts in your social media content calendar.
You can switch the rest of their permissions to 'No Access.'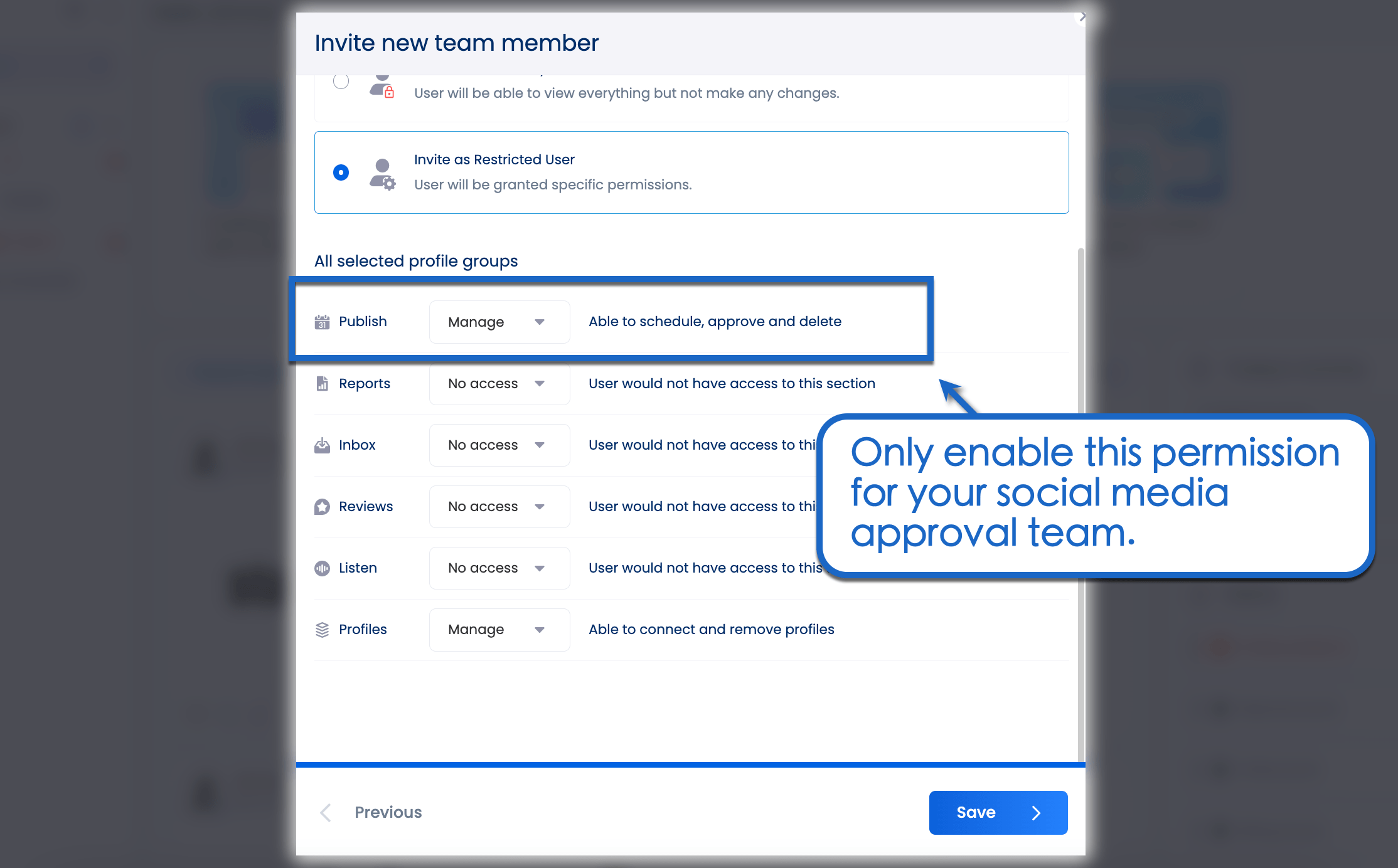 Click 'Save' to send an invitation link to the email address you specified. They should be able to gain access to your Vista Social dashboard from there.
3. Create social media guidelines
When there are so many moving parts and people involved, it can beneficial to create a social media guideline for everyone to follow.
These guidelines should cover everything from the brand's tone of voice and visual style to the types of content that can and cannot be posted.
An effective style guide covers the following details:
Brand vision. In the grand scheme of things, what does your client hope to accomplish in their niche? Write about their background and why potential customers should lend them an ear.
Value propositions. What sets them apart from the rest of the competition? What are the benefits they offer their target audience?
Brand voice. Does your client want to be perceived as a humorous, friendly brand that anyone can approach? Or do they want to establish a respectable, professional brand that's all about business?
Terminology. Are there any specific terms or names that mean something to your client's community? What rules should your social media manager remember when it comes to writing these terms?
Target audience. Who are your client's primary audiences? Describe audience personas complete with their responsibilities, pain points, preferred social media channels, and goals.
Social media content formatting. What should publish-ready social media content look like? Define specifics like your target Instagram Reels length, image dimensions, minimum caption length, and brand colors.
By setting clear expectations and guidelines upfront, you can avoid confusion and misunderstandings down the line, ultimately saving time and reducing the risk of errors.
4. Consolidate ready-to-use assets
Another way to encourage consistency in your social media posts is to share ready-to-use assets.
This means creating a library of pre-approved assets, such as images, graphics, and captions, that your team can quickly pull from when creating content.
By having a centralized location for these assets, you can save time and ensure that all content meets the clients' brand standards.
You can also use Vista Social to consolidate all your social media assets. This includes images, videos, and even hashtag groups.
To import media into your asset library, go to your dashboard and click 'Media.' On your media library, click 'Add media' in the upper-right corner and select the media type you want to upload.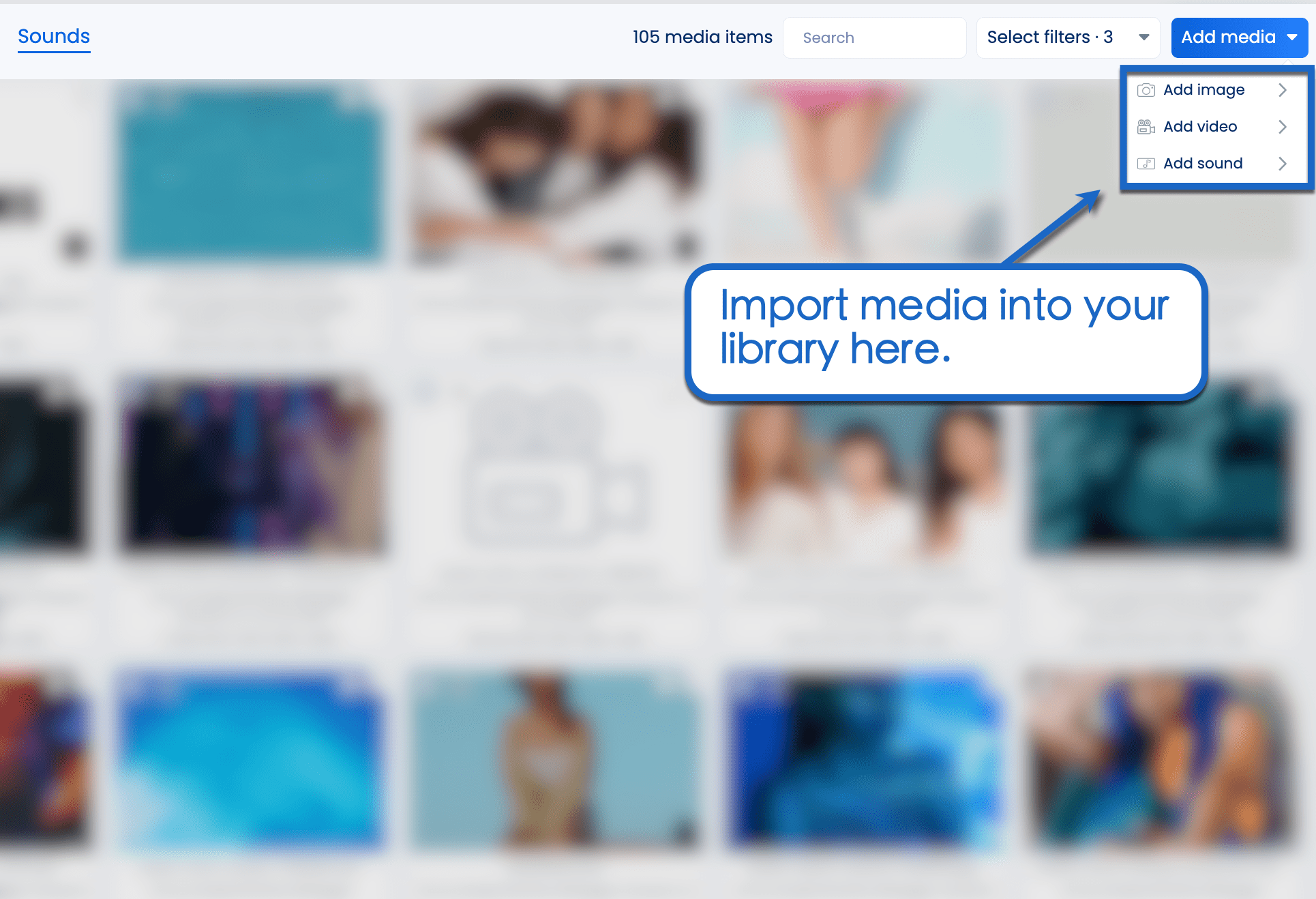 To help copywriters and approvers find viral hashtags for Instagram, TikTok, and other sites that support hashtags, create hashtag groups on Instagram.
Create your first hashtag group by firing up the Vista Social publisher. Simply click 'Publish' from the main menu and select 'Publish a single post.'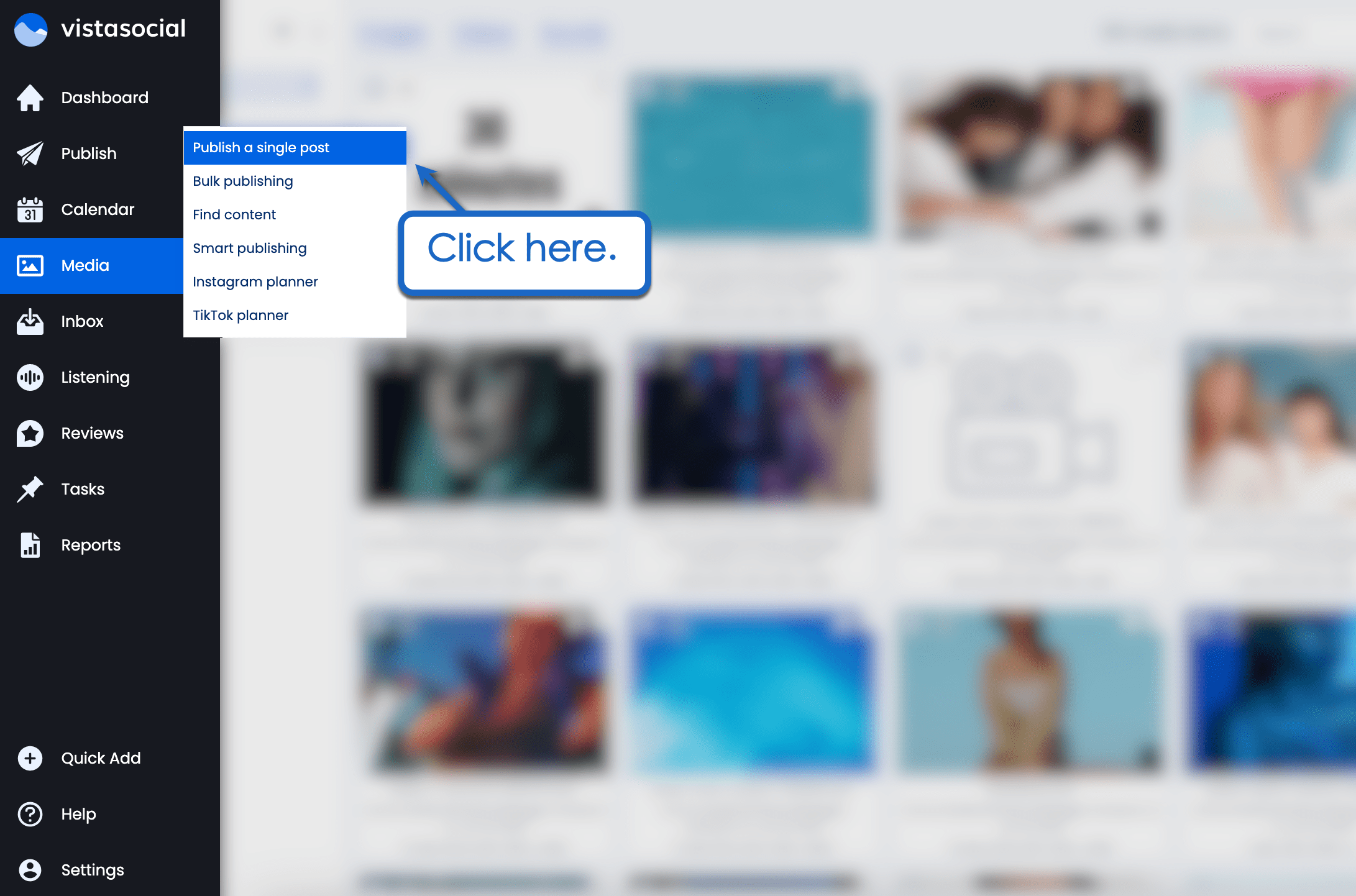 On the publisher window, highlight the hashtag icon and click the "plus" button.
Give your hashtag group a name before entering the hashtags you want to add at the bottom.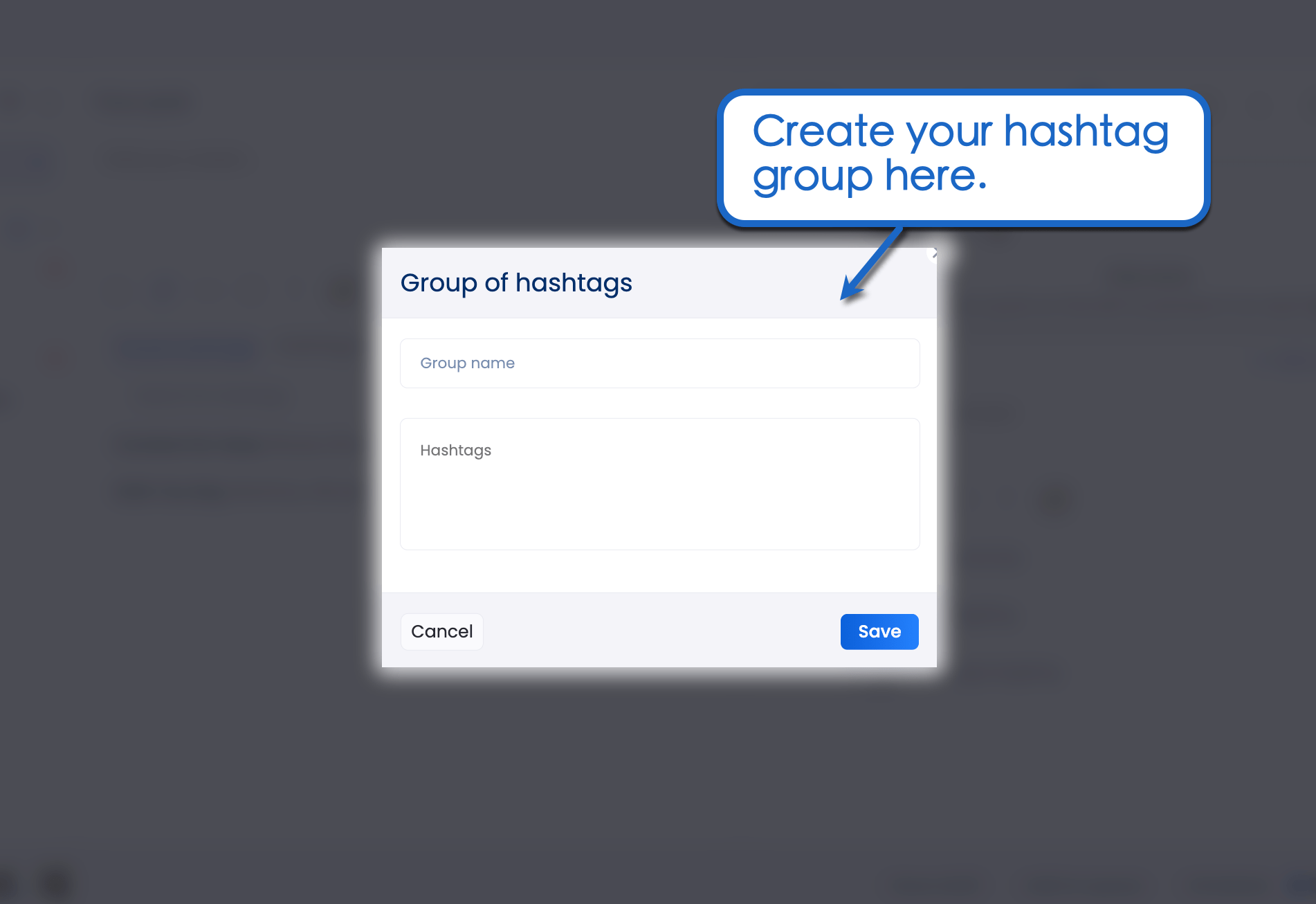 Once your hashtag group is saved, it's ready to be added to any post in seconds. Just launch the Vista Social publisher, click the hashtag icon, and select your hashtag group in the "Saved hashtags" tab.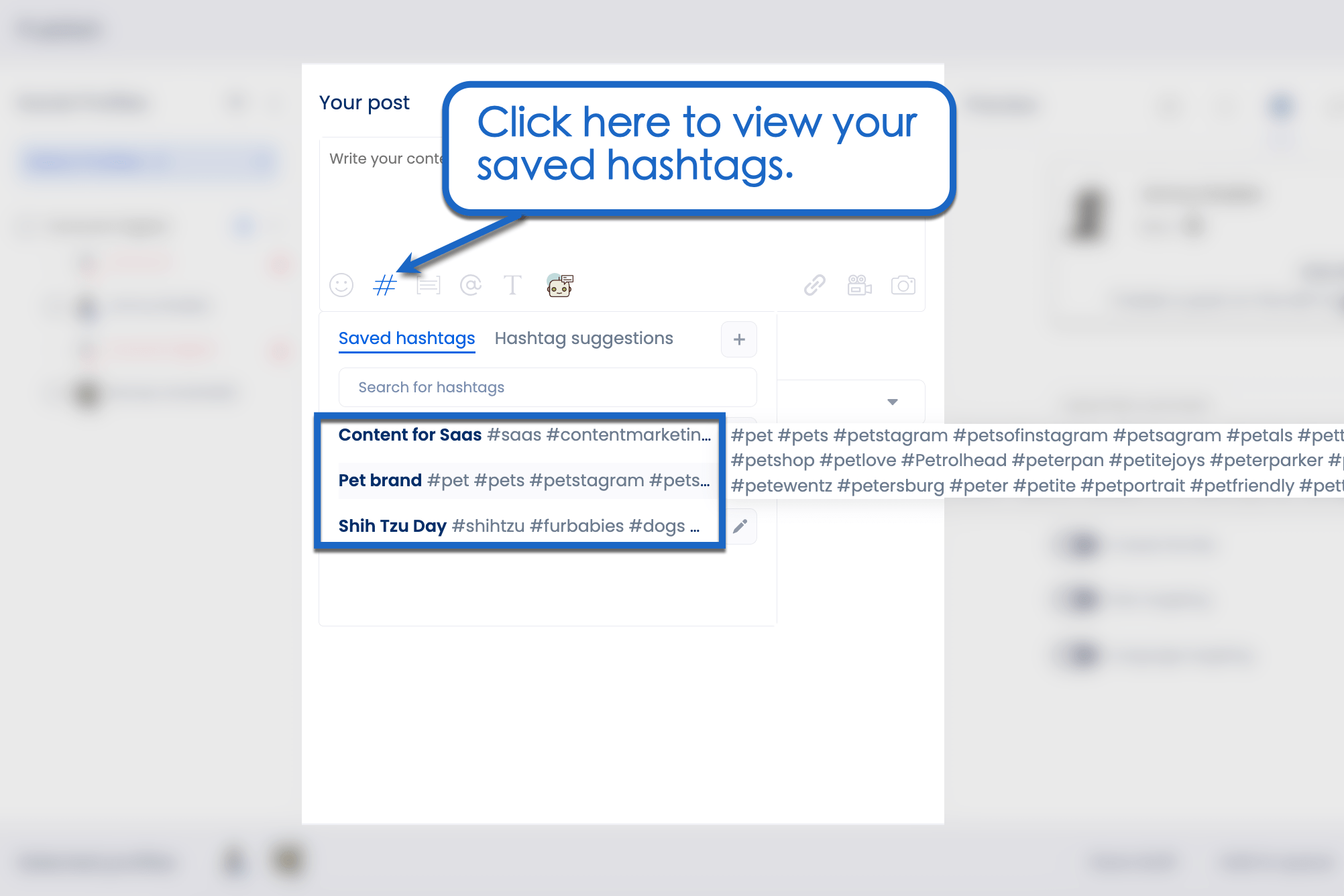 This also allows for a smoother approval process, as clients can easily review and approve assets beforehand, reducing the need for back-and-forth revisions.
With Vista Social's social media management tools, you can easily organize and share assets with your team and clients, making the approval process a breeze.
5. Incorporate deadlines into your social media content workflow
Incorporating deadlines into your social media content workflow can help ensure that everything is completed on time and that your clients are satisfied with the final result.
Setting deadlines for tasks such as content creation, revisions, and approvals can help keep your team on track and avoid last-minute rushes to get everything done.
This is where Vista Social really shines.
With Vista Social's calendar tool, team members can stay on top of their social media publishing schedule anytime. It provides an interactive overview of your published and queued content.
Brought to you by
Try Vista Social for Free
A social media management platform that actually helps you grow with easy-to-use content planning, scheduling, engagement and analytics tools.
Get Started Now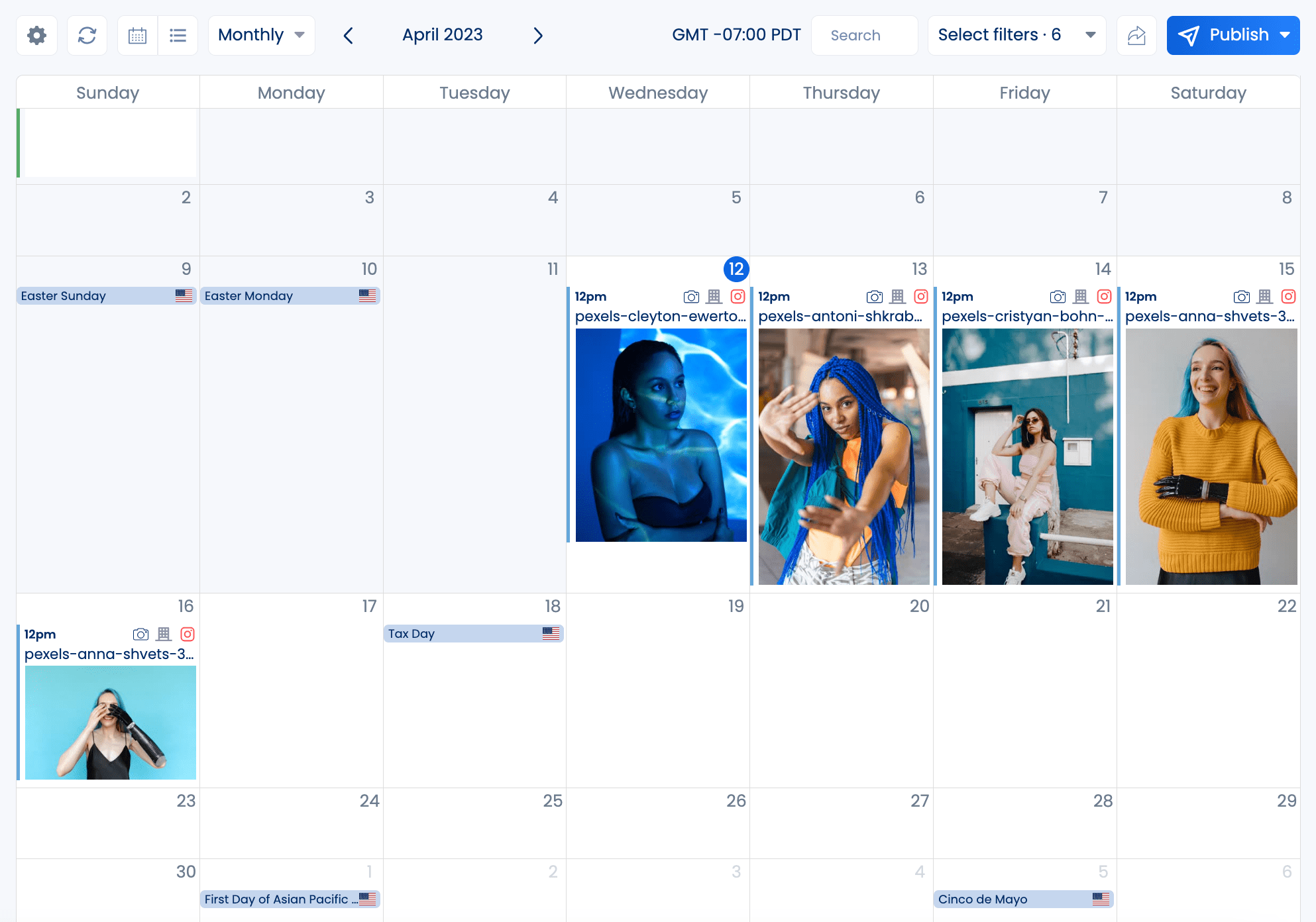 🔥 Hot tip: Before queueing up posts, prepare an automated publishing schedule.
From the Vista Social dashboard, click 'Settings' and select 'Publishing Settings.'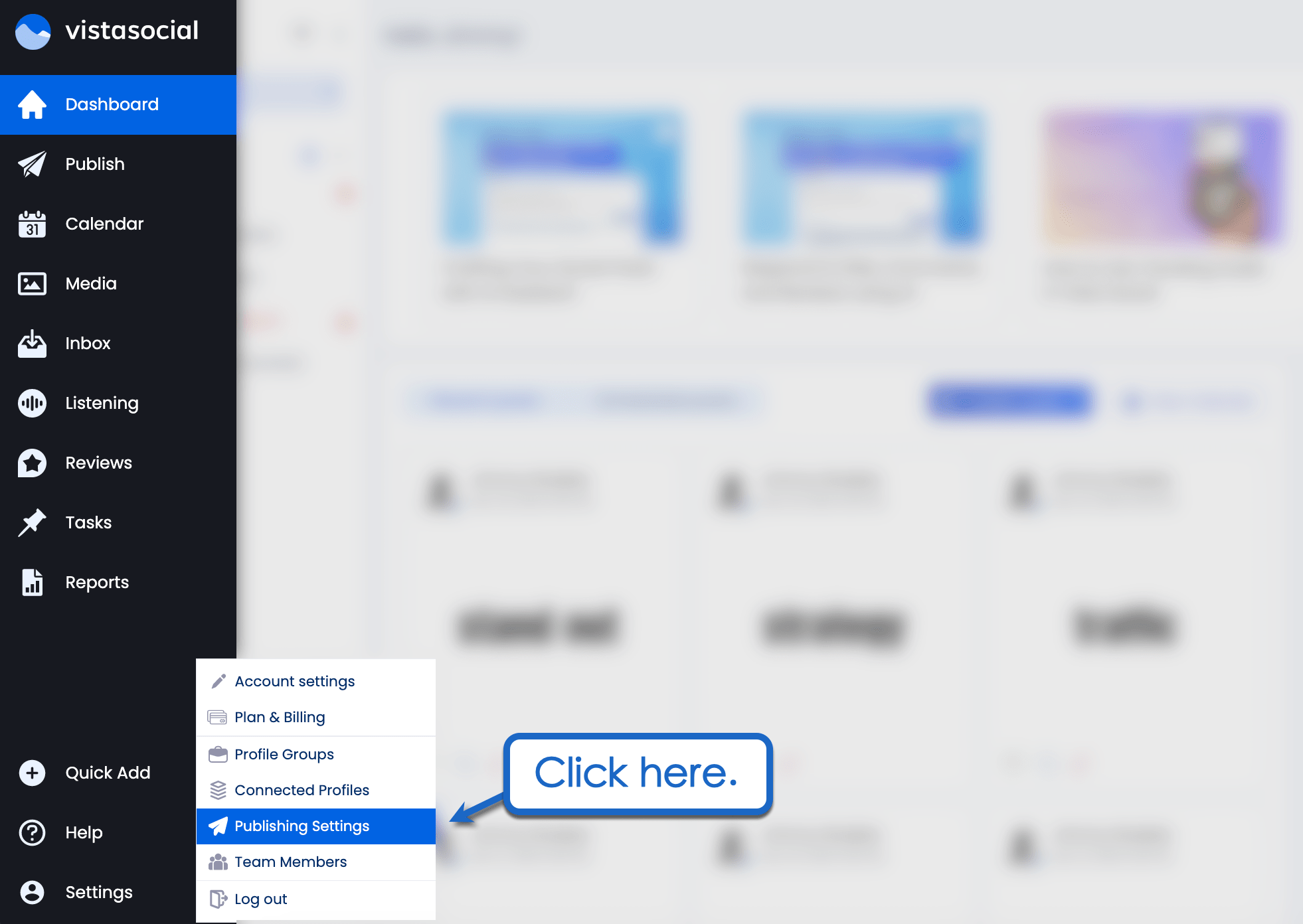 Under publishing queues, select a profile group and the specific social media channel you want to manage. From there, click 'Add a slot' to add an automated publishing time to your schedule.
Not sure which times to use in your schedule?
Over time, Vista Social collects content performance data and identifies the best times to post for each profile. You can find these posting times in the publisher.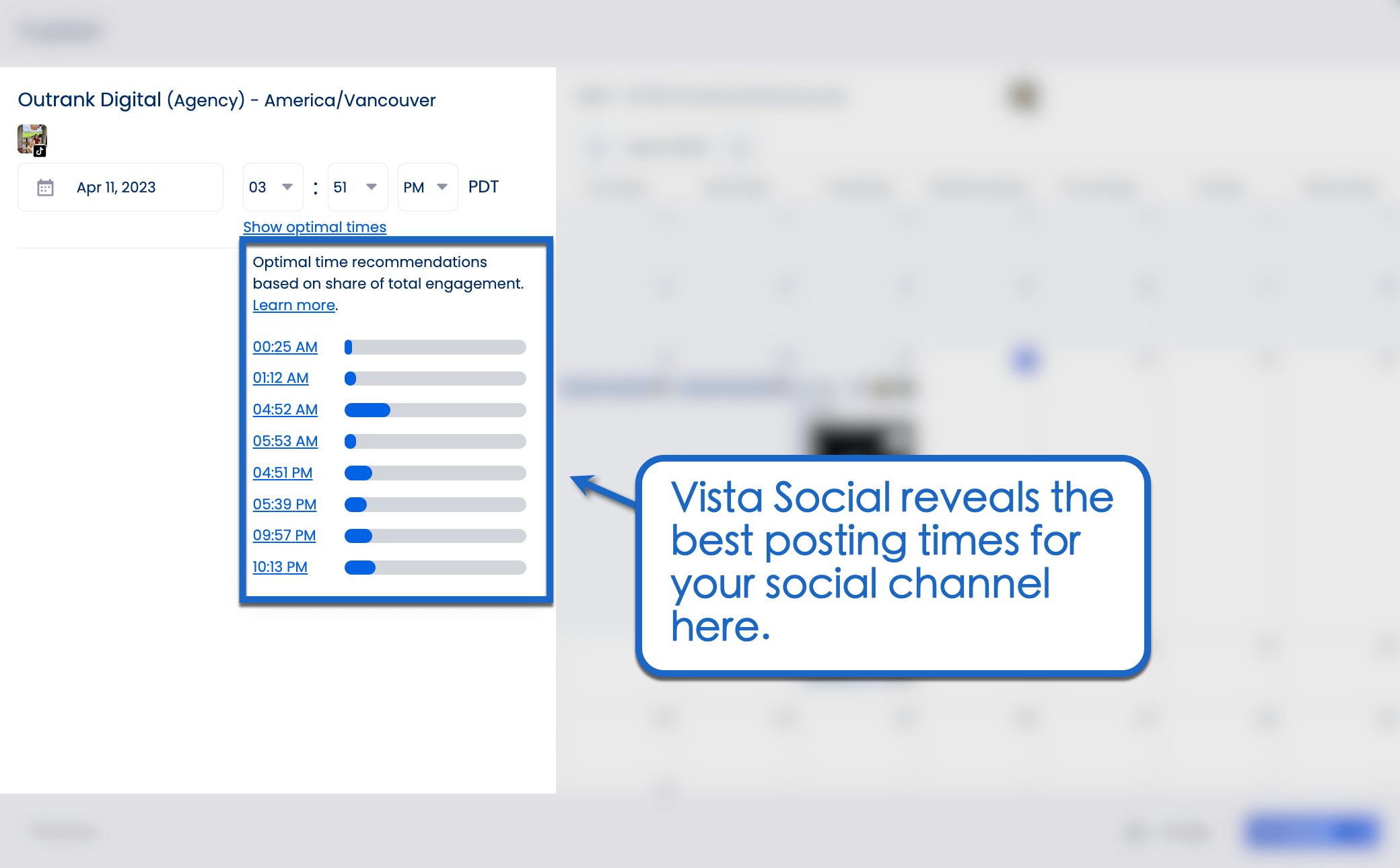 So, where do you insert the approval process in all this?
When scheduling posts, you'll see a nice little 'Assign' button in the bottom-right corner.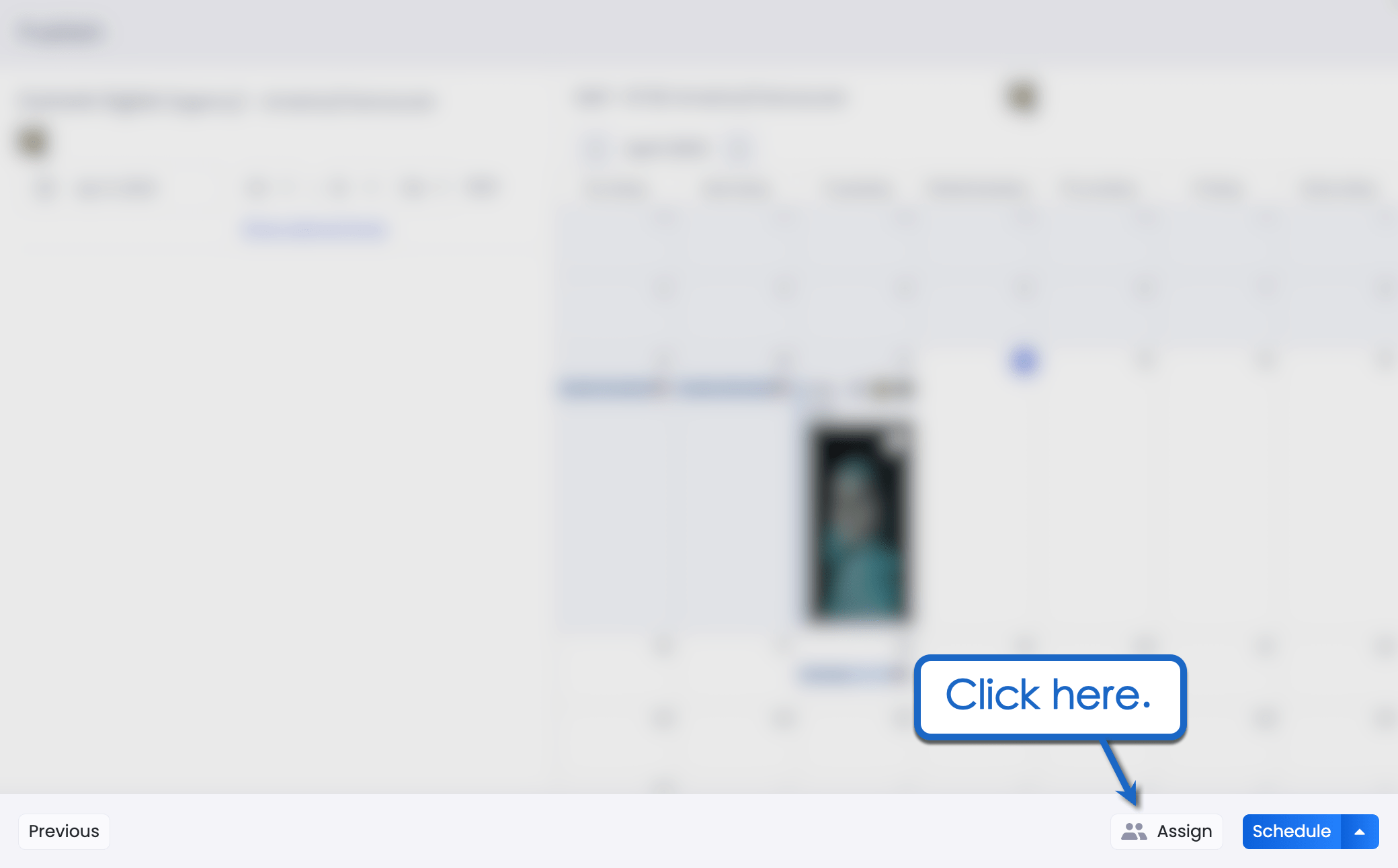 Clicking it allows you to assign the post to a team member for review and approval.
On the "Assign to" page, select the member's username from the drop-down menu and provide additional instructions.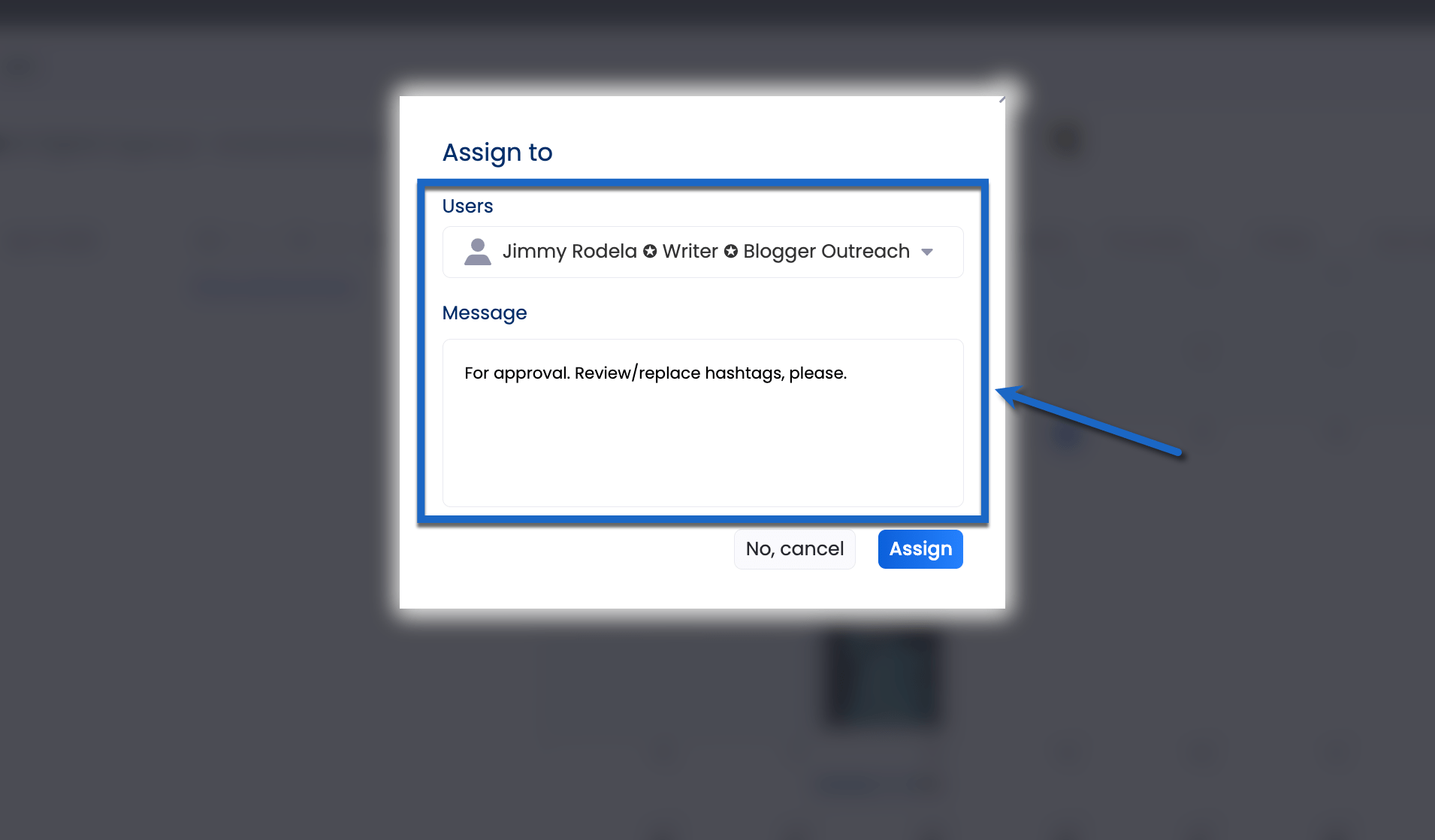 Before sending the post for approval, Vista Social lets you choose from the following options:
Send for Approval + New: Assign the post and open a blank compose window to schedule more content.
Send for Approval + Duplicate: Assign the post and create a copy of the content for scheduling on other networks.
Send for Approval: Assign the post and close the publisher.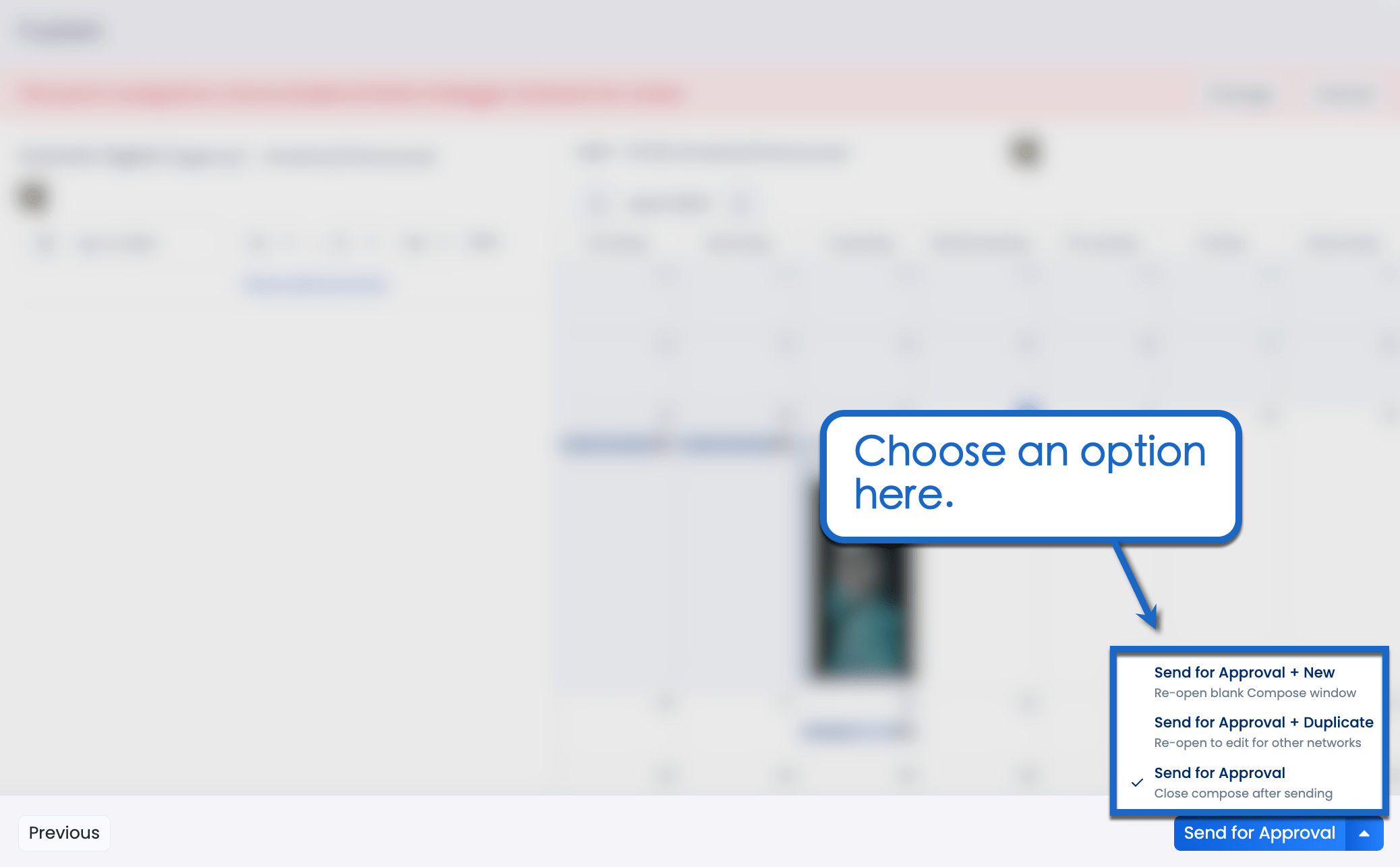 6. Use tools to speed up approvals
One way to speed up the approval process and ensure that your clients are satisfied with the content is to use tools specifically designed for social media approvals.
These tools provide a centralized platform for collaboration, allowing your team and clients to leave comments and feedback directly on the content.
Here's a quick roundup of tools that can supercharge the efficiency of your workflow:
Vista Social: With Vista Social's collaboration tools, you can easily share drafts with your team and clients, leave comments on individual posts or assets, and make real-time changes to content. Additionally, you can leave internal notes on DMs, comments, and messages that come in, providing your team with important context and insights about each interaction.
Grammarly: Speed up the proofreading process for social media captions with automatic mistake detection and one-click corrections. Grammarly lets you modify the grammar checker and tone detection algorithms to match the client's brand voice.
Slack: Leverage the power of instant messaging to reach team members—whether via desktop or mobile. Slack is a popular messaging app for teams that lets you organize conversations into channels.
Google Workspace: Utilize the cloud to collaborate on documents, plan a calendar, and communicate with team members in real-time. Google Workspace is a suite of business tools that includes Google Drive, Meet, Docs, Chat, and Slides.
VistaCreate: Create images, animations, and videos to spice up your social media content strategy. Vista Social lets you launch and use VistaCreate from the publisher.
Canva: Similar to VistaCreate, Canva also lets you edit images, videos, and short animations. Use templates optimized for specific social media channels to speed up content creation.
7. Monitor and fine-tune the approval process over time
It's important to remember that a social media approval process is not set in stone and should be monitored and fine-tuned over time.
As your agency gains more experience and insight into the client's preferences and goals, the approval process may need to be adjusted accordingly.
Additionally, keeping track of the approval process and gathering feedback from all stakeholders can help identify areas that may need improvement.
With a continuous effort to monitor and fine-tune the approval process, agencies can streamline their workflow and deliver high-quality content that meets the needs of their clients.
Ready to roll out your social media approval workflow?
Before springing to action, read the approval do's and don'ts below to maximize the efficiency of your approval process.
1. Keep your social media approval team small
When it comes to social media approval processes for agencies, it's essential to keep your team small.
Too many cooks in the kitchen can lead to confusion, delays, and, ultimately, poor content.
Instead, designate a select few individuals who will be responsible for approving social media posts.
This small team should have a clear understanding of the brand's voice and guidelines, allowing them to approve content quickly without the need for multiple rounds of feedback.
2. Look for multi-platform experts
Choose team members who are experienced with content promotions on different networks.
In social media marketing, most brands magnify their reach by building a presence on multiple social media platforms.
While certain skills can be carried over to other campaigns, each network requires a different set of practices for content promotions.
For example, just because someone knows how to get more views on TikTok after posting, doesn't mean they can amplify the reach of Instagram Reels.
Ideally, your approval team consists of professionals who are knowledgeable on the best promotion tactics on all relevant social media networks.
3. Provide high-quality content references
To remind decision-makers what approvable posts look like, prepare a list of top social media posts.
This can include anything—from your most-viewed Instagram video to a competitor's top-performing blog post.
Content references can be inserted along with other instructions in content briefs.
💡 Pro Tip: Links can also be sent or left as notes via SMM platforms like Vista Social.
4. Use drafts for effortless client-side approvals
If you don't have a social media approval tool, use the drafts feature in social media apps to implement manual client approvals.
Rather than scheduling posts for automated publishing, save them as drafts instead.
This way, clients have a chance to review the post on their social media app before publishing it themselves.
5. Avoid password sharing, but use password managers if you have to
In an ideal setup, approval workflow decision-makers should have their own accounts on your SMM platform.
This eliminates the need for password sharing, which can compromise the security of your organization.
But if you're required to share passwords, use secure password managers like LastPass.
This allows you to share access to websites and tools without actually sending copies of passwords.
6. Use tools with version control
Version controls allow you to keep track of changes made to your content and ensure that you're always working on the most up-to-date version.
Using tools with version control, such as Vista Social's Approval Workflow feature, can make your approval processes much more streamlined and efficient.
With Vista Social's Approval Workflow, you can easily collaborate with your team and clients, get feedback and approvals, and keep track of all the changes made to your content – all in one place.
It's a game-changer for agencies that need to manage multiple clients and campaigns simultaneously.
7. Cultivate a culture of feedback
Cultivating a culture of feedback not only ensures that all stakeholders have a say in the content creation and approval process but also promotes transparency, communication, and collaboration among team members.
Encouraging open and honest feedback can help identify potential issues before they become problems and allows for continuous improvement in content creation.
Additionally, creating a feedback loop can help increase employee engagement and satisfaction, as it shows that their opinions and ideas are valued.
By making feedback a cornerstone of your social media approval process, you can create a more efficient and effective workflow that benefits both your team and your clients.
Frequently Asked Questions
What are content approval processes?
The content approval process is a series of steps that ensures quality and brand alignment before publishing. In social media marketing, an approval workflow also prevents the unintentional publishing of offensive or harmful content.
What is the importance of the approval process?
A content approval process ensures you avoid posting harmful content that will damage your or your client's brand. In addition, it gives your team a chance to polish posts to perfection before publishing.
What is the client approval process?
A client approval process is like a golden ticket for your clients, granting them the power to decide if the content is ready to hit the spotlight or needs a bit more polish. If they're grinning from ear to ear, clients can either unleash their masterpiece themselves or give you the green light to let it shine!
Putting it all together!
Social media approval processes can be challenging for agencies, but they are essential for ensuring quality control and protecting the brand's reputation.
By following a few best practices, such as setting clear guidelines, streamlining the review process, and utilizing social media management tools, agencies can make the approval process smoother and more efficient.
At Vista Social, we understand the importance of social media approval processes for agencies, and that's why we offer features such as team collaboration and content approval workflows to help streamline the process.
With the right tools and strategies in place, agencies can create social media content that resonates with their audience and drives engagement, all while ensuring that it meets their client's standards.
Sign up for Vista Social today to take advantage of our social media management tools and streamline your social media approval process. 🔥