When leveraged correctly, using TikTok drafts can drastically improve your TikTok marketing initiatives.
It can augment your content reviewing process, enable client-led content approvals, help you prepare content in advance, and more.
Read this guide to learn how to create, edit, post, and delete TikTok drafts. You'll also learn proven strategies to reap the full benefits of publishing short-form videos on TikTok.
Table of Contents
What are TikTok drafts?
TikTok drafts are unpublished content that can't be viewed by other TikTok users. But unlike a private video, a TikTok draft still lets you add some final changes to the content.
TikTok users primarily save drafts to resume content creation at a later time. In an agency or business setting, drafts offer additional utility to post-approval workflows.
Benefits of saving TikTok draft videos
There are several benefits of saving TikTok drafts for businesses, agencies, and individual users:
Establish an in-app post-approval process. When you manage a client's TikTok account, save posts as drafts rather than scheduling or publishing them directly. This gives your client an opportunity to manually approve and publish posts themselves.
Enforce brand safety guidelines. Rather than publishing directly, save content as TikTok drafts to avoid accidentally posting content that goes against TikTok's Community Guidelines. Remember, it's better to add another step in your content review process than to deal with retrieving a banned TikTok account. (Must Read: How to get unbanned from TikTok.)
Build more elaborate content. TikTok drafts let you save your work and pick up where you left off later. This enables you to work on more elaborate video content, particularly if you create videos directly on TikTok.
Prepare content in advance. Create TikTok content in bulk and save them as drafts to ensure you never run out of fresh content for your followers. Alternatively, use Vista Social to prepare your TikTok content and publish them automatically at the ideal posting times.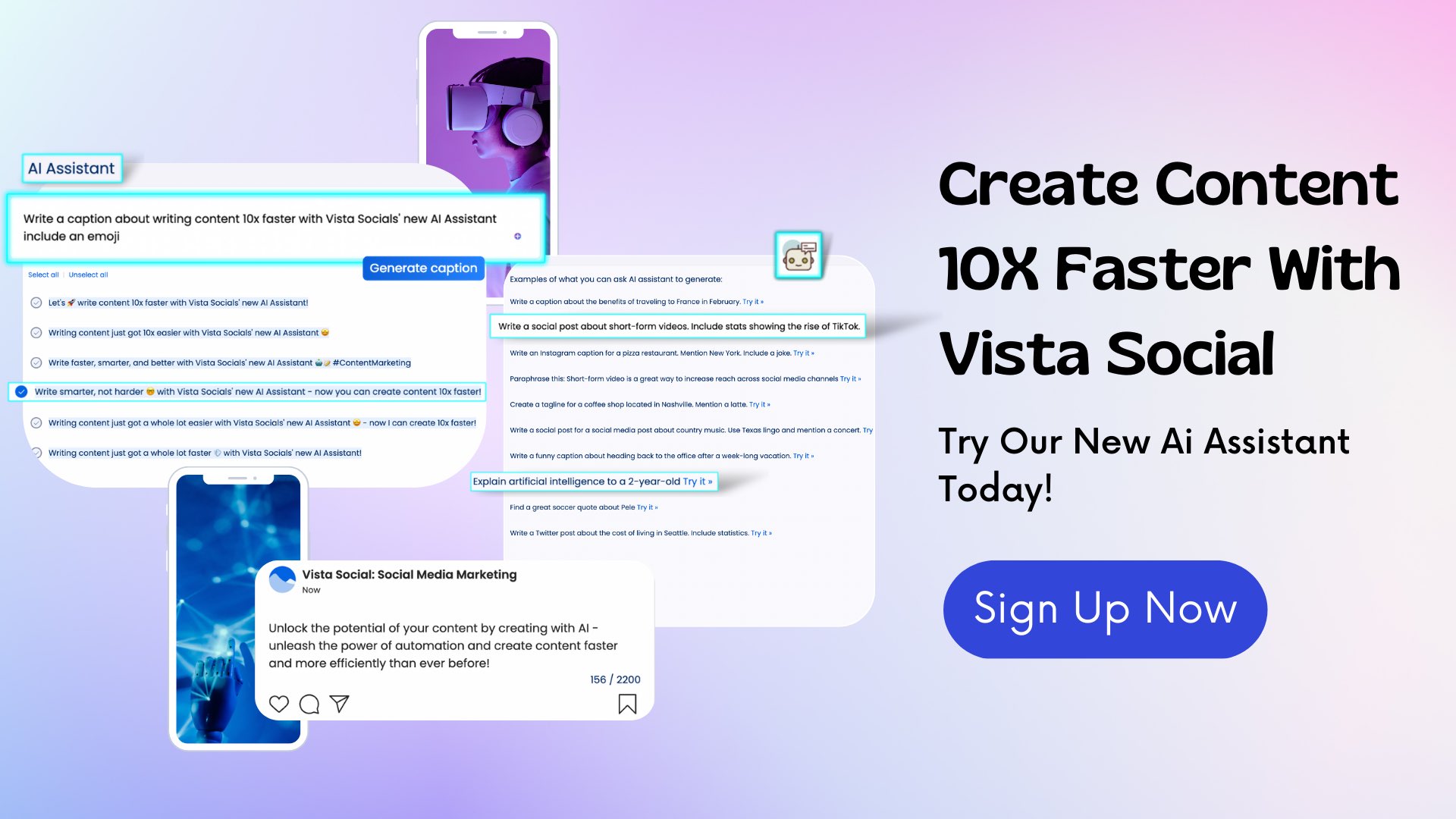 Ready to give your content workflow and posts a major upgrade? Try AI Assistant powered by ChatGPT today! 🤖💙
Where is your TikTok drafts folder?
You can find the TikTok drafts folder on your profile page, which is accessible through the app.
Launch the app and tap 'Profile' in the bottom menu. The 'Drafts' folder should appear as the first entry to your profile feed.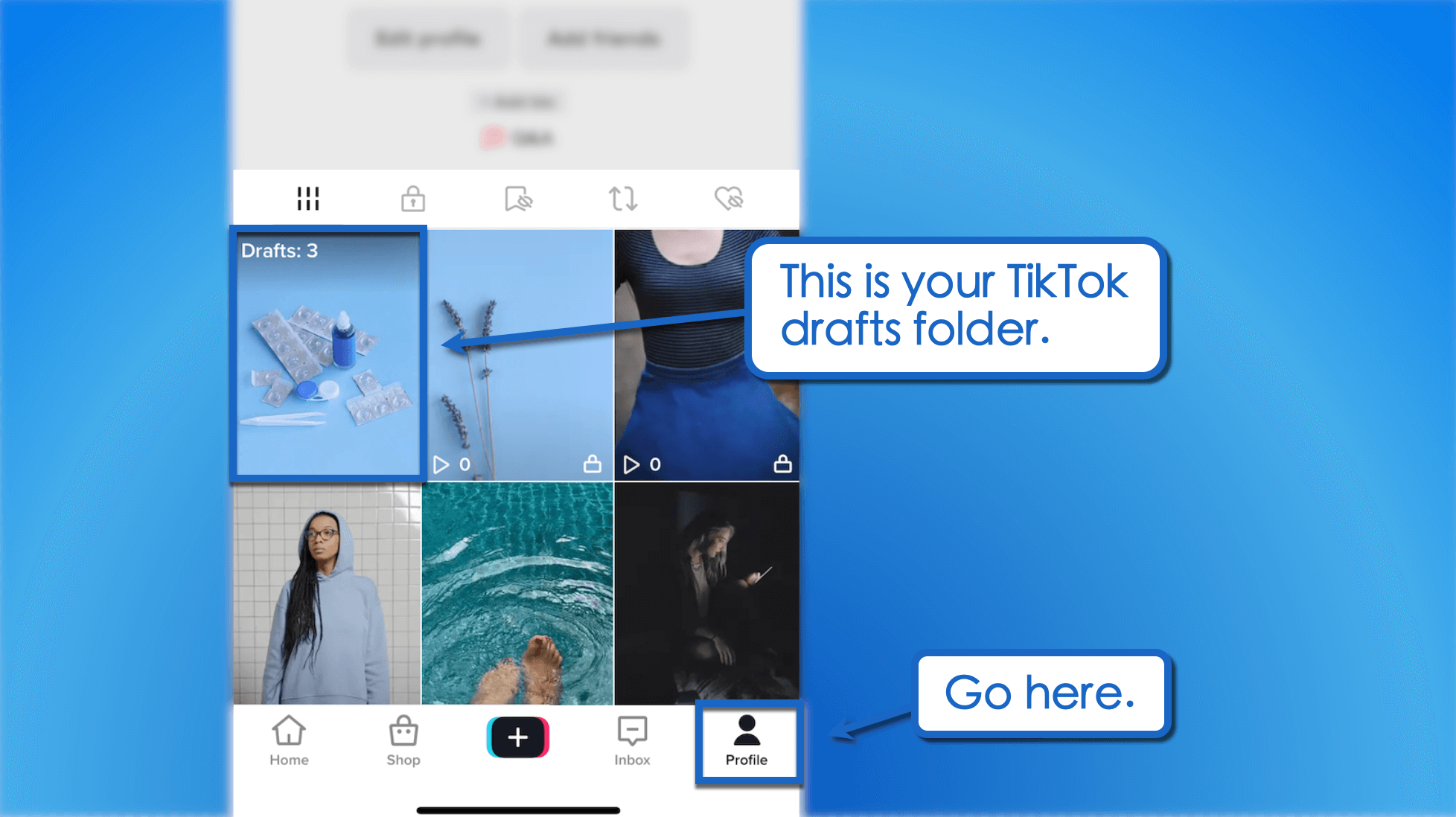 While drafts can only be accessed through the TikTok app, remember that the actual video files are saved locally. That means they won't be visible on your profile if you log in with a new device.
How to save TikTok drafts
To save TikTok drafts, tap 'Next' at the bottom of the editing screen.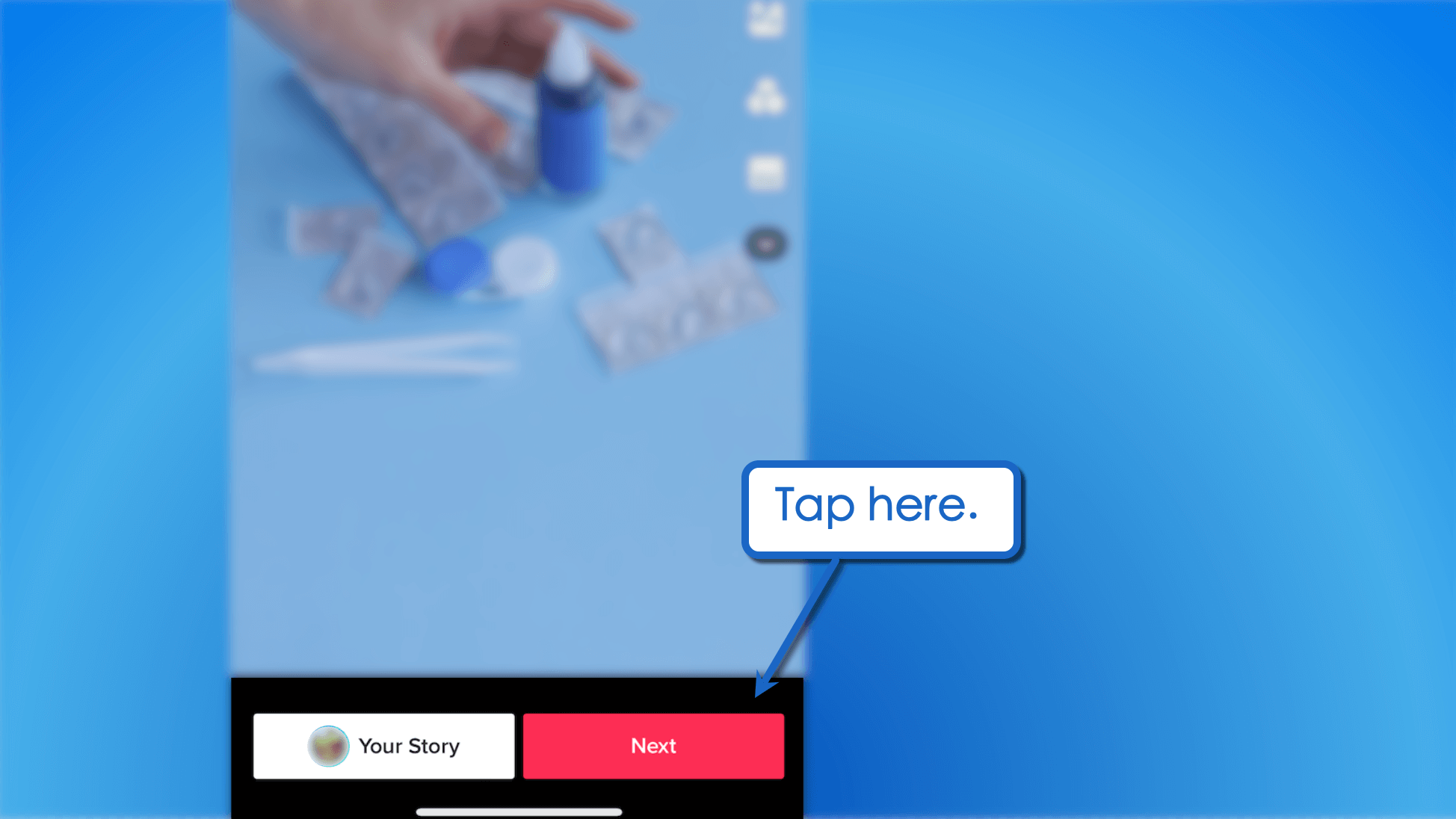 Feel free to optimize your TikTok content by writing a caption, inserting hashtags, tagging other users, and configuring other features (comments, duets, links, etc.). Just remember that you can do all of this later whenever you decide to finish your post.
Tap 'Drafts' at the bottom of the page to save your draft.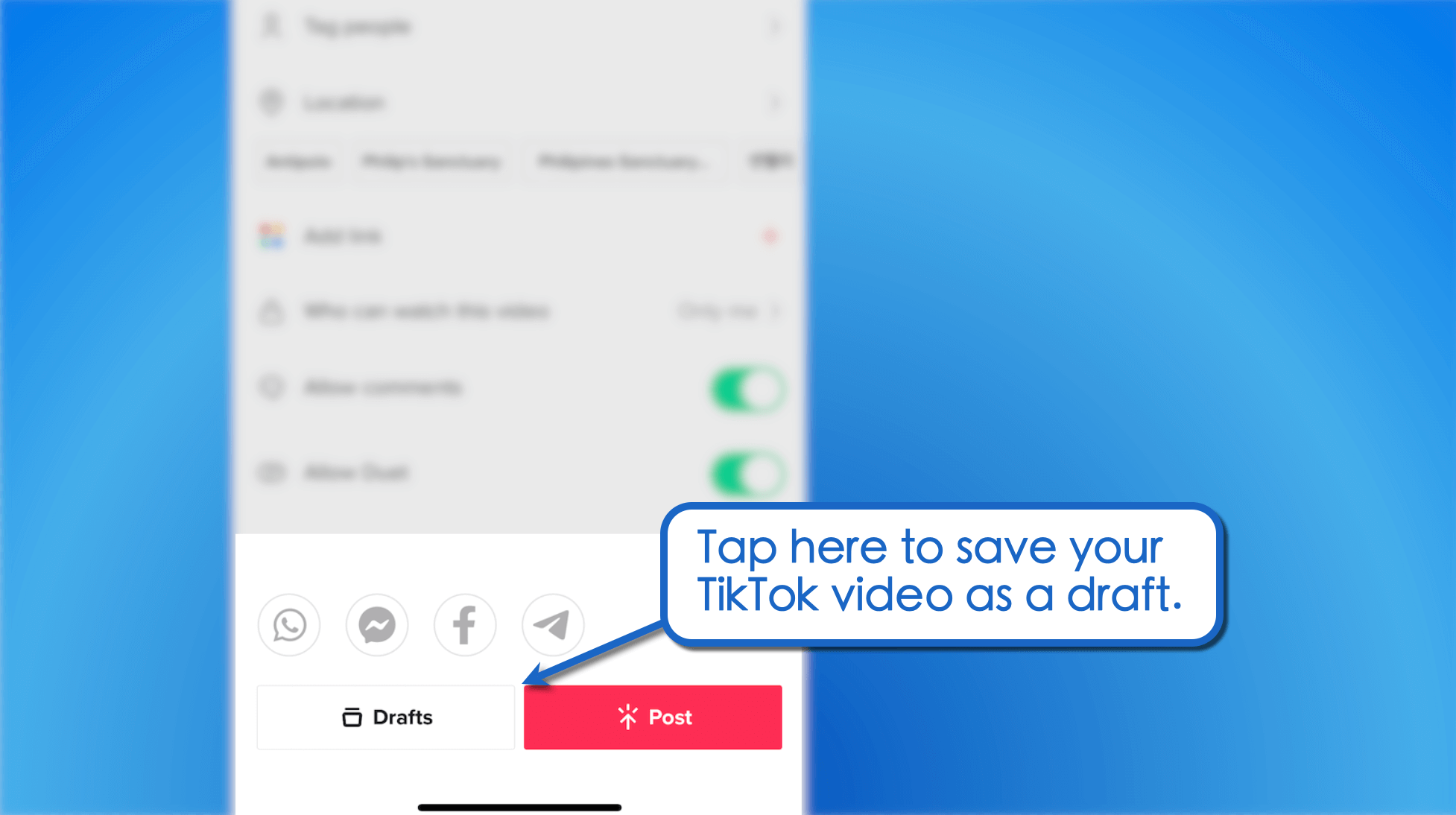 How to edit TikTok drafts
To edit TikTok drafts, go to your saved drafts page from your profile.
Find and tap the specific TikTok draft you want to edit. This will open the draft video on the TikTok post editor.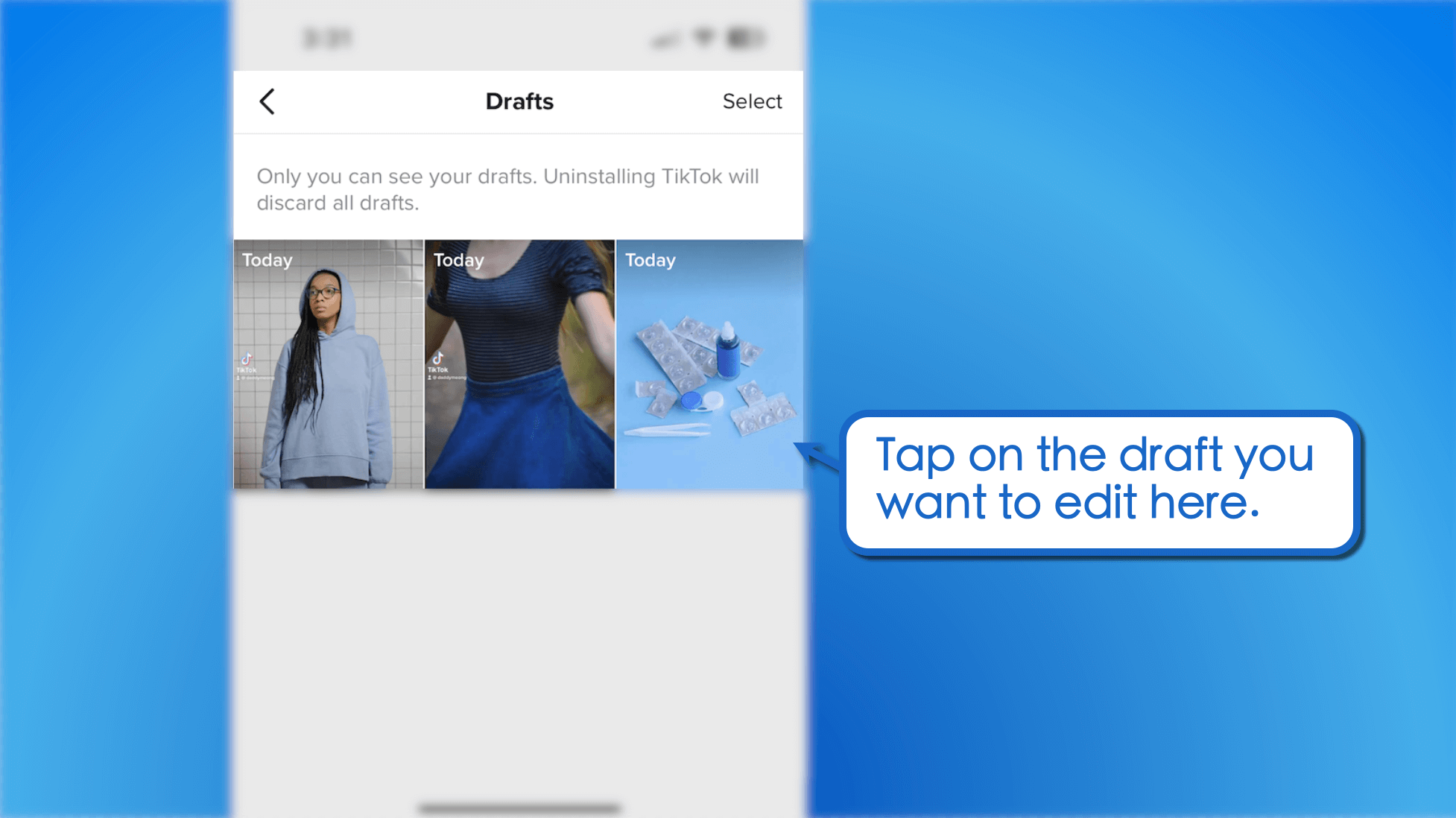 Use TikTok's full array of editing tools to spice up your draft.
Some of the tools you can play with are:
Trim and stitch clips. Add more clips, trim unimportant parts, adjust playback speed, and more.
Stickers. Insert emojis, mention other users, run a poll, tag a location, add custom photo overlays, and more.
Effects. Apply filters and effects to amplify or alter the mood of your video content.
Automatic captions. Quickly integrate AI-based captions to help users understand your content.
Audio editing tools. Add voiceovers, reduce noise, apply trending audio effects, and more.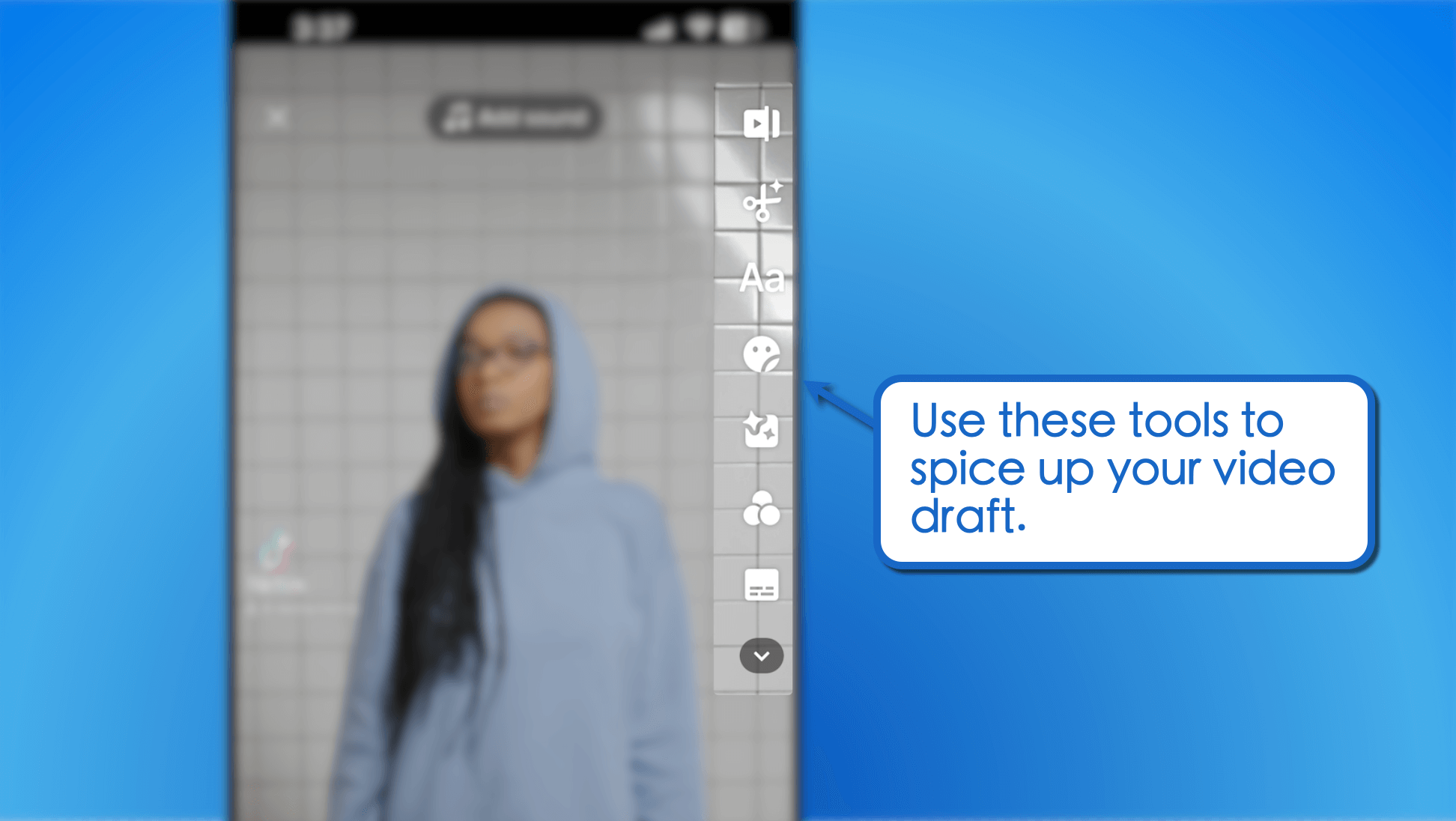 When done, you may save the draft again or publish it to your feed.
How to post TikTok drafts
To post a TikTok draft, find it on the drafts page, finish editing the content, and tap 'Post.'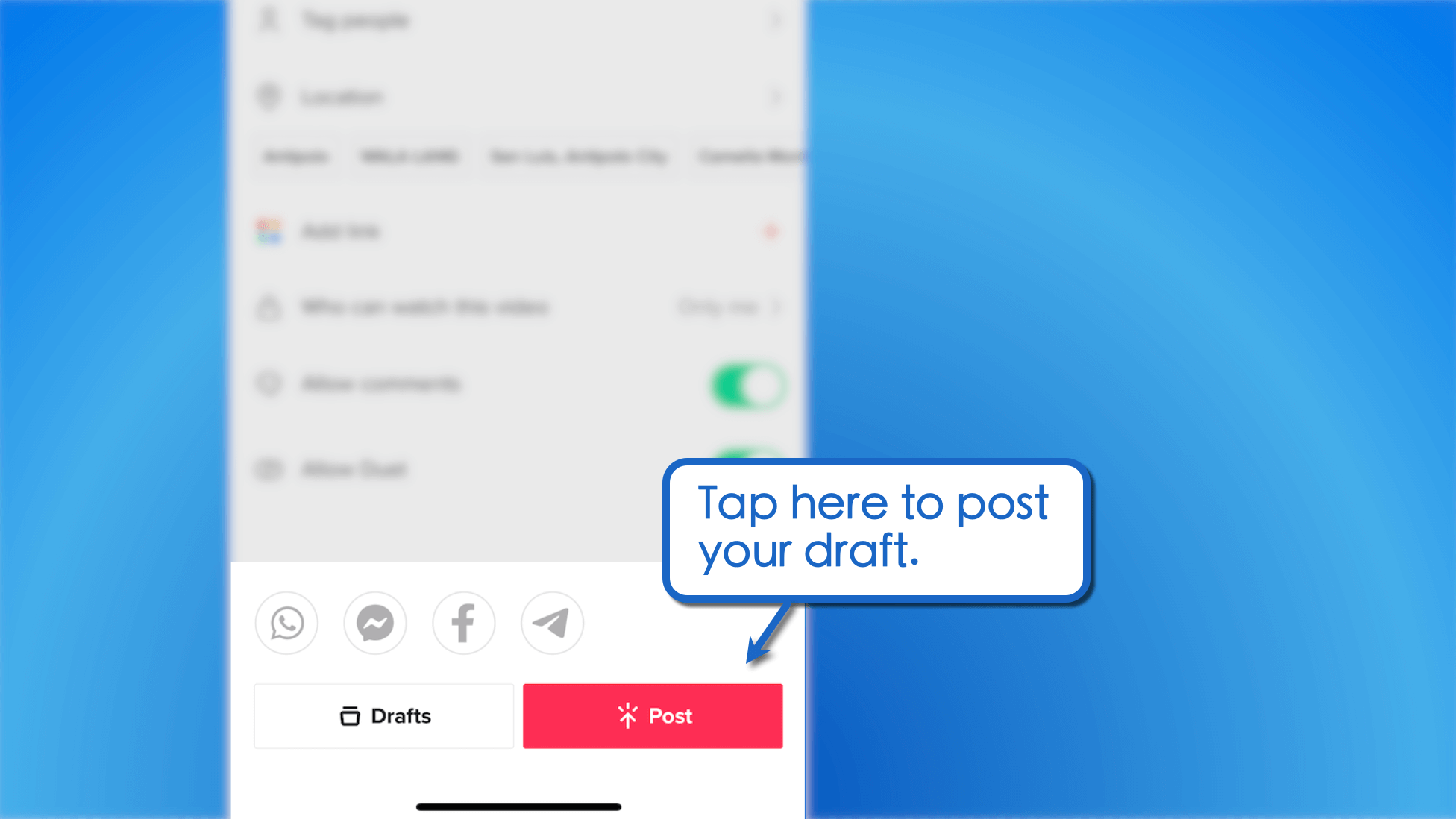 Remember to double-check everything before posting.
Everything—from your caption to your tagged location—is unchangeable once your TikTok post is published. Drafted videos are automatically deleted from the drafts page once they go live.
If you need to make changes, you have to delete the content and learn how to repost on TikTok.
How to delete TikTok drafts
To delete TikTok drafts, head to your drafts page and tap 'Select' in the upper-right corner.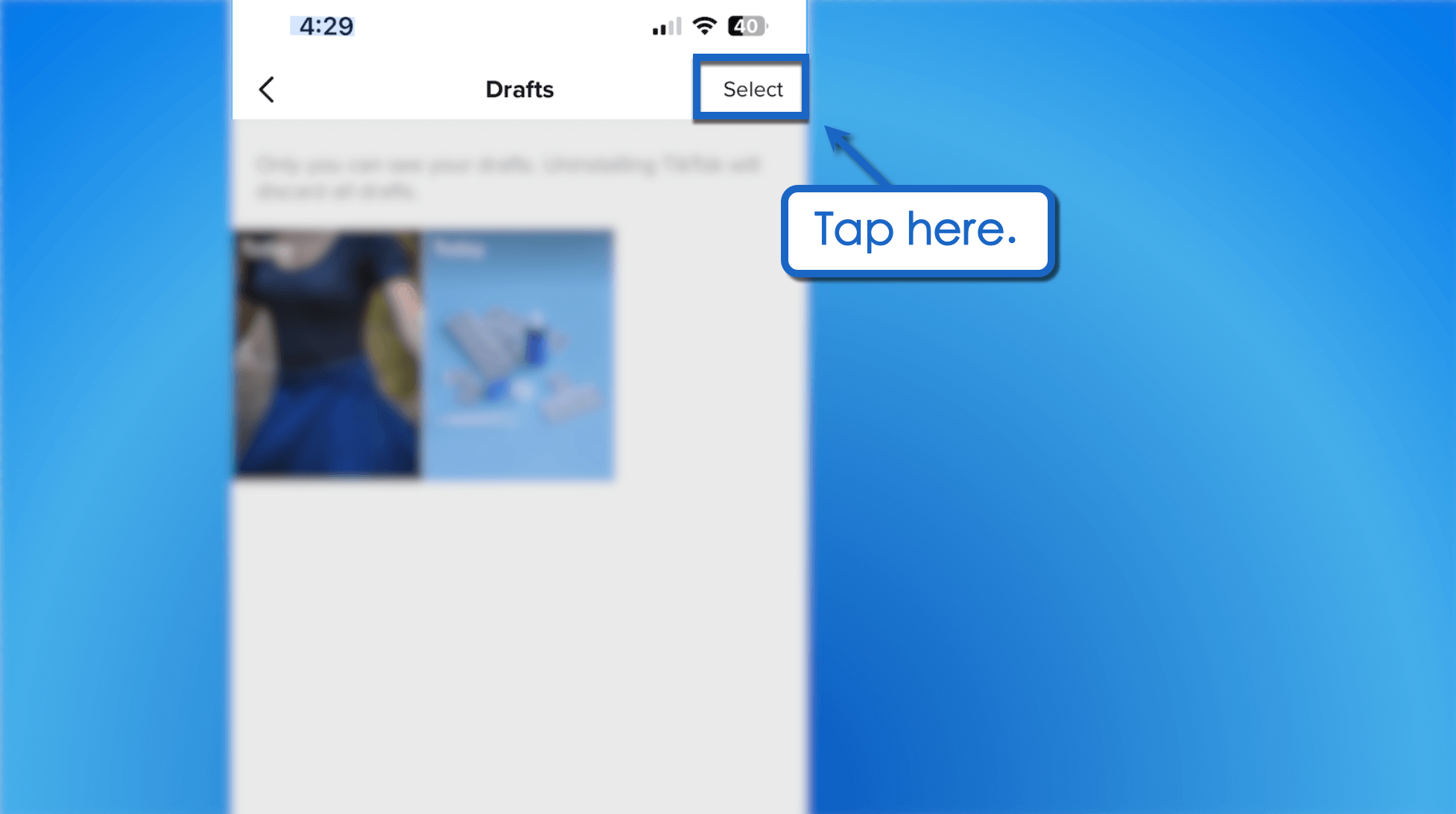 Tick the checkboxes of the drafts you wish to delete. When done, tap 'Delete' at the bottom.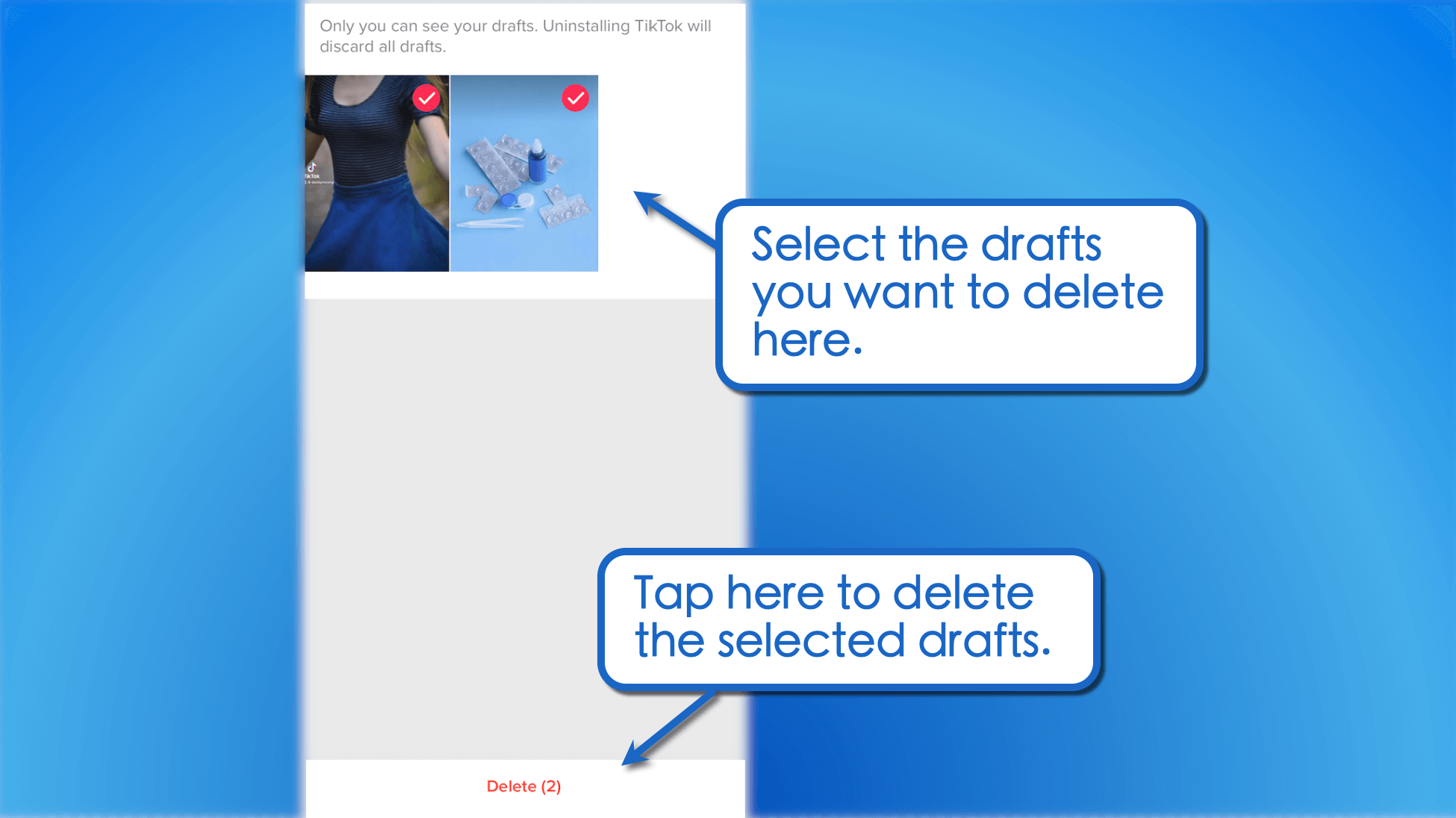 When the confirmation message appears, tap 'Delete' again.
This will instantly refresh your drafts folder without the videos you deleted. If no other draft remains, you'll be redirected to your profile page.
Brought to you by
Try Vista Social for Free
A social media management platform that actually helps you grow with easy-to-use content planning, scheduling, engagement and analytics tools.
Get Started Now
Be careful when deleting drafts in bulk.
Even if you know how to find deleted TikTok videos, deleted TikTok drafts are unrecoverable.
Unlike published TikTok videos that can be recovered from your device's "recently deleted" folder, drafts are completely hidden from your device's gallery and file explorer.
The only way to recover a deleted TikTok draft is if you created a backup.
Ways to make your TikTok drafts better
Woking with TikTok drafts adds a new dimension to your TikTok content strategy.
Make the most out of TikTok drafts with the following strategies:
1. Schedule them at the right time
Use Vista Social to automate your social media publishing and post TikTok videos at the best possible times.
Vista Social automatically analyzes the performance of previous posts. By analyzing engagement rate fluctuations between different posting times, our platform will help you build a posting schedule that aligns with your audience's usage.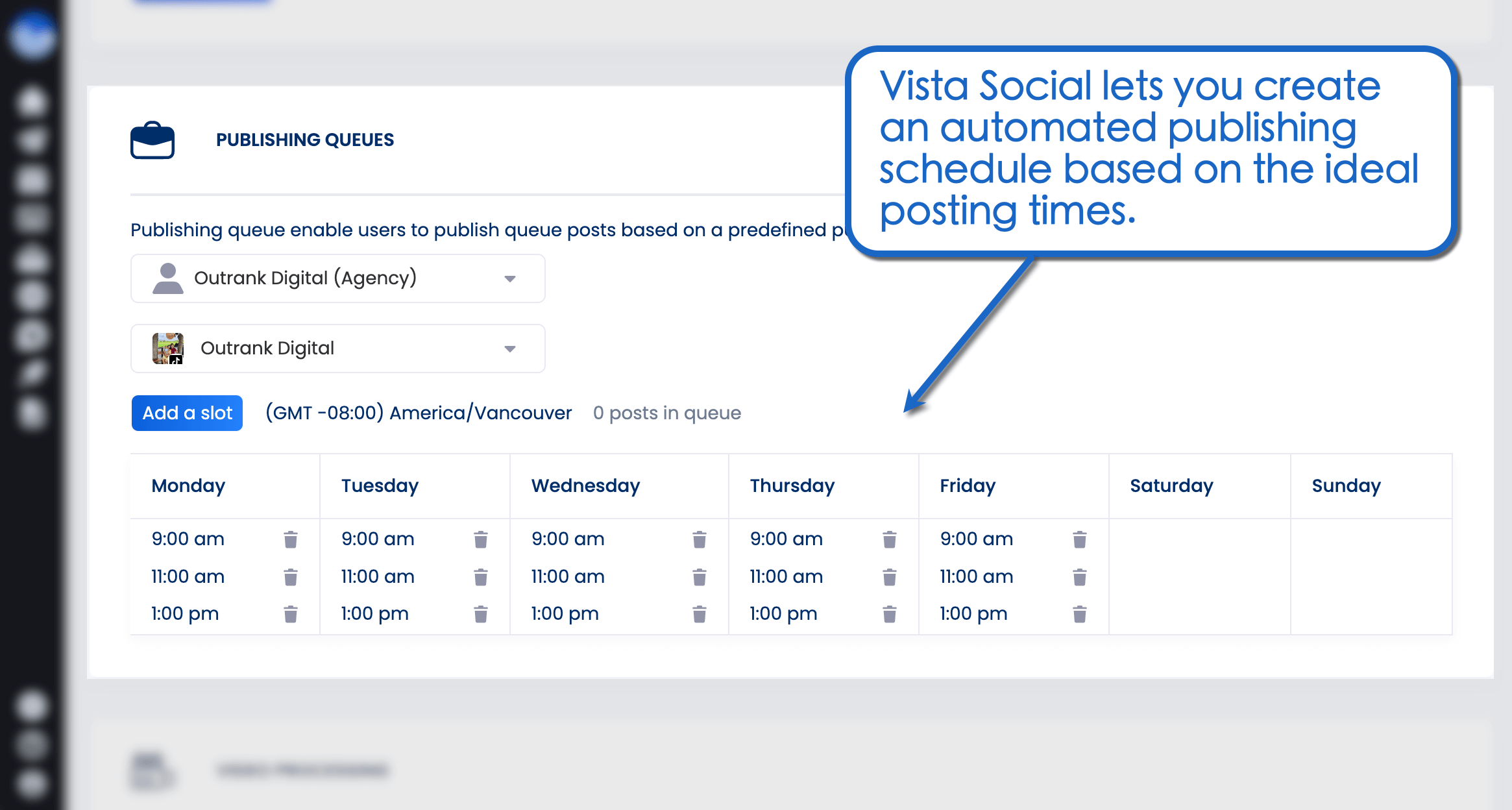 2. Check your hashtags
Before posting your draft, consider expanding your hashtag research strategy to maximize your TikTok video's reach.
The secret of how to get 1,000 followers on TikTok (and more) is to leverage tools that boost your content's discoverabilty.
Hashtags, for example, make your content more searchable through the app. They also signal relevance to TikTok users—improving your chances of getting clicks and generating engagement.
Look for popular and trending hashtag ideas on the fly with Vista Social. On the publisher tool, just click the hashtag button, switch to the 'Hashtag suggestions' tab, and enter any relevant keyword.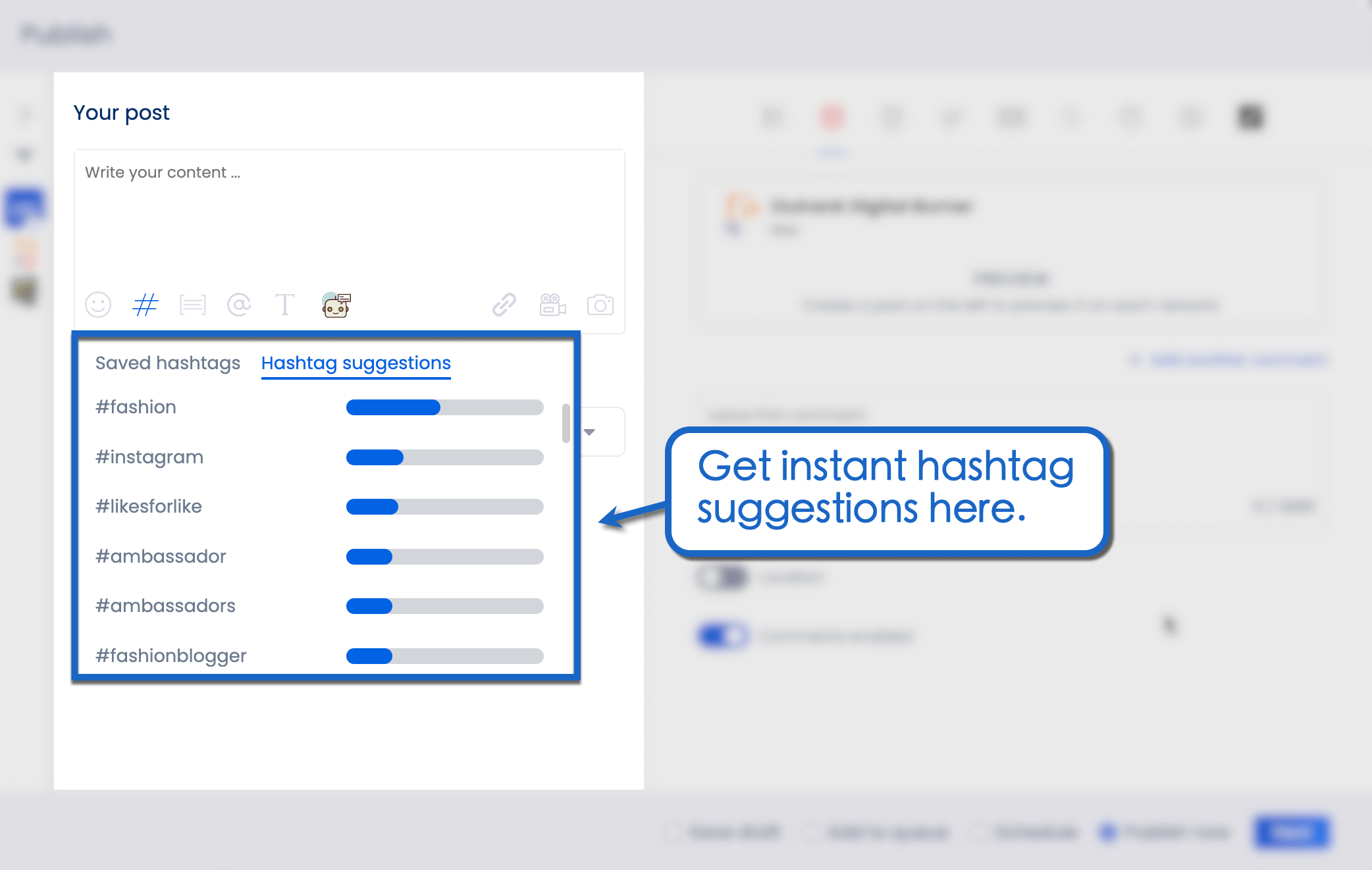 3. Add trending effects and sounds
Jazz up your TikTok drafts with trending sounds—boosting your content's searchability and user engagement factor.
Sounds make TikTok videos more entertaining and captivating, especially if you use tracks your target audiences are familiar with. Furthermore, it makes posts discoverable through the song page.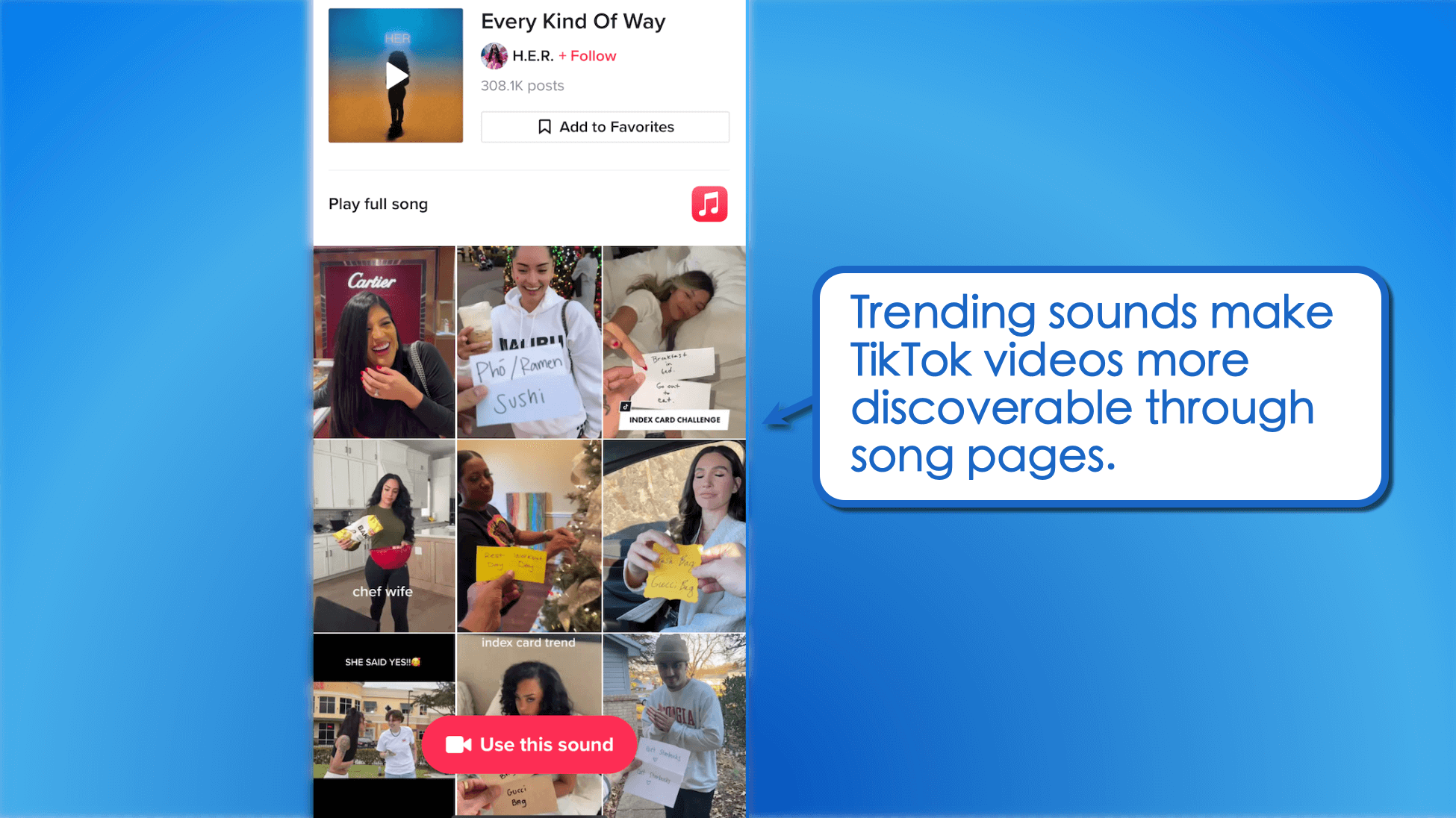 Get trending audio suggestions in a snap with Vista Social.
From the Vista Social publisher, click the three-dot settings icon in the video's thumbnail and select 'Pick sound.'
Within seconds, Vista Social will present dozens of trending sound options you can use to enhance your TikTok video. It's worth noting that these suggestions are handpicked by Vista Social's in-house social media experts.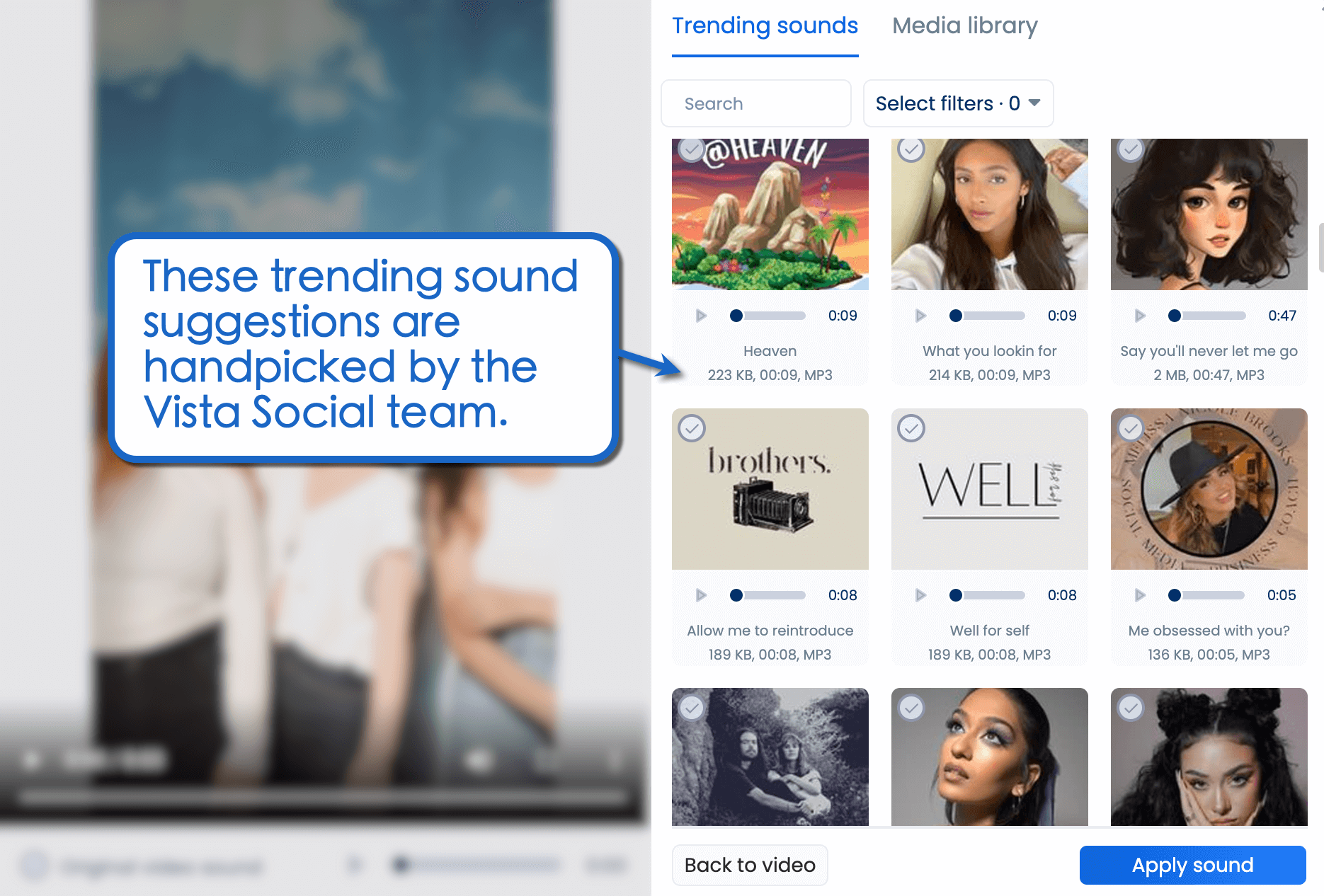 4. Try a different caption
Leverage TikTok drafts to give yourself or your team a chance to refine and polish your video captions.
Here are some ideas you should consider:
Use simple-yet-impactful TikTok quotes.
Invite your audience to check out a web page.
Use action-oriented language (i.e. "watch 'til the end").
Highlight key parts of your video and add timestamps.
Tell a relatable story about the TikTok video
5. Save offline copies of TikTok drafts
Keep your TikTok content safe by consistently saving backups.
To automatically download offline copies of your TikTok videos, open the post editor and tap 'More options.'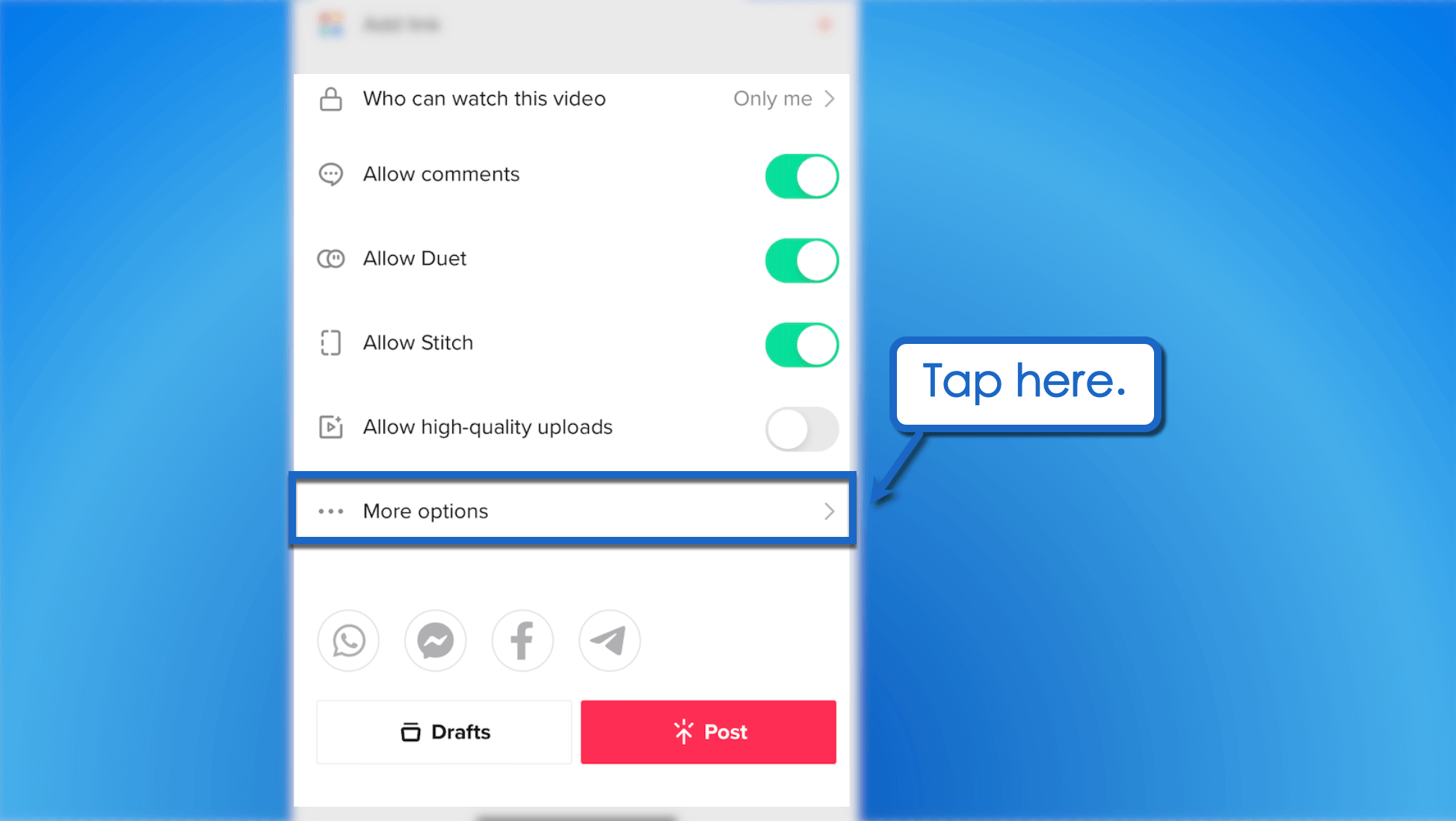 On the "More options" page, switch on the 'Save to device' toggle.
That's it—TikTok will automatically save published posts to your device's gallery. Remember that this option doesn't apply to TikTok drafts.
Customers Also Ask
Why can't I find my drafts on TikTok?
Your TikTok drafts may disappear if you uninstall and reinstall the app or if you switched to another account. Since TikTok doesn't save cloud copies of drafts, ensure you create regular backups of your TikTok videos.
Can I save TikTok drafts to camera roll?
Yes, TikTok drafts can be saved to your device's camera roll even without posting. Just enable the 'Save to device' toggle on the TikTok post editor.
Can you recover deleted TikToks?
Yes—even after being deleted from the app, TikTok videos (except drafts) may still be recoverable from your device's local storage. Practice creating offline backups of your TikTok content to make recovery easier and more convenient.
Rev up your TikTok presence with Vista Social
Whether you're a TikTok creator, brand, or social media marketing agency.
Vista Social ensures you're equipped with the tools you need to create, publish, and promote killer short-form videos.
Make the most out of your TikTok content strategy today. Sign up for a free Vista Social account here and get to editing!