Do you want to learn how to get 1000 followers on TikTok?
I don't blame you.
TikTok is the go-to social platform for sharing short videos. With 1+ billion users, countless brands jumped in to lure TikTok followers, build brand awareness, and skyrocket their traffic.
If you have an effective, repeatable process for bringing in 1,000 TikTok followers for your clients, your agency is bound to grow.
The problem is, learning how how to blow up on TikTok isn't always easy.
That's why we created this guide.
Let's begin with the first milestone every agency aims for their clients.: Getting a thousand followers.
Table of Contents
What happens when you get 1,000 followers on TikTok
Upon reaching 1,000 followers on TikTok, accounts will unlock the "LIVE" tool. This will enable them to broadcast live videos and take advantage of extra features, like:
LIVE Q&As
LIVE Gifts
Go LIVE together
LIVE Events
LIVE Donations
TikTok accounts with at least 1,000 followers will also be able to add links in their bio. This is useful in turning TikTok followers into website visitors.
Hitting the 1,000-follower milestone also makes it easier to get more likes, ramp up views, and pull in new followers fast. You just need to scale your strategy and track your results to implement ongoing optimizations.
Challenges to getting 1,000 followers on TikTok
As a digital marketing agency, you need to be aware of the challenges between you and your client's goals.
When it comes to TikTok, challenges can mean two different things: The TikTok challenges you can participate in and the marketing challenges you need to overcome.
TikTok challenges
TikTok challenges bring the community together—shooting up engagement between individual users, influencers, and brands.
Most of these challenges are designed for the entertainment of TikTok users. That means participating in them doesn't have a clear-cut marketing benefit for your client.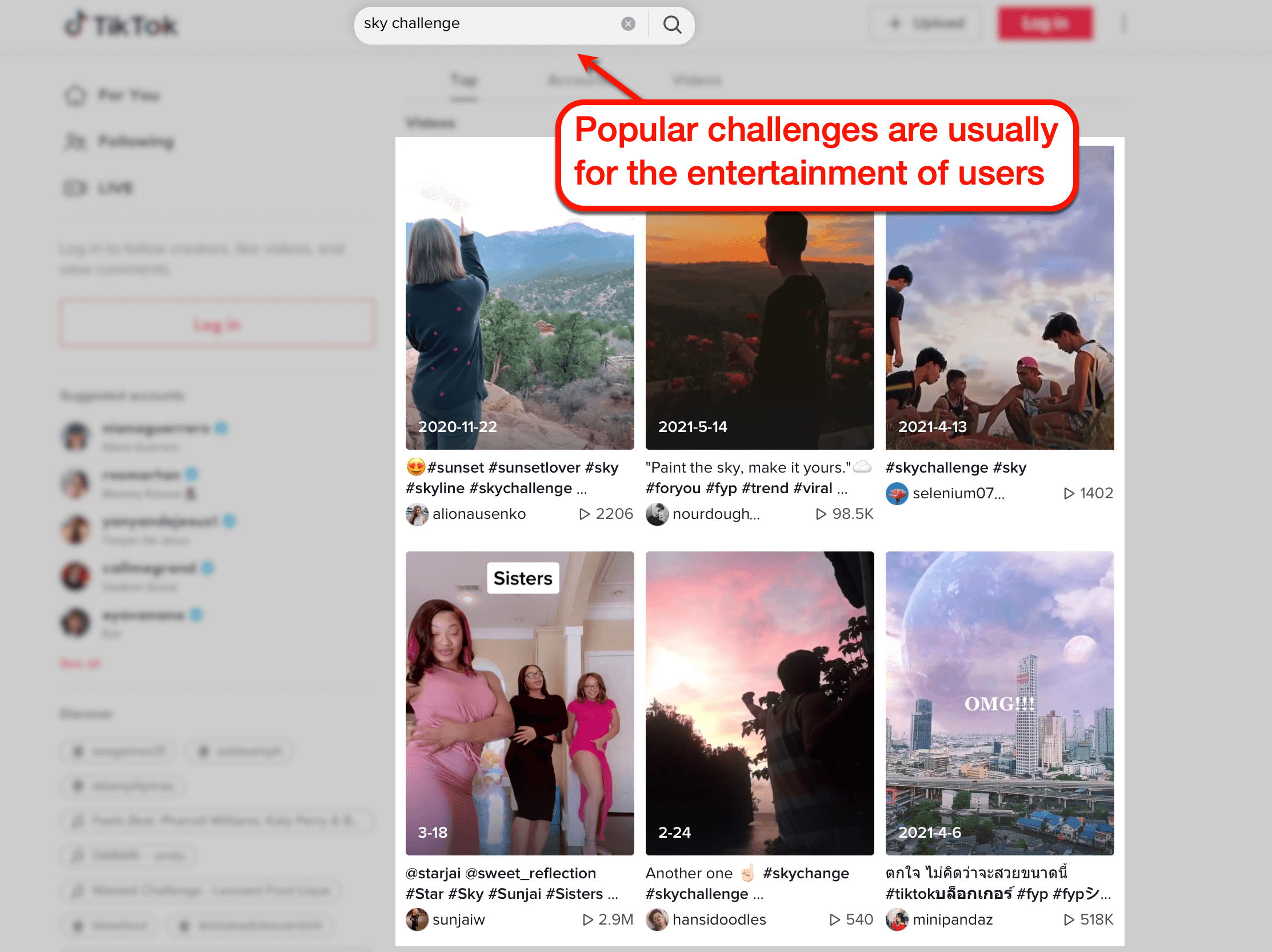 However, participating in challenges is a great way to humanize your client's brand. This will help them connect with their TikTok followers on a more personal level, improving brand trust and augmenting follower count over time.
Marketing challenges
If your goal is to generate more TikTok followers for your clients, here are the marketing challenges you will face:
Understanding the target audience: What types of content do they prefer? When do they usually log in to consume TikTok videos?
Optimizing your client's TikTok profile: What profile photo will captivate their target audience's attention? How will you write their bio and incorporate a CTA?
Establishing a consistent content strategy: Which popular hashtags will you use to attract more followers? What will be your TikTok posting schedule?
Tracking results: How will you track Key Performance Indicators (KPIs) like user engagement and follower growth? What will you do with all this information?
Overcoming these challenges is the key to learning how to become a TikTok influencer and generate hundreds or thousands of followers. Not just any followers, but a quality audience that will help clients achieve their business goals.
It's not an easy path, but it's more than doable with the right strategies.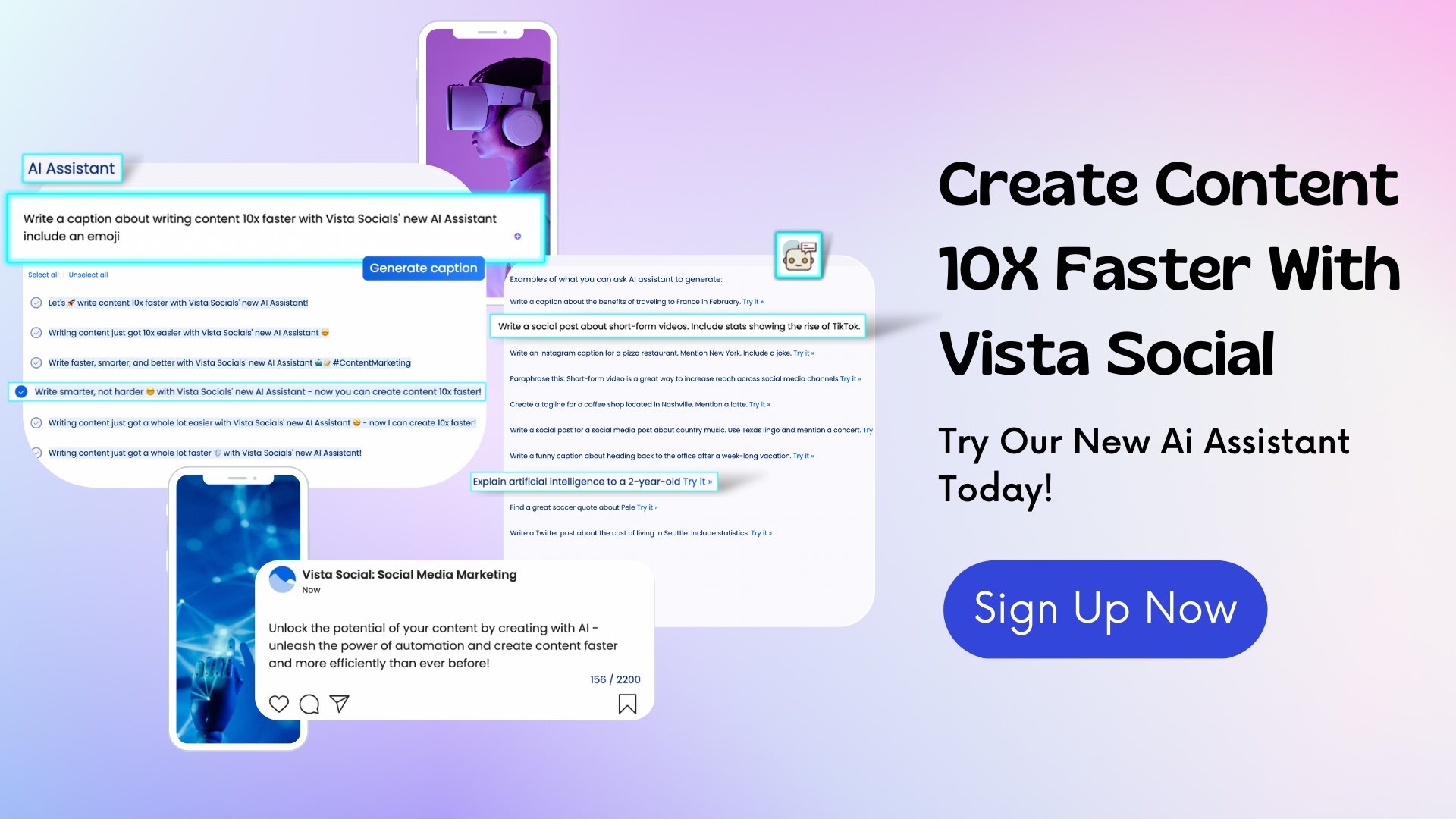 Ready to give your content workflow and posts a major upgrade? Try AI Assistant powered by ChatGPT today! 🤖💙
How to get 1,000 followers on TikTok
Here are three easy steps to help your clients get 1,000 TikTok followers and increase their organic reach on the platform.
1. Maximize views for every TikTok video
To propel your client's TikTok account, pay extra attention to how you create videos. Make sure each post aligns with their brand identity and their target audience's content preferences to rack up views.
Views on the TikTok app generate engagement, like shares, comments, and likes.
In turn, engagement will encourage more users to follow your client's profile.
An easy way to find out what their target audience likes is to analyze TikTok trending videos.
TikTok's built-in search tool can help you look for relevant trending videos in seconds.
Brought to you by
Try Vista Social for Free
A social media management platform that actually helps you grow with easy-to-use content planning, scheduling, engagement and analytics tools.
Get Started Now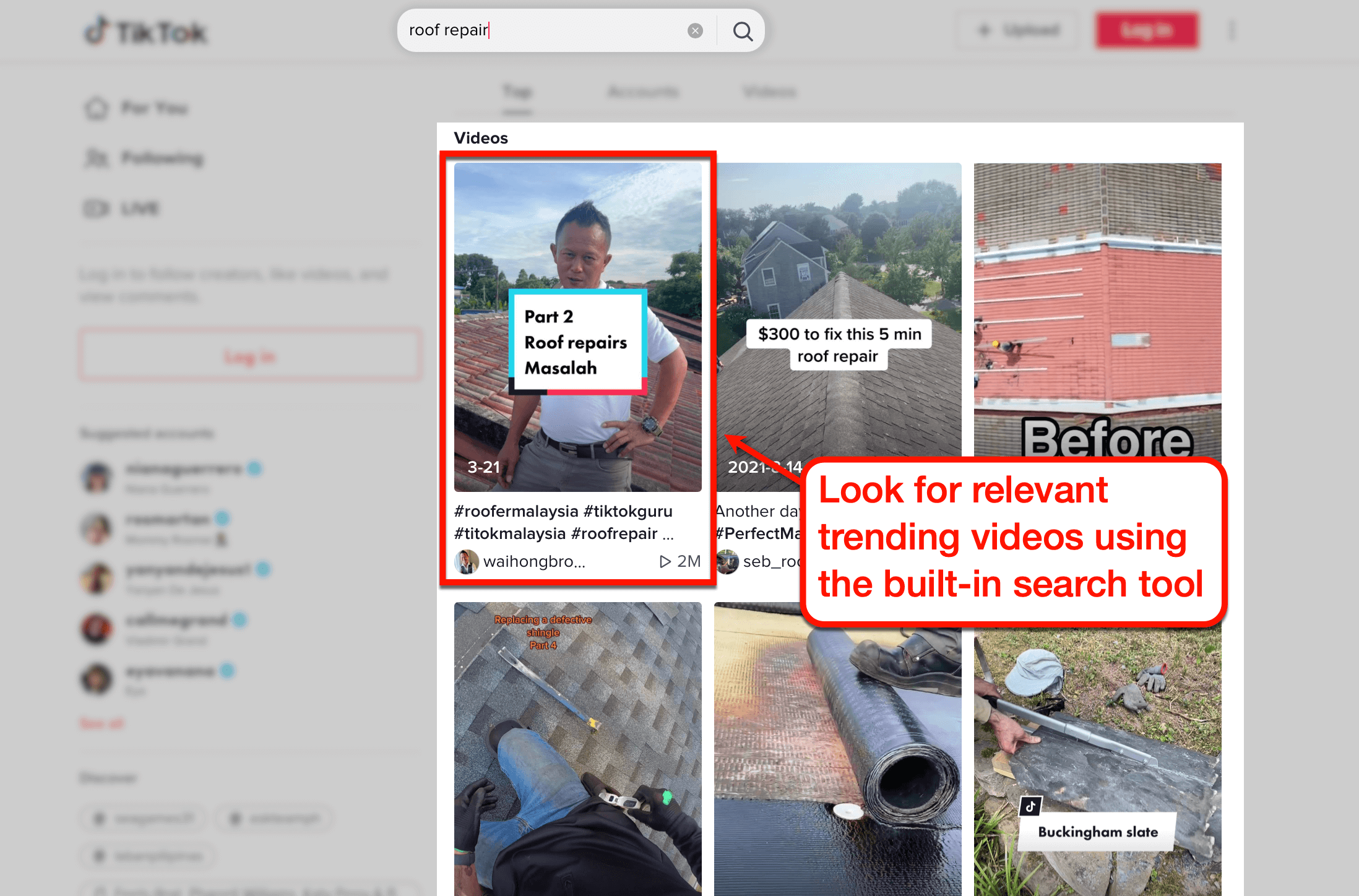 The next step is to work with clients to create better TikTok videos. You may focus on topics similar to competitors, but you shouldn't make exact copies of their content.
To take full advantage of each post, learn strategies on how to get more views on TikTok after posting your content. This includes:
Re-uploading videos with new hashtags
Share TikTok videos on other social media platforms
Use TikTok "Promote"
Answer TikTok questions and refer to your post
2. Get the right TikTok tools
There are plenty of TikTok tools you can use to create videos that will magnetize followers. Some of the best options are:
VEED: Insert subtitles and create reusable branding elements to personalize videos.
Filmora 11: Spice up videos with advanced features like green screen effects, motion tracking, and split screen.
InShot: Create share-worthy videos with an easy-to-use interface.
Aside from video creation, pick up tools that will help manage your client accounts for all social media platforms. Platforms that come with TikTok-specific features are a plus.
Vista Social, for example, is the only social media management platform that supports direct publishing on TikTok.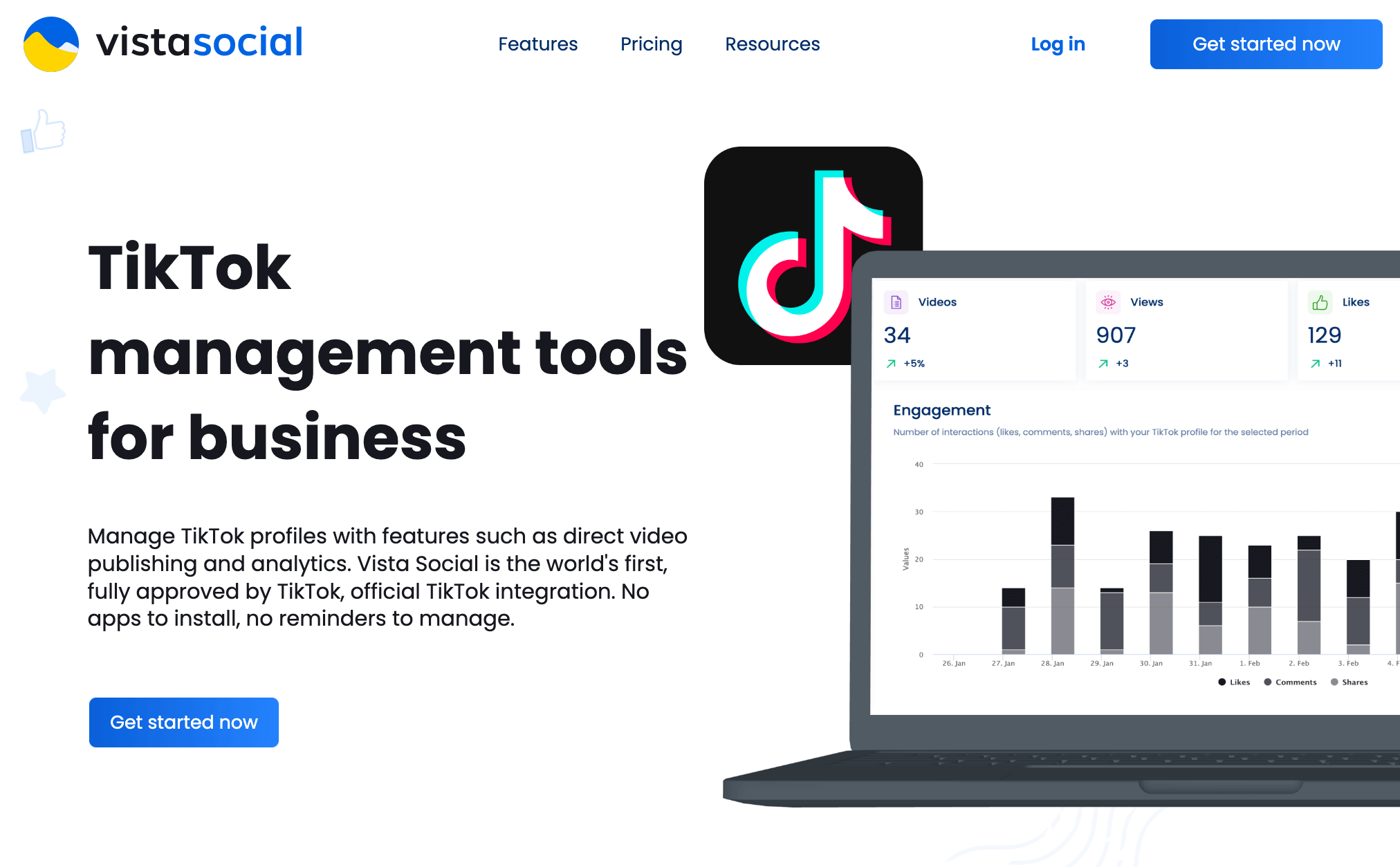 Vista Social lets you create an automated posting schedule based on the audience's activity patterns. This information is readily available on the TikTok app and website.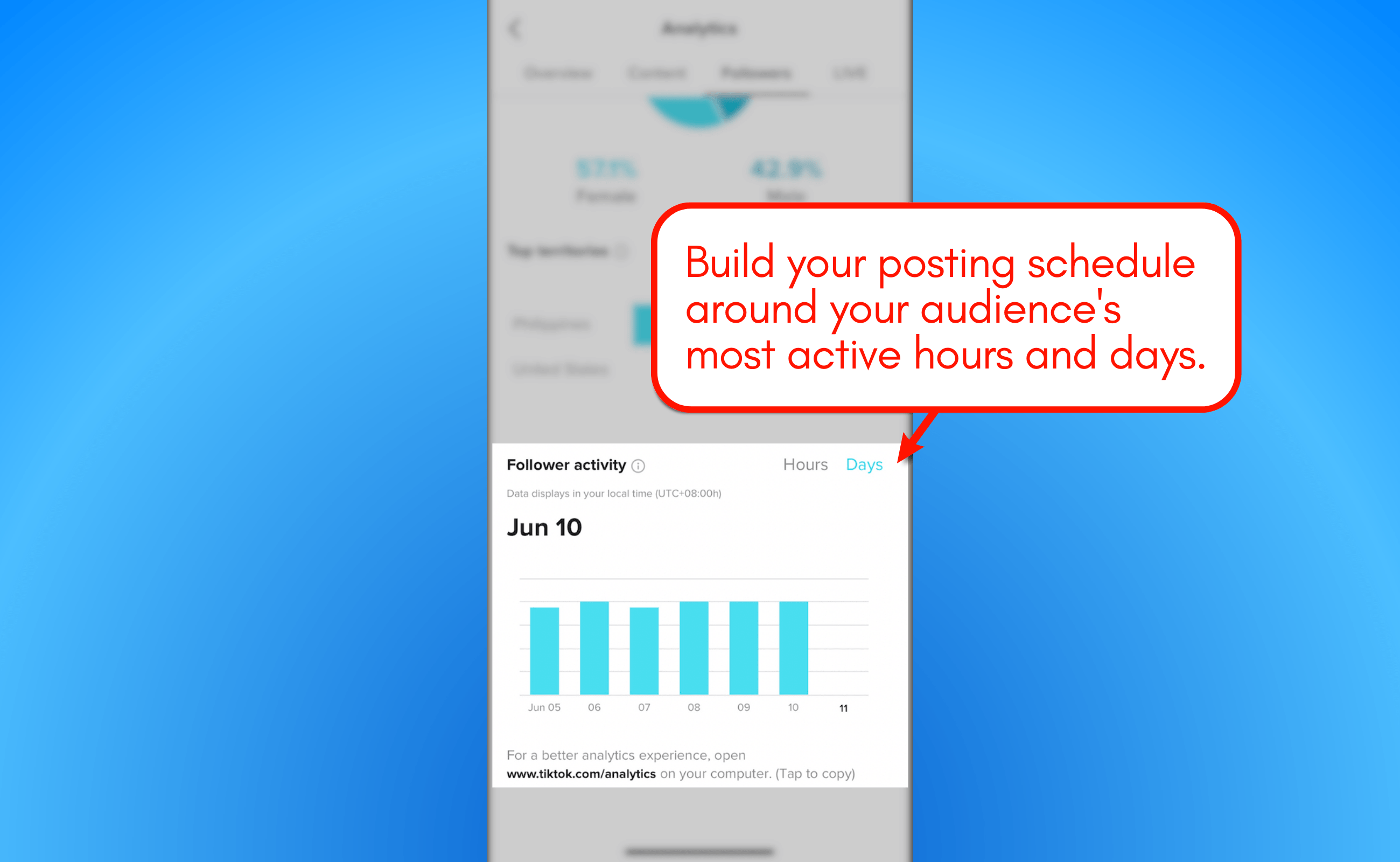 Remember, other platforms can only schedule posting reminders for TikTok. That means you still have to launch TikTok and publish posts manually.
Since Vista Social is approved by TikTok for direct publishing, you can schedule and publish posts straight from the platform.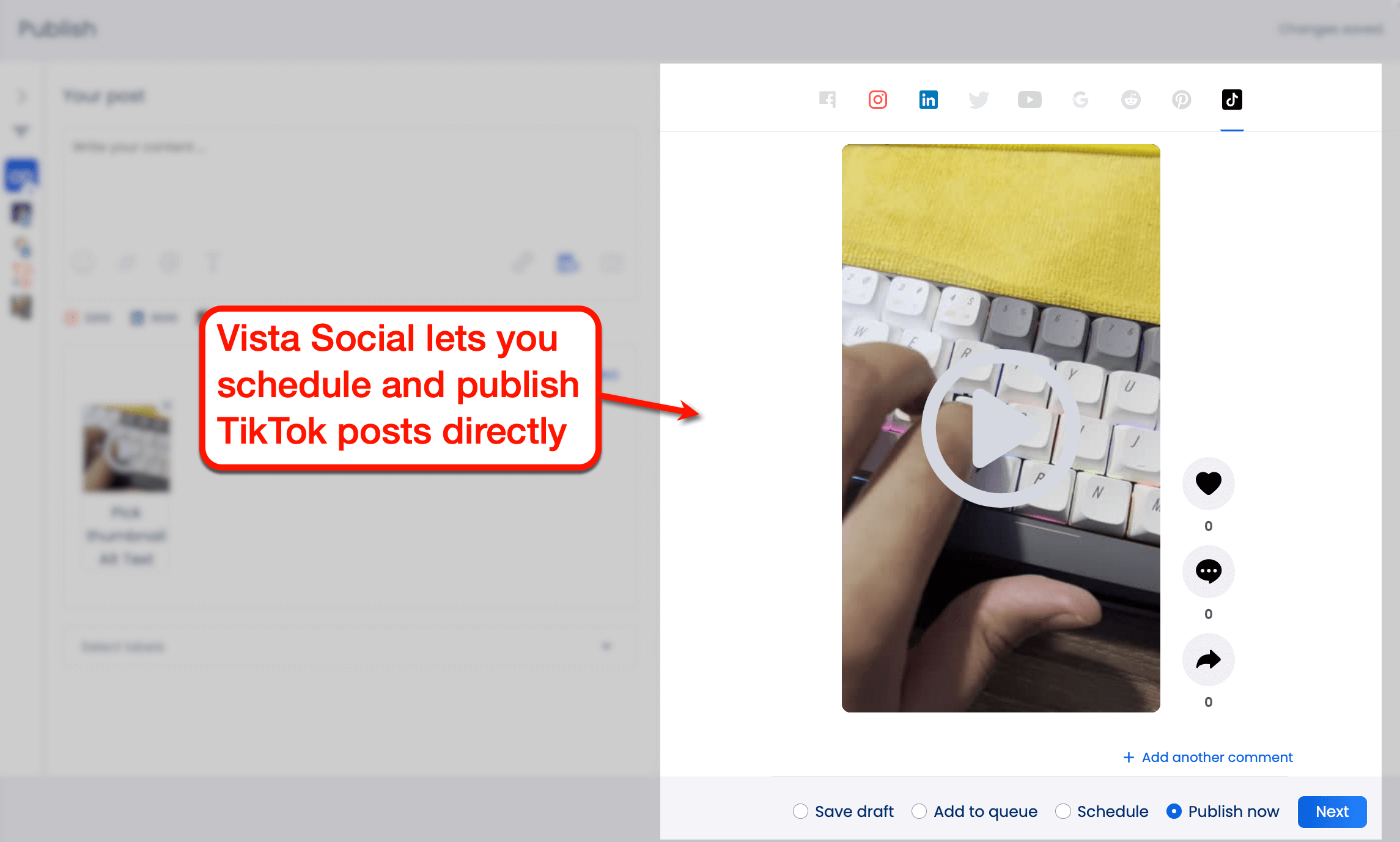 3. Use the follow-unfollow strategy
Following and unfollowing accounts to get follow backs is a proven way to get gain more followers fast.
Start by looking at a competitor's profile and checking their list of followers.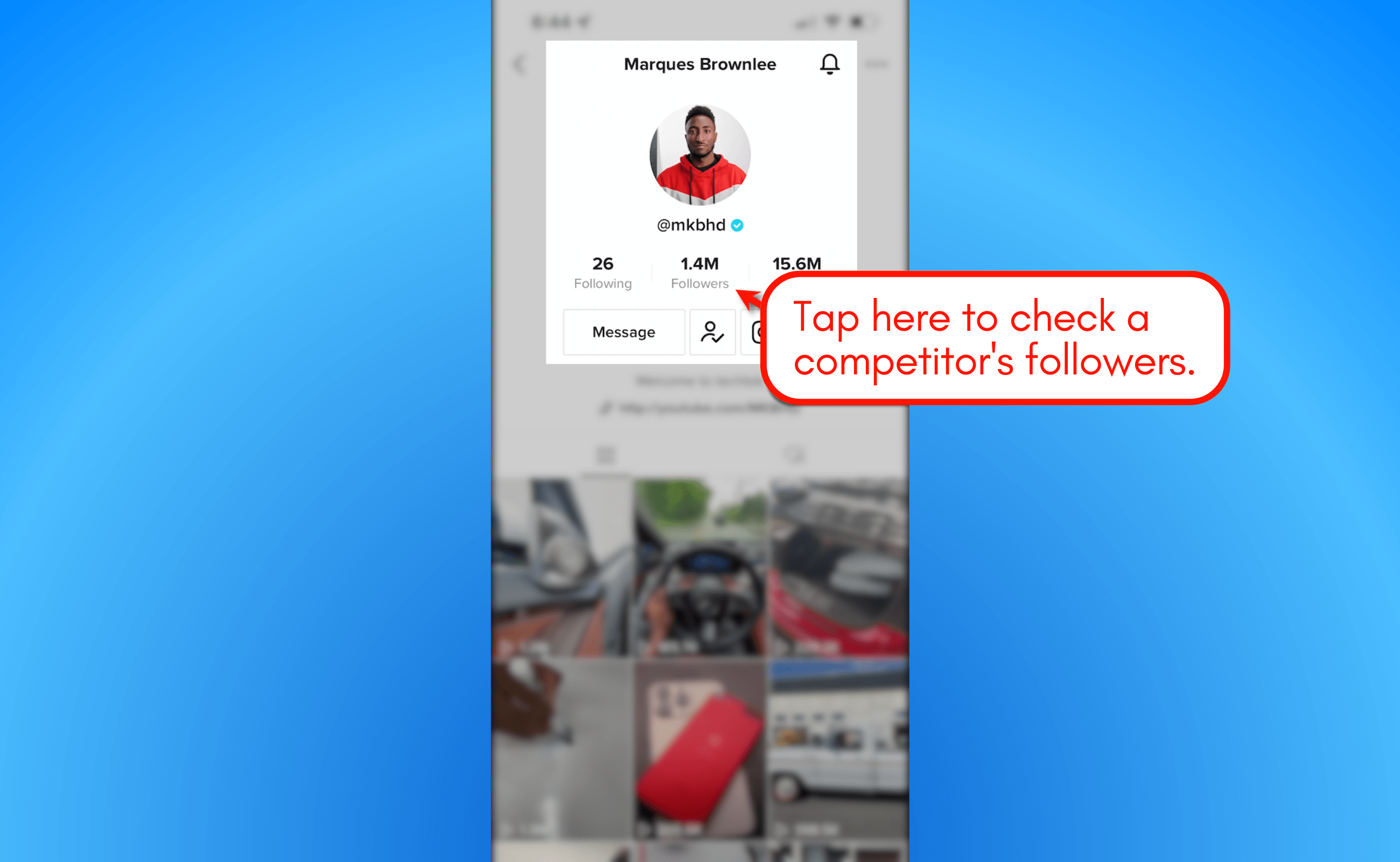 On their followers list, follow up to 30 accounts and wait for an hour. Regulating your follow frequency will prevent TikTok from temporarily limiting your ability to follow accounts.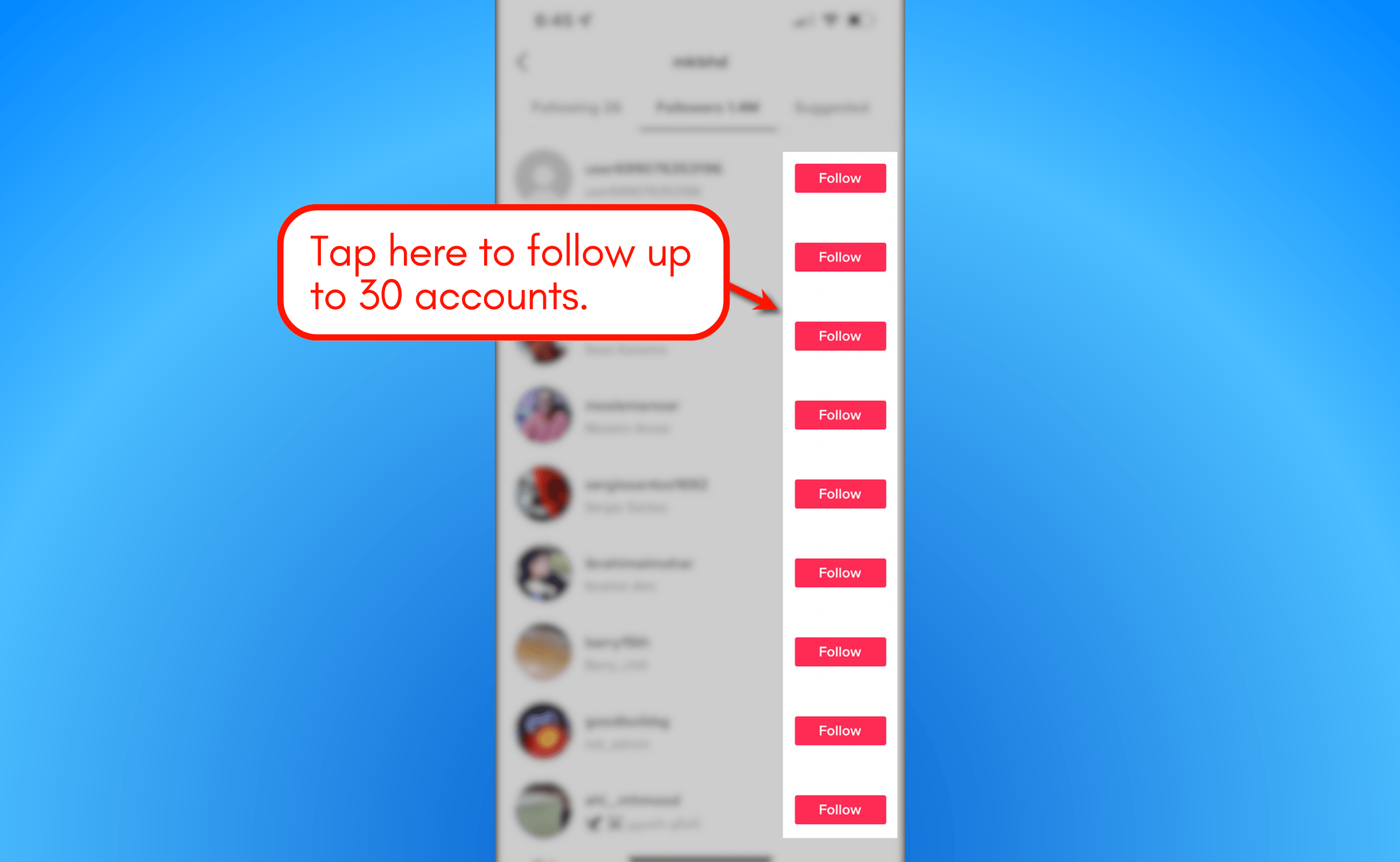 Following accounts will put your client's brand on their target audience's radar—encouraging them to follow back.
To keep your client's follower-to-following ratio healthy, schedule a time to unfollow those who didn't follow back. Simply head to your client's profile, open their following list, and unfollow accounts that aren't labeled as "Friends."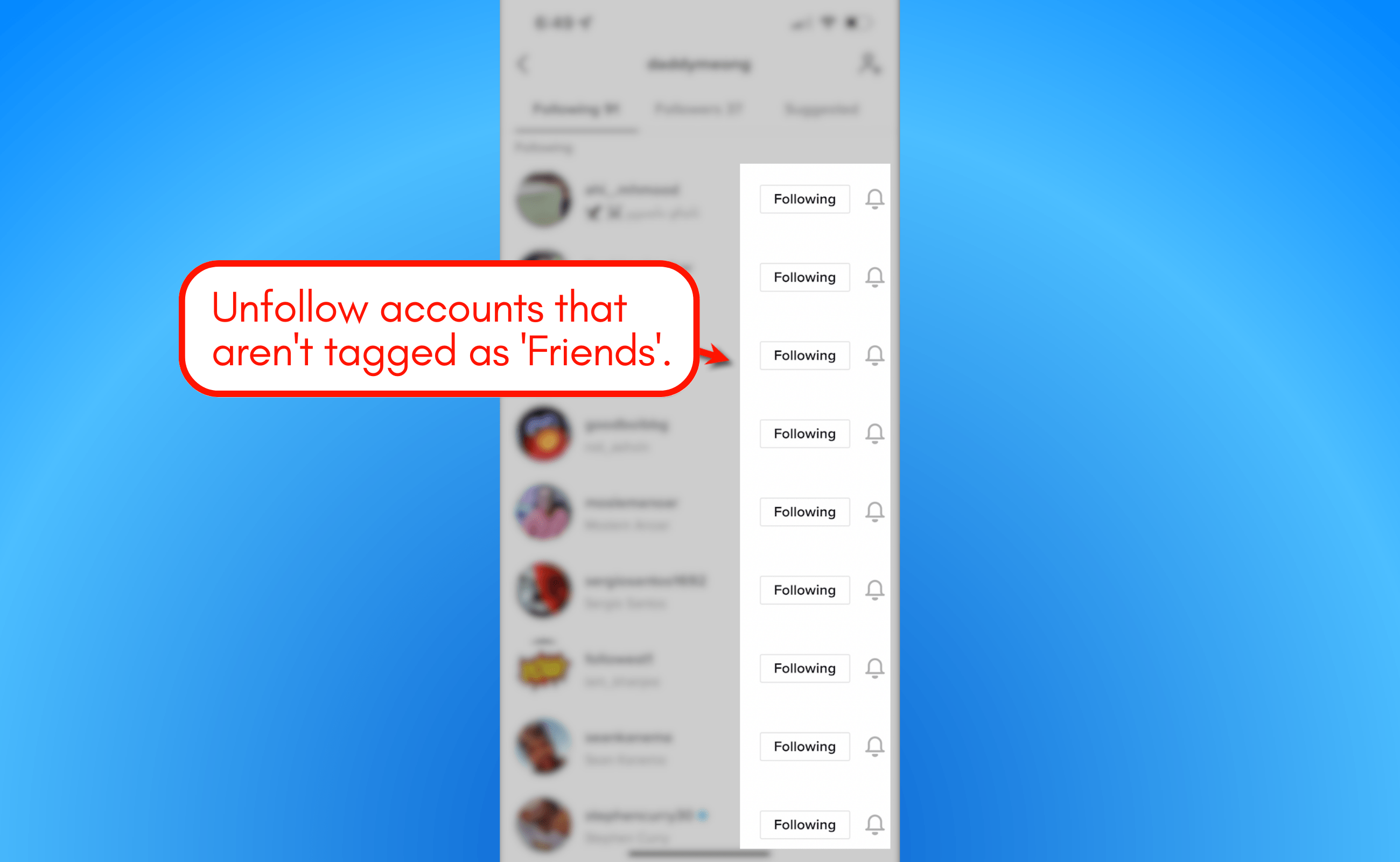 If this whole process seems tedious to you, you can automate it with services like FuelTok and TokUpgrade.
FAQs for getting 1,000 followers on TikTok
How many followers do you need to get verified on TikTok?
There's no specific number of followers you need to get verified on TikTok. To get verified, work on your authority with strategies like showcasing expertise in your niche, getting verified on other social networks, and working with verified influencers.
How long after 1,000 followers can I go live?
After reaching 1,000 followers, you need to wait a few days for the LIVE feature to kick in. If that doesn't work, go to your TikTok account settings, tap "Report a problem," and select 'I can't start a LIVE' from the list of options.
What is the fastest way to get 1,000 on TikTok?
To get 1,000 TikTok followers as quickly as possible, combine multiple TikTok marketing strategies like collaborating with influencers, automating posts, and using the "follow-unfollow" strategy.
Get 1,000 followers on TikTok now
Helping clients get 1,000 followers on TikTok is a significant achievement.
Not only will it unlock additional features, like TikTok LIVE and bio links, it also provides momentum to your TikTok marketing campaigns.
Make results sustainable with an all-in-one social media management platform like Vista Social. Schedule your posts, track analytics, manage conversations, and scale your TikTok marketing in one place.
Click here to create a free Vista Social account today.