Are you ready to up your TikTok game in 2023?
A killer bio is the first step towards success on the platform, but we know it can be tough to come up with the perfect wording.
That's why we've put together a comprehensive list of 170+ TikTok bio ideas specifically tailored for creators, marketing agencies, and brands.
Whether you're a social media manager or a brand looking to make a splash, our guide will provide you with the inspiration you need to craft a compelling bio that will grab the attention of your target audience. 🔥
So, let's dive in and make 2023 the year of TikTok success!
Table of Contents
Best TikTok bio ideas for every kind of business
TikTok bio ideas for food brands
Ready to spice up your food brand's TikTok game? Check out these tasty bio ideas that are sure to make your followers drool.
From mouth-watering descriptions to fun food puns, these bios for food brands will have your audience hungry for more! 🤤 🍕
"All things food."
"Healthy recipes for the family."
"Quick and easy recipes at home."
"Best cooking tips for beginners!"
"Cooking tips, kitchen hacks, and more."
"Easy recipes everyone can make."
"Easy and delicious recipes!"
"New and easy baking and home-cooked recipes every day!"
"Quick, easy, and delicious recipes anyone can make."
"Share your easy recipes using the hashtag (branded hashtag)."
"Easy cooking tips for home cooks."
"Easy recipes to try at home."
"Plant-based and vegetarian recipes posted below!"
"Easy recipes to make this your dinner tonight👇"
"Good food is in our genes."
"Welcome to our TikTok where we talk about all things food."
"Follow if you love food."
"Good food is our love language."
"Home-cooked food made with love."
"Great food is our number one priority."
TikTok bio ideas for eCommerce
TikTok is the place to be for eCommerce! It's a goldmine for retail brands and affiliate marketers looking to boost their sales. 🛍️📲
To attract potential customers, you'll want to jazz up your TikTok bios with the right lingo. Here are some must-haves to get you started:
"Your online best-selling shop."
"Online store dedicated to selling (product) and accessories!"
"Online store for great products and even better customer service."
"Buy (product) sets online."
"The best (product) on TikTok—send us a message for inquiries."
"The number one (product) source on TikTok. Use (code) for free shipping!"
"Order now for free shipping."
"Always in stock (product) source on TikTok."
"The best (product) discounts on the web."
"Follow us to get discounts, free shipping, and other special offers!"
"TikTok-powered online retail store."
"Welcome to our TikTok shop—the best (product) only!"
"Get your (product keyword) for over 50% off today!"
"Online shopping in (location), discounted shipping rates!"
"Same-day delivery to our (location) customers!"
"Official TikTok store for (company name/product)."
TikTok bio ideas for sports and fitness brands
If you're running a sports or fitness brand and looking to spruce up your TikTok bio, we've got some inspo for you! We've scoured the app and found some killer ideas that are sure to get your audience pumped. 🏋️🏒
Here are bio ideas inspired by sports and fitness accounts on TikTok:
"Giving wings to runners and cyclists."
"Sportswear and merch with worldwide shipping."
"Fitness doesn't quit."
"Daily workout content for you."
"Weight loss and fitness tips for beginners."
"Running tips, reviews, news, and more."
"The official account of (company name) exercise clothing."
"Best gym wear for you!"
"Home workout tips for building and sculpting your body!"
"Daily workouts you can do at home."
"Netflix workouts to have fun while staying fit."
"Follow for weight loss videos."
"Join us in daily workouts."
"Lose weight, belly fat, arm fat, and thigh fat."
"Start your weight loss journey."
"Best seller weight loss tea."
"Workout motivation, nutrition advice, supplement education, and gym humor."
"Best tips for sports on TikTok."
"Follow for the best sports videos."
"All things high school sports."
"We know sports."
"Follow for help with your fitness journey."
TikTok bio ideas for beauty brands
Want to upgrade your beauty brand's TikTok bio game? We've got you covered with some top-notch inspo that will make your profile stand out in the crowded beauty space. 💄😍
Check out these must-try TikTok bio ideas that will help you capture the attention of your dream audience:
"Follow us for more skincare and beauty product reviews."
"Inventive tips to solve your everyday beauty problems."
"Makeup, fashion, and skincare—happy shopping!"
"Body and bath products your skin will love."
"Beauty, skin, hair, and body for the working mom."
"Your number one source for beauty."
"Your number one source of (origin) beauty products on TikTok."
"Blooming beauty by (product/company name)."
"Organic beauty products for all skin types."
"(Name) beauty soaps for less."
"Lightening and skincare beauty products for sale."
"(Name) official beauty products supplier."
" Daily dose of makeup videos."
"Concealer, foundation, and everything else with worldwide shipping."
"The TikTok for leading affiliate beauty products."
"Feel free to inquire about our products."
"TikTok shop for the best beauty finds."
"Beauty products by (name)."
"Sharing daily makeup tips."
"Top makeup tutorial videos below."
"Natural beauty hacks with ingredients in your kitchen!"
TikTok bio ideas for fashion brands
Get your fashion brand on fleek with these TikTok bio ideas that will keep your audience scrolling for more! 👗👚
From clever quips to catchy phrases, these bios for fashion brands will help your brand stand out in the crowded world of apparel TikTok.
"All the latest fashion trends and inspiration."
"Follow for fashion content from (company name)."
"Good shoes take you to good places."
"Factory denim jeans, shorts, plus sizes, dresses, and more."
"DIY fashion tutorials and ideas—yours below."
"The TikTok channel for endless, fashion inspo."
"All your sneaker needs!"
"Great shoes at low prices daily."
"Follow to see the best shoes for the best people."
"Your basketball shoes shop on TikTok."
"The luxury bag store—with free shipping."
"Work bags designed by women for women."
"Designed in (location), made in (location)."
"Fashion bags—high quality, affordable price."
"The TikTok page for the best women's dresses."
"We care about women's clothing."
"Branded clothes, worldwide delivery, always in stock."
"Quality fashion items, reviews, and daily content."
"Your source of useful, practical, and aesthetic fashion."
"The official TikTok page of (company name). Shop our outfits here."
"Street style inspo fashion videos, deals, and DIY tutorials."
Level up your media brand's TikTok game with these top-notch bio ideas that are sure to boost your engagement metrics and up your brand's social media clout.
From catchy taglines to snappy calls to action, we've got all the buzzwords and social media jargon you need to craft the ultimate TikTok bio for media brands. 🎙️ 🎞️
"The official TikTok of (company name) — check us out on YouTube too!"
"Official TikTok content from (company name) right at your fingertips!"
"The world's leading voice for (niche) success."
"Bold storytelling that inspires."
"Entertainment daily from the official (company) media group TikTok page."
"Follow to get stories that matter to you."
"Click follow and never miss out on the latest updates from (company name)."
TikTok bio ideas for B2B companies
Check out our top TikTok bio ideas tailored specifically for B2B brands!
With these killer ideas, you'll be sure to catch the attention of decision-makers in your industry and make a lasting impression. 🏙️ 💼
"In the air, on the ground, behind the wheel. #ThanksForDelivering"
"Empowering entrepreneurs to sell anything, anywhere — no matter what you do."
"Online visibility management SaaS platform—been used by over (number) marketers!"
"Hire top-notch talent worldwide with (company name) recruitment agency!"
"We're here to help you with accounting software, accounting services, and everything in between."
"Build and grow your website traffic—the (company name) way."
"Professional (niche) services tailored to your needs—but first, TikTok."
"Secure your data with battle-tested cybersecurity."
"Content marketing tips and strategies your competitors use!"
"Build brand recognition and scale your social presence with (company name)."
TikTok bio ideas for pet brands
Purrfect! If you're a pet brand looking to spice up your TikTok bio, we've fetched the best ideas for you. 🐶 🎾
From pawsome puns to fur-tastic taglines, these bio ideas will have your followers wagging their tails for more!
"Safe and effective pet care products, tutorials, and tips for responsible owners."
"Inspiring pet stories captured through TikTok."
"Find the best all-natural pet care items here."
"Click follow to learn medical-grade dog and cat care."
"Best pet care essentials at an affordable price."
"The pet care and grooming services your babies deserve."
"Free TikTok content on dog training tips and dog care."
"The leading professional pet care products supplier on TikTok."
"World-class animal care solutions because we want the best for them."
"Pet care products at factory prices."
"Tips, tricks, and tutorials for healthy pets—daily uploads for animal lovers."
"Hire expert vets or visit our full-service vet hospital in (location)."
"Veterinary services, pet food, supplies, and grooming—only on (company name)."
"Your daily dose of pet sitting, grooming, training, and dog walking content."
Short TikTok bio ideas for businesses
And last but certainly not least – here are some top-tier short TikTok bios for businesses:
"The official (company name) TikTok."
"Here to help."
"Use the hashtag (branded hashtag) to get featured!"
"Nobody does (product category) better!"
"Follow for more (niche) tips!"
"Just (niche) things!"
"Shop our products online and in stores."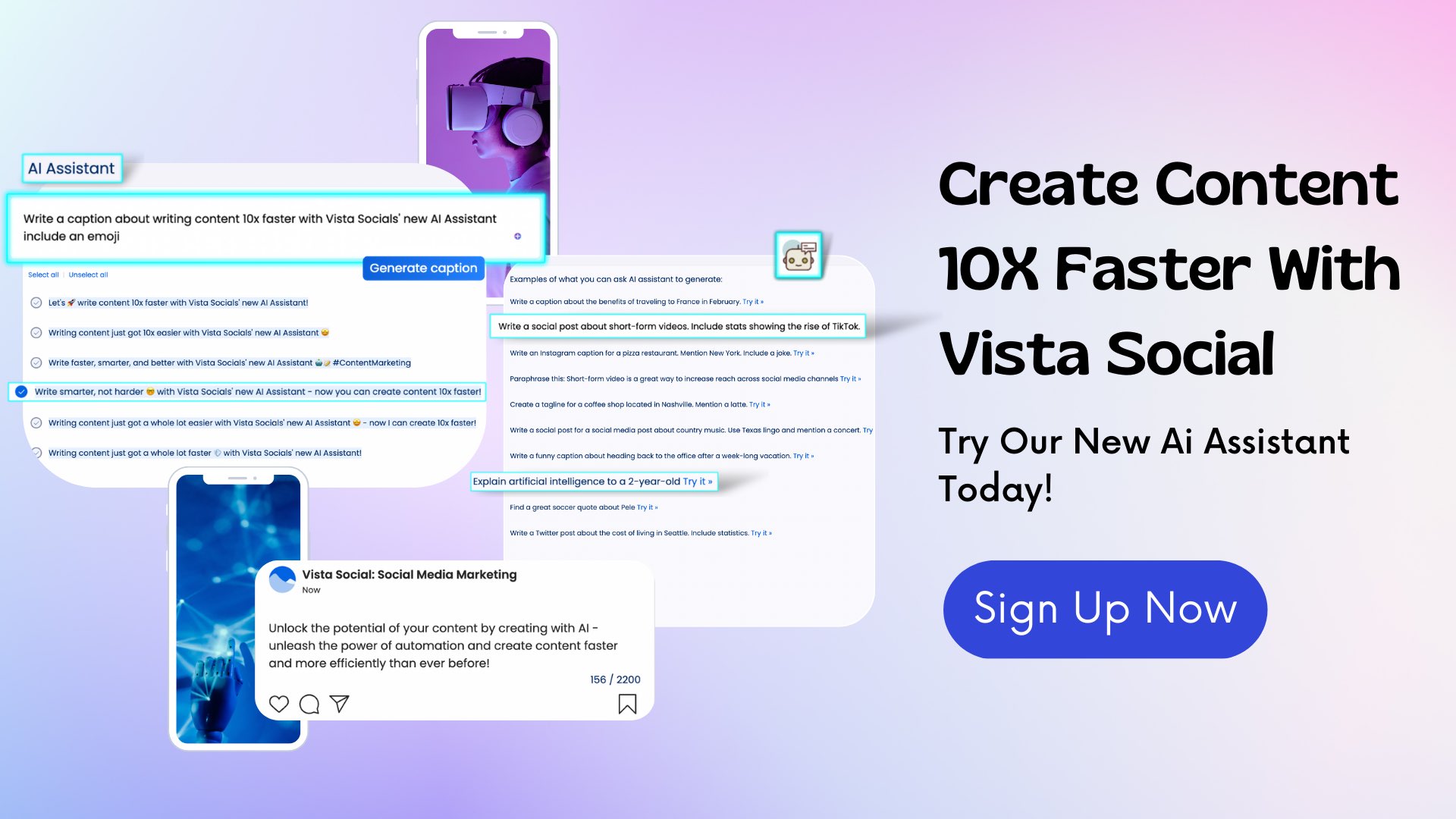 Stuck on what to write for your social media captions and bios? Try out our AI assistant powered by ChatGPT to generate creative and personalized ideas for your brand. Sign up now! 💬🔥
Quick TikTok bio hacks to grow your client's presence
Help your clients make the most out of their captivating bios with the following tips:
1. Use emojis and hashtags
Not only do emojis add a touch of personality and originality to the bio, but using relevant hashtags can also increase searchability and help potential followers discover your client's content.
If you want to learn how to get 1,000 followers on TikTok, start by speaking the language that the community speaks! In other words, you'll want to find out the unique culture, trends, and language that make TikTok tick.
And you can easily discover this information right in Vista Social! For maximum impact, try out the hashtag feature, which can generate dozens of trending hashtag ideas based on a simple keyword search.
With just a few clicks, you can unlock a treasure trove of hashtag ideas for your TikTok content! 🔑👑
Head over to the hashtag icon and select the "hashtag suggestions" option, then enter a keyword to see a list of relevant and trending hashtags to incorporate into your posts.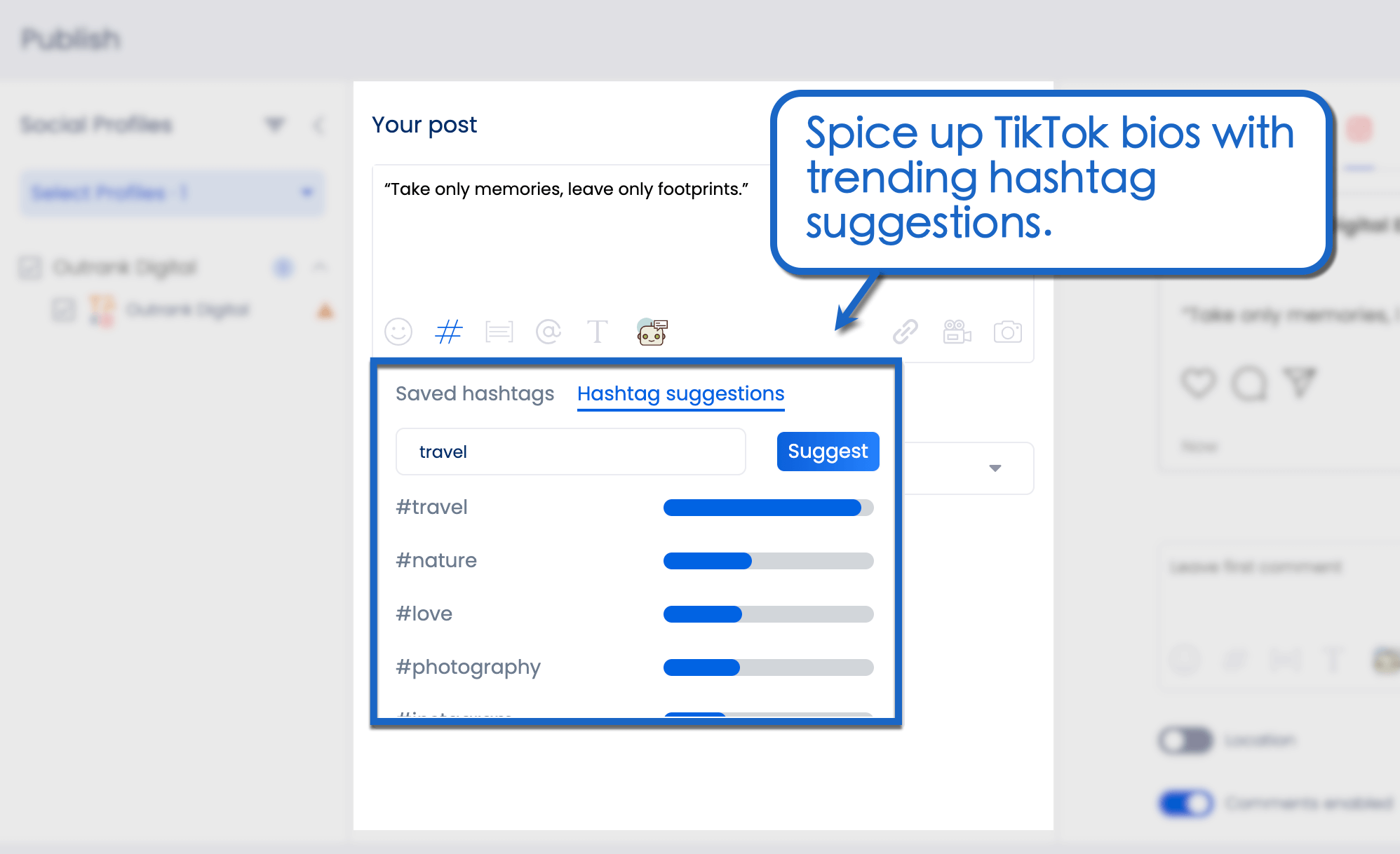 Brought to you by
Try Vista Social for Free
A social media management platform that actually helps you grow with easy-to-use content planning, scheduling, engagement and analytics tools.
Get Started Now
With this simple feature, you'll be able to elevate your content and reach a wider audience in no time.
2. Insert your target keywords
Did you know that optimizing your TikTok bio for target keywords can significantly increase their chances of being discovered by users?
That's because the platform's search engine is keyword-based, so using relevant terms in the bio can make a big difference.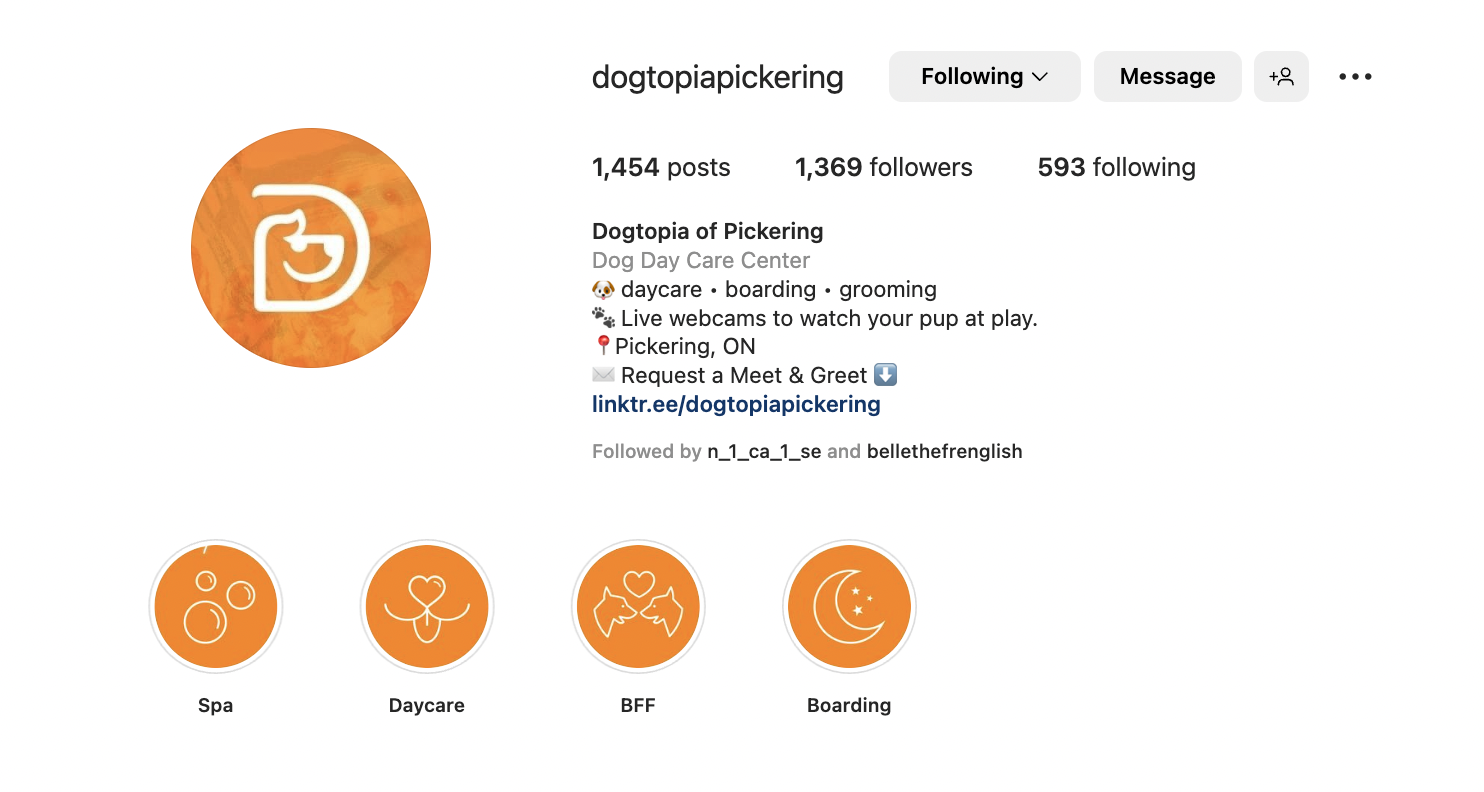 The best part? The TikTok bio ideas we've shared above can be easily adapted to fit any niche!
Just swap out the keywords to match your target audience, and you're good to go.
For instance, if your client specializes in web hosting, simply replace "best cooking tips for beginners" with "best web hosting tips for beginners" in the bio. It's that easy!
3. Pay attention to your audience
If you're considering using a bio from this list, it's important to ensure that it won't be misinterpreted as offensive by your client's audience.
Keep in mind that what may be funny or lighthearted in one language or culture could have negative connotations in another.
To avoid any potential miscommunications, it's best to stick to shorter bios with less wordplay.
And if your client has already run into trouble on the app, don't worry – we've got you covered with our guide on "How to get unbanned from TikTok."
4. Include important business information
It's all about that first line. But don't stop there – adding a second line with actionable information can take things to the next level.
Whether it's a contact email, location, or a branded hashtag for UGC, adding that extra detail can make your client's bio more meaningful and memorable.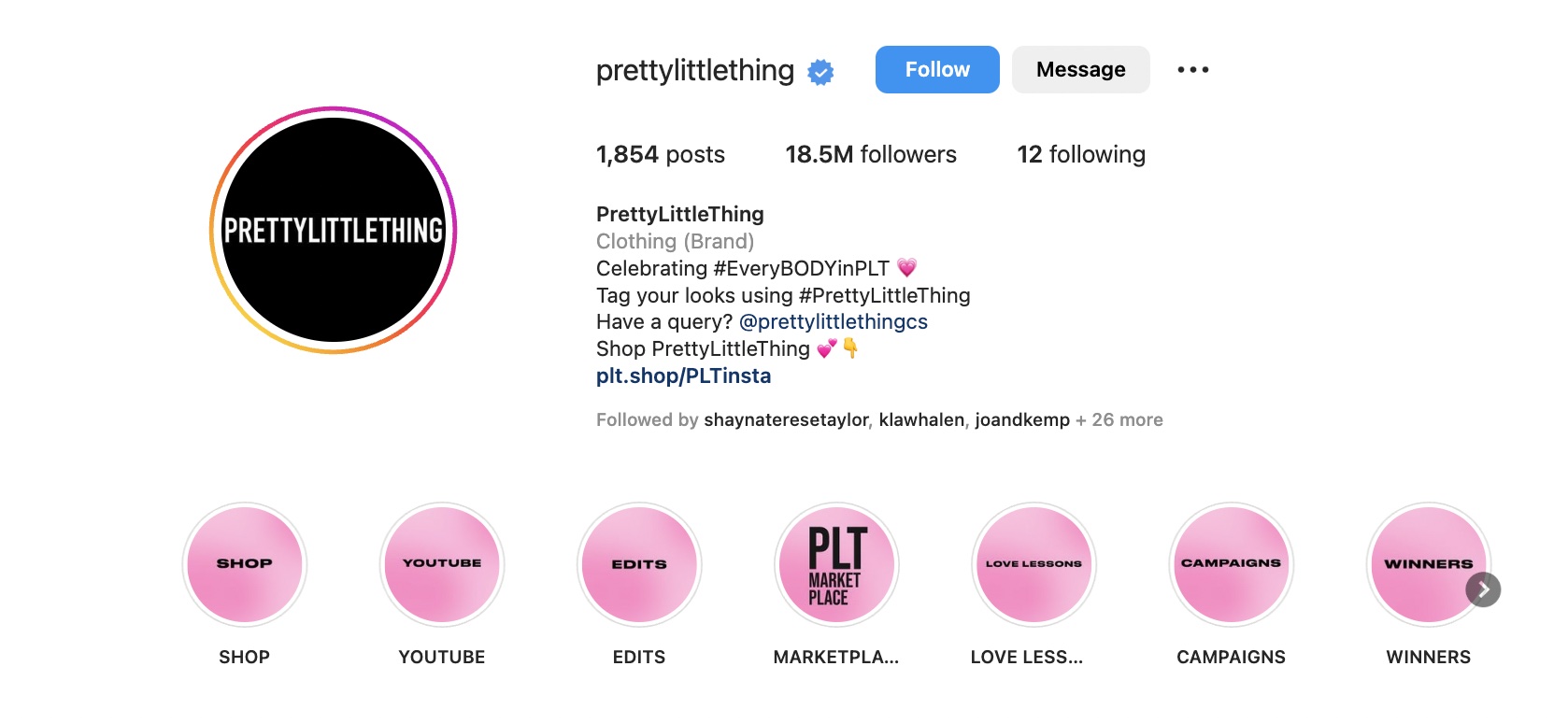 Consider also including a company tagline or a mention of your client's top-selling product to give potential followers a taste of what they can expect. The possibilities are endless!
5. Add links or user tags
By including links to your website or other social media profiles, you can drive traffic and expand your digital footprint.
User tags also offer a great way to connect with other creators, collaborate on content, and grow your account's reach.
Plus, adding links and user tags to their TikTok bio can also help establish your credibility and authority in your niche.
By showcasing other relevant accounts or sources of information, you position yourself as a trusted source of expertise and knowledge, which can further enhance your reputation and attract more followers.
6. Build a solid TikTok publishing strategy
Having a solid TikTok publishing strategy is crucial for building a strong brand presence, increasing engagement, and growing your follower base on the platform.
And Vista Social offers everything you need to build out a successful TikTok publishing strategy, from visual planning tools to detailed analytics.
With Vista Social, you can easily schedule your content in advance, ensuring a steady stream of high-quality posts that will keep your audience engaged.
Plus, our in-depth insights and analytics make it easy to track your progress and make data-driven decisions to take your TikTok presence to the next level.
Here are two of our favorite TikTok tools in Vista Social for you to try:
#1: Publishing queues
Consider setting up publishing queues to ensure your content is being shared during your target audience's most active times.
By defining your posting schedule based on their habits, you'll increase the likelihood of your posts being seen, liked, and shared.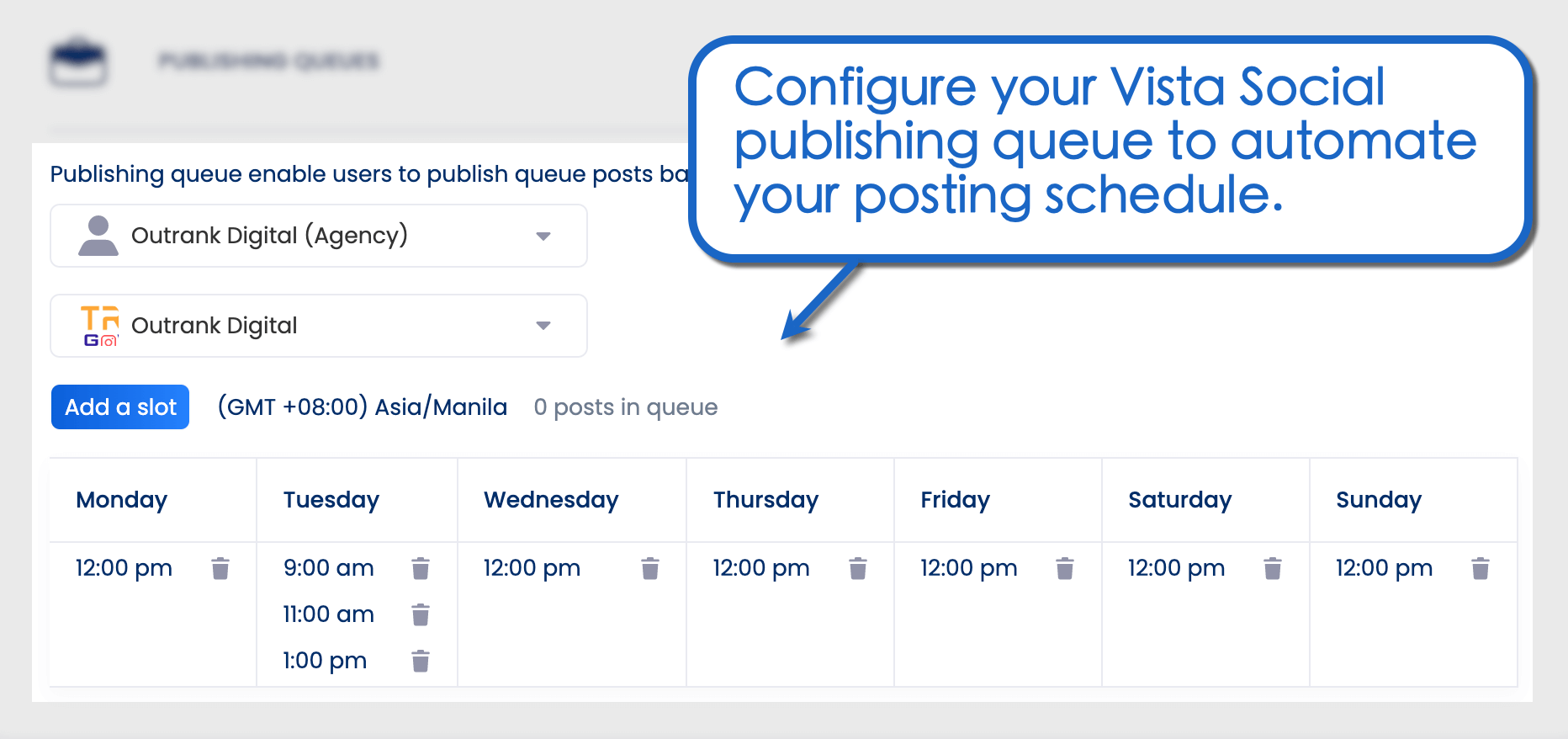 Our intuitive scheduling feature makes it easy to create queues that align with your target audience's active hours. Simply choose the times that make the most sense for your brand and let Vista Social handle the rest.
Plus, with our robust analytics and insights, you can fine-tune your publishing schedule over time to optimize your reach and engagement.
#2: Smart publishing
As a savvy publisher, you know that automation is key when it comes to content curation. That's why we've made it super easy to pull in relevant content from news publications, and blog RSS feeds.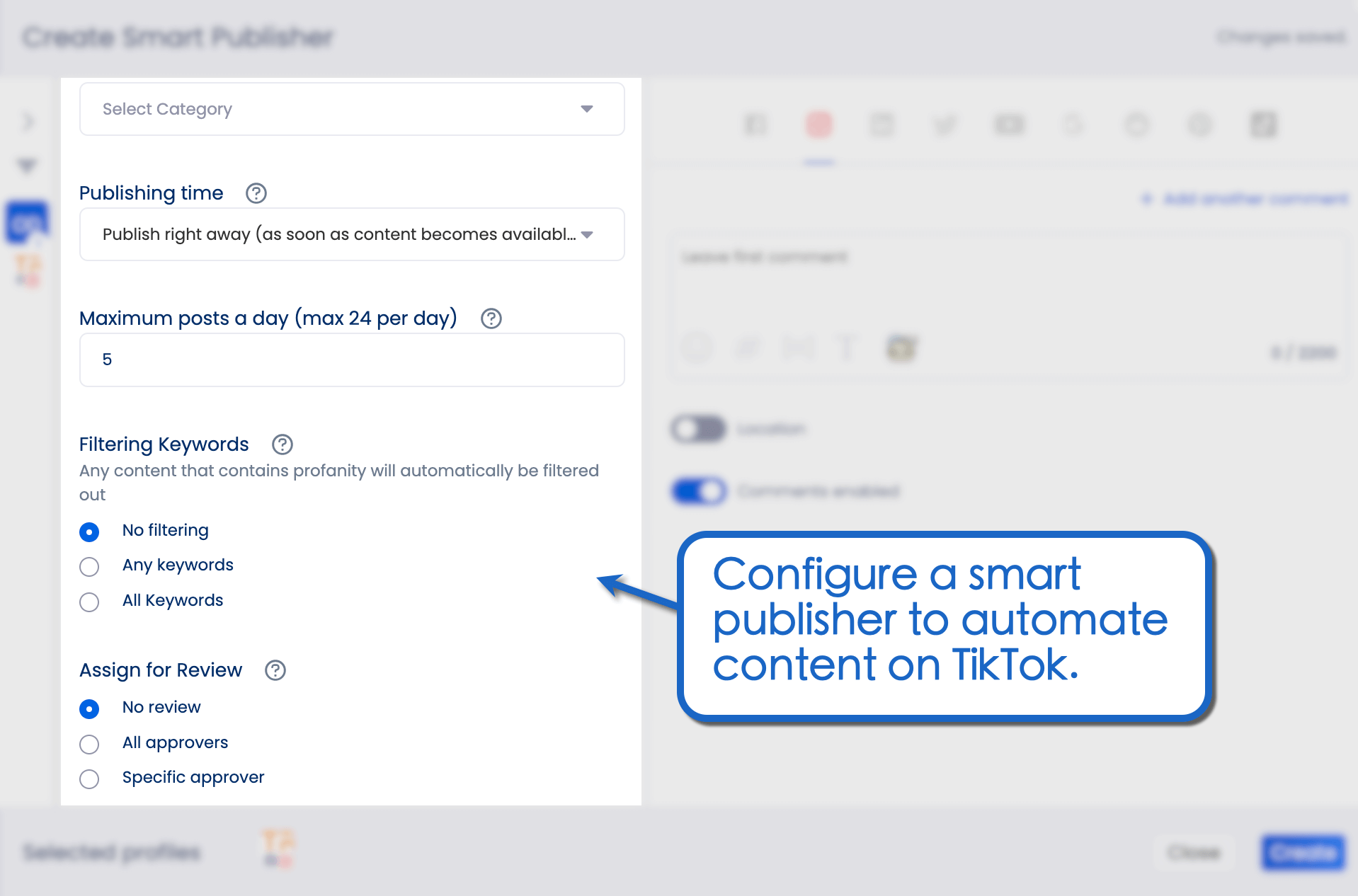 With smart publishing, all you need to do is plug in your client's blog RSS feed, set your posting schedule preferences, and click 'Create.' Voila! Your content queue is all set and ready to go.
Customers Also Ask
What is a good bio for TikTok?
Your TikTok bio is your chance to make a killer first impression on potential followers. While it's important to provide some context about what your profile is all about, many successful TikTok users opt for a bold, attention-grabbing bio that leaves viewers intrigued and curious to see what content lies ahead. After all, the key is to hook your audience and keep them coming back for more.
What should I write in my bio?
Aside from an eye-catching one-liner, including information about your business or personal brand, such as name, niche, and products. Remember to insert links to relevant pages, including your other social handles. 
How can I improve my TikTok bio?
Ways to improve your TikTok bio:
Add links and user mentions
Use brand-safe language
Back it up with quality, helpful content
Insert industry-related keywords
Add a CTA
Wrap-Up: Elevate your TikTok game today!
And there you have it – over 170 TikTok bio ideas to help take your business's presence on the app to the next level!
Whether you're looking for a catchy slogan, clever tagline, or playful emoji combo, we've got you covered with a wide range of options to suit any brand or industry. 💙✨
And remember, your TikTok bio is just one piece of the puzzle – to really succeed on the app, you'll need a comprehensive strategy that includes content creation, audience engagement, and more.
Luckily, Vista Social has everything you need to elevate your TikTok game, from post-scheduling to analytics and beyond.
So why not sign up today and start taking your TikTok presence to new heights? Your followers (and your bottom line) will thank you!