If you don't have a social media kit, you're missing out—BIG TIME.
Social media kits are effective tools for establishing a consistent brand identity and attracting potential brand sponsors. And while it sounds fancy, you don't need to invest a lot in terms of time, money, and effort to make them.
It doesn't matter if you're a rising star social media influencer or if want to know how to start a digital marketing agency with no experience. Building social media kits is a surefire way to elevate your brand marketing and win more business.
Table of Contents
A social media kit includes a collection of visual content templates or documents designed to help build a strong social media presence.
For influencers, bloggers, and agencies, a social media kit showcases everything potential brand partners need to know before working with you. This includes your social media stats, brand story, audience information, and links to resources that will help prospects get to know your brand.
For marketers, a social media kit or "template kit" refers to social media templates that speed up and streamline content creation. Apart from saving time, it also creates cohesion between social media posts—amplifying brand recognition and identity across social media channels.
Depending on your goals, you may choose to use either one of these definitions of social media kits.
But if you want to build an authoritative brand on social media, you need to use both.
Don't worry, it's easier than you think.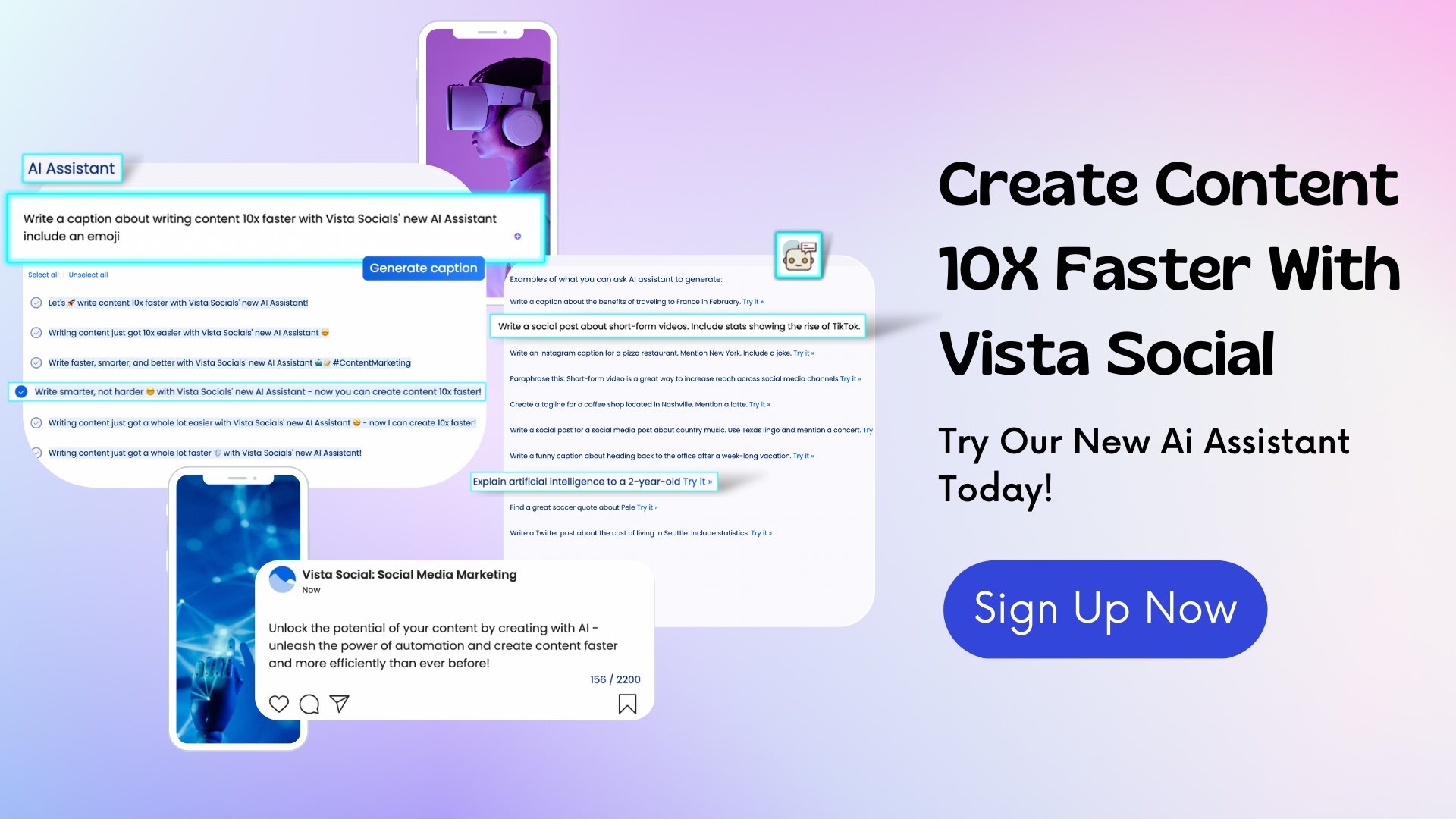 Ready to give your content workflow and posts a major upgrade? Try AI Assistant powered by ChatGPT today! 🤖💙
Here are the steps that will help you create an all-around social media kit to solidify your brand's authority and streamline the content creation process.
1. Decide your brand colors
Off the top of your head, think of five gigantic brands that have cemented their legacy in their industry. Chances are, their logo and their brand colors came to mind as you thought of their name.
That's the power of color schemes.
They make you recognizable anywhere, be it on social media, billboards, or website content.
To pick your colors, it takes a little bit of psychology, personal preference, and market research.
Psychology — What emotions or perceptions do you want your target audience to attach to your brand identity? Some examples of commonly used colors are blue for trustworthiness, red for stimulation, and green for growth.
Preference — When you conceptualized your company, what were the colors you and your co-founders visualized it with? Have you discussed it with your branding team and stakeholders?
Market research — What are the color schemes of businesses that thrive in your niche in terms of marketing? What colors does your target audience respond to positively?
Once you find your color palette, be sure to keep a copy of each color's hex code—ready to be plugged into your design tools. This includes graphic design tools, page builders, and image editing software.
2. Compile necessary stats
When putting together your social media kit to show off your credibility, be sure it's loaded with impressive stats about your social media presence.
Even free platforms like Vista Social can provide you with a wealth of social media analytics in just a few clicks. Simply log in to your dashboard, connect your social profiles, and run a report on social media performance.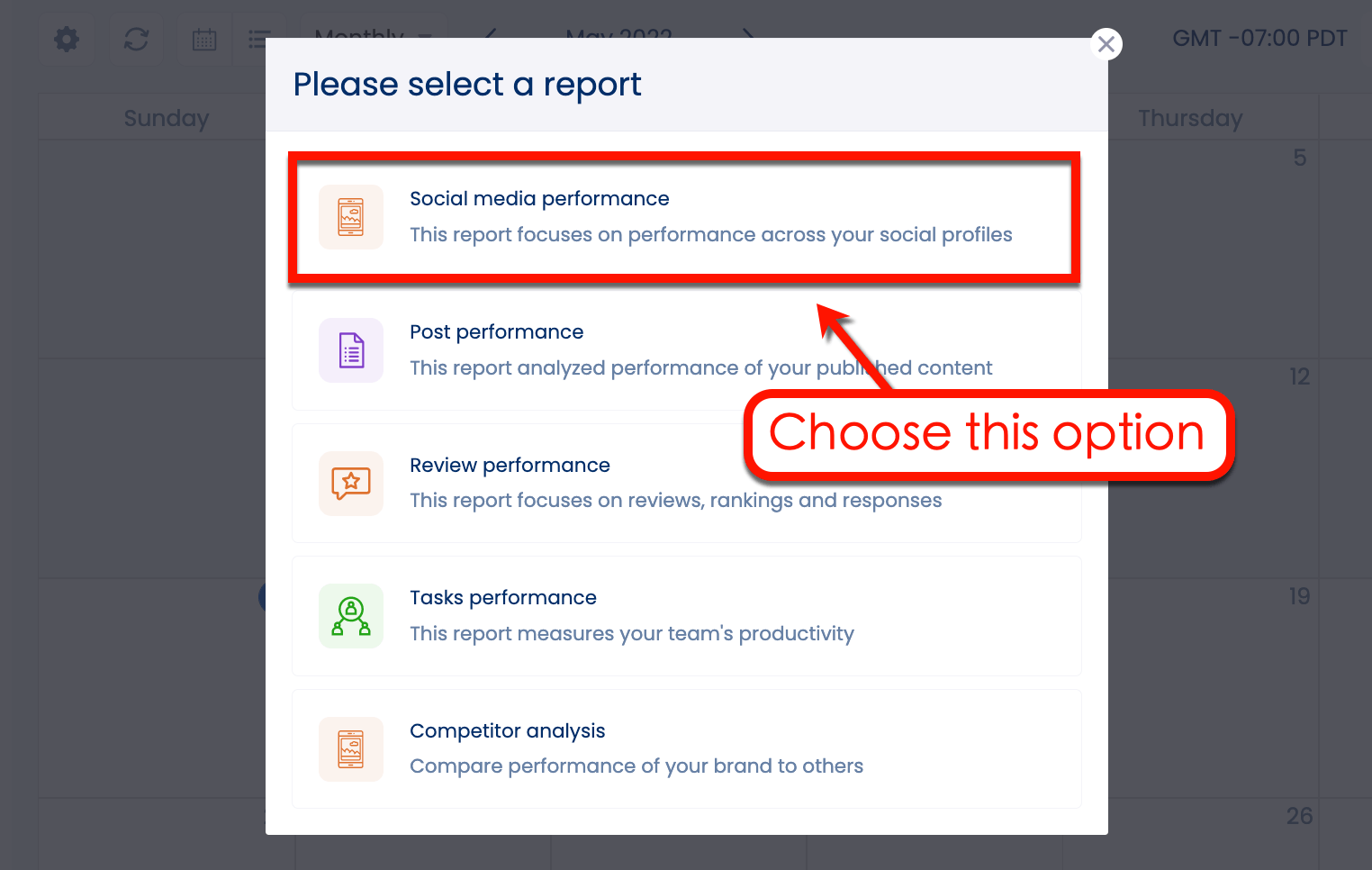 Within seconds, you'll get a complete view of your brand's performance across multiple social media platforms.
Look for advanced stats that you can include in your social media kit, like:
Hashtags and user interactions
Total fans and engagement
Daily engagement
Follower growth
Here's an example from tech influencer Roberto Blake: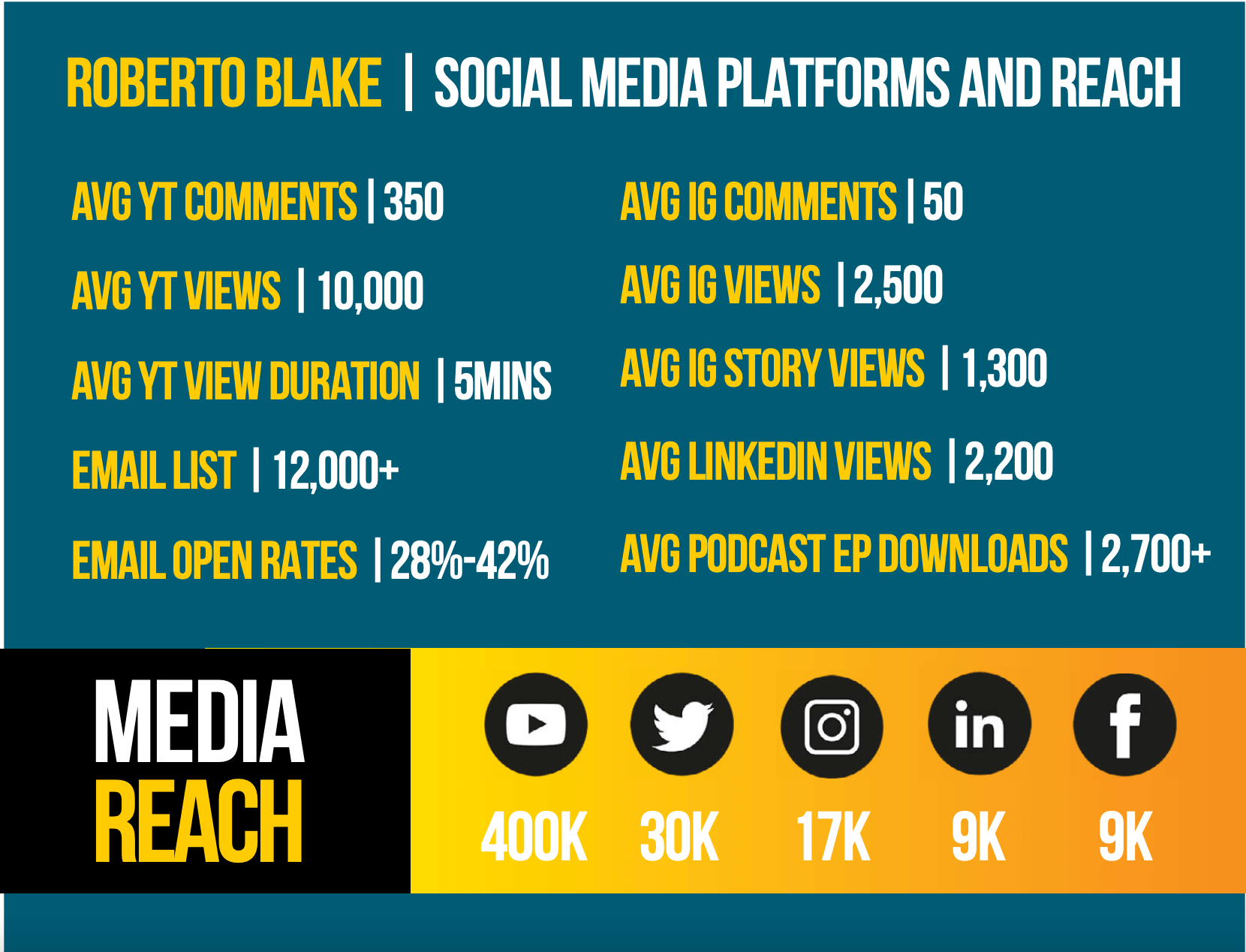 Remember, there are tons of social media platforms out there that can provide you with useful stats. But if you're a small business, agency, or individual creator, Vista Social is guaranteed to be the most cost-effective option.
Don't believe us?
Check out this 100% objective comparison between Loomly vs Hootsuite vs Vista Social.
Brought to you by
Try Vista Social for Free
A social media management platform that actually helps you grow with easy-to-use content planning, scheduling, engagement and analytics tools.
Get Started Now
In elaborate social media kits, performance stats only occupy one out of 20+ pages.
Keep in mind that brands will also care about factors like brand alignment, previous collaborations, rates, and contact information. Most importantly, they'll care about your brand's vision and value propositions.
Don't skimp on details and mention points like your background, digital marketing team structure, and mission statement.
Here's an example from food blogger, Edible Madison: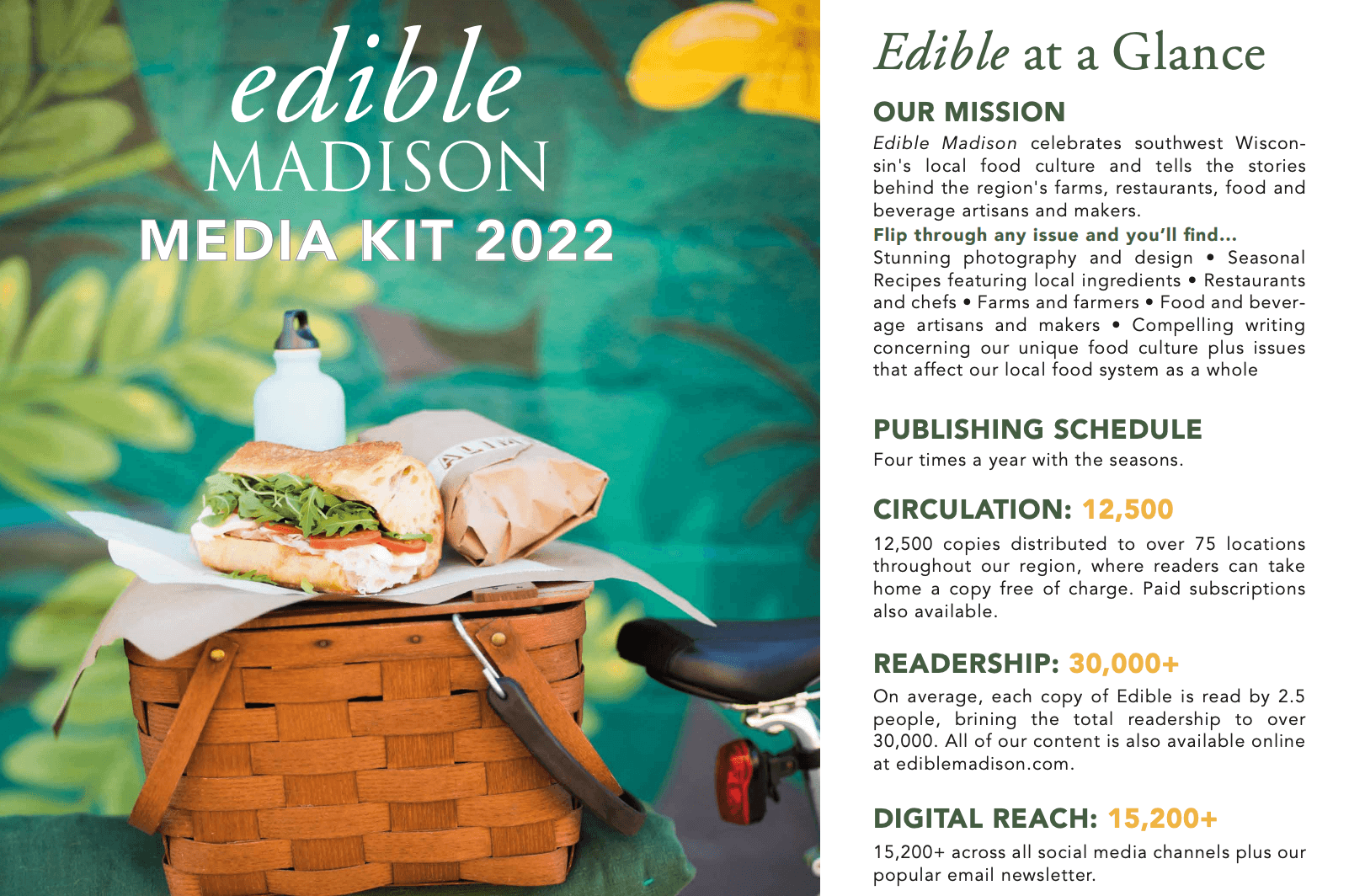 A quick word of advice: highlight stories that show how you deal with adversity and find innovative solutions to tight situations. Also make it easy to find relevant information, like milestones and top benefits of working with your brand.
4. Use the right graphic design software
There are plenty of design and IG tools out there that can help you visualize your social media kit without hiring a professional graphic artist.
Canva, for example, not only offers a drag-and-drop interface that makes it easy to build a brand kit from scratch. It also comes with templates that are specifically designed to help big and small businesses create media kits.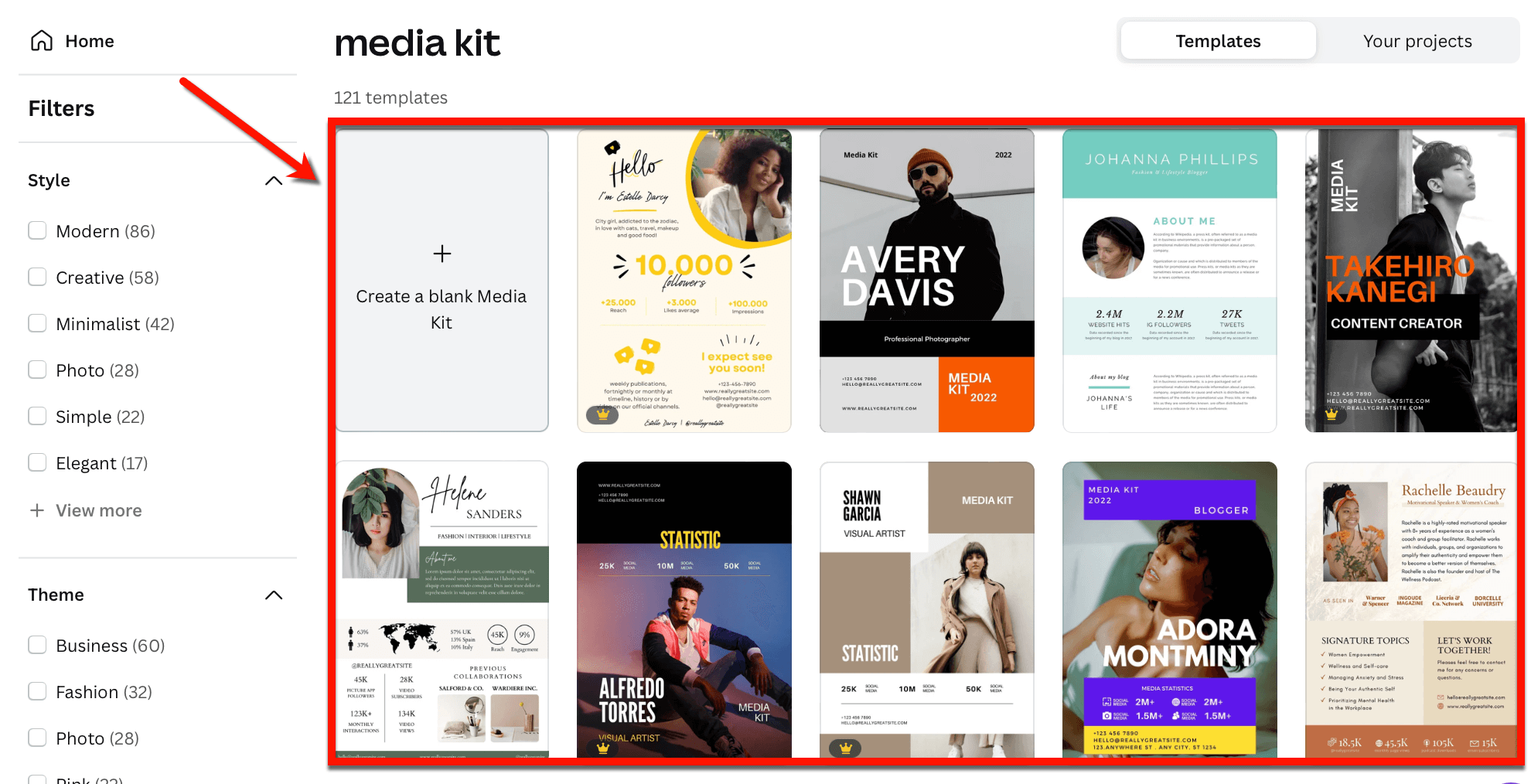 From there, it should be easy to add in your logo, apply your colors, and modify the design's typography. Of course, you can also use Canva's easy-to-use design features—from shapes to filters—to build a social media kit from scratch.
Canva lets you download designs using PDF, SVG, MP4, and PNG formats. It all depends on what you're planning to use the design for.
Other than Canva, here are other graphic design tools for creating your brand kit:
As you get familiar with your graphic design software, it's time to create social media templates you can easily customize later.
This is useful for social media fashion brands, small businesses, agencies, and other companies that promote visual content on social media.
For example, let's say you use Instagram and you're expected to share two posts, three times a week. Rather than building designs from scratch each time, use Instagram tools with post templates to save hours in the content creation process.
Modern graphic design software has pre-built templates for any social media platform. Canva, in particular, has a "Quick Create" feature that can help you build vibrant social media templates in minutes.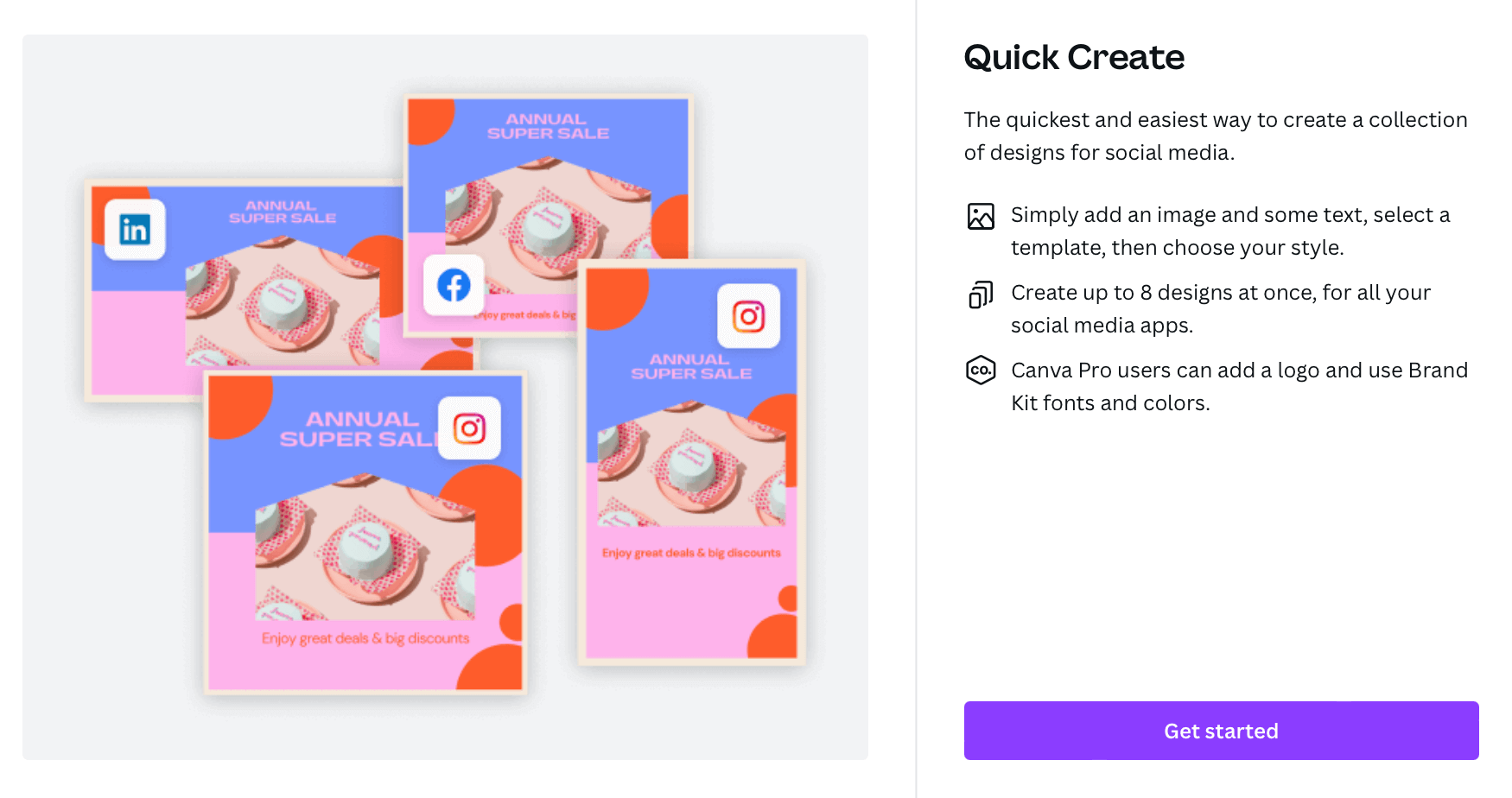 If you need inspiration, sites like Pinterest contain a vast library of media kits and social media templates to borrow ideas from.
They're not directly reusable, unlike social media templates that paid services offer. But you can still borrow design cues and elements from them.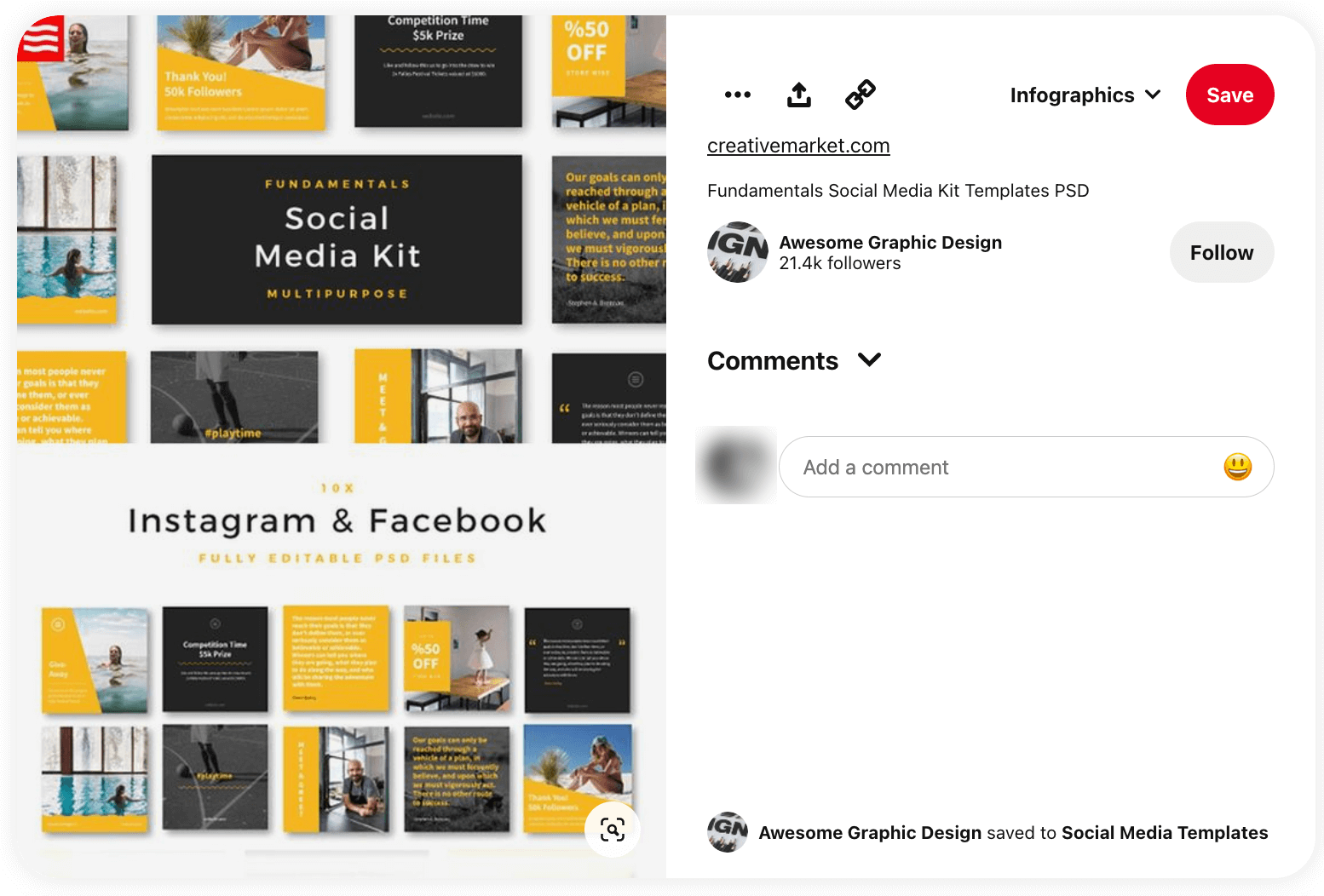 What is included in a social media kit?
A social media kit should include stats about your online reach, your brand story, audience demographics, and previous collaborations. For social media marketing materials, all social media templates should be formatted with your colors, typography, and content pillar layouts.
Do you need a social media kit?
Social media kits are powerful tools for influencers, agencies, and brands that need to attract potential clients and sponsors. Media kits make it easier to access hard-to-find information, like your social media reach and the performance of past campaigns.
How much does a social media kit cost?
A social media kit can cost as little as $15 if you find freelancers on marketplaces like Fiverr and Upwork. If you already own graphic design tools, you can easily whip up your own social media kit for free using templates.
(Also read: Sendible vs Hootsuite vs Vista Social: 2022 Review)
A social media kit could take your social media presence to the next level, but only if you use them right.
With tools like Vista Social, you can spice up your media kit with updated stats and audience insights you can't find elsewhere. It also lets you manage and make minor edits to media for your social posts.
Give Vista Social a test drive by creating a free account right now.