So, you want to learn how to start a digital marketing agency with no experience, huh?
You're in for a wild ride.
Starting a successful digital marketing business isn't a walk in the park.
You need diligence, patience, hard work, and the right information.
While the first three things are entirely up to you, we can help you with the latter.
We'll show you everything you need to know to start a digital marketing agency. This includes picking the right business model, putting together your digital marketing team, choosing a pricing structure, etc.
Let's kick things off with a few introductions.
What is a full service digital marketing agency?
Digital marketing covers many areas, such as paid advertising, content marketing, email marketing, and social media.
A full service digital marketing agency is involved in all those areas.
As an aspiring full service agency founder, investing in your knowledge in every aspect of digital marketing is paramount. This is necessary for putting together different teams with the required competencies to deliver quality results.
If going full service is your chosen path, remember that your main offer should include management in every digital marketing field. Unfortunately, this can be too big of a promise for new founders with zero experience.
As an alternative, you can scale down your plans and focus on more specific marketing skills.
Specializing in a single area of marketing makes the challenges of establishing a profitable business more manageable.
Apart from reducing your overhead costs, "niching down" your digital marketing business means smaller teams, more achievable tasks, and lighter client expectations. These, in turn, let you set more realistic goals as you carve a name for your business online.
What are social agencies?
For founders with no experience, starting a social media management agency is perhaps the best choice.
Here are some of the reasons why:
Get results faster: Unlike email marketing and SEO, promoting a brand on social media can yield measurable results—practically overnight. A social media campaign can generate brand awareness, traffic, and sales for any brand using the right tactics.
Access to built-in social media tools: Social media platforms, such as Instagram, have free, built-in features for marketers and advertisers. This includes audience insights, call-to-action buttons, and various branding tools. There are tons of IG tools you can leverage to make running your campaigns more efficient.
Lower startup costs with automation: Other than the availability of free tools, a single person can deliver social media services through all-in-one platforms like Vista Social. They can automate a posting schedule, monitor insights, and automate reports—all while spending only three bucks per month.
What does a social media agency do?
A social media marketing agency is in charge of helping brands build a social presence, build an engaged following, and generate potential customers.
To achieve these goals, the agency identifies and works on various deliverables, including but not limited to:
Social profile optimization
Audience research
Content creation
Content scheduling
Paid advertising
Social media listening
Influencer marketing
Reporting
Yes, all these services can be delivered even by a one-person marketing team.
Sure, it will be extremely challenging. But with the right tools and strategies, anyone can deliver comprehensive social marketing packages.
The good news is, every campaign is different. Some clients may require content creation and scheduling, but they may not care about influencer marketing.
It all depends on how you build your offers and communicate with prospective clients. You just need to be flexible, resourceful, and in tune with your client's goals.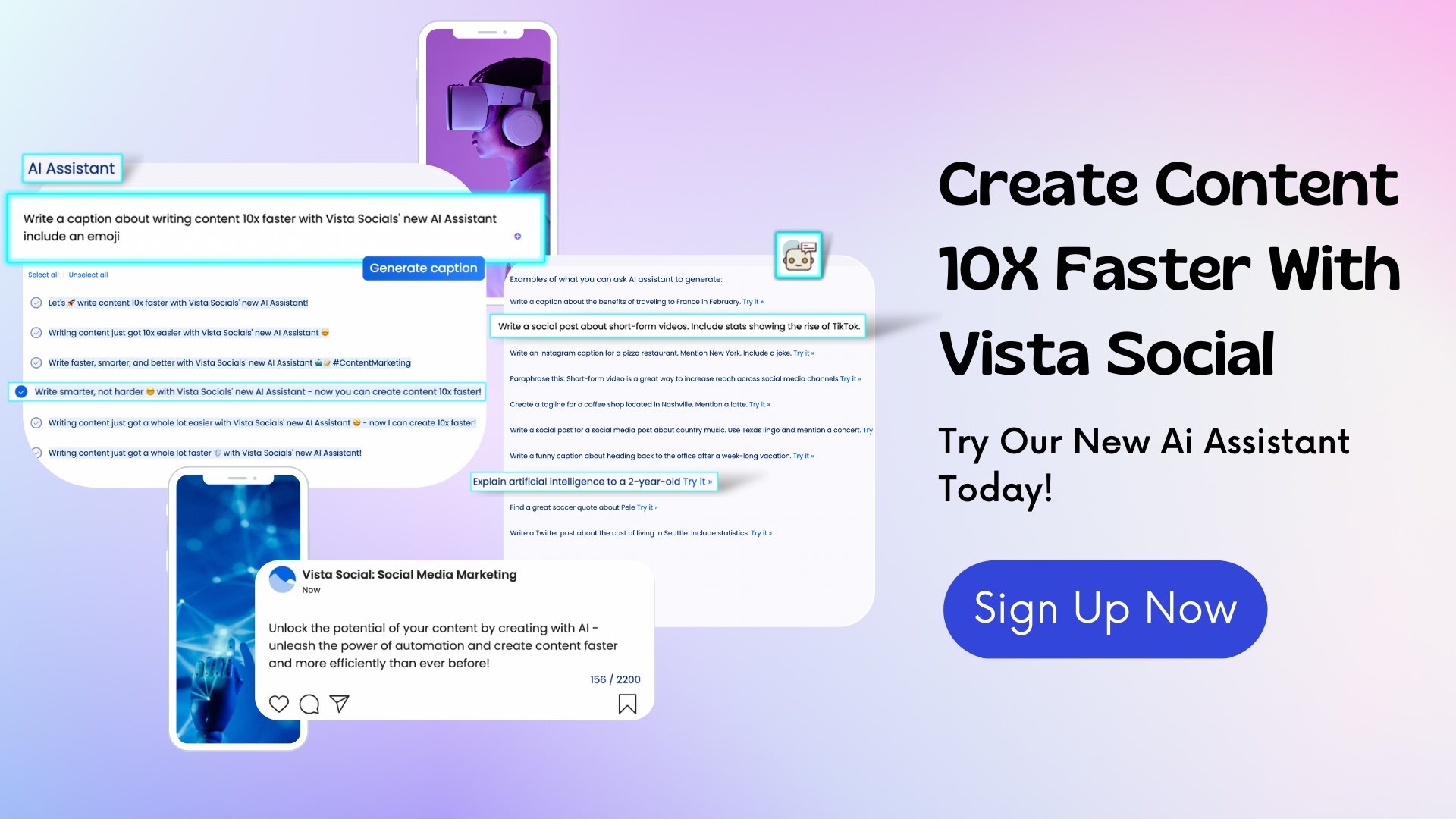 Ready to give your content workflow and posts a major upgrade? Try AI Assistant powered by ChatGPT today! 🤖💙
7 steps to start a digital marketing agency
Ready to make a dent in the digital marketing industry?
Without further ado, here are 7 steps that will help you start a successful digital marketing agency business:
1. Increase your expertise, capital, and connections through contracting
Launching any type of business always involves risks—and starting a digital marketing agency is no exception.
The worst-case scenario is losing all the money you invested or ending up in debt.
To make sure your venture won't financially ruin you, take baby steps and build your digital marketing skills through contracting.
Taking on short-term gigs as a contractor will not only supplement your full-time income. It will also equip you with first-hand knowledge and experience of how the digital marketing industry works.
Freelance marketplaces like Fiverr can help you find the right contracting opportunities for you. You'll find potential clients looking for writers, designers, social media marketers—pretty much every in-demand talent in the online marketing industry.
While you're at it, take a look at existing freelancer profiles on Fiverr to get ideas on how to market yourself. Don't forget to look at their packages to identify the digital marketing skills you need.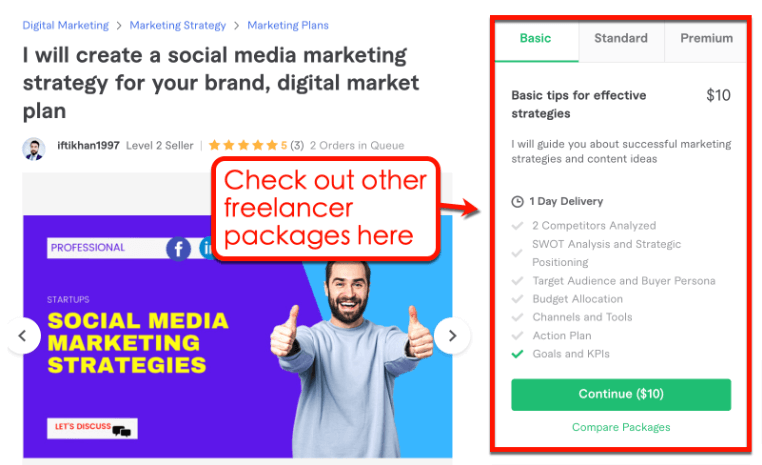 Since you're reading this post, you should already know the marketing skills you possess—at least on a basic level. Ideally, you should align your Fiverr seller account with those skills.
If you'd like to explore other aspects of marketing, we recommend learning as much as you can about them first.
It wouldn't be ethical to attract clients and promise online marketing services you can't deliver.
To fix that, spend some time on the following resources:
YouTube tutorials
Online courses
eBooks
Marketing blogs
Marketing forums and social media groups
2. Decide your agency type
As we mentioned before, there are various types of digital marketing agencies—each catering to different clients with specific needs.
Below is a quick rundown of the types of marketing agencies:
Branding
Creative
SEO
Email
Social
Research
PR
Affiliate marketing
Advertising
Your time as a contractor should give you a clue on which branch of online marketing to pursue.
Just remember that startups can expect to face fierce competition regardless of which area of marketing they choose. That said, keep narrowing down your niche to avoid going toe to toe with bigger agencies with deeper pockets.
For example, a lot of small agencies thrive by starting with only Instagram management services.
By filling a specific need, they can sell specialized services that are cheaper than "all-in-one" packages that bigger agencies offer.
Take note, a digital marketing agency is a scalable business. If you want to join the ranks of full service agencies in the future, you can still do so with your specialized packages as stepping stones.
3. Register your business
Properly registering your agency as an official business is a must, especially once you start gaining online visibility.
This will afford you the ability to operate with confidence and under the good graces of the government. Not to mention that it will help you win the trust of potential clients.
You're probably already registered as employed or self-employed. But in order to legitimately run an agency, consider registering as a Limited Liability Company or LLC.
Doing so unlocks tax benefits, credibility, and legal protection should something go awry.
Of course, that means you should also hire someone to handle your agency's taxes. A cost-effective way to do this is to hire someone off of Fiverr or Upwork.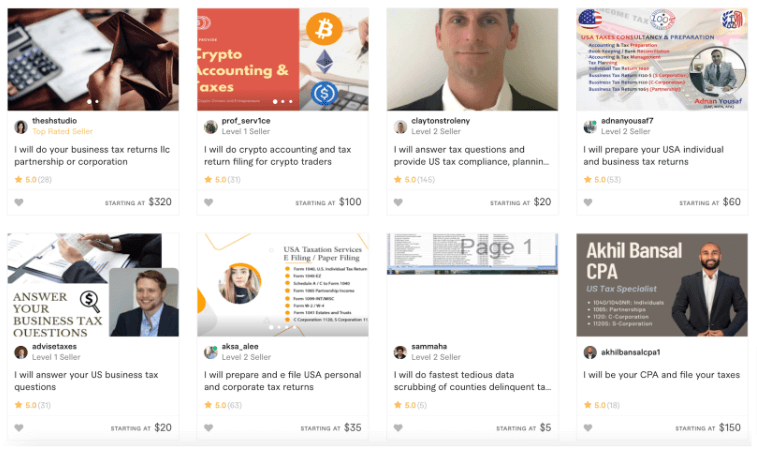 4. Build your website
Before you call yourself a marketing agency, you must get an official website up and running.
A website can serve as the virtual storefront and headquarters of your digital agency. This comes with significant advantages, like:
Provide the details of your marketing services
Showcase testimonials from past clients
Present your business credentials
Educate visitors who want to learn more about your business
Help your audience contact you (via a contact form, phone number, email address, etc.)
Promote special offers
Brought to you by
Try Vista Social for Free
A social media management platform that actually helps you grow with easy-to-use content planning, scheduling, engagement and analytics tools.
Get Started Now
Alternatively, outsource or hire an in-house web developer for the technical side of building a website. Otherwise, build a website yourself using platforms like WordPress, which comes with free templates for digital marketing agencies.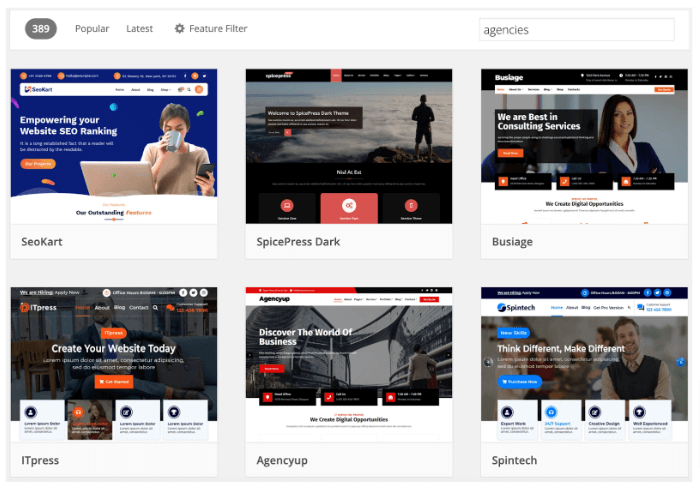 5. Purchase your tools
Before you start looking for clients, you need tools for tasks attached to your digital marketing service.
It's better to pick the tools you'll use before landing your first few clients. This way, you'll have more time to get acquainted with each tool's interface and features.
An SEO agency, for example, needs platforms for keyword research, competitor research, link building, and so on. They can also invest in one-stop-shop platforms like SEMrush or Ahrefs to streamline their processes.
6. Plan your pricing
The next step is to decide how your digital marketing agency will bill clients.
According to a survey by WordStream, 50% of agencies charge a flat or retainer fee for their digital marketing services. The rest charge a percentage of their spend, per every billable hour, or through other means.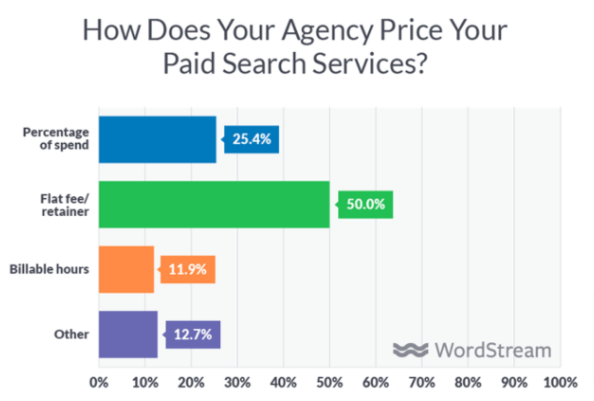 7. Scaling up your agency
There's no shame in running an "agency" yourself, especially if you're new. In fact, it's common for new digital marketing agency owners to handle everything themselves and simply outsource the extra manpower they require.
Nowadays, you can find freelancers who can help you with everything—from reaching potential clients to managing entire client accounts.
Freelancers are more cost-effective than full-time employees for many reasons. Not only are they easier to find and hire, they also don't expect benefits that often come with full-time employment.
If you're a startup digital marketing agency, we recommend checking out our post: "Social Media Marketing for Startups: The Ultimate Guide."
Digital marketing team structure
Eventually, you want to hire permanent staff who are already familiar with your digital agency and its business model.
As a new agency, it's more prudent to focus on skills rather than positions when planning your team structure.
For example, rather than hiring a copywriter and designer, it's better to hire someone skilled enough to fill both roles.
Here are the skills your digital marketing agency needs to become a successful business:
Marketing strategy
Content writing
SEO
PPC
Graphic design
Email marketing
Social media
Project management
For more information, read our in-depth guide on "The Perfect Digital Marketing Team Structure this 2022."
Social media collaboration tool
When building your digital marketing team, don't forget about the collaboration aspect.
How will your team communicate and share information? What platform will you use in tracking projects?
You can build your digital agency's toolbox piece by piece, or invest in platforms with built-in collaboration features.
Vista Social, for example, includes a host of collaboration features for social marketing agencies. Write notes, set up an approval process, assign tasks, and generate internal reports.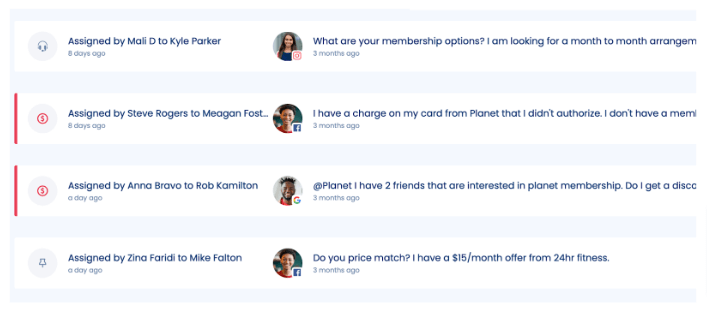 For communication outside of your digital marketing platforms, here ara some of the best choices:
Slack
Trello
Notion.so
Infinity
Skype
Zoom
Communication platforms let your team brainstorm ideas for your client campaigns. Come up with the funniest things to comment on Instagram, identify influencers that best match your client's brand, and so on.
Be sure to read our guide on "10 Social Media Collaboration Tools for Marketing Teams" for more options.
How to grow a digital marketing agency
Growing an agency in the digital marketing space involves increasing two things: your clientele and your team. Landing your first big client and setting up a team that can work unsupervised allow you to focus on both.
First, you need to look for new clients that will fund the expansion of your team.
To generate leads for a small agency, it's best to avoid time-consuming and expensive strategies like search engine optimization.
Instead, focus on getting quick wins on social media—be it through organic marketing, direct outreach, or paid advertising. Consider this as an opportunity to put your business to the test and prove that you're a digital marketing expert.
Whenever you get new clients, have your existing team work through the preparation stage while you search for new recruits. Again, you can rely on hiring freelancers to prevent overburdening your core digital marketing company team.
Check out "Learn How to Grow a Digital Marketing Agency: 5 Ideas to Try This 2022" for tips on managing a growing agency.
5 Low cost social media marketing tips
Small digital marketing service providers need to make every penny count. It's crucial to avoid overspending on the lead generation efforts of your own digital marketing agency.
Here are 5 low cost social media marketing tips to win more business:
Feature client reviews: Feature sparkling reviews from happy clients on your agency's social media channels to draw the attention of potential leads.
Create a culture account: A culture account on social media highlights the human, "behind-the-scenes" side of your agency. Letting employees be at the forefront of your branding could lead to the next viral tweet or most viewed Instagram video.
Try social media ads: Social media networks have made advertising easier and cheaper for brands. Sites like Facebook even let you set a budget limit for your ad campaign.
Get to microblogging: Build a presence on platforms like Twitter, Instagram, and TikTok by producing bite-sized content that introduce your agency.
Publish guest posts: The importance of influencer marketing lies in the fact that influencers have more reach and authority. Guest posting on authoritative sites works using the same principles.
Want more effective social media marketing strategies on a budget?
Learn more from our guide on "Low Cost Social Media Marketing Tips for Agencies."
Outsourcing social media marketing
If you're not into social media, or if you'd rather pool your team's limited resources into client projects, just outsource.
Hiring dedicated experts ensure every fiber of your agency is represented properly and effectively on social media. They can focus on little things like your campaign hashtags, the best question to ask on Instagram Story, responding to negative comments, and more.
Of course, you can also outsource social media marketing for demanding client projects. It can also be a learning experience for your agency on delivering effective and efficient social media marketing services.
For the full scoop, read our article called "Outsourcing Social Media Marketing: Guide for Agencies."
FAQs for starting a digital marketing agency
Congratulations on making it this far. By now, you're ready to make your first move.
To help you succeed, here are the answers to some of the FAQs on starting a digital marketing agency:
Is it hard to start a digital marketing agency?
Building a digital marketing agency business isn't supposed to be hard, but it's absolutely challenging. As long as you're willing to put in the extra work and learn the ropes, you can make your goals a reality.
How much money do you need to start a digital marketing agency?
If you start solo, you may run your agency for only around $100-300 per month. That should be enough for your tools and the expenses associated with owning a website.
How do I get my first client for digital marketing agency?
A great way to land your first big client is to use the connections you've built as a contractor. You may also advertise your agency in networking events, which can be found using sites like Meetup.com or Eventbrite.
Is starting a digital marketing agency worth it?
Absolutely.
Not many get to build their own digital marketing agency—let alone make a fortune with it. The mere experience of starting an agency will provide you with enrichment and fulfillment you can't get anywhere else.
Start your digital marketing agency now
And that's how to start a digital marketing agency with no experience.
It may seem like a lot of work. But if you take one step at a time, you'll be amazed at what you can accomplish. Get started today by creating a free Vista Social account and go for the gold.