Sendible vs Hootsuite vs Vista Social—all of which are among the hottest social media marketing tools right now.
In this post, we'll figure out the undisputed, best social media management tool that marketers, brands, and agencies absolutely need to get.
Remember, everything you'll learn about the social media management platforms on this list is a verifiable fact.
Feel free to head to each platform's website at any time to start a free trial and see for yourself. While you're at it, consider spending time with popular IG tools, post schedulers, and social media analytics platforms to understand how these things work.
That's how you'll know for sure that we took an objective stance in carrying out our comparisons.
With that out of the way, let's start with an overview of the biggest names in the social media landscape.
TL;DR: If you want the best bang for your buck, Vista Social is the way to go
It doesn't matter if you're running a full-service digital marketing agency or managing your own social media accounts. With Vista Social's sophisticated and comprehensive toolset (and affordable pricing), you're guaranteed to make the most out of your social media marketing dollars.
Vista Social brings you streamlined post scheduling, inbox management, listening, and a bunch of other unique features for a FRACTION of the price of top-tier social media management platforms.
Overview: Sendible vs Hootsuite vs Vista Social
Want to know how to blow up on TikTok, Facebook, and other major social media platforms?
Here's a hint: get an all-in-one social media management platform. Once you study them, you'll get a firsthand look at the features that successful brands on social media use.
Check out some of the most popular social media management tools you can start with:
Sendible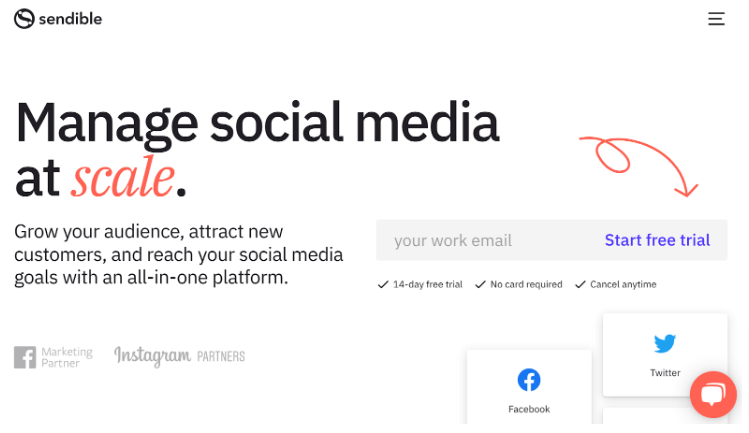 Sendible is a straightforward, comprehensive platform that covers all the basics of social media marketing campaigns. It lets you schedule posts, collaborate with your team, track analytics, and use social media listening.
Sendible supported platforms
Facebook
Twitter
Instagram
LinkedIn
Google My Business
YouTube
Hootsuite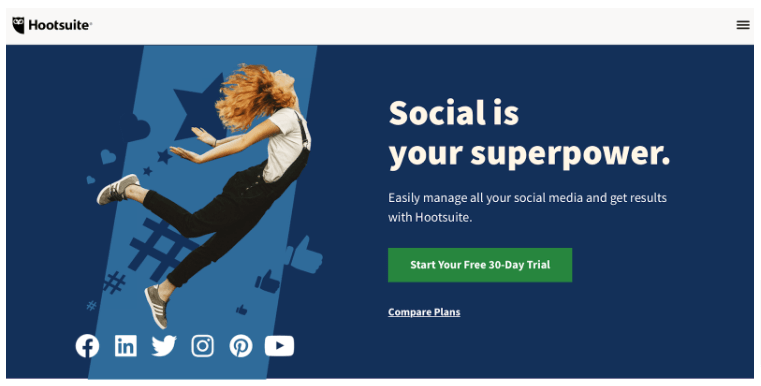 Hootsuite is a brand that a lot of marketers like to compare other platforms with. For instance, we already compared Zoho Social vs Hootsuite vs Vista Social and the features each contender has in terms of scheduling posts, analytics, conversation management, and social listening.
Hootsuite supported platforms
Facebook
Instagram
Twitter
YouTube
LinkedIn
Pinterest
Vista Social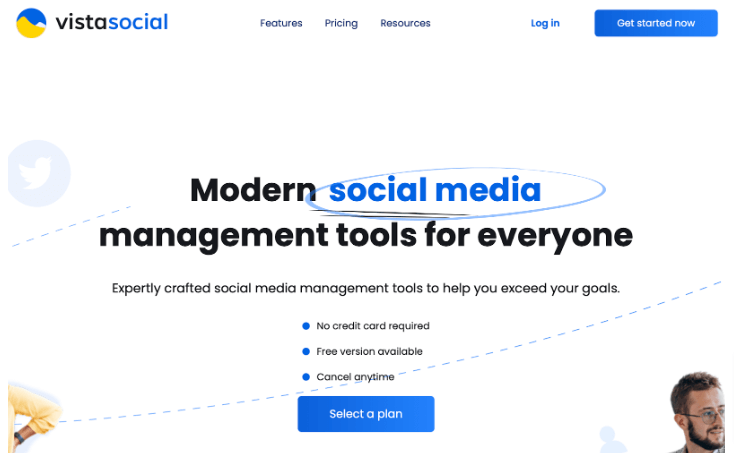 Finally, Vista Social is among the most modern platforms you can use to manage social media marketing campaigns. It is built for one thing: Make crucial social media marketing features, like automation and audience engagement tools, accessible at a ridiculously low price tag.
Vista Social supported platforms
Facebook
Instagram
Reddit
TikTok
Pinterest
Google Business Profile
LinkedIn
Twitter
Pinterest
YouTube
Bitly
TrustPilot
Yelp
TripAdvisor
OpenTable
Social media marketing features comparison
The first thing you need to do when choosing a marketing platform is to look at which option offers more tools.
That said, here's a side-by-side comparison of Sendible, Hootsuite, and Vista Social.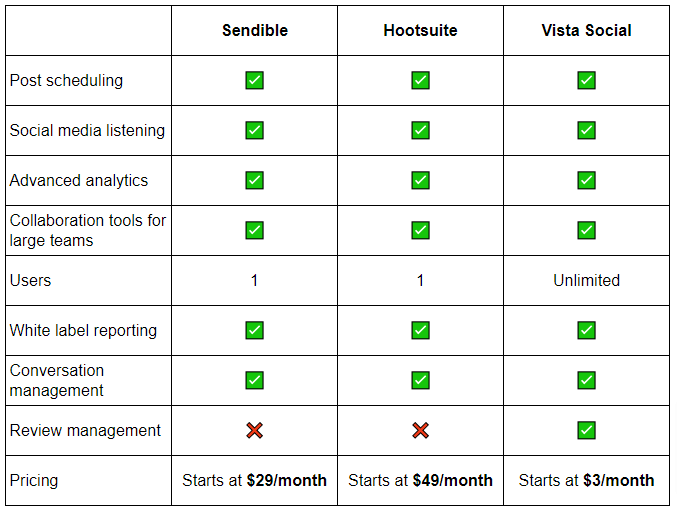 Sendible pros and cons
Sendible actually has a lot of useful features that can make the lives of social media managers significantly easier. Using the web interface, users can plan a social media posting schedule, create an approval workflow, and integrate various third-party apps like Canva.
Sendible pros
Bunch of integrations: Elevate post creation and consolidate your social media marketing stack with third-party integrations.
Good customer service: Even on the cheapest plan, Sendible offers valuable support options like live chat, group training sessions, and 1:1 demos with a sales representative.
Priority inbox: Sendible smartly sifts through your social media communications to search for high-value conversations that can win you more leads.
Sendible cons
Limited posting: Unless you get a more expensive plan, the maximum number of posts you can publish using Sendible is 100 per month,
Losing account access: There have been reports of Sendible constantly needing to reconnect social profiles.
Hootsuite pros and cons
Like we mentioned in our Loomly vs Hootsuite vs Vista Social post, Hootsuite is a time-tested tool that's been around for years. That's why a lot of social media marketers recommend Hootsuite for those who need a one-stop-shop platform.
But how good is it, really?
Hootsuite pros
Good customer support: You can rely on Hootsuite's 24/7 multi-channel customer support to assist with setup and troubleshooting.
Posting time suggestions: Hootsuite can turn user analytics to identify the best times to post on your social profiles.
Employee advocacy features: With Hootsuite, employee advocacy is a breeze with tools like leaderboards and mobile sharing.
Hootsuite cons
Pricey: Hootsuite is the most expensive platform on this list. Period.
Bugs: Several user reviews reveal that Hootsuite has bugs in key features, like list editing and posting 1×1 Instagram images.
Vista Socal pros and cons
Vista Social is the type of platform that can make a dent in the industry. It can
Vista Social pros
Incredibly cheap: Vista Social doesn't charge per seat, it only charges $3 for every social profile connected to your account.
Unlimited users: It doesn't matter if you're paying $3 o $300 per month—using Vista Social provides support for unlimited users and unlimited posts.
Reputation management: Vista Social is one of the very few social media platforms that also let you manage user reviews and build a trustworthy brand.
Automate content curation: Using Vista Social, you can set up "Smart Publishers" that automatically pull content from relevant sources and spread them to your social media followers.
Vista Social cons
No ad management: Sadly, Vista Social will be of no help if you aim to boost your social media advertising campaigns.
Pricing: Sendible vs Hootsuite vs Vista Social
Looking at the features, one can say that Sendible, Hootsuite, and Vista Social are too similar to make comparisons essentially pointless. That's why you should also check out the platforms' pricing structure before you make a purchase.
Looking for a free version?
Both Sendible and Hootsuite do not offer free plans of their platform.
They do, however, offer a free trial that lets marketers check out the platform's capabilities. Just remember that Hootsuite requires you to fill in your billing information, be it your credit card details or PayPal account.
Vista Social, on the other hand, has a free version with basic post scheduling, tracking, and performance reports.
Cost for managing 10 profiles
With Sendible, the entry-level plan starts at $29 per month, but they're only good for managing 6 social profiles. On Hootsuite, pricing starts at $49 for up to 1 user and 10 social profiles.
Vista Social is the only platform that charges per social profile and not per user or scheduled post. It only costs $30 to manage 10 social media profiles—that's $3 per profile per month.
Building a bigger team?
Sendible's most expensive plan, which costs $399 per month, supports a grand total of 105 profiles.
For Hootsuite, anything above 35 social accounts requires a quote directly from their sales team. But for your reference, managing 35 profiles on your Hootsuite account requires a hefty payment of $739 per month.
Thanks to Vista Social's no-nonsense pricing structure, it's easy to scale your marketing to match your social media needs. Again, all it takes is $3 to add users to your Vista Social dashboard.
Summary: Sendible vs Hootsuite vs Vista Social
You don't need to be an expert to know that Vista Social is indeed the most cost-effective and feature-rich product in this comparison.
The best part is, you can enjoy all of the platform's core features without spending a dime.
Click here to create your free Vista Social account and start dominating your space!