How often should you post on TikTok?
Should you only post once a day? Thrice? Or Five times, perhaps?
As a social media manager, you need to know the best posting frequency for your clients' TikTok profiles to get the most engagements and follows.
Publishing too few posts can handicap your clients' potential to generate more followers and engagements.
Publishing too many posts, on the other hand, could skyrocket your content creation costs without bringing you an equal proportion of engagements and sales.
Continue reading this guide to learn how many TikTok posts you should publish a day for your clients' profiles.
Table of contents
Why posting at the best time on TikTok is important
Tips to determine how often to post on TikTok
A general rule of thumb for an effective TikTok posting frequency is to publish once or four times a day.
However, the numbers can very easily change based on several factors.
Use the tips below to determine how often you should post on TikTok to get more engagement, brand exposure, and visibility for your clients.
Invest in audience research
You need to learn as much as you can about your target audience. After all, their behavior and life dynamics can very much impact the performance of your content.
For example, learning about their work schedules and free time helps you determine when to be more aggressive at posting content. (And when not to post.)
Instead of posting four videos all throughout the day, you could just post 1 – 3 videos during your audiences' free time.
Post content frequently
The best way to know what TikTok posting frequency works for each client is to post often and assess the results.
While this process can take a bit of trial and error, you can streamline your content publishing by creating a TikTok posting schedule.
Use reliable and sophisticated social media publishing platforms such as Vista Social.
Our platform offers essential and advanced TikTok management tools social media managers need for a more seamless and efficient content posting process.
Utilize Vista Social's Visual TikTok Planner to organize your scheduled videos for auto-publishing using a drag-and-drop tool.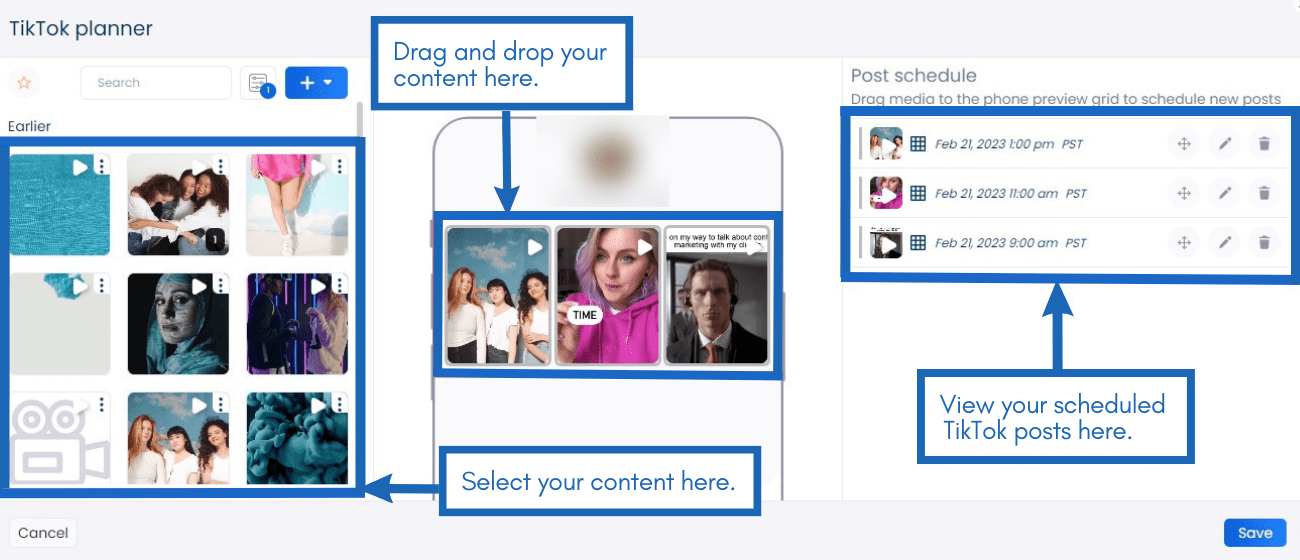 The feature also lets you source videos from stock videos, Canva, and User-Generated Content (UGC).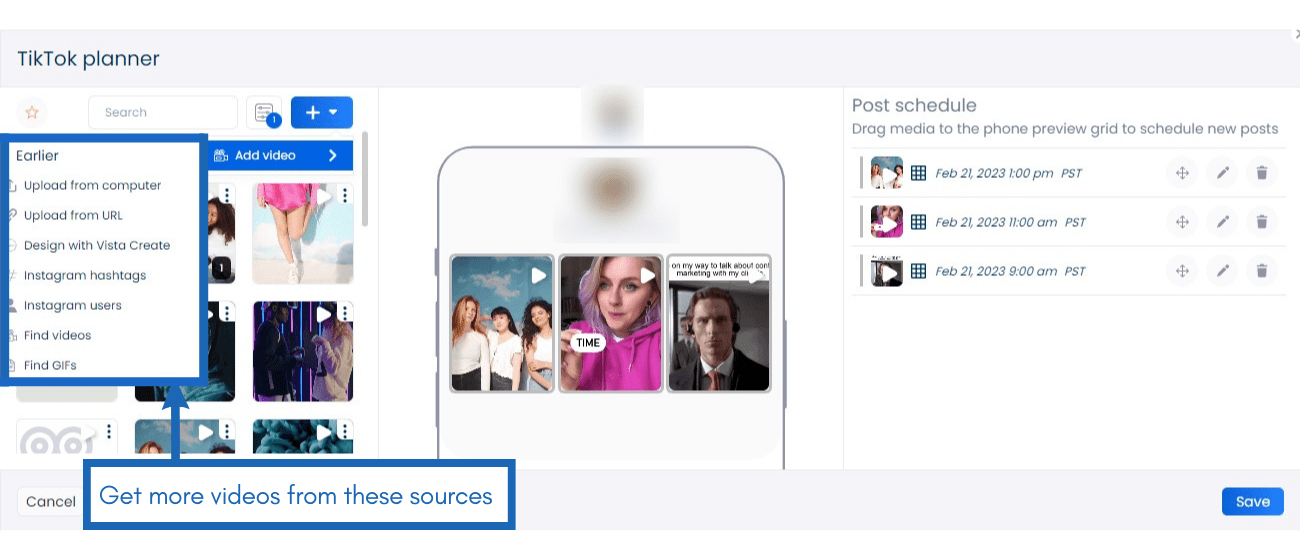 Add, change, or remove your scheduled TikTok videos within the Planner by modifying the publishing dates and times and adding hashtags, captions, links, audio clips, and more.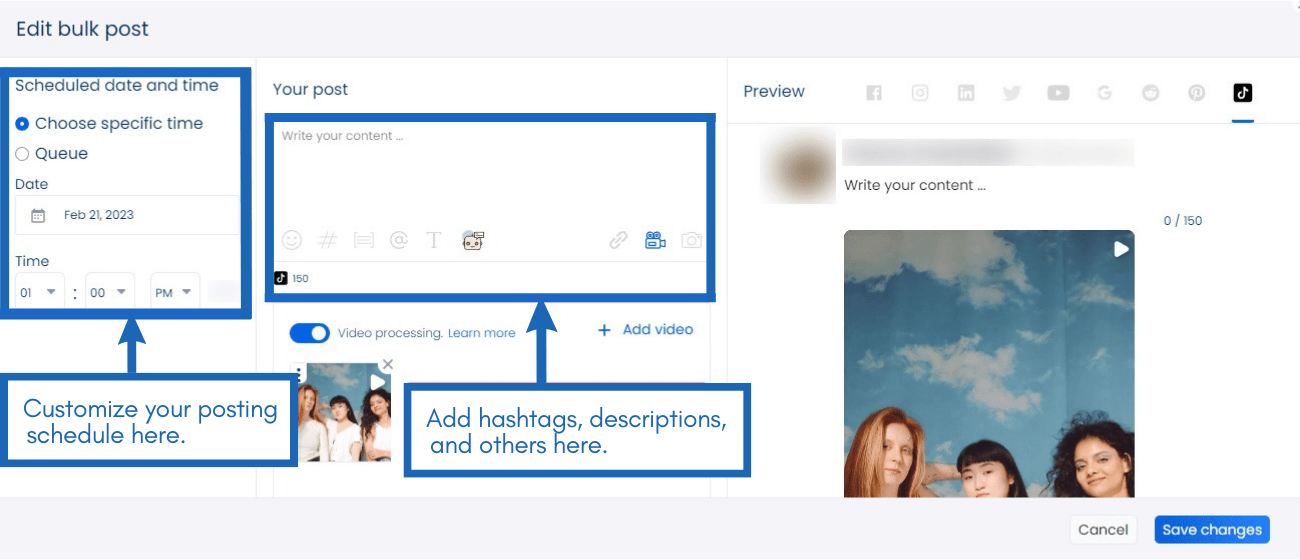 Team collaboration also becomes a cakewalk with the platform's content development and profile posting tools.
You can easily review and manage each client's TikTok content from a centralized publishing calendar and find what you want quickly using date, profile, and tag filters.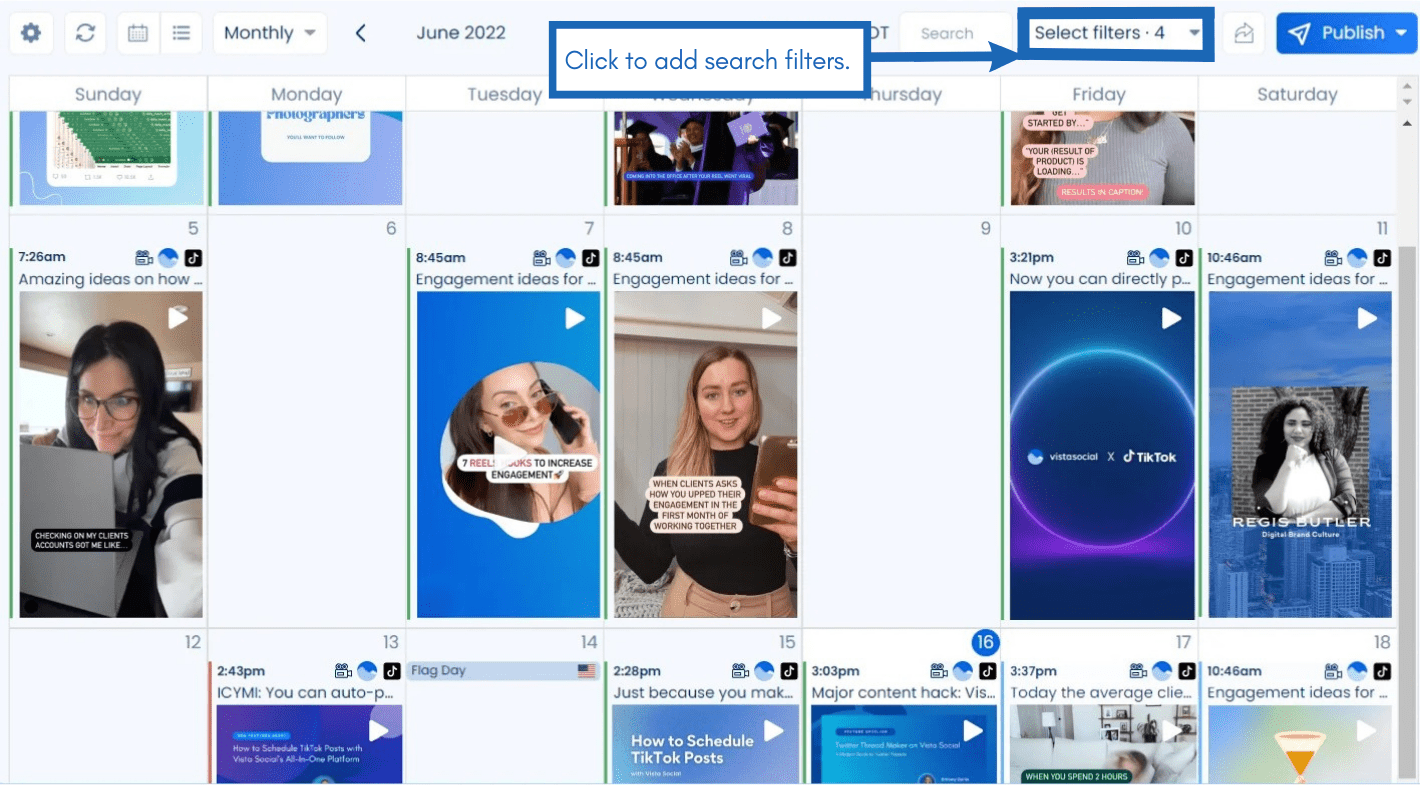 Vista Social has a built-in approval workflow to simplify and speed up your compliance, legal, peer review, or agency collaboration.
It helps eliminate time-consuming back-and-forth that creates bottlenecks in workflows.
You can also use our platform's optimization algorithms to schedule and post content automatically at times proven to generate audience engagement.
Track and measure TikTok content performance
Use analytics to monitor and assess your published TikTok content's performance.
Access TikTok audience analytics (with a TikTok pro account) to get information to understand your published content's performance better.
You can also use all-in-one social media management tools such as Vista Social's TikTok analytics feature to gain valuable insights.
Through dynamic charts and visualizations, the platform helps you visualize your client's TikTok account data to understand comments, shares, views, and likes behavior.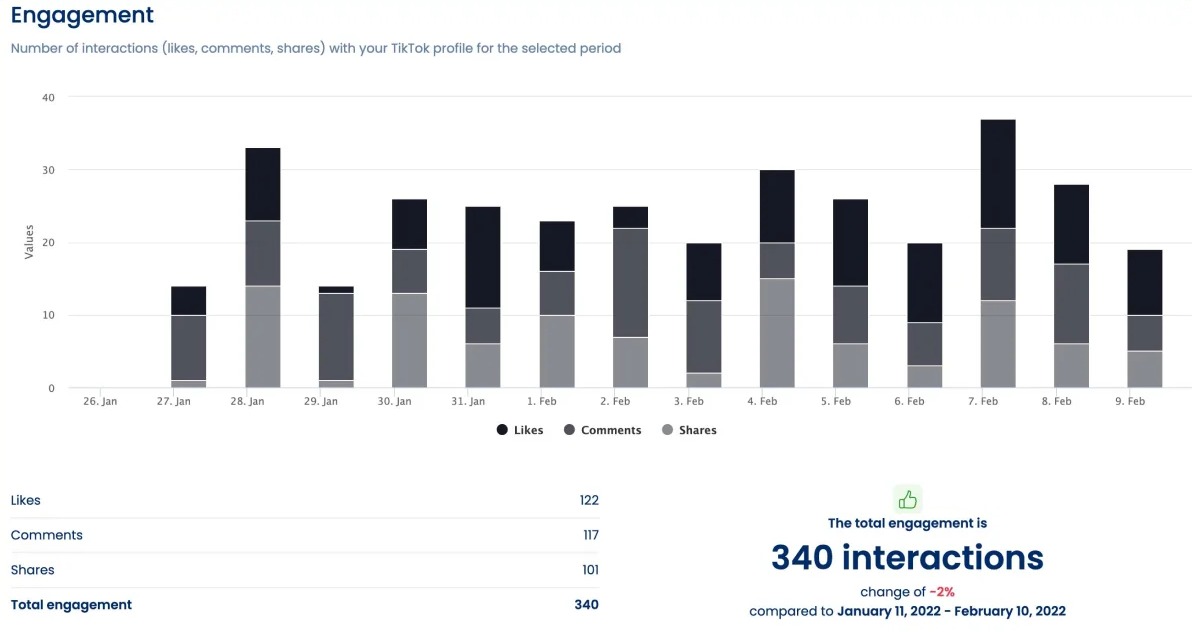 The data visualizations and summaries make it easy to extract insights and spot high-performing content.
The analytics tool allows you to create custom reports and export them for easy sharing and access across stakeholders.
Leverage this information and insights to nail your TikTok posting frequency and schedules.
Doing so equips you with the information you need to help your clients boost their engagement, establish a solid online presence for their brands, and make more strategic business decisions.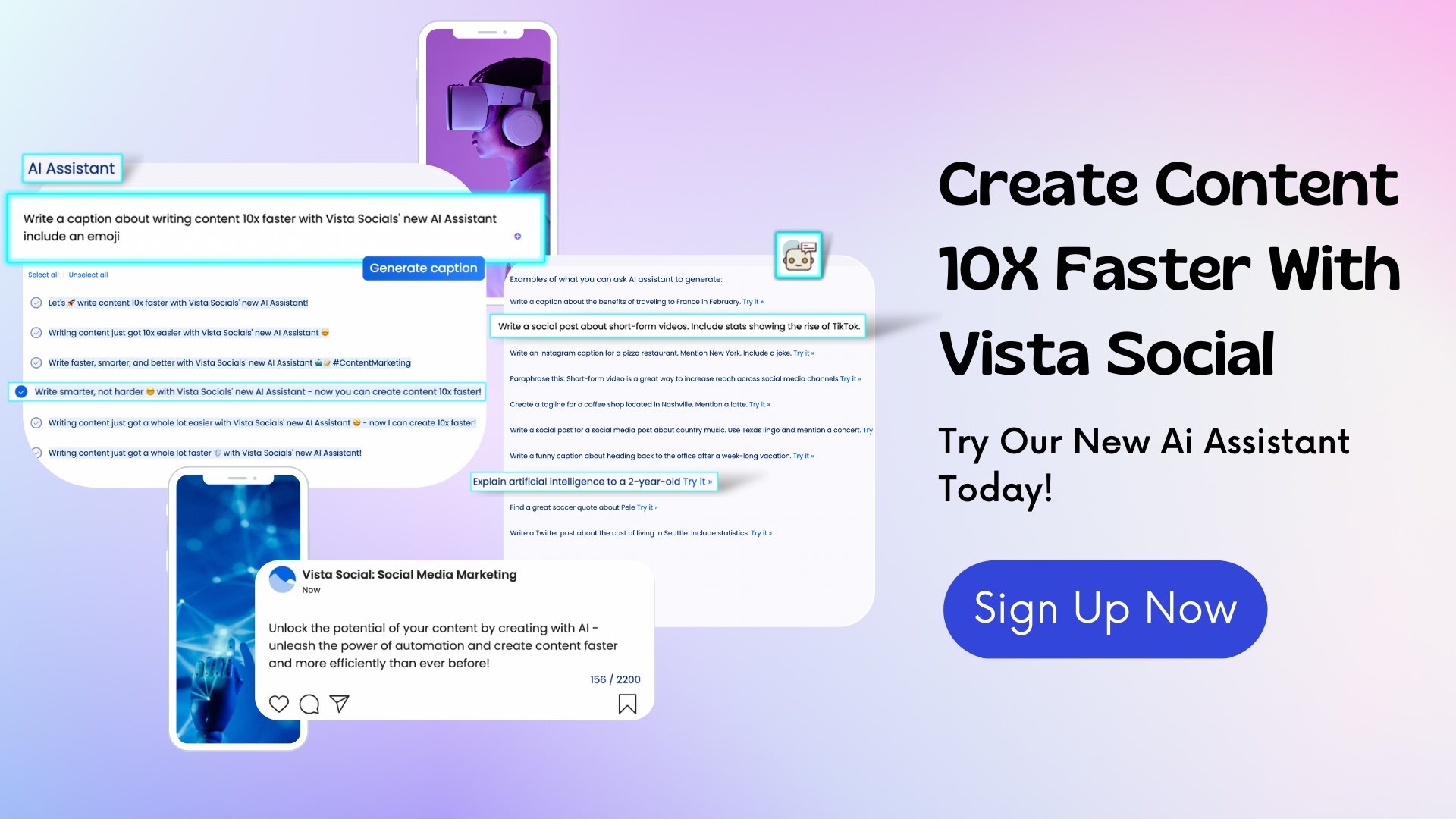 Ready to give your content workflow and posts a major upgrade? Try AI Assistant powered by ChatGPT today! 🤖💙
Bonus: Why posting at the best time on TikTok is important
Learning how many times to post on TikTok is crucial, but so is learning the best time to post.
After all, if you post during times your audience is asleep or busy, they won't be able to see your videos.
Brought to you by
Try Vista Social for Free
A social media management platform that actually helps you grow with easy-to-use content planning, scheduling, engagement and analytics tools.
Get Started Now
Also, the TikTok algorithm selects and displays videos for the For You section based on user and past interactions.
Videos that get tons of likes, comments, and shares are more likely to get a For You section feature.
Your published videos will likely get more user interaction and engagement when they appear in the For You section.
An excellent way to get your content a spot in the For You section is to post TikTok videos when your client's target audiences are most active.
Determine the best TikTok posting times to ensure you post videos when your client's target audiences are likely active and receptive to the content.
It can help your clients increase engagement rates and even get 1,000 followers on TikTok.
Generic standards on when to post on TikTok
The best time to post or repost on TikTok vary based on the niche, target audience, and industry of your clients. (Among other dynamics.)
However, you can follow standard schedules that work for many marketers, content creators, agencies, and the same target audience.
Start with these best posting times based on the following:
By the days of the week
Below are the best days to post on TikTok, including the ideal times.
Monday: 6 am, 10 am, and 10 pm
Tuesday: 2 am, 4 am, and 9 am
Wednesday: 7 am, 8 am, and 11 pm
Thursday: 9 am, 12 am, and 7 pm
Friday: 5 am, 1 pm, and 3 pm
Saturday: 11 am, 7 pm, and 8 pm
Sunday: 7 am, 8 am, and 4 pm
Whether you publish entertaining videos or engaging TikTok quotes, the best time to post is between six to 10 am and seven to 11 pm on Tuesdays, Thursdays, and Fridays.
By audience location and time zone
The U.S. has around 80 million monthly active TikTok users, making it one of the locations with the largest audiences.
Below are some of the best times to post in the U.S. and Australia.
Best times to post TikTok videos to engage U.S. audiences:
Monday: 6 am, 10 am, and 11 pm
Tuesday: 2 am, 4 am, and 9 am
Wednesday: 6 am, 8 am, and 11 am
Thursday: 9 am, 12 pm, and 7 pm
Friday: 5 am, 1 pm, and 3 pm
Saturday: 11 am, 7 pm, and 9 pm
Sunday: 7 am, 8 am, and 4 pm
Best Time to post TikTok content for viewers in Australia:
Monday: 6 am, 10 am, and 10 pm
Tuesday: 2 am, 4 am, and 9 am
Wednesday: 7 am, 9 am, and 11 am
Thursday: 9 am, 12 pm, and 7 pm
Friday: 5 am, 1 pm, and 3 pm
Saturday: 11 am, 7 pm, and 8 pm
Sunday: 7 am, 9 am, and 4 pm
While these posting times based on multiple time zones and locations are not hard and fast rules, leverage them as a guide to develop an effective publishing strategy and schedule for your clients.
Customers also ask
Below are some common and related questions people ask about how often to post on TikTok.
Is it possible to post too much on TikTok?
Yes.
Posting more than four times a day could be considered overkill.
TikTok suggests posting 1 – 4 times a day then to monitor the performance of your content to uncover which content types generate the best results.
How do you make a TikTok post go viral?
There are many ways to make your TikTok post go viral.
The process can also involve many factors, such as trends, hashtags, background music, and posting frequencies (among others).
An effective approach is to look at viral TikTok videos and incorporate elements that made the content blow up among viewers.
How do I get unbanned from TikTok?
You must know why your clients' accounts were banned before understanding how to get unbanned from TikTok.
From there, you can look up TikTok's Content Violations and Bans guidelines to determine your next steps and how to lift the ban.
You can also follow reliable tips and guides online to help ensure you don't post or share content that can get your clients' accounts banned on TikTok.
How do I find deleted TikTok videos?
TikTok doesn't offer a native feature that allows you to view or retrieve deleted TikTok videos from the app.
However, you can find deleted TikTok videos from the device used to upload the content.
It helps to keep backups of your videos to ensure you can recover them in case of accidental deletions or other issues.
Nail your TikTok content posting frequency
Finding the ideal posting frequency on TikTok requires a balance between quality and quantity.
Factor in your client's target audience, content niche, and current trends on the platform.
Experiment with posting schedules and analyze each video's performance to find the sweet spot that maximizes your clients' engagement and reach.
Follow the guidelines outlined in this guide to help you stay ahead of the game and keep your client's TikTok account thriving in 2023 and beyond.
Leverage the best SMM and creator tools, such as Vista Social, to manage your clients' TikTok accounts and campaigns efficiently.
Request a free Vista Social demo to experience the platform's robust features and benefits.