This SocialPilot vs. Hootsuite vs. Vista Social comparison highlights the features, advantages, disadvantages, and pricing of each platform.
All three are among the most popular social media management software for agencies, businesses, and influencers. 
But can SocialPilot and Hootsuite keep up with the rapidly-innovating Vista Social? 
Let's find out.
Bottom line: Vista Social outshines everyone in terms of value and firepower for social media marketing
Vista Social provides enterprise-level features you can only find in a top-tier social media platform—for a fraction of the price.
We're best in class when it comes to features, user interface, content scheduling, and reporting features. 
What's more, we're one of the very few platforms with unique and innovative features, such as:
The ability to attach trending audio to your videos
Direct publishing of Facebook Reels
Instagram product tagging
2 Factor authentication
Trending hashtag suggestions
Custom fonts
Best of all, our features a user-friendly and scalable, and our pricing model is highly affordable.
Whenever you land a new client, just add $3 per social media profile you connect with Vista Social. The pricing structure is THAT straightforward and budget-friendly.
This makes it the perfect social media management tool for growing agencies with growing needs.
Overview: SocialPilot vs. Hootsuite vs. Vista Social
We've made several comparisons in the past, like Loomly vs. Hootsuite vs. Vista Social. This time, we're swapping out Loomly with SocialPilot—another social media management platform.
Considering the reputation built by SocialPilot, Hootsuite, and Vista Social, agencies and marketing managers often pit the three social media platforms against each other.

If you're in the same boat, then you're in the right place.
Here's a quick overview of all three platforms.
SocialPilot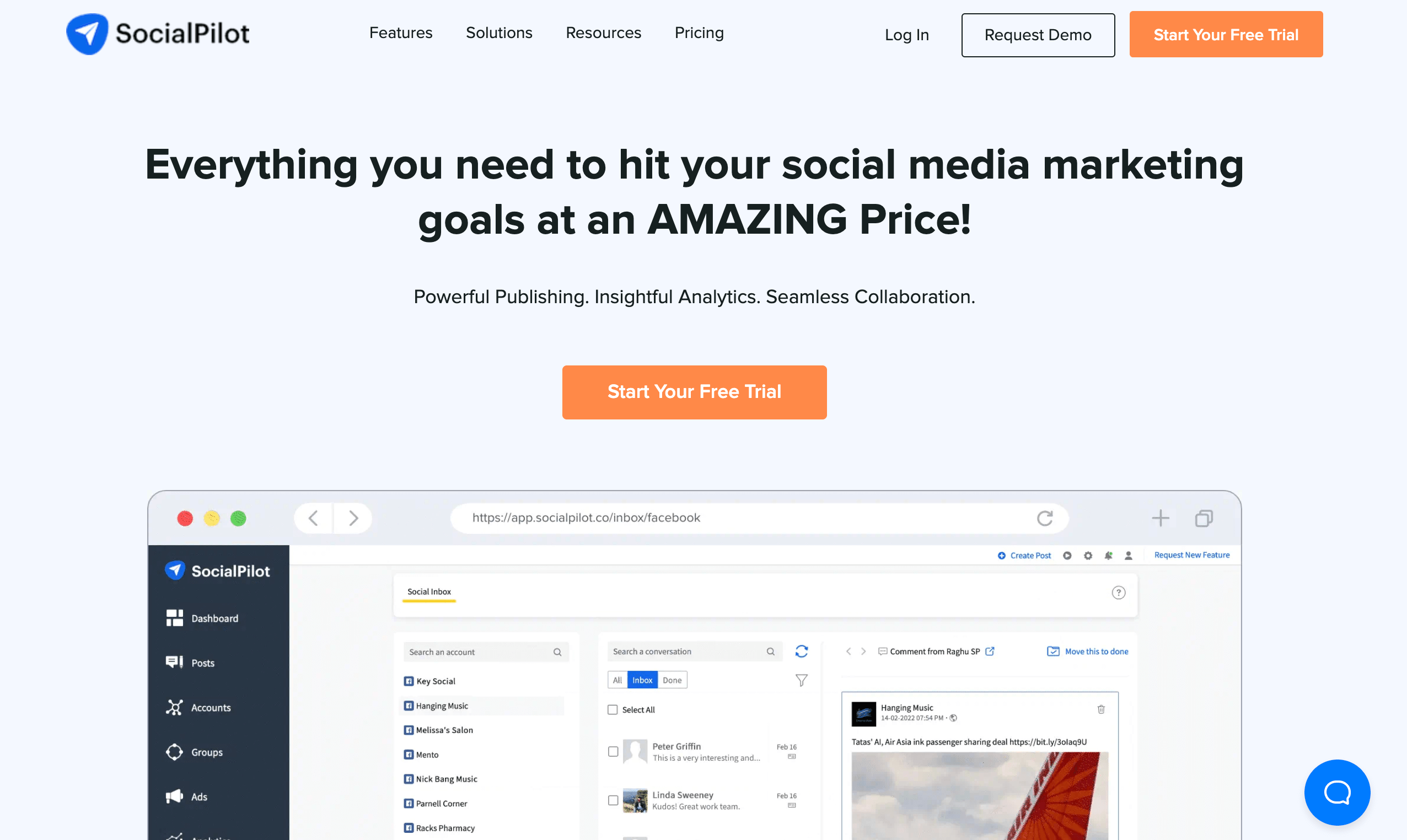 SocialPilot is a social media account management platform that gives agencies a cloud-based, collaborative workspace for campaigns.
The platform focuses on three areas of social media marketing: content publishing, analytics, and collaboration. You can schedule posts, create profile groups for different clients, manage ads, track social media analytics, brainstorm ideas with your team, and more.
Despite its decent selection of features, SocialPilot manages to create a beginner-friendly interface. Interconnected tools like bulk scheduling, content creation, graphic design, and asset management are found in one place.
SocialPilot supported platforms
Facebook
Twitter
LinkedIn Pinterest
Google Business Profile
Instagram
YouTube
TikTok
VK
Tumblr
Hootsuite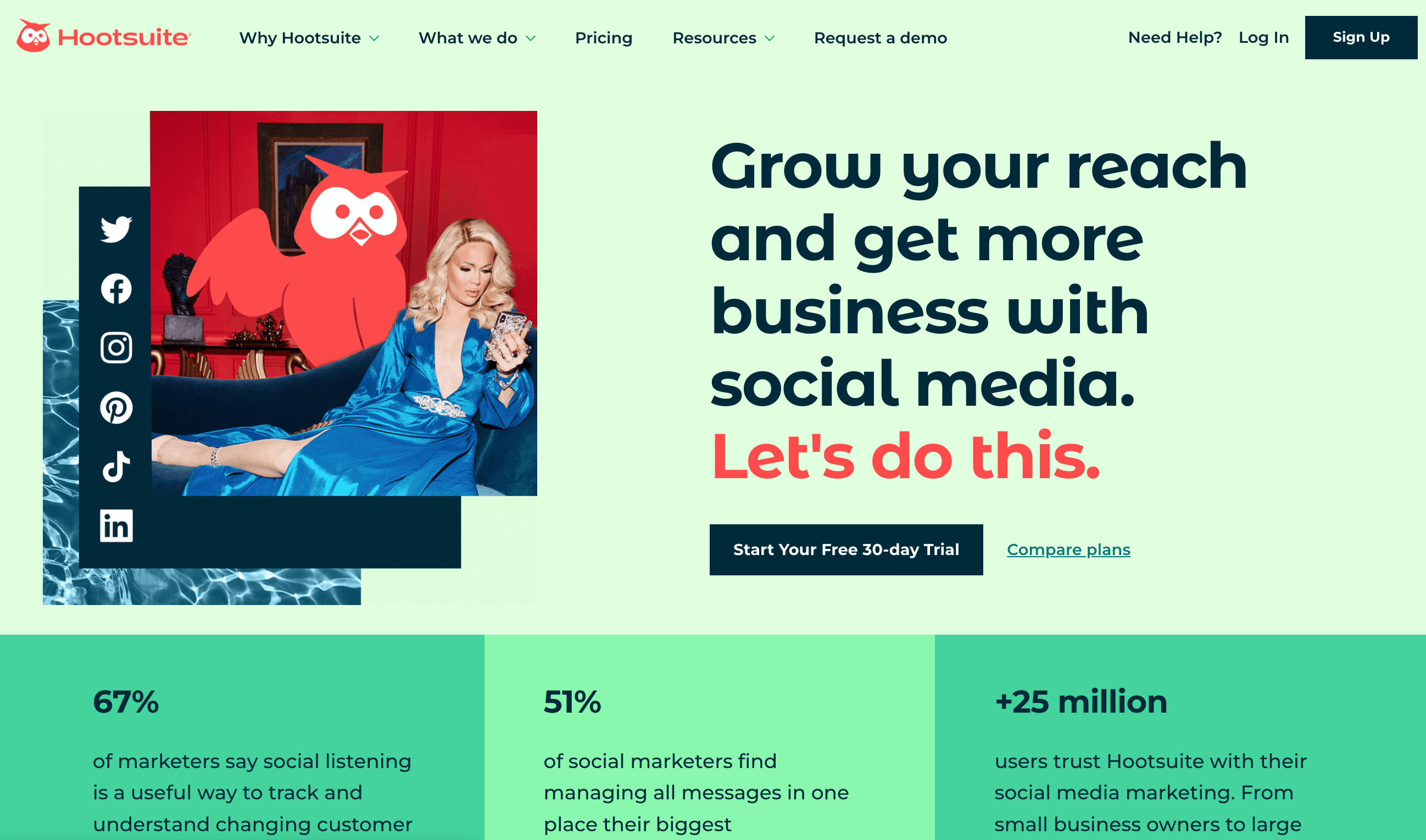 Hootsuite is a popular social media marketing tool that can help you schedule content in bulk, curate ideas from authoritative sources, measure analytics, and more. 
Despite its age, Hootsuite manages to provide a good user experience after years of visual updates. 
The dashboard gives agencies a quick look at their social media marketing performance through the "Social Score" panel. This scoring system grades accounts based on follower health, user engagement, and posting strategy.
Hootsuite supported platforms
Facebook
Pinterest
LinkedIn
Twitter
Instagram
YouTube
Must-read: Later vs. Hootsuite vs. Vista Social
Vista Social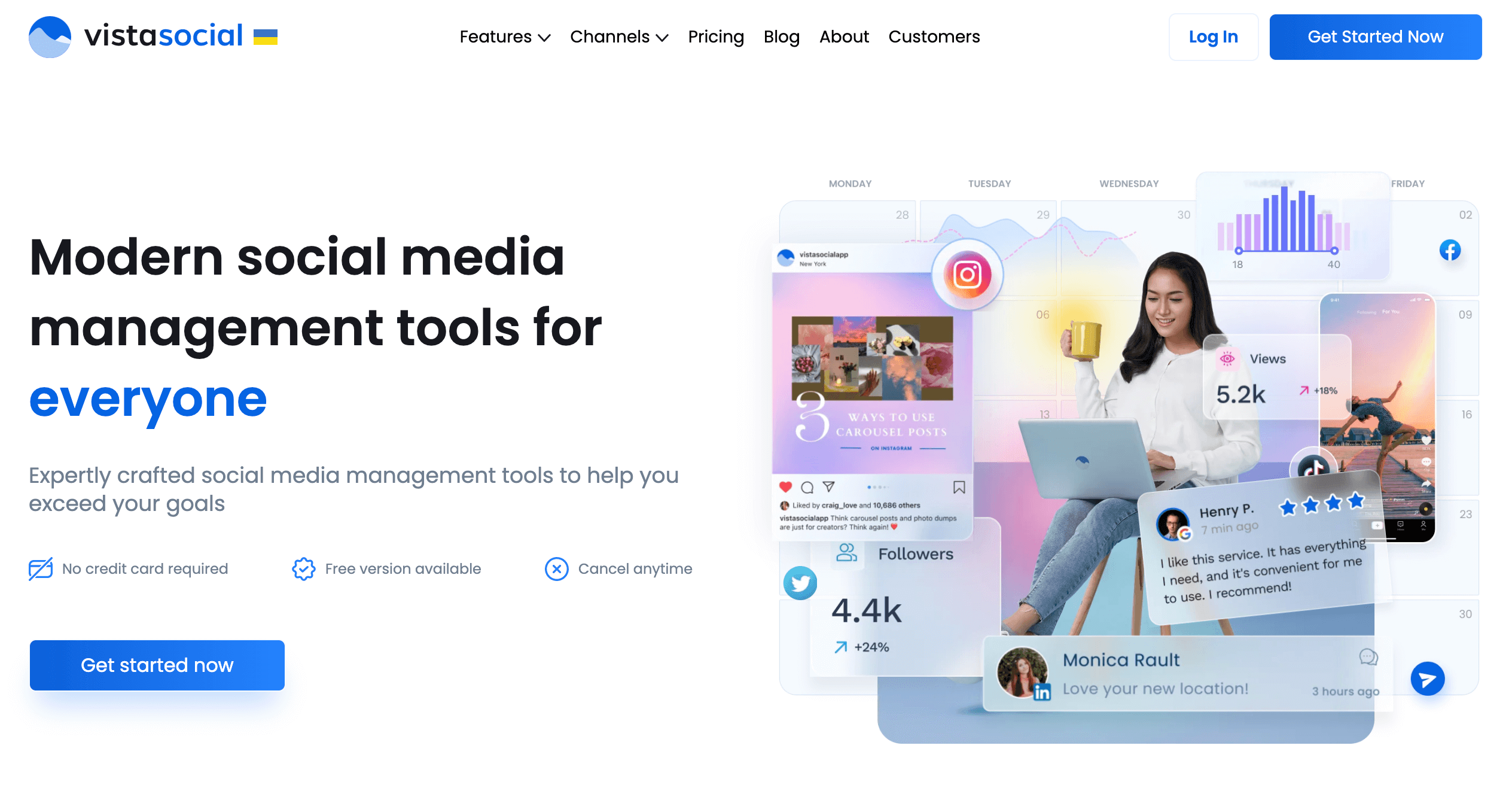 Vista Social strikes the perfect balance of usability and function with its modern and rapidly-evolving visual dashboard.
Manage multiple accounts, schedule posts at optimal times, track analytics, collaborate with your team, and more—without having to go through time-consuming tutorials. And for as little as $3 per month, get first dibs on the latest technologies in social media management.
We're the first to deliver power features like short-form video scheduling, content calendar live links, comment moderation, font customization, and two-factor authentication.
Our platform also lets you connect review sites like TrustPilot and Yelp so you can take full control over your client's online presence with one platform.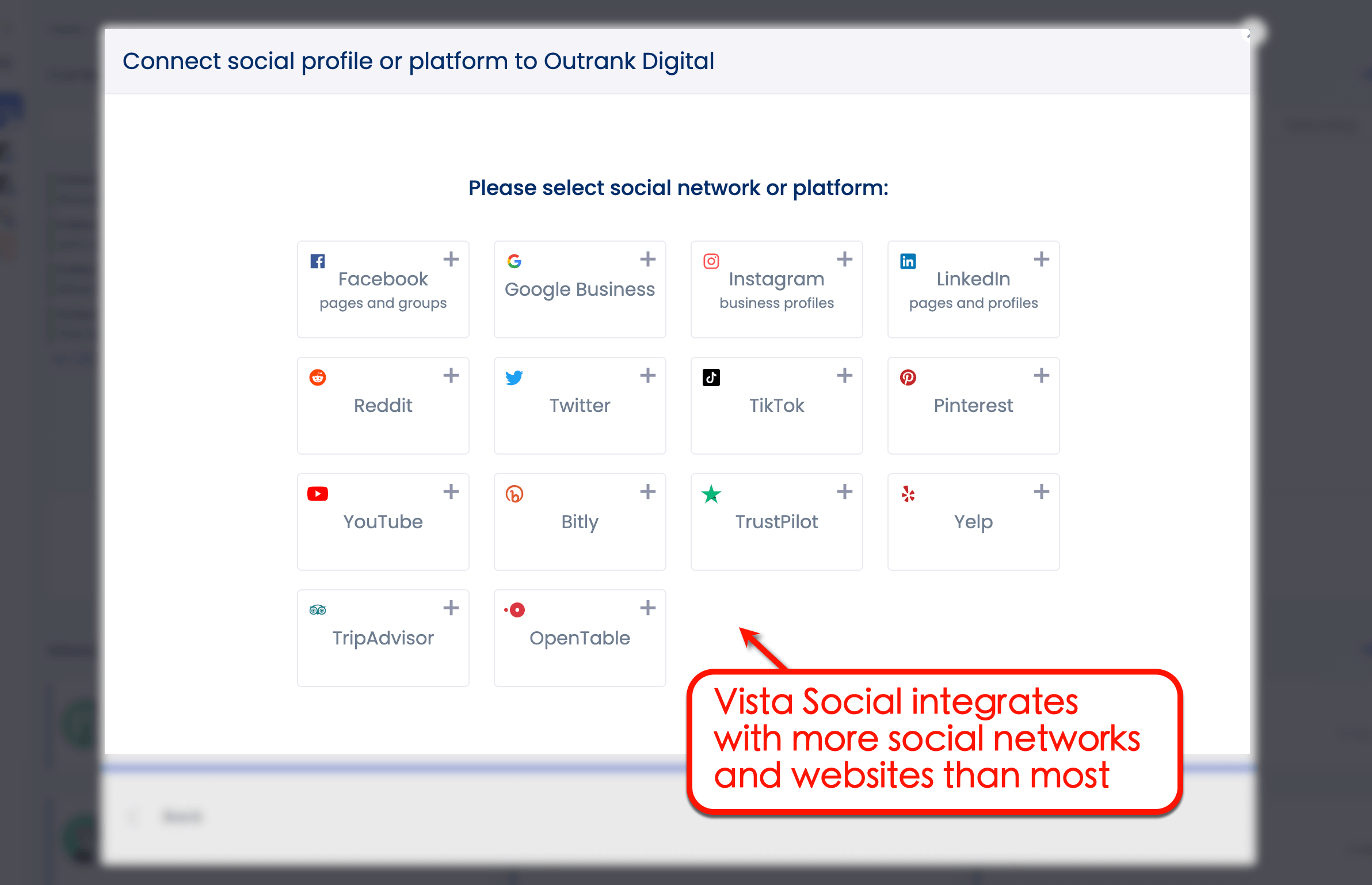 Vista Social supported platforms
Facebook
LinkedIn
Twitter
Instagram
Google Business Profile
TikTok
Pinterest
YouTube
Yelp
Reddit
Bitly
TrustPilot
TripAdvisor
OpenTable
SocialPilot vs. Hootsuite vs. Vista Social: Social media management features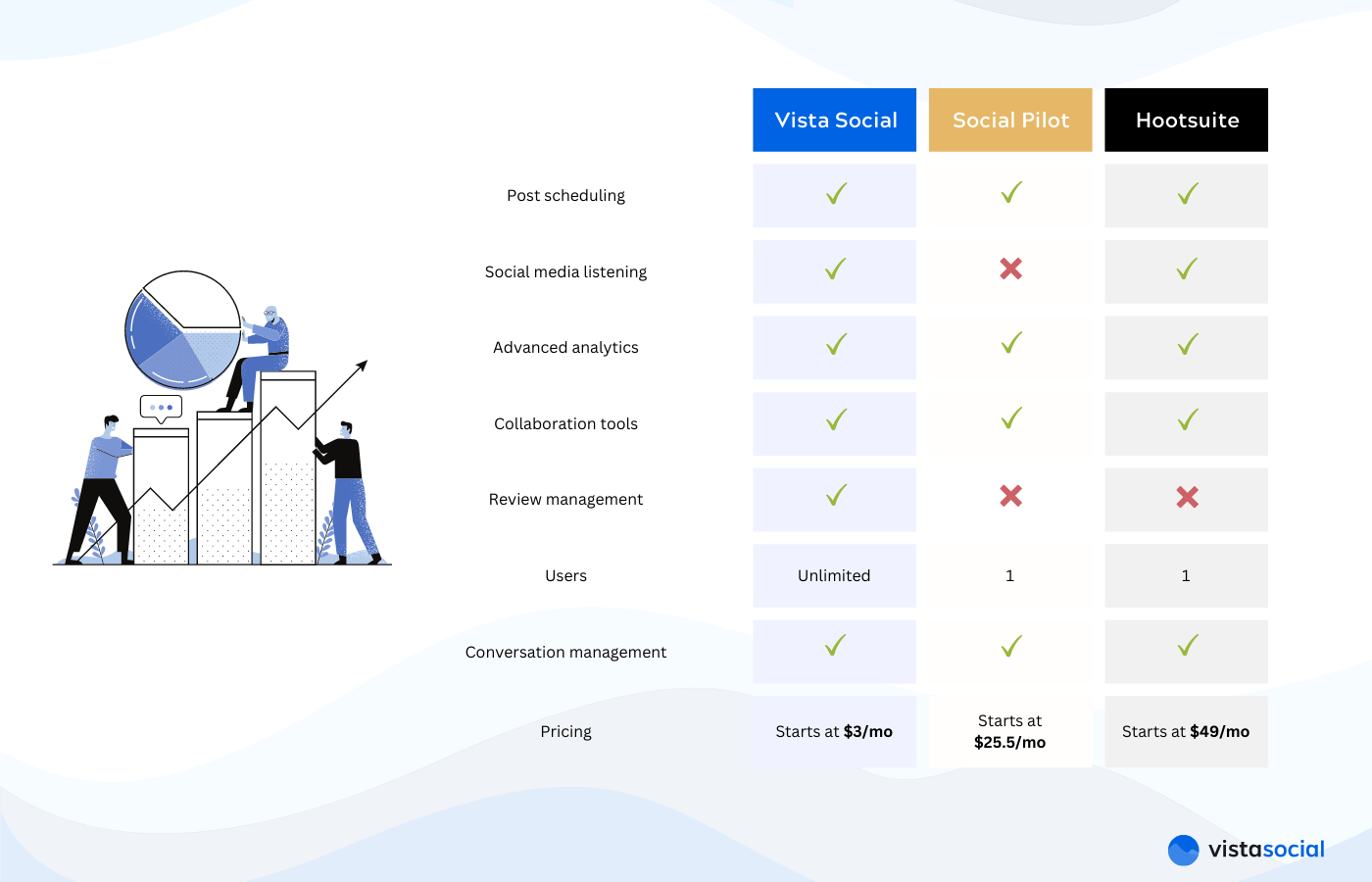 Tip: Check out more pricing information here: Buffer vs. Later vs. Vista Social.
In addition to the features above, Vista Social provides opportunities to elevate the social media management experience and maximize results.
One example is the hashtag recommendations tool, which can be fired up directly via the post editor. Just click the hash icon in the editor, go to the 'Hashtag suggestions' tab, and enter a relevant keyword.
Click 'Suggest' to reveal trending hashtag ideas that will improve the searchability of your social media content.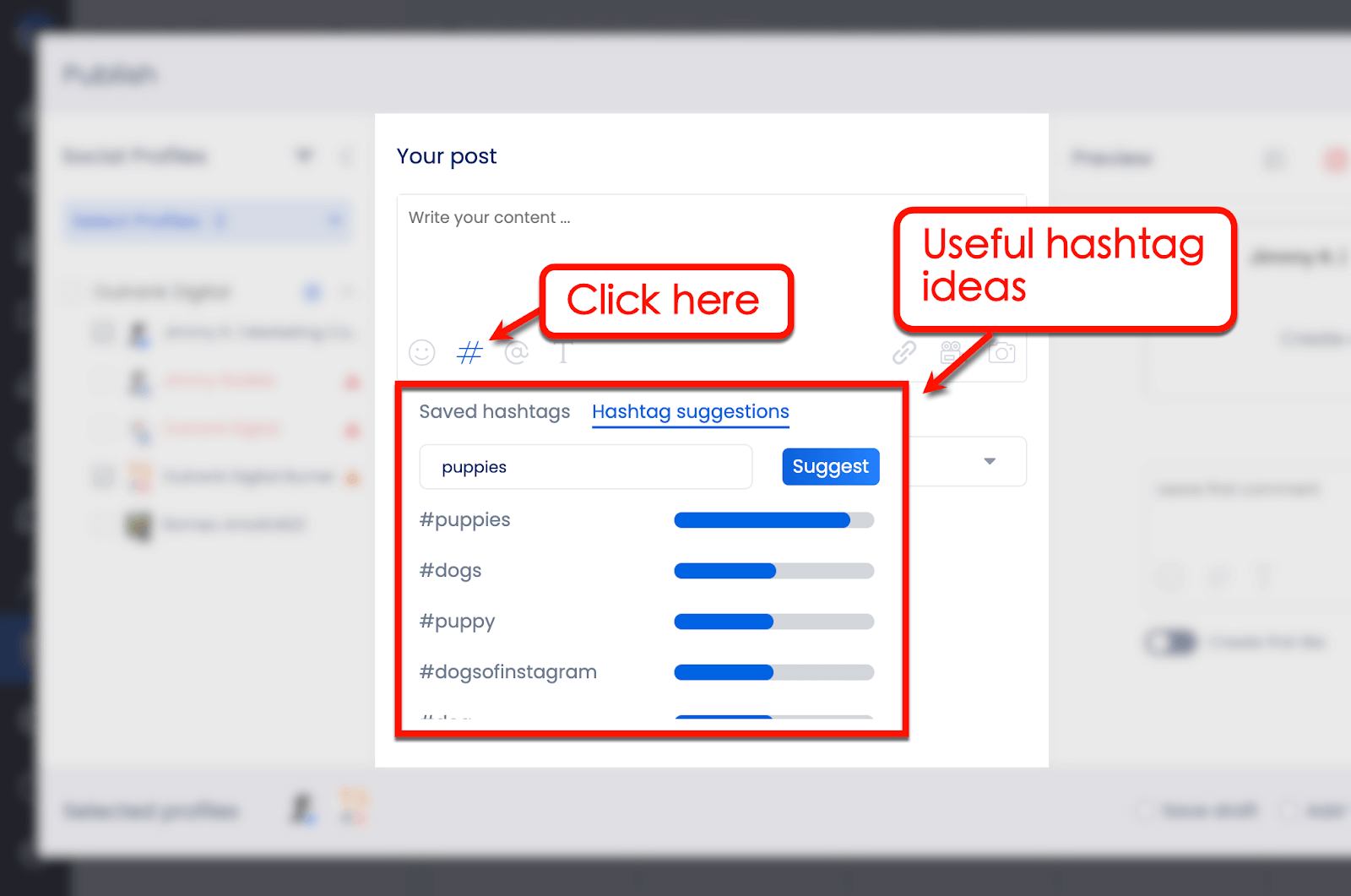 Another note-worthy feature is the trending audios tool.
Find trending audio tracks to increase the discoverability of your TikTok posts.
Fire up the post editor, select your TikTok profile, and add a video. When done, click the triple-dot menu icon in the upper-left corner of the video thumbnail and select 'Pick sound.'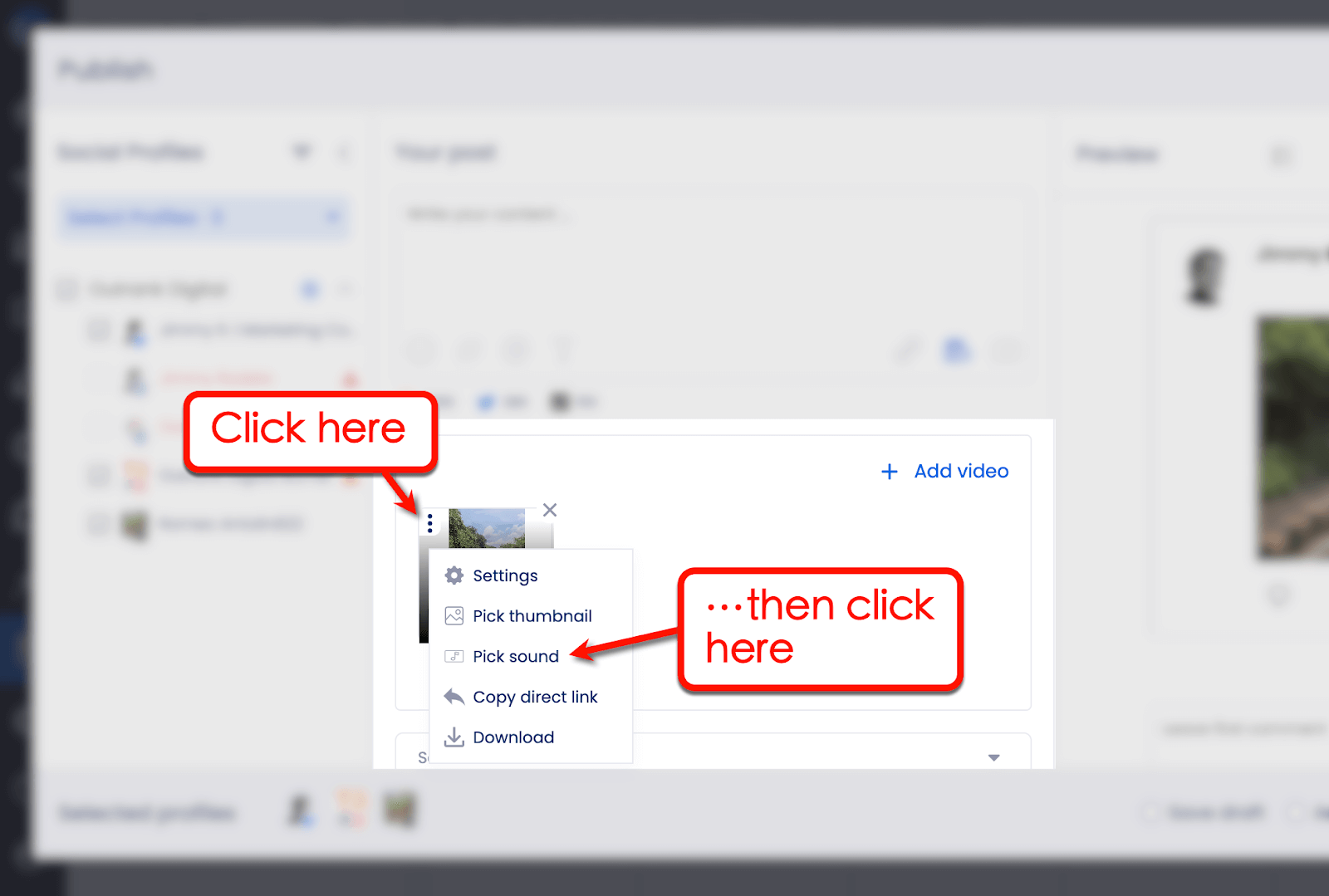 Tick the checkbox of the trending audio you want to use and click 'Apply sound.'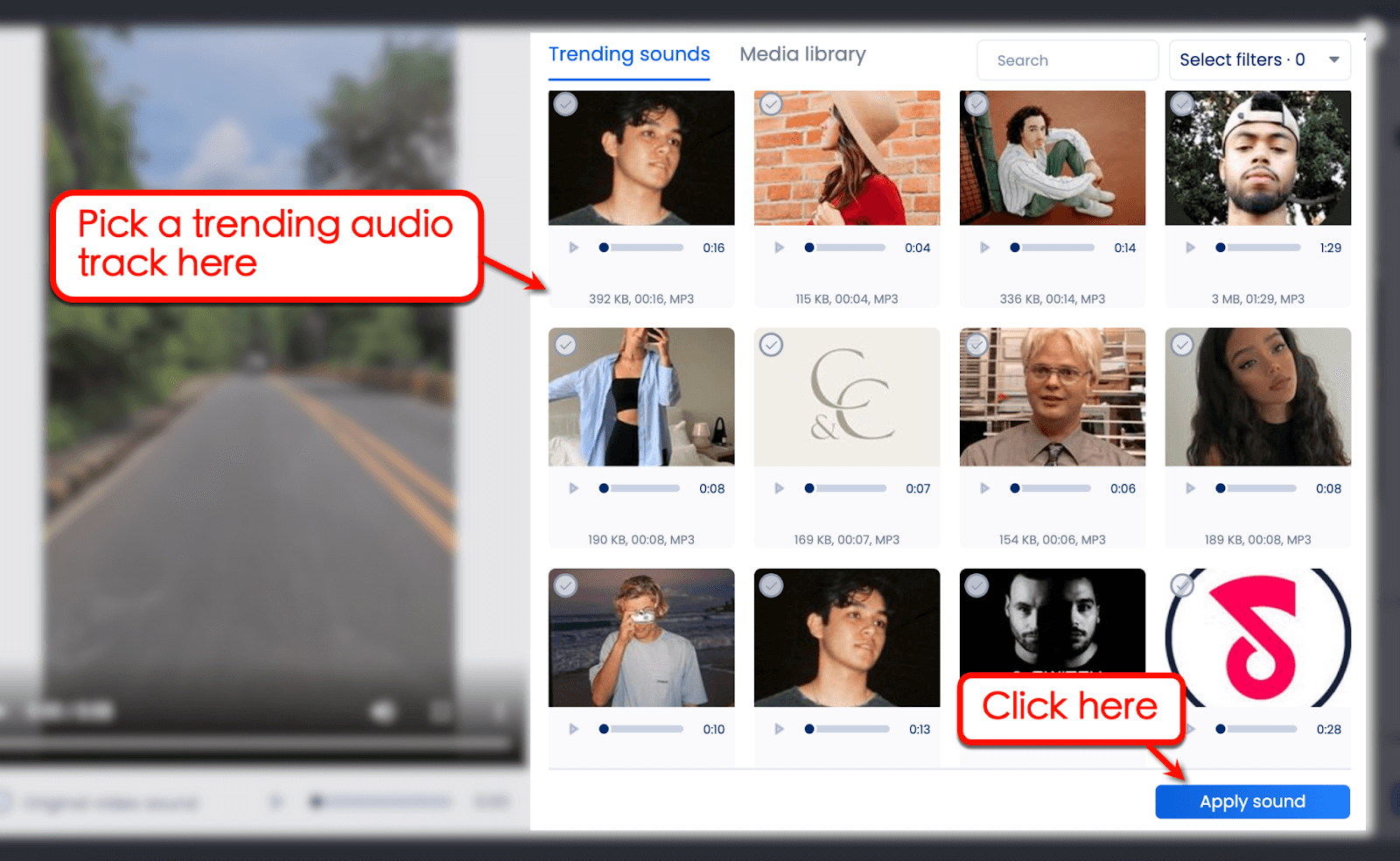 Don't forget to preview each audio by clicking the 'Play' button below them. Play your video and selected audio side by side to see if it fits.
If you're happy with the results, close the trending sounds window and finish scheduling your post.
Other tools that make Vista Social the superior choice
Bulk import or find new, share-worthy content. Using the Vista Social dashboard, import content in bulk or find new ones from third-party sites. Content can be pulled via RSS feeds, hashtag searches, user profile updates, and industry news sites.
Scan the socialsphere for conversations that contain a keyword. Vista Social's "Smart Listener" lets you pluck out conversations that mention your client's brand. Alternatively, use smart listeners to stay ahead of trends and understand what your client's audiences expect.
Tag products on Instagram. Design one continuous workflow between your social content marketing and sales process. Tag up to five products on Instagram posts to turn the audience's curiosity and attention into conversions.
SocialPilot vs. Hootsuite vs. Vista Social: Customer support
Customer support is crucial in all paid platforms designed to help agencies or small businesses with essential tasks—from lead generation to social media marketing.
Below is a quick rundown of the support options offered by SocialPilot, Hootsuite, and Vista Social:
What SocialPilot offers
SocialPilot enables self-guided learning through "Instant Answers" and the in-app assistance request form. The platform also offers learning resources in the form of:
Guides
Webinars
eBooks
Video tutorials
But if you want to reach their support team, the only method is to use their site's contact form and wait for a response.
What Hootsuite offers
Hootsuite's support options include a self-service help center, social media messaging channels, and a website ticketing system.
To learn more about the platform, check out the Hootsuite Academy for premium certification courses, which can be used to attract more clients when completed.
What Vista Social offers
New Vista Social users can learn more about the platform's features through the help center and FAQ page. Direct queries can also be sent via a contact form with the option to include attachments. 
These queries are answered by live agents, which can communicate with you through chat, video calls, emails, and social media communications. 
SocialPilot pros and cons
To help you pick the right platform for you, here are the pros and cons of SocialPilot, Hootsuite, and Vista Social:
SocialPilot pros
Team management. Assign specific social media accounts to team members, grant customized access permissions, and so on.
Browser extension. Share content to your managed social media channels straight from your browser with the SocialPilot extension. 
Canva integration. SocialPilot integrates Canva to provide a drag-and-drop design tool without leaving the platform.
SocialPilot cons
Problems with Instagram analytics. Although SocialPilot has a tool for Instagram analytics, some users report that the platform doesn't pull updated stats.
No free plan. Although SocialPilot offers free trials, it doesn't have a free plan—unlike almost every popular social media management platform (See Zoho Social vs. Hootsuite vs. Vista Social).
Hootsuite pros and cons
Here's a quick rundown of Hootsuite's pros and cons:
Hootsuite pros
Good support options. Hootsuite allows users to reach their customer support team through social channels.
Content curation. The "Streams" and "Inspiration" features make Hootsuite effective in curating content ideas. 
Supports integrations. Hootsuite integrates with more effective tools for specific tasks, like project management, video sharing, and eCommerce.
Hootsuite cons
Expensive for teams. Agencies with multiple users will have to spend a hefty sum for Hootsuite's time-saving social media marketing features.
Vista Social pros and cons
Lastly, here are the must-know pros and cons of Vista Social:
Vista Social pros
Visibility tools. Quickly find trending hashtags, TikTok audios, and breakout keywords to boost your visibility on social media.
In-app video and image editor. Create custom graphics via the Canva integration or edit videos using Vista Create.
Advanced reporting tools. Measure your team's productivity, analyze competitors, evaluate content performance, and more with Vista Social's advanced reporting.
Reputation management. Vista Social is the only tool in this list that includes a review management tool.
Robust content publishing features. Whether you want to publish a single post or in bulk via multiple sources, Vista Social can help you with one interface.
Automated content curation. Create "Smart Publishers" to automatically curate content from blog RSS feeds and news websites.
Affordable and flexible pricing. With Vista Social, pay only for how many social platforms you need to manage (all plans support unlimited users).
Vista Social cons
No ads manager. Vista Social supports all social media platforms, but it currently can't help you manage your social media ad campaigns.
Want to learn more about Vista Social? Check out this comparison post on Sendible vs. Hootsuite vs. Vista Social.
Pricing: SocialPilot vs. Hootsuite vs. Vista Social
Interested in any of the platforms above?
To help you make a decision today, here are the pricing details for all platforms.
Need a free social media management tool?
Vista Social and Hootsuite both offer a free plan with some limitations. SocialPilot, however, only offers a free trial.
It's worth noting that Hootsuite's free plan requires you to create and downgrade a paid trial account first.
Managing 30 social media accounts or less?
If you want to manage 30 social media accounts, Hootsuite will charge you a monthly fee of $739 on annual billing. This plan supports up to 35 social accounts with up to five users only.
Billed monthly, SocialPilot charges a total of $100 per month for 30 accounts and up to six users.
To manage 30 accounts with Vista Social, you only need to spend $90 per month, which supports unlimited users.
Verdict: SocialPilot vs. Hootsuite vs. Vista Social
All things considered, Vista Social is a better fit for budding agencies and small businesses.
It's got truckloads of advanced features despite charging only $3 monthly for every social media profile connected.
Try it out yourself with a free Vista Social account today.