If you're searching for the best social media management platform on the web, look no further. We'll do a comprehensive comparison of three of the best social media management platforms: Later vs Hootsuite vs Vista Social.
When it comes to social media marketing, agencies and brands live and die by the tools they use behind the scenes.
While most solutions, be it Instagram tools or hashtag research tools, are built for specific aspects of social media marketing, we'll cover heavy-hitters.
They have a whole gamut of features that can boost any brand's social media presence. This includes post scheduling, social media analytics, social listening, and more.
However, there are varying degrees of usability, convenience, and cost-effectiveness between each platform.
And, in this post, we'll magnify those differences to help you choose the right social media management software for you.
Table of Contents
Overview: Later vs Hootsuite vs Vista Social
1. Later
2. Hootsuite
3. Vista Social
TL;DR: Choosing Vista Social is a no-brainer
Features: Later vs Hootsuite vs Vista Social
Later pros and cons
Hootsuite pros and cons
Vista Social pros and cons
Pricing: Later vs Hootsuite vs Vista Social
Looking for a free version?
Just managing 10 profiles or less?
Cost for managing 20 profiles with 3 users
Summary: Later vs Hootsuite vs Vista Social
Overview: Later vs Hootsuite vs Vista Social
Before we dive into the nitty-gritty and pricing packages of each platform, here's a quick look at today's featured social media management tools.
1. Later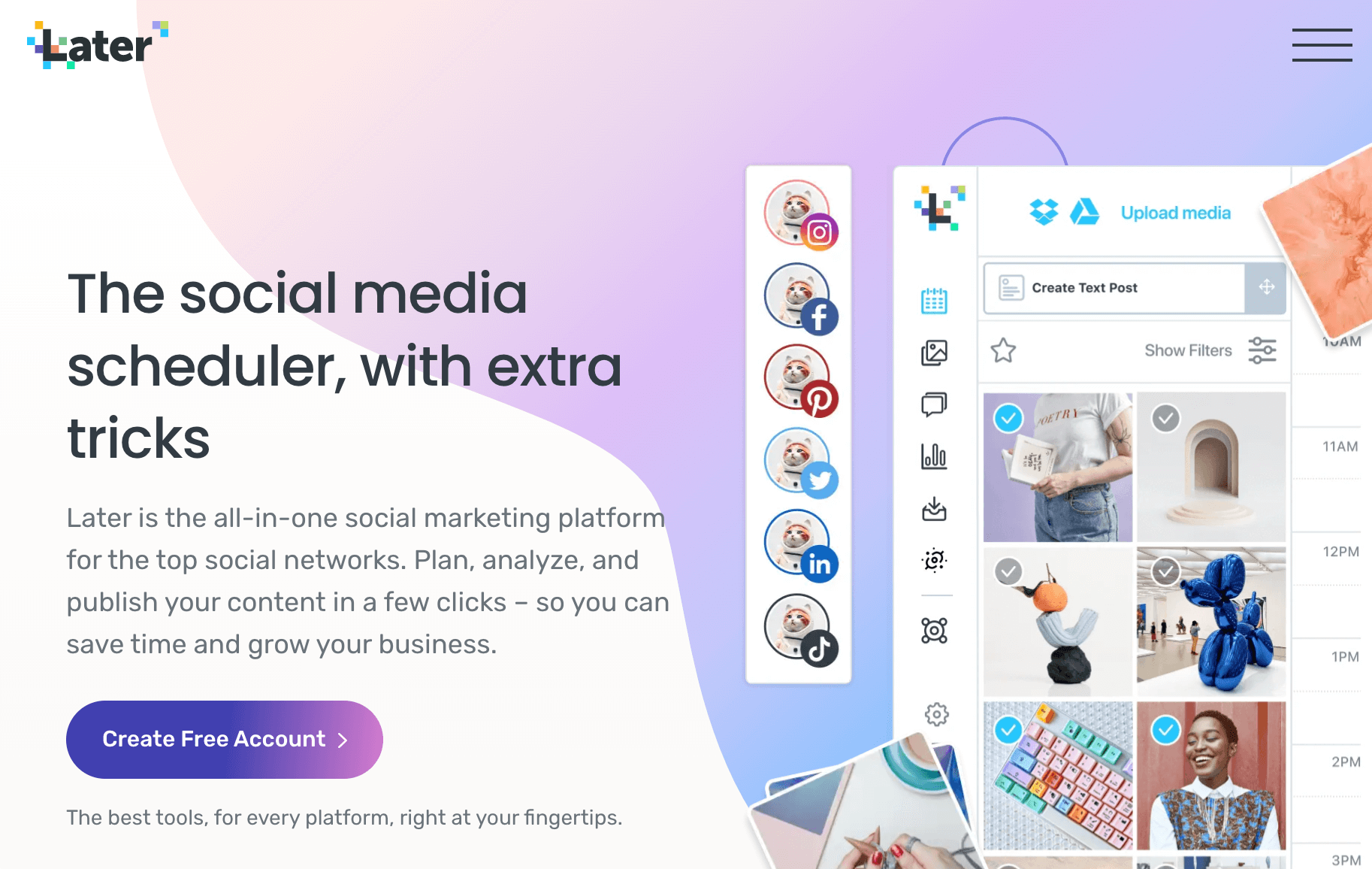 Later is a popular, multi-purpose social media marketing platform that goes beyond post scheduling. It can also help marketing teams find user-generated content for their social media profiles, analyze performance, and edit images within the app.
Later supported platforms
Facebook
Twitter
Instagram
Pinterest
LinkedIn
TikTok
2. Hootsuite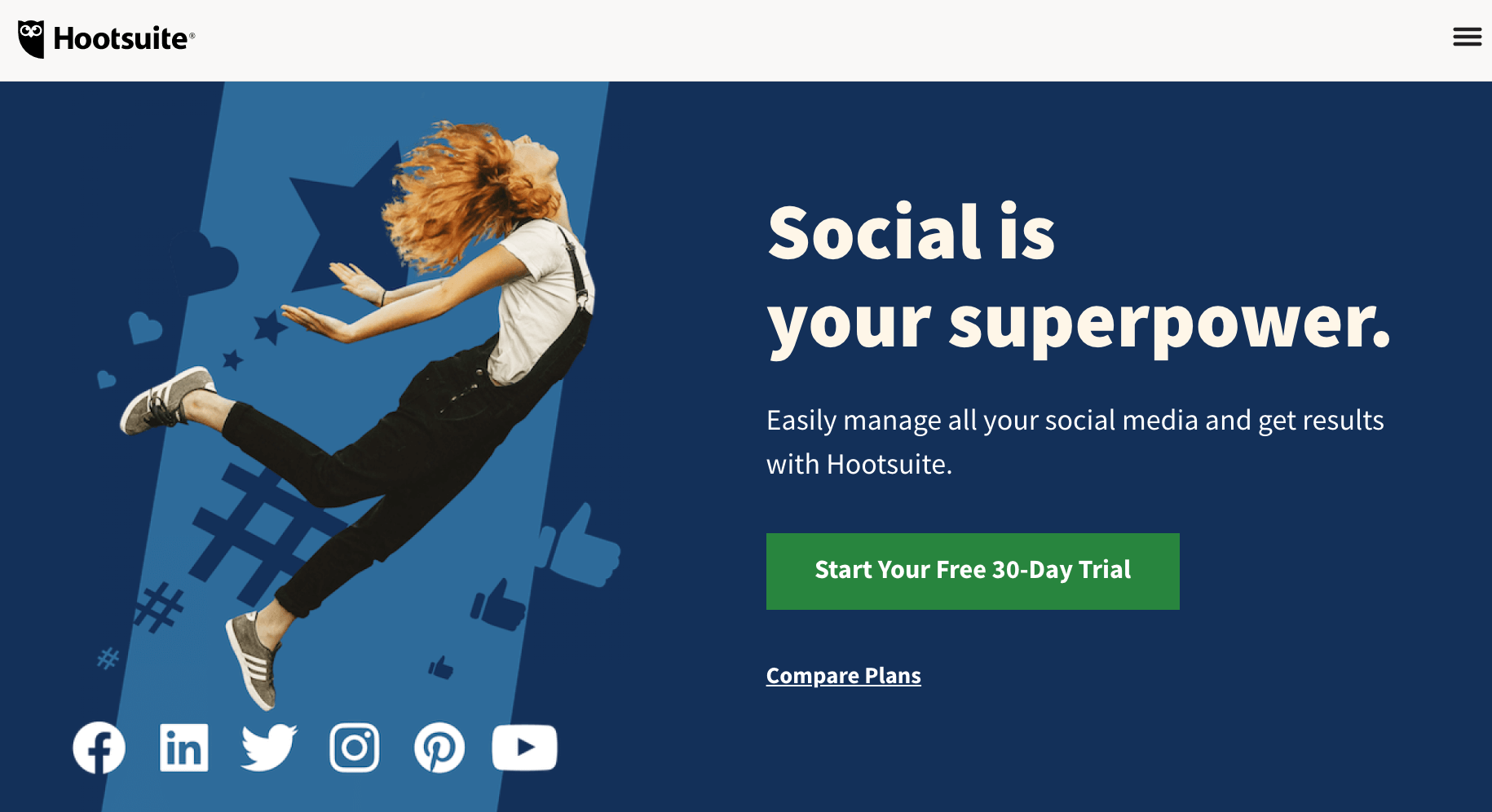 If you know your way around multiple social media platforms, Hootsuite should be familiar to you. It's one of the oldest and most popular social media management tools with features like a visual content planner, analytics for all your posts, and support for multiple networks.
Hootsuite supported platforms
Facebook
Instagram
Twitter
YouTube
LinkedIn
Pinterest
3. Vista Social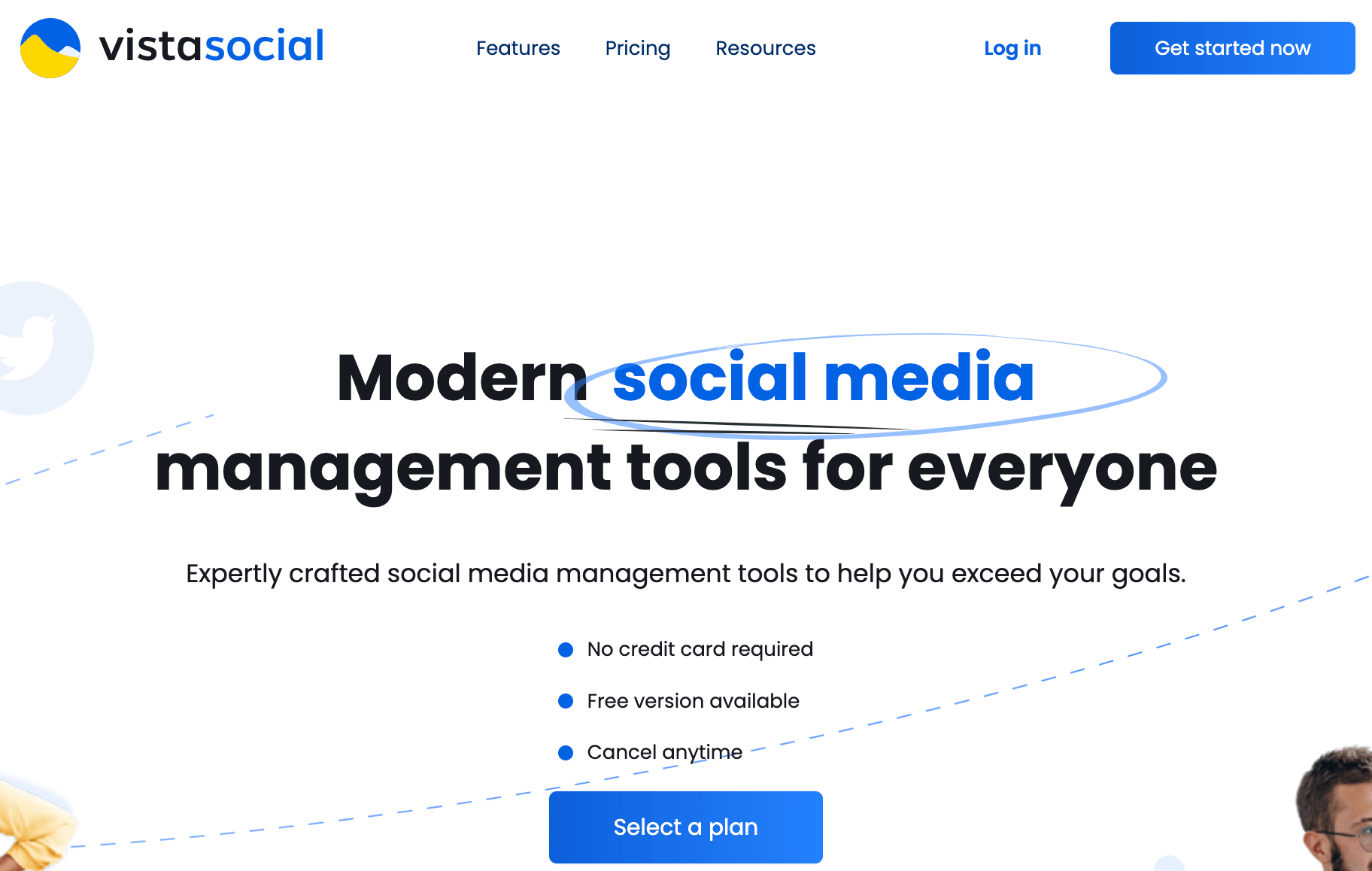 More expensive doesn't necessarily mean better, and Vista Social is here to prove it. This relatively young platform has all the features you could ask from an elaborate social media management platform, like an automated social media calendar, social listening, content curation, conversation tracking, and plenty more.
Vista Social supported platforms
Facebook
Instagram
Reddit
TikTok
Pinterest
Google Business Profile
LinkedIn
Twitter
Pinterest
YouTube
Bitly
Trustpilot
Yelp
TripAdvisor
OpenTable
TL;DR: Choosing Vista Social is a no-brainer
Post scheduling, a visual planner, auto-publish feature, unlimited scheduling, content library management—Vista Social has them all.
Not to mention that it has extra features that even some of the most expensive social media management platforms lack, like review management and task tracking.
If you're still not convinced, bear in mind that Vista Social only costs $3 per month for each social profile.
For that, you get unlimited seats for team members and unlimited posts.
To put things in perspective, Hootsuite will charge you $129 per month to manage 20 social profiles with three users. But with Vista Social, you only need to spend $60 per month for the same number of profiles and with unlimited team members.
Features: Later vs Hootsuite vs Vista Social
Not sure which social media management tool to pick?
See below for a comparison of the key features of each tool's standard plan: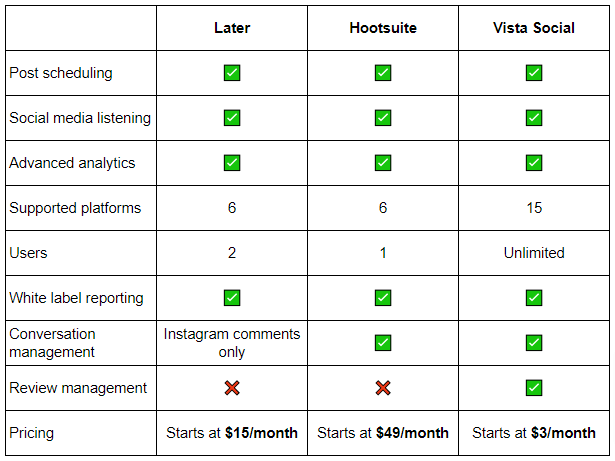 Later pros and cons
Later is known to heavily lean towards visual content planning, specifically for Instagram marketing. It does, however, offer decent social media tools for other areas of campaigns.
Later pros
Intuitive digital content planning: Leverage Later's user-friendly, drag-and-drop interface to add images to your social media calendar.
Easy-to-use image editing tool: Speed up social media content creation by cropping and applying filters using the built-in image editor.
Schedule visual content smartly: Set cover images for videos, use the real-time preview, and more.
Hashtag suggestions: Later can provide you with useful hashtag suggestions as you schedule posts.
Later cons
Limited analytics: Later's analytics features are limited compared to other platforms.
Limited posts: The entry-level "Starter" plan only allows you to schedule up to 30 posts per social profile.
Inflexible pricing: Later has a rigid pricing structure that has huge gaps in-between when it comes to price, users, and social profiles (more on this later).
Hootsuite pros and cons
Hootsuite is a time-tested platform that can get the job done for social media marketers. Even though the platform is one of the first to shape the industry, it's far from perfect.
Hootsuite pros
Identify the best posting times: Get automatic posting time suggestions for scheduled posts based on previous performance.
Manage employee advocacy campaigns: Use Hootsuite to manage every aspect of your employee advocacy program and supercharge your social media presence.
Manage paid ads: Plan, execute, and track your social media ad campaigns on the same platform.
Hootsuite cons
Can be pretty expensive: Using Hootsuite for your social media marketing strategy can be expensive, especially if you manage dozens of social media accounts.
Some features can be buggy: Over the years, Hootsuite's developers implemented feature after feature, which may come with a handful of bugs.
No TikTok support: If you're looking to learn how to blow up on TikTok, Hootsuite can't help you.
Vista Social pros and cons
Next comes Vista Social—a powerful, all-around platform for any social media strategy in an affordable package. It can help you with every important aspect of your social media marketing strategy, from post scheduling to curating content from sources like RSS feeds and other blogs.
Vista Social pros
Built-in review management: Vista Social lets you monitor, respond, and manage reviews about your brand without relying on a third-party tool.
Affordable: Both Hootsuite and Vista Social can cater to the needs of full-service social media marketing agencies, but the latter is significantly cheaper.
Content curation automation: Vista Social takes social media automation to the next level with "Smart Publishers," which automatically extracts and shares content from relevant content sources.
Huge list of supported social media channels: Have a single location to manage multiple social channels and review websites, from Facebook to Trustpilot.
Collaboration features: Other than implementing an approval process, Vista Social comes with integrated collaboration tools to help teams brainstorm their social media strategy—from funny things to comment on Instagram to hashtag contest ideas.
Vista Social cons
No ad manager: Vista Social focuses on strategies that generate organic traffic, which is why it lacks ad management features.
Pricing: Later vs Hootsuite vs Vista Social
At this point, it's clear that any of the tools above is capable of helping anyone bolster their social media account.
But before you choose your social media management software, there's one last question you need to answer:
"How much will this social media platform cost?"
Below is a quick rundown of each social media platform's pricing:
Later: Starts at $15 per month
Hootsuite: Starts at $49 per month
Vista Social: Starts at $3 per month
Looking for a free version?
Later does offer a free plan, but it only allows access to basic features for Instagram posts.
Hootsuite, on the other hand, does not offer a free plan. It offers a 30-day free trial version, but you'll need to provide your credit card or PayPal information.
Vista Social offers a free plan that includes the platform's core features—without asking for your credit card information.
Just managing 10 profiles or less?
The "Starter" plan with Later costs only $15 per month, but it only allows up to 6 social profiles. If you seriously need 10 profiles, you'll need to bump up your subscription to the "Growth" plan, which costs $40 per month.
Hootsuite's entry-level plan does support exactly 10 profile integrations. This will cost you $49 per month with access to a single user.
Lastly, with Vista Social, you—along with unlimited team members—can manage 10 profiles for only $30. That's because Vista Social charges a flat $3 per social profile.
Cost for managing 20 profiles with 3 users
The closest thing to 20 profiles you can get with Later is their "Growth" plan, which costs $40 per month. Take note that this plan only grants access to 3 users.
With Hootsuite, managing 20 profiles will cost you $129 per month. Just like Later, this plan only supports 3 users.
Finally, managing 20 profiles with Vista Social costs $60 per month. That includes access for unlimited users and unlimited posts.
If this Later vs Hootsuite vs Vista Social comparison helped you, check out similar comparisons here:
Summary: Later vs Hootsuite vs Vista Social
Vista Social is the ultimate platform for growing your presence on all social media networks.
Not only does Vista Social outshine competitors in terms of features, it's also crazy affordable. The platform's pricing structure is also flexible enough to help brands and agencies of all sizes make the most out of their budget.
Best of all, you don't have to risk anything to see Vista Social in action.
Click here to start your free plan today.