There are loooads of perks when you post pics on Insta with the right size:
Instagram's algorithm will favor your content
Your posts will have better readability and legibility
Your audience will have a better experience consuming your content
Your engagement rates could shoot up
We're just scratching the surface, of course.
That's why as a social media manager who handles several Instagram client accounts, you need to learn how to resize Instagram photos.
That's what this guide is all about.
We'll walk you through the ins and outs of resizing Instagram photos to ensure all the photos you publish fit Instagram's square format to a t. 🙂
Table of Contents
Why should you resize photos on Instagram?
Good news—Instagram is known to instantly resize images to fit the app screen.
The bad news?
It does a poor job at it.
Let's take a closer look at the reasons why you should manually resize images on Instagram:
Publish images without losing quality. On Instagram, wrong image sizes may result in unwanted cropping or stretching—just blurry, ugly, and inconvenient all around. Imagine how bad it would look on your social media manager resume if you have a lot of unoptimized images in your portfolio.
Avoid unsightly black or white borders. If your image dimensions are too tall for the Instagram content format, you either have to live with the ugly black or white borders OR crop your image. This retains image clarity, but it screams lazy and unprofessional in the eyes of photography-savvy users.
Take full advantage of screen real estate. Screen space is precious in an image-sharing platform like Instagram. With the correct image size, you ensure every detail—be it a CTA, company logo, or watermark—is visible as intended.
What are the best sizes for Instagram photos?
Always use the correct image dimensions—got it.
The question is, what is the perfect image size for Instagram?
That depends on the content type you want to publish.
Best image size for Instagram posts
Regular Instagram posts have three ideal aspect ratios: 1:1 (square), 1.91:1 (landscape), and 4.5 (vertical).
Square posts on Instagram look best with a resolution of 1080 x 1080.
For landscape photos, the ideal resolution is 1080 x 566.
Lastly, for vertical photos, the perfect size or resolution is 1080 x 1350. This is the biggest ideal resolution for Instagram posts—great if you want to share high-quality shots.
Best image size for Instagram Reels
Instagram Reels are typically made with videos. But if you know how to make a Reel with photos, you'll know that image Reels are the biz in the right situations.
The ideal aspect ratio for Instagram Reels is 9:16 (vertical). As for the correct Instagram Reels dimensions, you're looking at a resolution of 1080 x 1920.
Best image size for Instagram Stories
Similar to Instagram Reels, Instagram Stories also usually take on a video form—albeit shorter.
They also take up the whole screen of most modern mobile phones when viewed. As such, the ideal aspect ratio for Instagram Stories is also 9:16, whereas the perfect resolution is 1080 x 1920.
Steps to resize photo on Instagram with Vista Social
Alright, you're all set.
It's time to dig into the actual steps on how to easily resize photos for Instagram publishing.
How to use a free image resizer for Instagram
If you know the ideal Instagram photo sizes, all you need is a free image resizer like this tool by Adobe. Within a couple of minutes, you should have a publish-ready photo with the best dimensions for Instagram.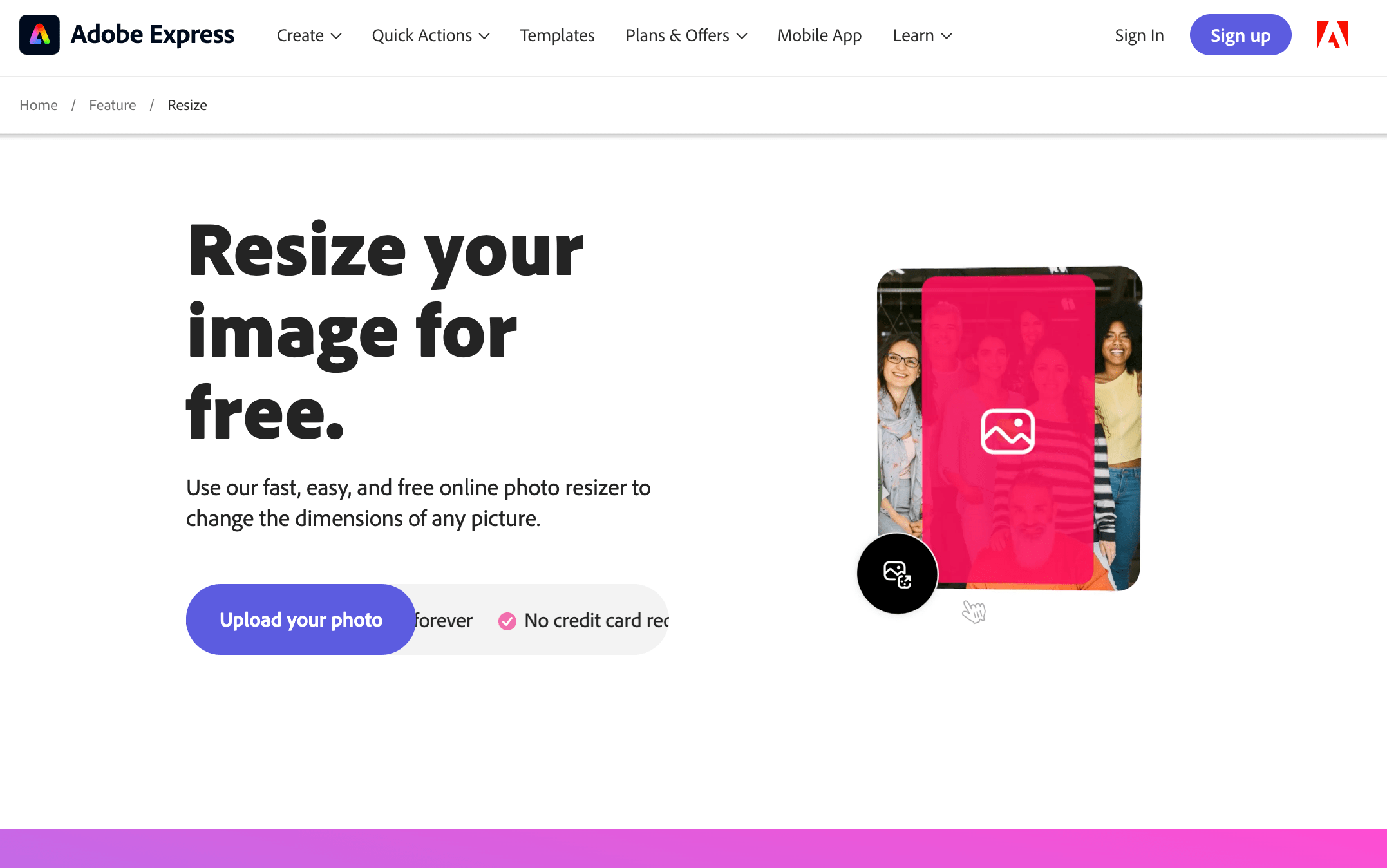 A much better solution, however, is to seamlessly weave resizing images into your social media workflow.
An all-in-one Social Media Management (SMM) platform like Vista Social will get the job done.
Brought to you by
Try Vista Social for Free
A social media management platform that actually helps you grow with easy-to-use content planning, scheduling, engagement and analytics tools.
Get Started Now
How to resize Instagram images more efficiently with Vista Social
Vista Social lets you easily resize images from the publisher or via the media library.
When you see the image's thumbnail, just click the three-dot settings icon and select 'Edit image.'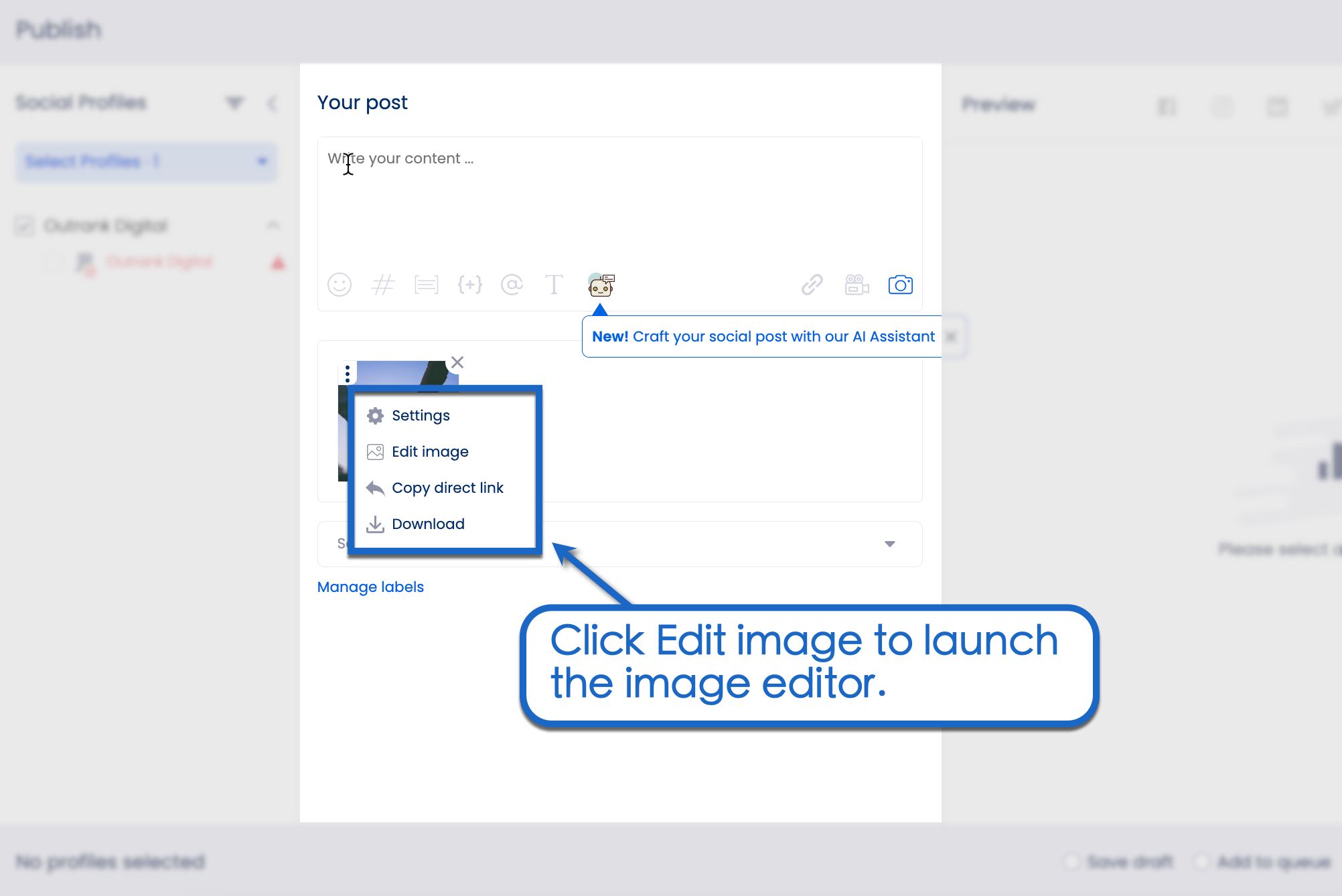 Here's the fun part: Vista Social already has resizing templates based on the best Instagram aspect ratios. Just take your pick between landscape, portrait, or square and you're pretty much done.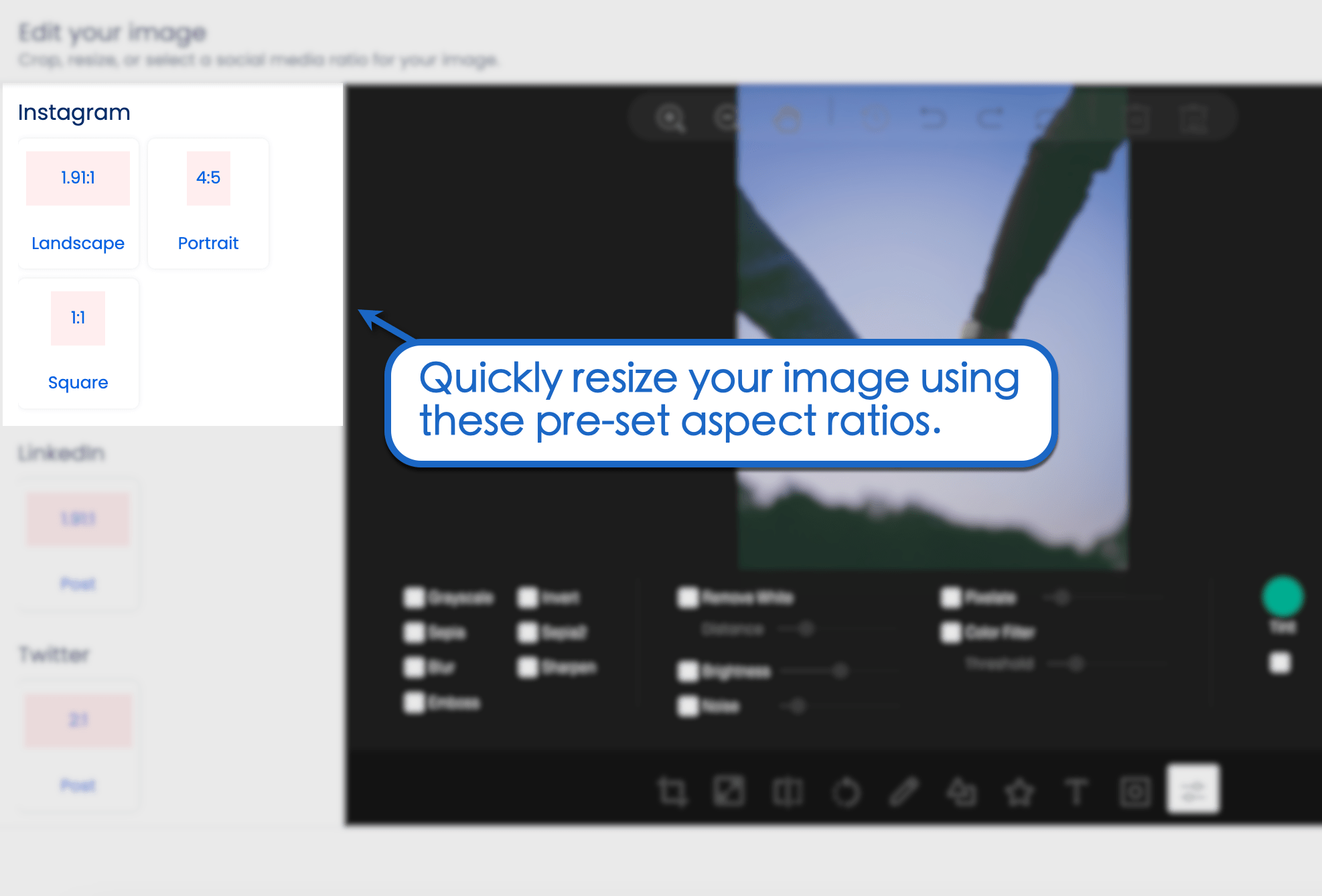 How to resize images without cropping
If you wish to resize your images while keeping every detail in the final output, you need to use an image editing tool.
Canva, for example, works by letting you add a background to "pad" the image. This allows you to use a new aspect ratio for the same image without cropping any part out.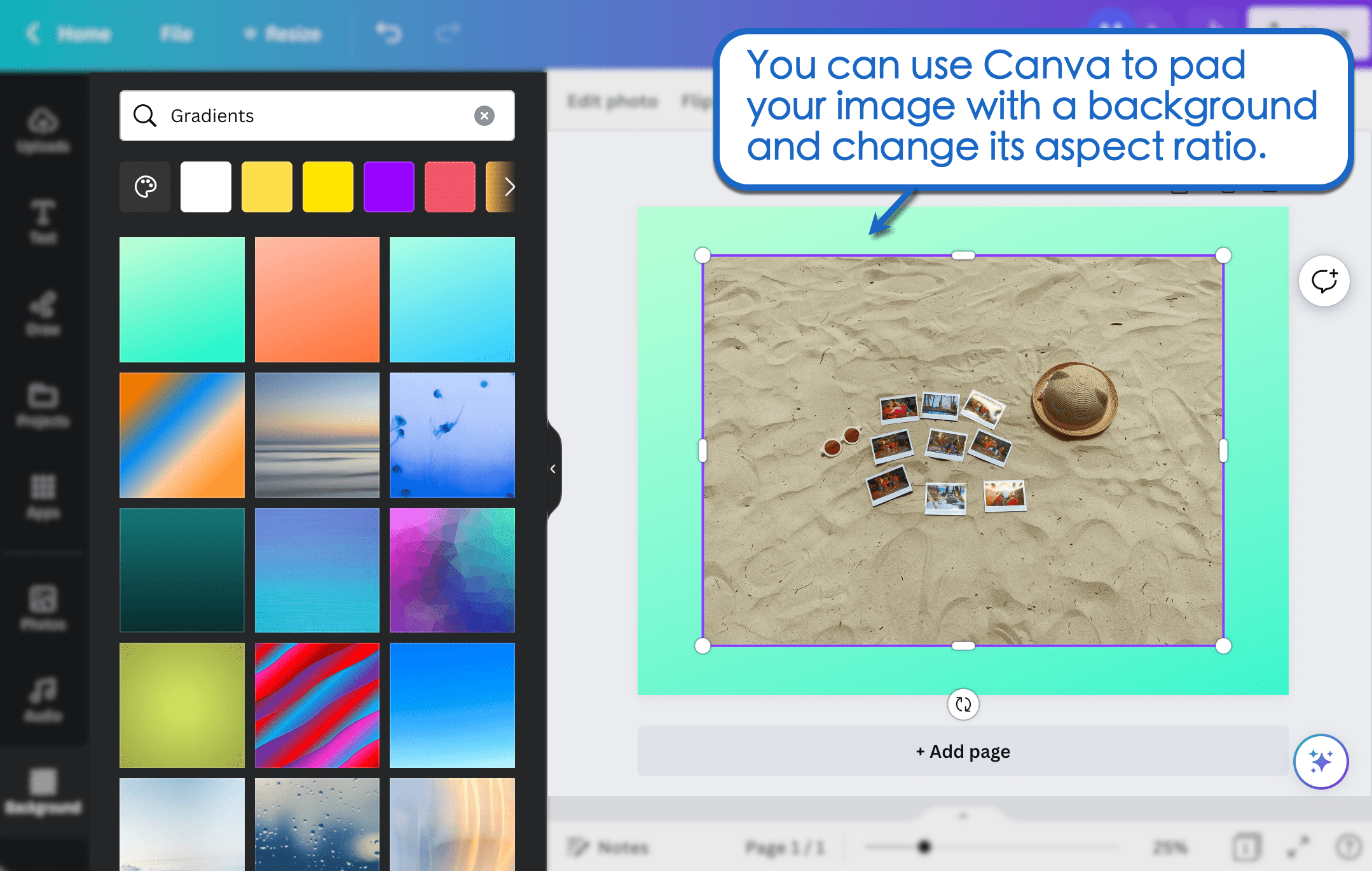 Fun fact: Did you know that Canva can be launched straight from the Vista Social dashboard?
Alternatively, use an AI-capable image tool like Snapseed to expand the borders of your image and match a different aspect ratio. With the "Expand" tool, you simply need to drag the image's borders to your desired size—the tool will automatically fill in the blanks with an AI-generated picture.
With the right aspect ratio, you're free to modify the image's dimensions to the correct resolution—without cropping any part of the original.
How to resize Reels and Stories
If you need to resize video Stories or Reels, you must first learn how to save Instagram Stories with music. You can then count on the VistaCreate integration to resize your video to the right dimensions.
While you're at it, consider additional strategies that will up the uniqueness and fun factor of your content. For instance, you can learn how to reverse audio on Instagram and ask the audience to guess the title or add a dramatic effect to your boomerang content.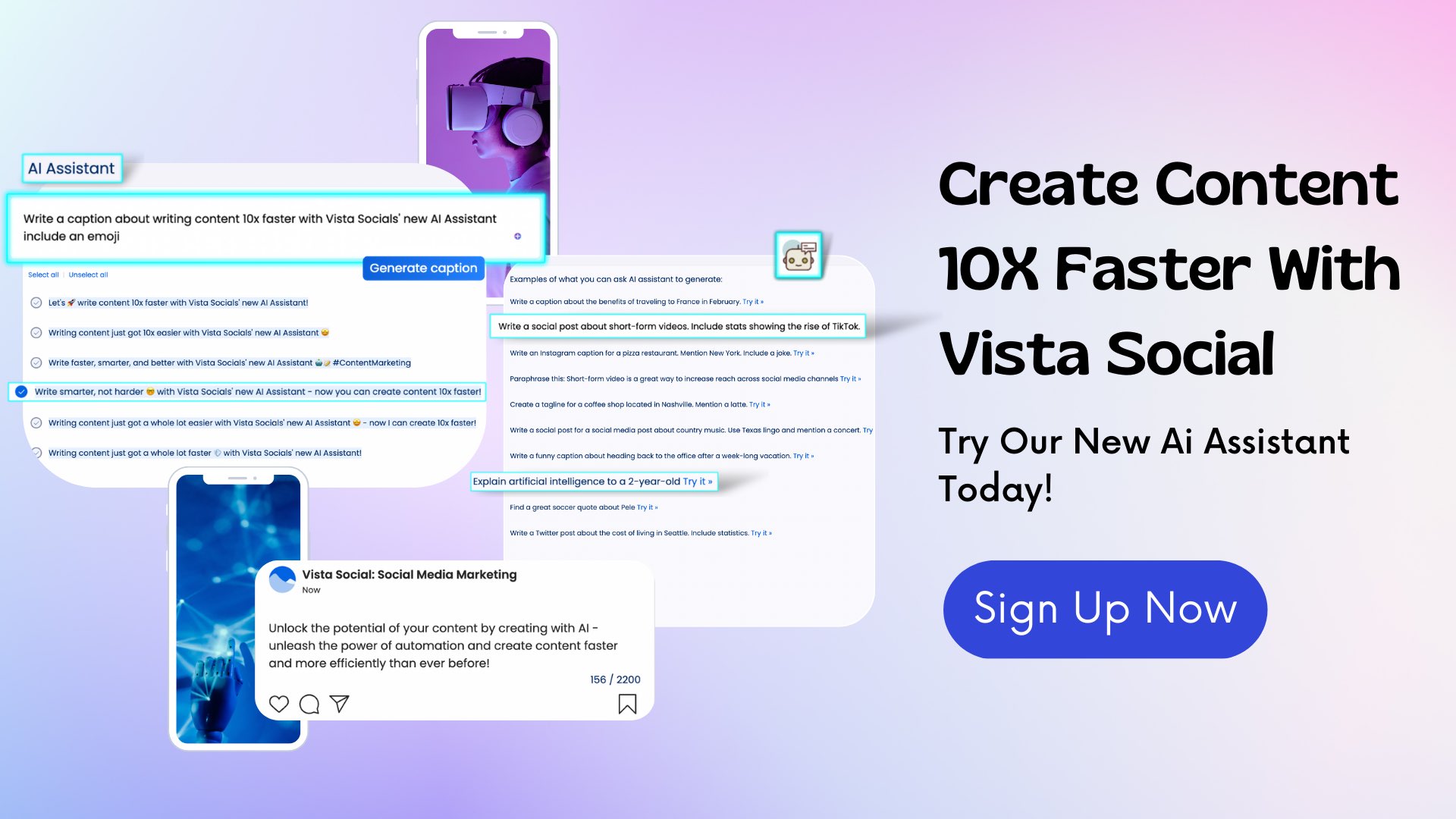 Ready to give your content workflow and posts a major upgrade? Try AI Assistant powered by ChatGPT today! 🤖💙
Strategies to make the most out of Instagram photos
Knowing how to resize photos for Instagram is a handy little trick that puts you a step closer to content perfection.
But you still have a long way to go.
Before we wrap up this post, here are strategies to help you make the most out of your Instagram content:
Customers Also Ask
Does Instagram automatically resize photos?
Yes, Instagram automatically adjusts an image's dimensions and aspect ratio to fit the specified content type. Unfortunately, this can negatively affect the image's quality and—by extension—the user experience.
Why can't I fit the whole picture on Instagram?
If parts of your photo are missing from the actual Instagram post, you may have used the wrong image dimensions. It's also possible that you zoomed in unintentionally and cropped certain details away from the post.
How can I resize a picture on Instagram without cropping it?
Use a free image resizer like Simple Image Resizer or PicResize to easily resize images within minutes. For best results, use an SMM platform with a built-in image editing tool and Canva integration like Vista Social.
Upload the perfect shot with Vista Social
Looking for the best tools to cut down your Instagram images to the perfect sizes?
Vista Social's built-in image editor and Canva integration are more than enough.
What's more, Vista Social also helps you schedule your post at the ideal times, track valuable performance insights, and optimize content with audio and hashtag suggestions.
But don't just take our word for it.
Go on and take Vista Social for a spin today. Click here to create a free account and see what we're all about!