Wouldn't it be awesome if you had one of those highly coveted TikTok trending videos?
Not only will you get tons of exposure, but you'd be in a better position to collaborate with other influencers, which then opens up a slew of opportunities for your business.
And so the question becomes, how do you do it?
How do you create TikTok posts that become trending?
To be perfectly honest, there's no way to be 100% sure.
TikTok trends sometimes just happen—starting with a simple soundtrack, hashtag, or dance move. A fun trend can also start from a TikTok challenge where users and influencers alike participate.
There is, however, one thing you can count on when it comes to TikTok trends:
You can always observe and learn from them.
Analyzing the success of successful TikTok creators will help you answer questions, like:
What's the best way to generate user engagement?
Let's dig a little deeper.
The importance of monitoring TikTok trending videos
Below are the reasons why agencies and brands need to start monitoring TikTok trends.
1. Create videos that resonate with the TikTok community
Brainstorming content ideas for TikTok doesn't have to be a hair-pulling process.
By staying on top of the latest TikTok trends, you'll have an endless supply of ideas for your videos. This, in turn, will lead to higher engagement in the form of views, likes, and comments.
With your content ideation process covered, you should be able to focus more on content development and publishing.
2. Identify potential influencers and creators
TikTok creators get into trends all the time to build a more approachable and relatable brand.
Connecting and working with these influencers can help promote your agency and showcase your services to a wider audience. You also leverage their reputation to win the trust of users and build an engaged following.
Also, working with other influencers is a great strategy to build your status as a TikTok influencer.
3. Make your agency more approachable
There's nothing like jumping into a new trend to humanize your agency.
And if there's something TikTok users appreciate, it's a company that doesn't only join social media for business purposes.
Participating in TikTok trends shows users that you're not just there to promote products or services. Rather, you're a willing, active member of the community whom they can comfortably connect with.
4. Get better exposure
Here's the thing: TikTok trends—be it a hashtag, sound, or effect—are immediately visible on the "Discover" page of users.
You don't have to look far to find new trends that your agency can capitalize on.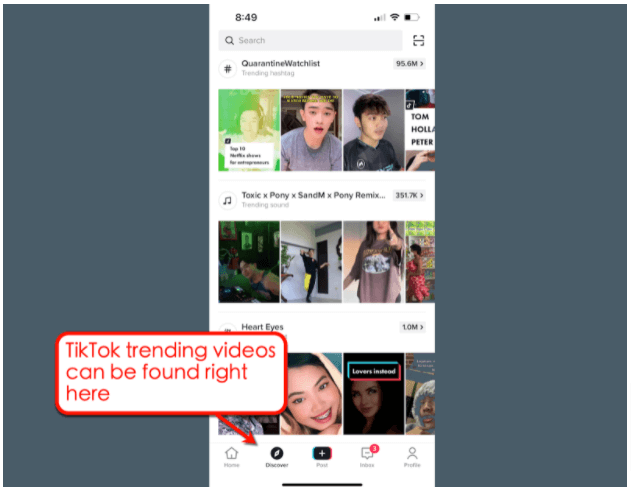 Taking part in these trends will boost your chances of being discovered. You just need to create your own version of a trend that's relevant to your target audience. 
(Also read: Best Questions to Ask on Instagram Story)
5. Figure out what works for your competitors
If you find a TikTok trend that other agencies are getting into, use the opportunity to borrow ideas from them.
Apart from the video they created for the trend itself, take a closer look at their profile. This will help you dissect their TikTok strategy and use your findings to bolster your own campaign.
5 TikTok trending videos agencies can learn from
Good—you now know why monitoring TikTok trends is important.
What you need now is a healthy dose of trends to set you off to a great start.
Let's roll the clips.
1. Differentiating Consumers vs Customers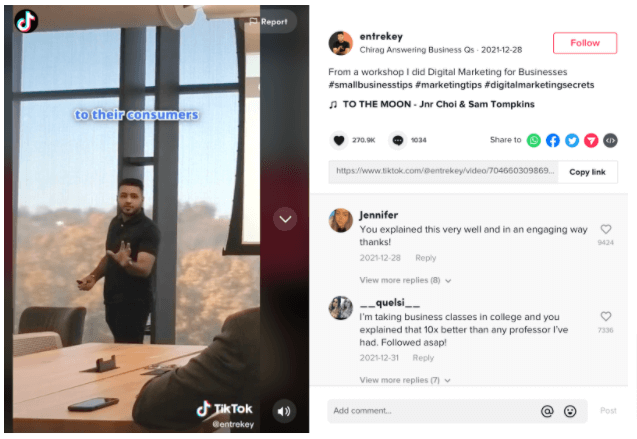 The first trending TikTok video is from the page "Chirag Answering Business Qs."
There are a few things that went right with this particular clip.
Brought to you by
Try Vista Social for Free
A social media management platform that actually helps you grow with easy-to-use content planning, scheduling, engagement and analytics tools.
Get Started Now
What agencies can learn:
First, the creator showcased their strength, which is public speaking, as the centerpiece of the video. He also added captions for accessibility and sprinkled the caption with hashtags for discoverability.
You may also notice that, while users can't hear any music, the video actually uses a trending sound.
Adding sounds to your videos regardless if anyone can hear them can help you appear on the trend discovery page.
2. The Gray M&M'S Promotion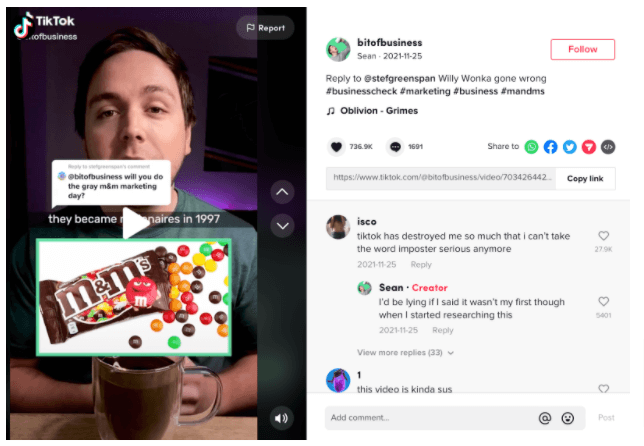 This next clip is uploaded by TikTok creator Sean—AKA "bitofbusiness."
In the video, he talked about the M&M'S promotion fiasco in 1997 involving a gray "impostor" M&M.
What agencies can learn:
As you can see, Sean also used winning principles like using hashtags, captions, and a soundtrack. What allowed him to create a viral video, however, is his consistency in focusing on TikTok questions and requests.
He also credits users who asked the questions in each post's caption, making them feel included and valued.
You can also utilize this strategy to build an active and engaged TikTok community. You simply need to invite your followers to ask relevant questions that you can answer through your own insights.
3. Is someone stealing your keywords?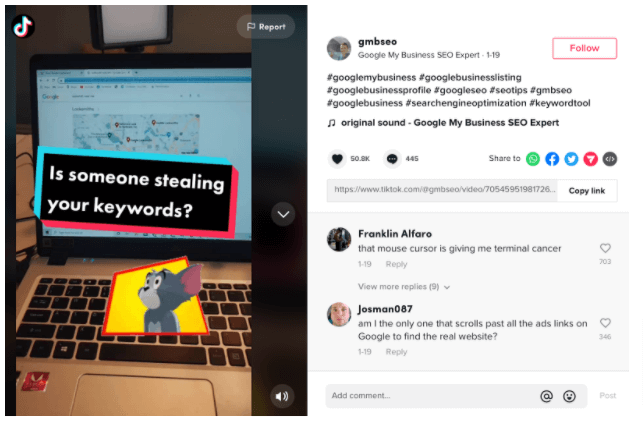 Answering questions works, but so does asking them.
TikTok creator page "gmbseo" did this with his video on how competitors can steal a website's keywords.
What agencies can learn:
To draw the attention of users, the video features a clear thumbnail with the question: "Is someone stealing your keywords?"
Not only is it punchy, it's also enough to describe to users what the video is about. This allowed the video to have a caption dedicated to only hashtags.
4. A day in my life as a marketing assistant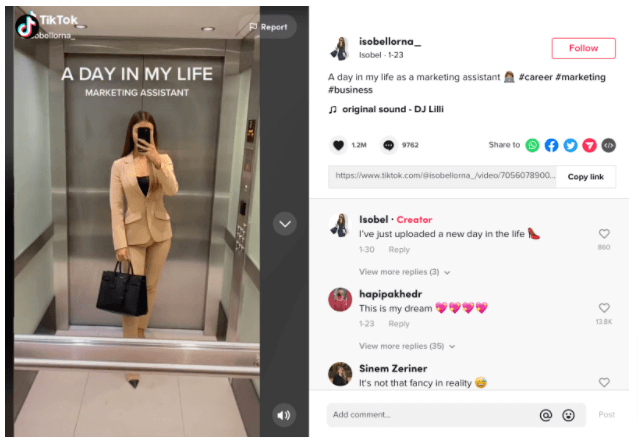 A day in my life is a TikTok series created by creator Isobel Lorna.
Her posts show POV cuts of her everyday routines working as a digital marketing assistant.
What agencies can learn:
Giving users a "behind-the-scenes" look at your business and culture is still an effective strategy for building credibility.
It doesn't matter if you're promoting on TikTok, Facebook, Instagram, or Twitter. Showing social media users and leads what's going on behind the curtains reassures that they're dealing with a trustworthy organization.
With the right approach, this strategy can also function as a soft selling tactic. It showcases the level of care, attention, and skill that potential clients can expect from your service.
5. One of the most powerful hacking tools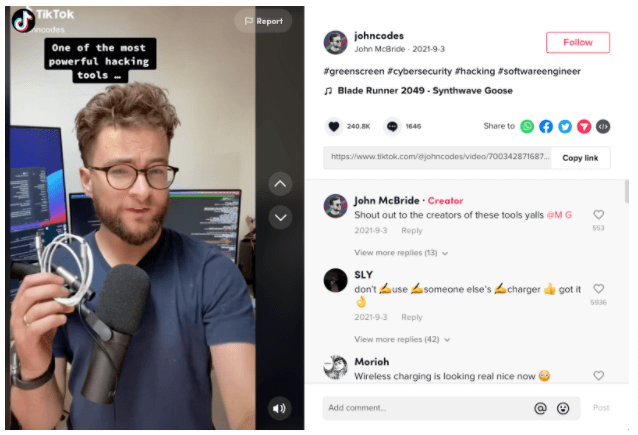 Educating your target audience is one of the key principles of successful content marketing.
In this trending video by John McBride on his TikTok page, "johncodes," he shares something rather intriguing.
The video talks about a hacking tool that resembles a regular USB cable called the "O.MG cable."
What agencies can learn:
Sharing valuable information that don't have enough exposure could be your ticket to the TikTok trends list.
This strategy relies on your ability to identify content gaps. These refer to discrepancies between the demand for information and the availability of relevant resources.
It's not always easy. But with exhaustive content research, you should be able to come up with topics worthy of becoming the next trend.
Learn from TikTok trending videos now
Analyzing TikTok trends isn't just fun, but it's also very rewarding if you want to learn the secrets behind these viral trends.
Once you're done studying TikTok trends, you need a platform to piece your optimized strategy together.
Vista Social is a comprehensive social media management platform that can help you publish content smartly and track your growth. It's one of the must-have TikTok tools for agencies, providing a unified platform for managing campaigns across all networks.
Get started today with a free Vista Social account.