Need a break from constant notifications? Quiet Mode on IG is here to the rescue!
Look, we've all been guilty of getting a little carried away scrolling through the Feed.
Quiet Mode can help eliminate distractions by hiding all notifications for a set period of time, making it perfect for completing tasks that have been pushed to the back burner.
The only problem? It can be a little complicated to turn off once you're ready to get back to your Feed.
But don't worry–if you're ready to see what's gone down in the DMs while you were away, we have the ultimate guide on how to turn off Quiet Mode on IG.
Respond to your follower's comments, DMs, and mentions faster with Vista Social's AI Assistant powered by ChatGPT! Try it today.
What is the difference between Quiet Mode and pausing push notifications?
The biggest difference between Quiet Mode on IG and pausing push notifications is the time restriction.
You can put your account in Quiet Mode for a maximum of 12 hours and choose the exact time you want it to turn off.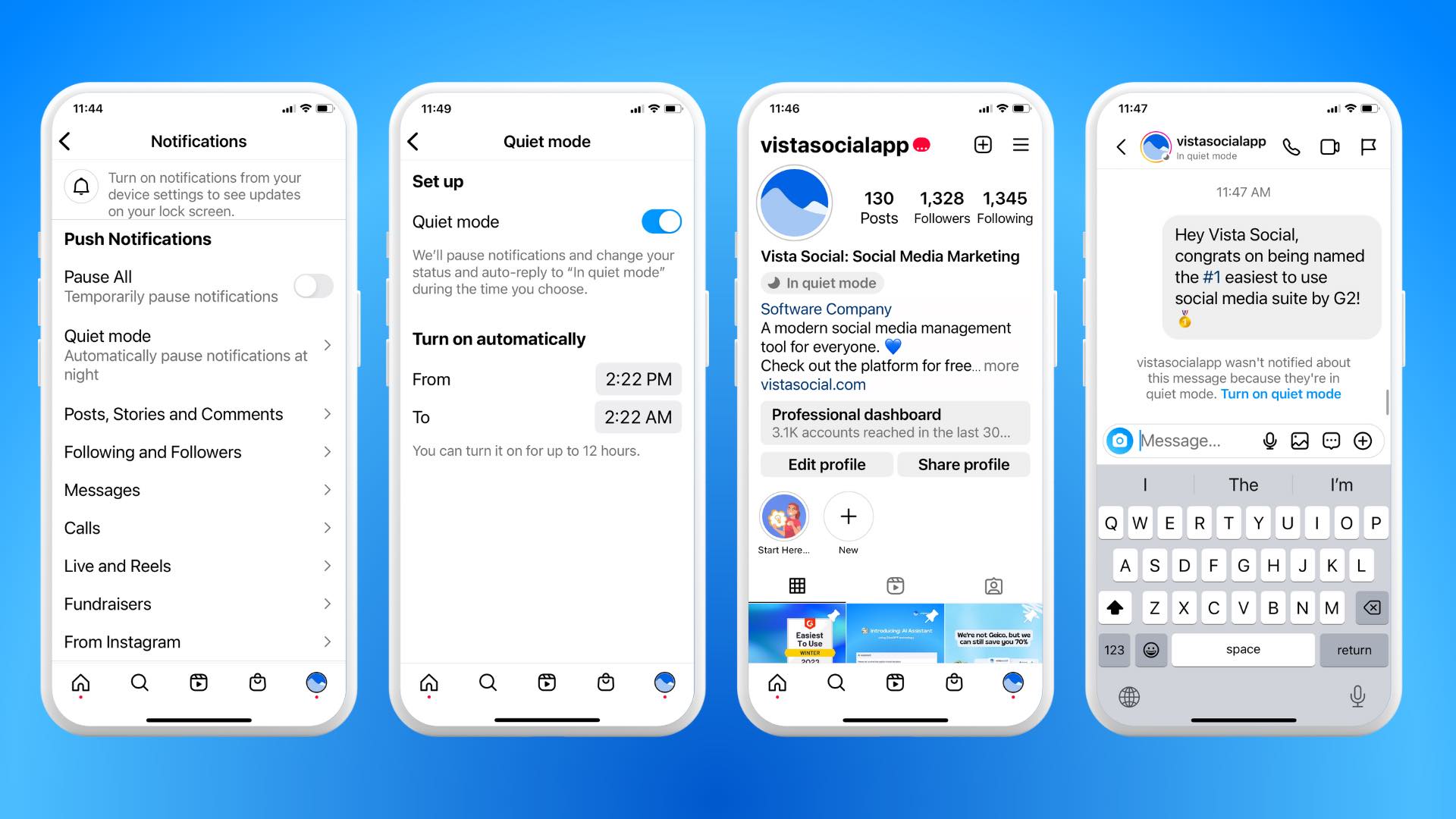 If you finish your tasks earlier than expected, you may want to turn off Quiet Mode sooner.
The process of turning off Quiet Mode is easy; you just need to know where to find the option!
However, turning off other aspects of the feature, such as the auto-reply DM, may not be as simple. It's important to know the process!
How to choose an end time for Quiet Mode on IG?
Choosing an end time for Quiet Mode on IG allows you to plan a specific moment to return to notifications, similar to a reward for completing a task, instead of having to manually disable the feature.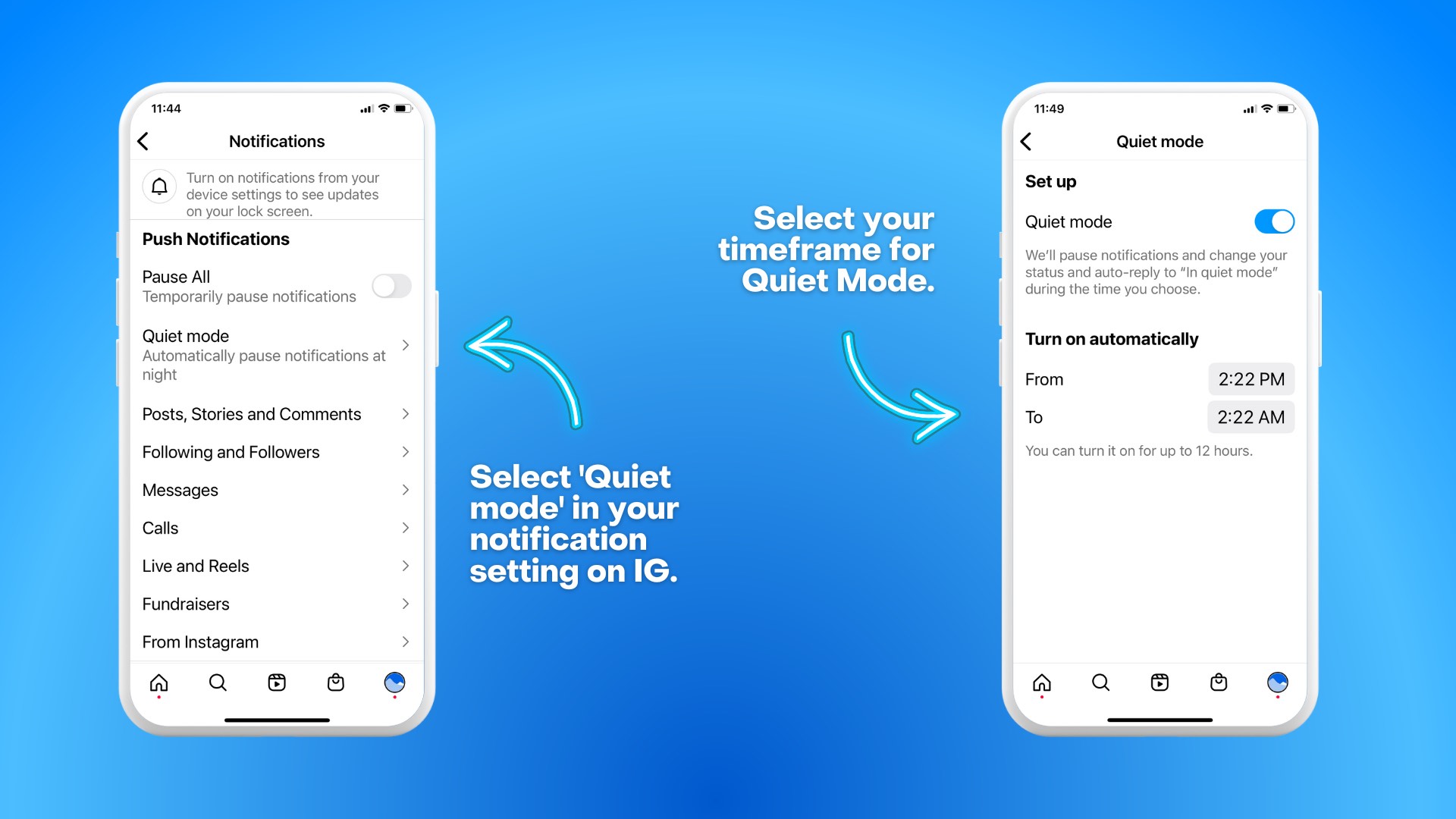 Here's how to choose an end time for Quiet Mode on IG:
Go to your profile.
Click on the triple line icon in the top right corner.
Select Settings.
Select Notifications.
Tap on Quiet Mode.
Turn on Quiet Mode and choose the start and stop time by scrolling through the available options.
PSA: As of January 20, you can continue to like, comment, watch Stories, Reels and send DMs while in Quiet Mode without being disturbed by notifications. 🤩
How to turn off Quiet Mode on IG
Don't fret if you still have some time left on your Quiet Mode; turning it off is just as straightforward as turning it on. No need to stress; it's a breeze!
Here's how to turn off Quiet Mode on IG:
Launch the Instagram app and go to your profile.
Press the three-line icon located in the top right corner.
Access the Settings.
Go to Notifications
Select the Quiet Mode option and switch it off.
Tips on how to avoid social media burnout
Have you ever Googled ways to avoid social media burnout, only to see an array of blog posts that offer generic solutions–"check in with yourself," "ask for support," and "go for a hot girl walk!"
Sometimes smaller teams don't have the option of asking another colleague to help simply because there isn't one!
And going for a hot girl walk puts more tasks on the back burner, which only leads to more stress. 🫠
Here are real tips on how to avoid social media burnout that are actionable and can be implemented today:
1. Use Quiet Mode on IG
It's easy for a quick scroll on Instagram to turn into a long conversation if someone messages you–especially for social media managers!
Putting your phone completely away can be challenging, but Quiet Mode on IG aims to make your scrolling experiences more intentional so you can reduce the feeling of social media burnout.
2. Schedule your social media posts
Consistency on social media is essential for businesses to build a strong brand presence and engage with customers.
Brought to you by
Try Vista Social for Free
A social media management platform that actually helps you grow with easy-to-use content planning, scheduling, engagement and analytics tools.
Get Started Now
But it's easily a one-way ticket to burnout city if you don't have the right tools by your side!
Scheduling social media posts in advance can help reduce burnout by allowing you to focus on other tasks without having to worry about constantly updating your social media accounts.
Locked into an annual contract with another SMM tool? Vista Social is offering FREE plans to businesses for the remainder of their contract with a competing tool. Contact sales to learn more!
3. Create saved responses
Instead of responding to the same questions over and over on social media, save your responses so that you can reuse them when those questions come up again.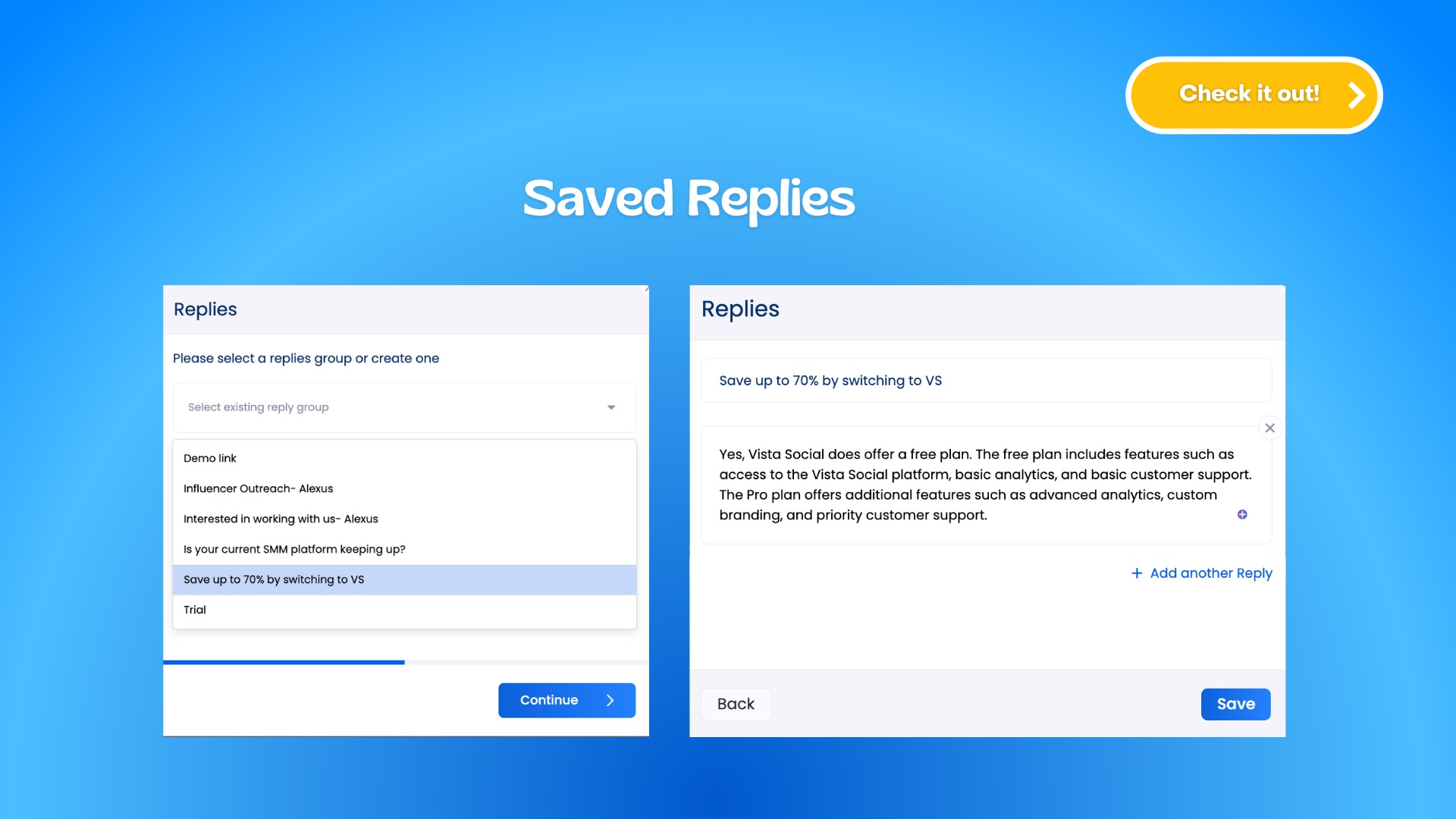 Vista Social's Saved Replies feature lets you organize responses to common questions directly in your Social Inbox!
You can even use the AI Assistant to automate the process of generating personalized responses to comments, DMs, reviews, and mentions–and easily add them to your Saved Replies.
4. Set up social listeners
Finding it hard to disconnect on your "off work hours" as a social media manager? A social media listener tool can help!
Easily monitor and track mentions all your brand and specific keywords related to your product across all social media platforms.
If there is a conversation that needs your attention, you will be notified immediately to respond.
Say goodbye to stress-checking your social media profiles throughout the day and hello to work-life balance!
5. Be selective with who you follow
Unfollow or mute accounts that no longer serve you or that cause you stress.
Following too many accounts can lead to an overwhelming amount of content, making it difficult to keep up with important information and updates.
Try to spend some time 'cleaning out' your following list, so that it's only a curated group of accounts that align with your interests and goals!
This can help you focus on relevant information and inspiration–this can also help attract customers who share those same values.
People also asked:
Is there do not disturb on Instagram?
Quiet Mode on IG acts as a "do not disturb" setting by silencing notifications for likes or comments.
This feature, announced on January 19, takes the concept of paused notifications and screen-time limits to a new level.
When turned on, your profile will be set to "quiet mode" (visible only to you) and will send an auto-reply message to users who try to DM you, letting them know you are in Quiet Mode.
How long can you leave Instagram's Quiet Mode on?
You can set your account to Quiet Mode for up to 12 hours and choose the exact moment when it will be deactivated.
Will I still receive direct messages while in Quiet Mode?
Yes, Instagram's Quiet Mode only mutes push notifications for posts and stories, not direct messages.
Will my followers know if I am in Quiet Mode on IG?
Quiet Mode is a personal setting and will not be visible to your followers unless they direct message you–then they will receive an auto-reply.
Can I turn off Quiet Mode on Instagram before the set time?
Yes, you can turn off Quiet Mode at any time before the set time expires.
How do I turn on Quiet Mode on IG?
To turn on Quiet Mode, go to your profile and tap the three lines in the top right corner. Then, tap settings, and select "Notifications". From there, you can toggle on Quiet Mode.
Tired of sifting through repetitive comments and DMs? Use AI Assistant powered by ChatGPT to generate quick, accurate, and personalized responses. Try it today for free!