Sometimes, learning how to find clients on LinkedIn is like throwing spaghetti against a wall.
You just wing it and see what sticks.
However, every self-respecting digital marketing agency knows that a "spray and pray" approach to lead generation is far from reliable. And if you want to survive, you need to know how to get clients for digital marketing the right way.
That's what this post is all about.
Why find clients on LinkedIn
If your agency isn't on LinkedIn yet, you're missing out big time.
You see, this isn't like finding clients on Facebook or Instagram.
Unlike those social media networks, LinkedIn is created for professional users.
Businesses, solopreneurs, freelancers — everyone looking to build their professional connections is there.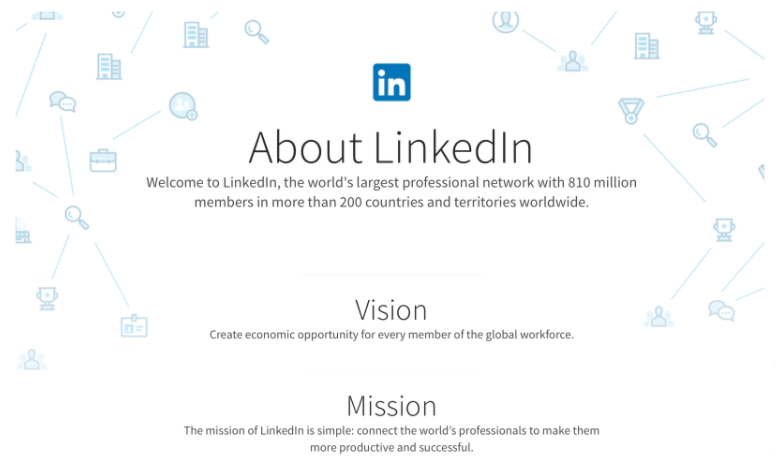 If you're looking for potential clients for your digital marketing agency, you can bet your bottom dollar they're on LinkedIn.
Other than that, agencies can take advantage of LinkedIn marketing tools tailored to help reach your target audience.
These services include:
Sponsored content
Sponsored direct messages
Text ads
Carousel ads
Ad targeting
Built-in reports and analytics
Agencies can also build LinkedIn Showcase Pages where they can emphasize individual business promos and initiatives. These can help prospects access the right services while fostering a community around relevant subjects under your agency's banner.
You'll find out more about Showcase Pages in a minute — along with other ways to find clients on LinkedIn.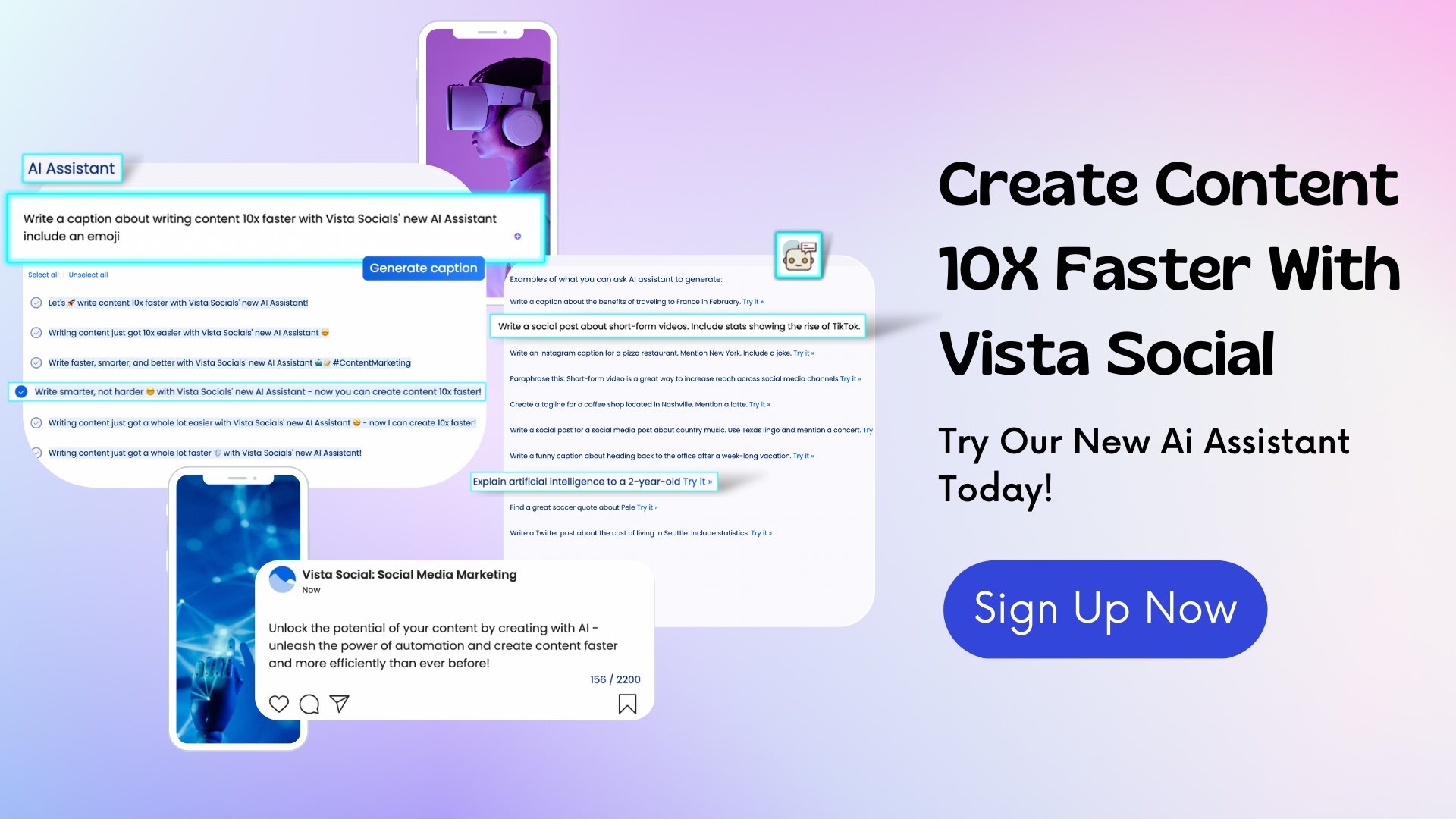 Ready to give your content workflow and posts a major upgrade? Try AI Assistant powered by ChatGPT today! 🤖💙
LinkedIn growth hacks for agencies
Here's how you can use LinkedIn to generate potential clients:
1. Build separate personal and business pages
First things first, you need to set up two pages: one for your personal profile and another for your agency.
Your company page will be used to represent your agency — promoting content, highlighting your culture, and helping leads find you. Employees on LinkedIn can then become ambassadors simply by connecting to your company page.
Your personal profile, on the other hand, will give your company a human face.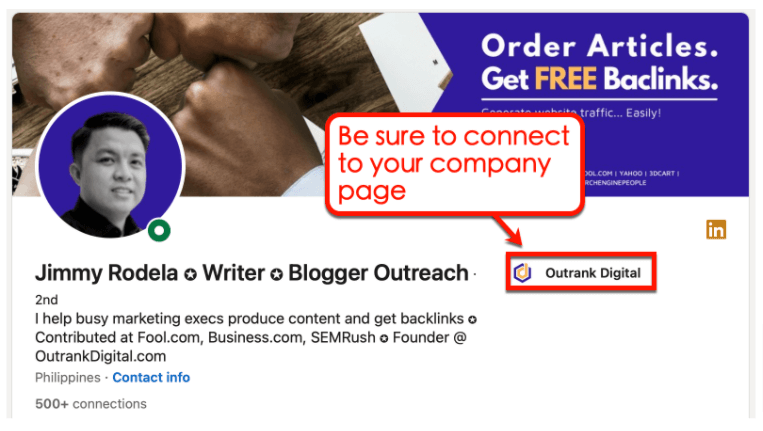 On LinkedIn, personal profiles are more approachable. They get more connections, generate more engagement, and receive more messages than an average company page.
With the right strategies, your personal profile can lure LinkedIn users in droves.
That's when you can direct them to your company page, showing them how to move forward with your agency. All you have to do is give your profile a proper makeover and link to your company page.
2. Automate content sharing with Vista Social's post scheduling tool
Whether you're looking to close startup clients or you want to know how to get corporate clients on Linkedin, inbound strategies work amazingly.
The game plan is simple: create loads of valuable content, promote them on LinkedIn, and watch qualified leads pour in. You just need a way to automate the process so you can focus on more direct lead generation methods.
To start, log in to Vista Social then add your LinkedIn page to the entity you created. From the main menu, select 'Settings' and then click 'Connected Profiles.'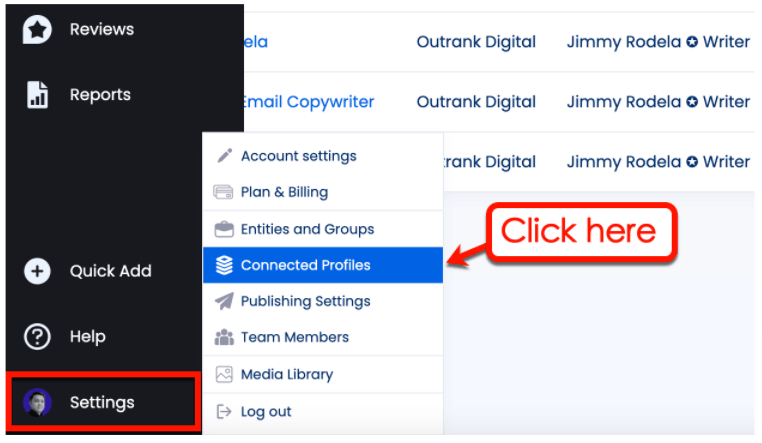 On the Profile Management page, click 'Add Profile.'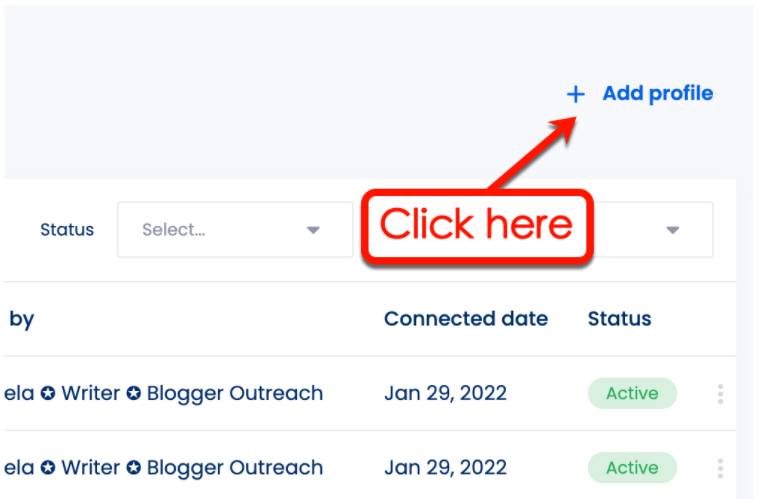 Select your entity from the drop-down menu to reveal the social platforms list. From there, select 'LinkedIn Page.'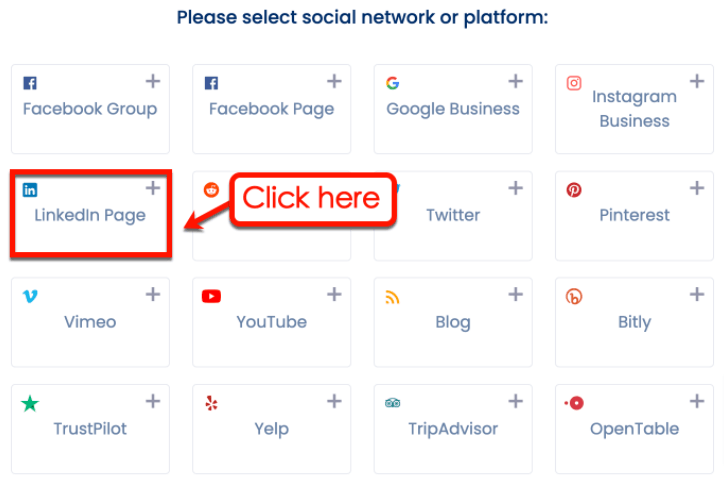 Log in to your LinkedIn account and follow the on-screen instructions until you're asked to pick your company page. When there, choose the company page you want to connect and click the 'Connect profiles' button.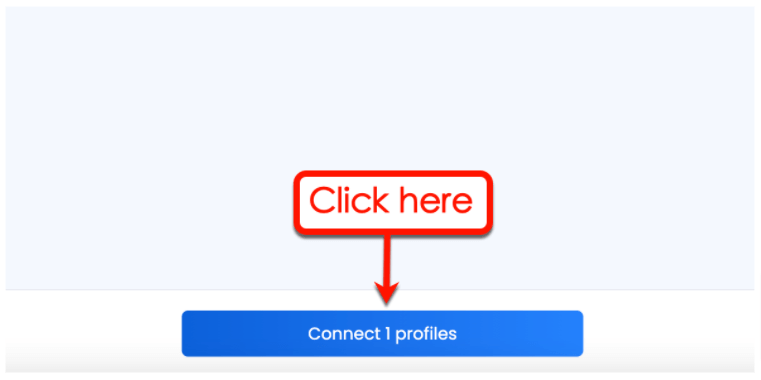 With your company page connected, you can now establish an automated posting schedule on Vista Social.
To do this, go back to the 'Settings' menu and click 'Publishing Settings.'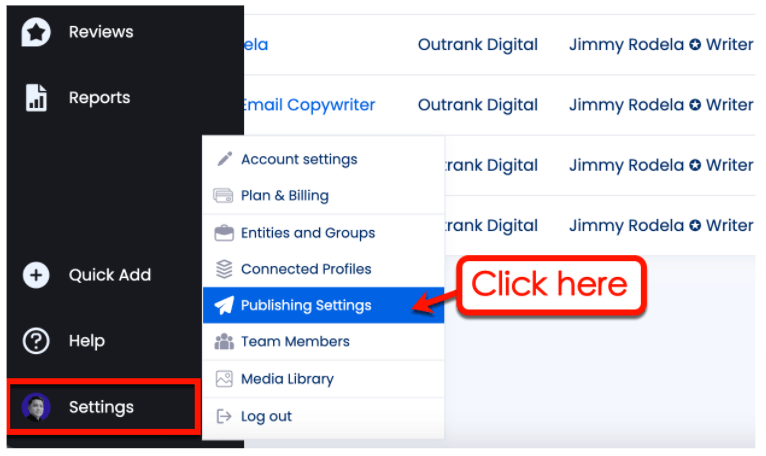 Under 'Publishing Queues,' choose your entity and select your LinkedIn company page.
Brought to you by
Try Vista Social for Free
A social media management platform that actually helps you grow with easy-to-use content planning, scheduling, engagement and analytics tools.
Get Started Now
You can find these options in the drop-down menus.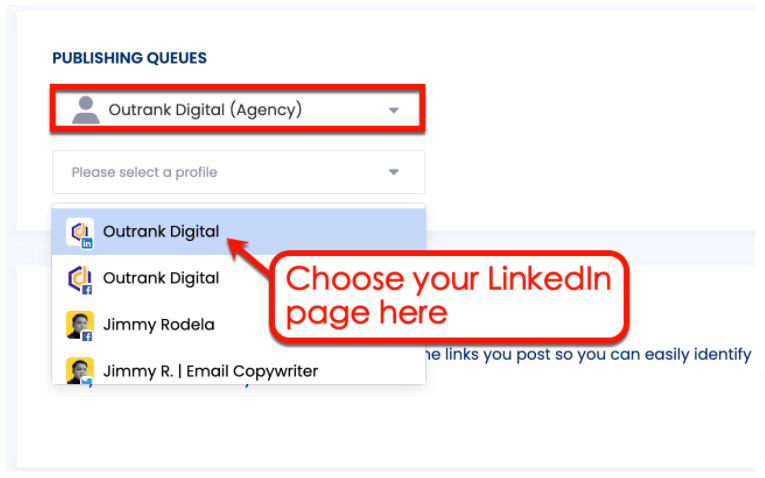 Finally, you can set up an automated posting schedule by adding time slots to the weekly calendar below.
Be sure to choose the best times to post on LinkedIn to maximize your content's visibility.

When that's done, every piece of content you publish via Vista Social can be queued in your posting schedule.
You can now publish in bulk without worrying about manually scheduling each post. Just keep producing quality posts that draw in leads — Vista Social will do the rest.
3. Join LinkedIn groups
Think about it, your potential leads, along with your competitors, are joining and participating LinkedIn groups.
So, why aren't you?
LinkedIn groups are where like-minded professionals share ideas, ask questions, and discuss related topics. They're also where some brands hope to find digital marketing service providers.
To look for LinkedIn groups, use the built-in search bar and click on 'Groups.'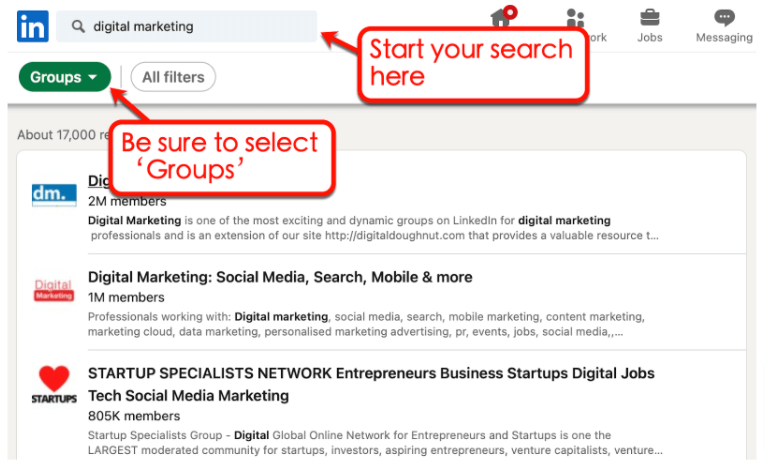 Feel free to join as many LinkedIn groups as you want as long as they're related to your industry. Once you're in, make your presence known through engagement techniques, such as:
Reacting positively to other users' posts
Answer questions completely and without promoting your brand
Whenever possible (and allowed), share content that can solve other users' problems
Connect with users who show interest in what your agency has to offer
4. Use LinkedIn's marketing solutions
If you have the budget, you can leverage LinkedIn's own suite of marketing tools to reach prospective clients.
Your options include diverse advertising tools like text ads, message ads, and video ads — aimed at your target audience.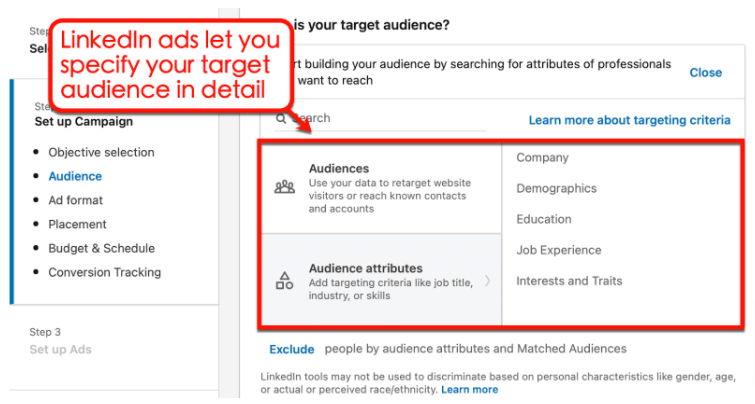 You can also create Showcase Pages to highlight specific areas of your business. For example, if you offer content marketing and LinkedIn marketing services, you can create separate showcase pages for both.
To create a Showcase Page, go to your company page and select 'Create a Showcase Page' under 'Admin tools.'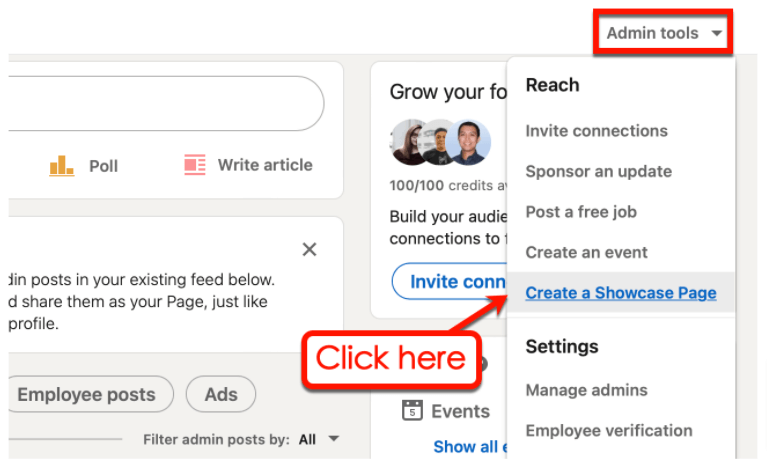 There are a few other noteworthy tools you can use to reach more potential clients on LinkedIn:
Product Pages
LinkedIn Events
LinkedIn Publishing
Sponsored Content
LinkedIn Lead Gen Forms
Conversion Tracking
5. Connect and track conversations with Vista Social
Lastly, you can leverage the most valuable asset LinkedIn has to offer agencies: connections.
Building connections on LinkedIn is rather straightforward. Simply use LinkedIn's search engine to find prospects and hit 'Connect.'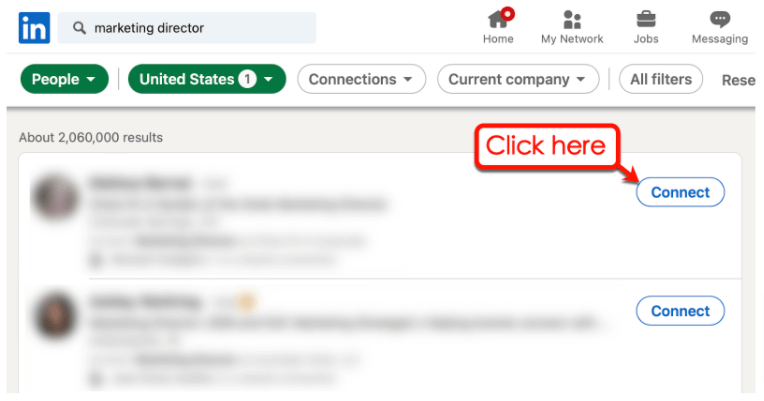 Cold connection requests may sound intimidating. But, on LinkedIn, their success rate is actually surprisingly high.
That's because, as professionals, a wider network benefits everybody.
The real challenge is the organic process of relationship building. After all, connections are meaningless if they don't create leads.
Some strategies you can use are:
Asking if they have questions about your industry
Congratulating them on work anniversaries
Reacting to and sharing their posts
Share valuable resources that can help their business
To streamline your relationship-building efforts, use Vista Social to consolidate all your social media conversations.
From the main menu, click 'Inbox' and make sure your LinkedIn page is selected.
Tips for sending LinkedIn cold connection requests
Follow these tips to maximize the success rate of cold LinkedIn connection requests:
Add personalized notes. Don't just send empty connection requests. For each invitation, be sure to write a personalized note that mentions a reason why you want to connect.
Congratulate them on their recent achievements. Most LinkedIn users provide loads of information about their professional history for the public to see. Use this to your advantage and turn their achievements into talking points in your invitation.
Send 'Thank you' messages. A great time to build rapport with leads is as soon as they accept your connection request. Craft a 'thank you' message with a brief introduction and get to know them on a personal level.
Don't be afraid to follow up. Sometimes, all it takes to pique your prospect's interest is to show persistence. Just keep your follow-up messages light and honest, without promoting anything from your agency.
Mind the invitation limit. Connection requests are free, but you can't just invite everybody. LinkedIn has a connection limit of 100 per week, so choose your prospects wisely.
Get more LinkedIn leads using Vista Social
Getting clients on LinkedIn is a tricky business, but it's proven to be one of the best ways to generate leads.
The good news is, you can simplify and streamline the process by using Vista Social.
Automating content sharing alone is a huge advantage since it frees up a ton of your time. Plus, managing all your conversations in one place makes it easier to hold deeper and more meaningful conversations with prospects. Watch Vista Social in action by creating a free account today.