Pinch yourself: Vista Social is now the best snapchat scheduling tool for direct publishing—and we're the first to do it!
But we didn't stop there— it's insanely easy to use. 🤩
We're pulling back the curtain on how you can schedule a full week of Snapchat Stories and Spotlights—plus, receive real-time analytics.
Vista Social continues to lead the industry in innovation, offering the most social network integrations for seamless cross-platform management.
Time to say hello to work-free evenings and weekends, while still crushing it on social!
Scheduling Snapchat Stories and Spotlights is now a no-brainer — sign up to Vista Social and keep your followers swiping for more! 🔥
Table of contents
Can You Schedule Snapchat Posts in Advance?
Yes, you can schedule Snapchat posts in advance with Vista Social, the best Snapchat scheduling tool!
We're thrilled to announce direct scheduling for Snapchat Stories and Spotlights—a feature you simply won't find anywhere else.
Plus, we offer deep-dive analytics to give you a clear view of your Snapchat campaigns, all accessible from your Vista Social dashboard.
Now, let's talk about why this matters in the bigger picture.
Remember Mark Zuckerberg's prophecy about the future of online communication? He mentioned that the world is shifting towards more intimate, small-group interactions.
Well, that's the essence of Snapchat, and Vista Social makes it easier than ever for brands to tap into this trend.
Vista Social is built for the rapid pace of change in both social networks and consumer behavior. With us, you get more features, more integrations, and more value than any other platform.
Choose Vista Social, and you're not just keeping up; you're leading the pack. 👀
How to Schedule Snapchats and Spotlights in Vista Social
Scheduling your Snapchats and Spotlights with Vista Social can be done in a few easy steps. Here's how:
Step #1: Open The Publisher in Vista Social
Open the dashboard and select Create, then New Post to open the publishing window. Make sure that Snapchat is one of the selected on the list of social profiles.
Psst…Vista Social integrates with tons of social media networks! Check out our full list of integrations and get started today. 🔥
Step #2: Choose Media for Snapchat or Spotlight
Upload or import content from your Media Library to the Publisher.
Pro Tip: We recommend an aspect ratio of 9:16 (similar to a mobile phone screen) to avoid cropping or blank spaces.
Step #3: Schedule Your Snapchat or Spotlight
Select the date and time you'd like to post your Snapchat or Spotlight. Or directly publish your post at that time.
And voila, you can now schedule Snapchats and Spotlights in Vista Social!
When it's time to post, your Snapchat or Spotlight will be automatically published; no late-night logins or notifications required.
Ready to level up your Snapchat strategy? Schedule your Snapchats and Spotlights in Vista Social today at their optimal time. 🤩
Are There Analytics for Snapchat?
Yes, analytics for Snapchat are totally a thing, and with Vista Social, you get the full scoop. That's why we're the best Snapchat scheduling tool!
From views and unique interactions to screenshot counts and swipe-ups, we've got you covered. Here's what you can expect on your dashboard:
Snapchat Content Engagement Metric:
Views: Number of times an asset has been viewed
Story Views: Views for the Story container
Saved Story Views: Views for Saved Stories
Spotlight Views: Views for Spotlight container
Lens Views: Views for lens
Snapchat User Behavior Metrics:
Story Uniques: Unique users who have viewed a story
Saved Story Uniques: Unique users who have viewed a saved story
Spotlight Uniques: Unique users who have viewed a spotlight asset
Lens Uniques: Unique users who have viewed a lens asset
Unique Sessions: Number of unique sessions an asset has been engaged in
Brought to you by
Try Vista Social for Free
A social media management platform that actually helps you grow with easy-to-use content planning, scheduling, engagement and analytics tools.
Get Started Now
Snapchat Time Metrics:
Story View Time: Milliseconds a story has been viewed
Saved Story View Time: Milliseconds a saved story has been viewed
Spotlight View Time: Milliseconds a spotlight asset has been viewed
Lens View Time: Milliseconds a lens asset has been viewed
Snapchat Interactions Metrics:
Replies: Number of replies to a snap or story
Screenshots: Number of screenshots of a snap
Swipe Ups: Number of swipe ups on an asset
Swipe Downs: Number of swipe downs on an asset
Shares: Number of times an asset has been shared
Snapchat Subscriptions and Follows Metrics:
Story Subscribes: Number of subscribe events for a story
Saved Story Subscribes: Number of subscribe events for a saved story
Lens Subscribes: Number of subscribe events for a lens asset
Plus, with Vista Social you can up your game by benchmarking against your competitors.
Want to wow your clients? Create white-labeled reports that reflect your brand's sophistication.
And, you can set and forget with scheduled reports delivered straight to your inbox or your clients'.
It's like having your very own analytics wizard, available 24/7! 🪄
What's the Ideal Posting Frequency on Snapchat?
For 2023, the ideal posting frequency on Snapchat sits at 4 to 7 snaps per day, best fired off between 10 p.m. and 1 a.m.
"Our data reveals that Snapchat's audience is predominantly active late into the night, making it the prime time for businesses to post," states our Head of Social, Alexus Brittain.
It's a seven-day affair on this platform, as users engage consistently throughout the week. Keep in mind, however, that you're primarily reaching an 18-to-24-year-old crowd during these hours.
If you want to cash-in on those early time slots without sacrificing your REM cycle, scheduling your Snapchat content is the way to go. Create a free Vista Social account to get started.
Can You Repurpose Content Across Platforms?
Yes, and with less hassle than you'd think.
Snapchat's specs are strikingly similar to the 9:16 ratio found in Reels and TikToks. This makes repurposing your visual content a breeze.
When you use Vista Social's cross-platform media customization, you're no longer confined to a one-size-fits-all approach.
Whether you're batch-processing media across multiple networks or tailoring each post, we've got you covered.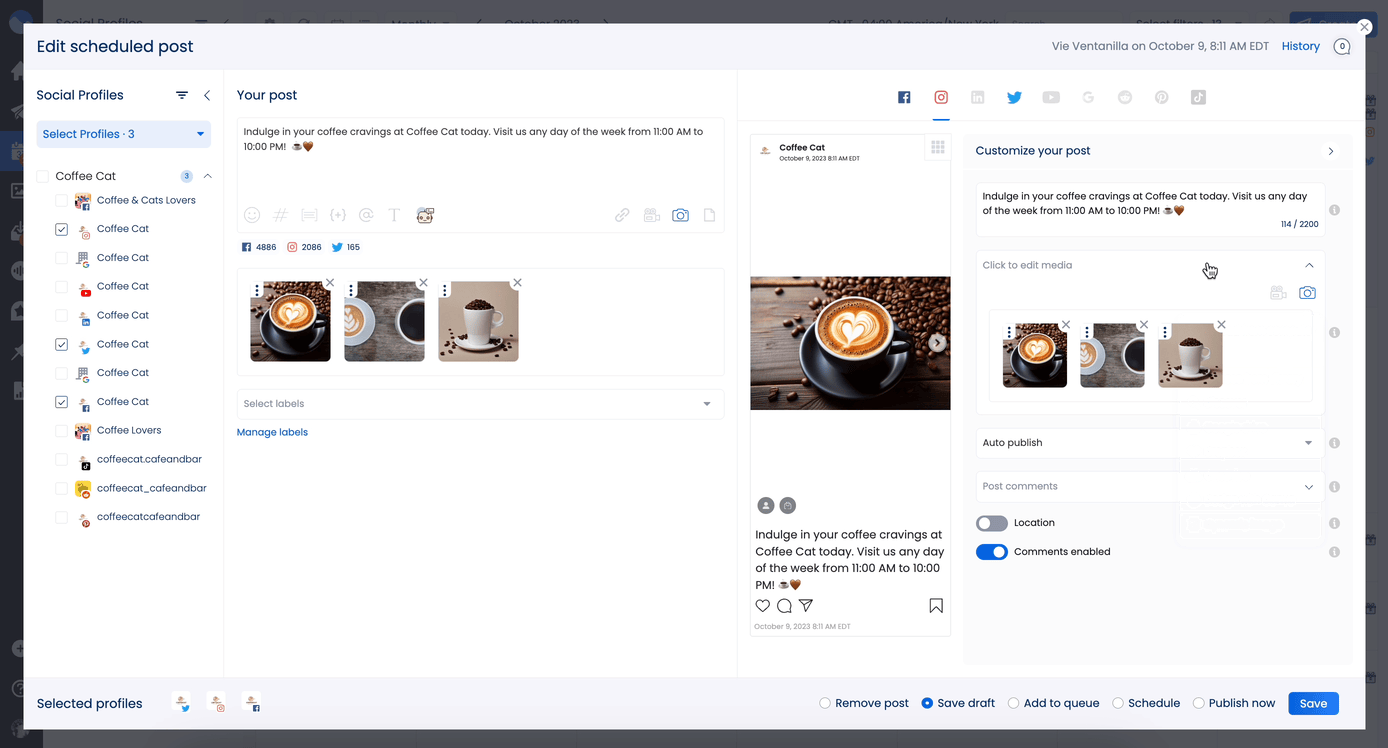 The result? Your brand message not only fits each platform's unique format but also resonates with its specific audience for maximum impact.
Forget the hassle; with Vista Social, it's about streamlined efficiency and powerful engagement.
Speaking of media customizations, Vista Social is the go-to platform for brands aiming to tailor their content across various social networks. Book a demo now! 👀
Is Snapchat Suitable for B2B Brands?
Absolutely!
Audiences are drifting from big social networks, opting for more personalized experiences. It's a mass exodus caused by ad-overload and brand-first algorithms.
The perk? Snapchat shines in this space, providing those bite-sized, intimate interactions people now crave.
Take IBM, for instance. They use Snapchat to give exclusive tours and behind-the-scenes looks at events. Even better, they sync it with a Twitter campaign to really pump up their reach.
Then there's HubSpot. A whole different ballgame. They're using Snapchat as a recruitment channel, allowing a deeper dive into company culture than any interview could offer.
Bottom line: If you're a B2B brand looking for a personal touch, Snapchat's more than just a viable platform—it's a smart move.
With Vista Social's Snapchat management tools, you can post content at your personal best time to post. Get started and create an account today!