Twitter is the leading online newspaper of the 21st century. Millions of daily tweets and retweets are news worldwide from all spheres of life. The message's author can be anyone, from a schoolboy to the president. On Twitter, the user can find out about everything.
But, what about Twitter and business? Today we all understand that ignoring social networks while developing your business is like missing out on half of the profits. It is evident – no one will know about you. Has Twitter already become part of your social media marketing strategy? If not, it is a big mistake. With 199 million monetizable daily active users, Twitter is an excellent marketing tool that allows you to promote your business in real-time.
This post will list five key benefits of Twitter for your business. You will get a better idea of why Twitter is so important for your brand and how you can use it to its full extent.
Twitter is a Consumer Insights Engine
The information flow is moving at a monstrous speed, and this speed is increasing every day. As a result, there is more and more content, information is becoming more accessible, and it becomes pretty challenging for people to notice a separate company or brand.
The way out is at the junction of marketing and technology: it is an opportunity to track and analyze the key topics discussed in the information field, assess their viral potential, and predict the new trends.
Analyzing trends, consumers' moods, and mindsets allows you to focus your energy, time, and resources on actions that bring maximum benefit. And Twitter is that platform that helps you research numerous conversions and find valuable customer insights.
One of the greatest strengths of Twitter is the functionality that allows you to track trends. With a simple click, you can get a list of current topics and hashtags. Moreover, the Twitter Trending option is customizable — it can be changed and customized to your liking. If, for example, you are promoting a business to a specific region, you can set up a trending feed specifically for this region. This way, you will always know what is relevant to your target audience.
Growing Awareness and Company's Personality
A Twitter account is an integral part of the image that you form online with the help of social marketing. You communicate with your followers and share different information. All this creates an image, strengthens the brand's reputation, and works with objections in the network. It is the acquisition of customer loyalty and a contribution to the future.
In a world where consumers rely on extensive research and the opinions of others before making a purchase, brand awareness is everything. And Twitter allows you to create one. Moreover, once consumers become attached to your brand, they are more likely to make repeat purchases, bridging the gap between trust and loyalty.
When tweeting, stick to your brand personality and brand's tone of voice to sound organic. The tone of your Tweets is one of the tools for building relationships with the audience, building trust, and emotional connection. Business values are the basis of the rules of communication and the manner of communication. For example, if a brand calls customer care its value, it cannot ignore complaints or start arguing with a customer online. Its manner of communication should be friendly and open, with no distance.
Tommy Hilfiger brand is known as a global apparel and retail company that stands for diversity and sustainability. The brand partnered with the learning platform FutureLearn to spread knowledge about community building, LGBTQ, and more. They keep talking about their new collections and take a stand on social issues.
Providing Customer Support
Today, practically no companies would deny the importance of working with clients. You do not have to be a great marketing guru to predict that the deep involvement of modern users in social media will continue to have a significant impact on the service industry. Soon brands will need to provide full-fledged support to customers (or at least develop a clear policy for processing their feedback) through non-traditional channels.
Twitter already makes it easy for customers to contact brands for help or provide feedback. And brands should consider the platform an excellent tool to collect feedback and provide customer support. People expect good service and quick resolution of their issues. If the company meets customers' expectations, then the probability of becoming repeat customers increases.
A good customer support service ensures a positive discussion on the web. In turn, this leads to increased sales and more attention to the company and its service. Twitter is one of the most suitable viral platforms for this: here, happy customers can share their positive experience with the whole world in a matter of seconds – exactly when they are satisfied with the solution of the problem.
Brought to you by
Try Vista Social for Free
A social media management platform that actually helps you grow with easy-to-use content planning, scheduling, engagement and analytics tools.
Get Started Now
If the company responds to every message, comment, or mention of the brand in time, it will improve the perception of your brand, increase customer satisfaction, and, as a result, increase sales.
Building Your Brand Community
The main idea of the community is the communication of people, the exchange of helpful information, a sense of belonging to something more significant, the creation of a common lifestyle. Creating and cultivating such a community is an opportunity for a brand to convey its values and ideas to the consumer and get a loyal audience.
Thanks to Twitter, it became possible to combine blogging, two-way communication, and rapid dissemination of the necessary information. As a result, you can engage with your audience and bring people together around a common interest or cause.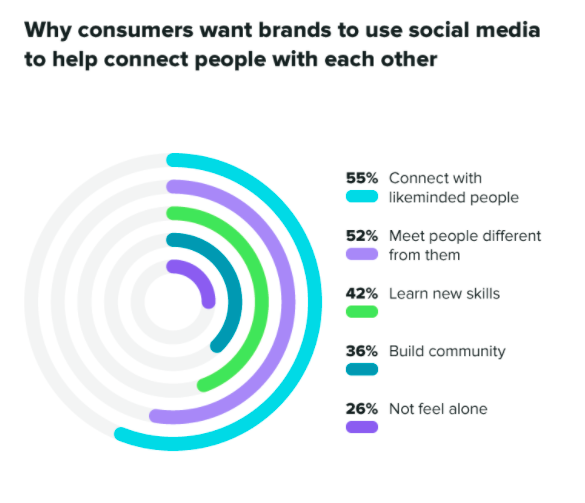 Uniting users around a product can become the most advantageous promotion concept for a business — it does not require a large budget and forms an ever-expanding circle of loyal customers. If you correctly convey your ideas and goals to the audience, then grateful users will do almost more to promote your business than all advertising altogether. In addition, some buyers can later turn into brand advocates — they will advise your products to friends and tag you on social networks.
Moreover, if you find brands close to your values and philosophy, you can "exchange" audiences. This is not an exchange in the literal sense of the word. Each brand acquires new loyal users, but old customers still do not leave the brand.
Driving Traffic to Your Website
Twitter is a gold mine for traffic with its multi-million audience if you have the right tools and strategies. The platform has been around for many years and is still in demand among users and marketers. That is why a hyped account on Twitter is a big plus for those who want to increase the traffic to their website and increase sales.
The combination of content planning, interaction with other users, and profile optimization is the key to increasing the audience. Set yourself up for success by filling out a biography and allowing people to get a clear idea of what you are advertising. Finally, remember that it is essential not only to attract as many subscribers as possible but also to motivate them to act for the benefit of your profile.
Keys to Your Twitter Marketing Success
Below we have listed some tips to get your Twitter marketing to the next level. Stick to:
Consistency. Since Twitter is very dynamic, you need to monitor the course of events constantly. Most followers won't see the tweets when you post them for the first time. This means that you need to use Twitter several times during the day to increase visibility. Avoid long periods of inactivity so that the profile is constantly updated.
Visual design. After creating a corporate channel, you need to take care of its design accordingly. For the background, it makes sense to take branded colors; this will help to stand out from the general mass and preserve individuality. Place a company logo or an iconic illustration. Keep in mind that readers will only see a thumbnail of the avatar. It is also possible to post pictures on Twitter with promotional offers or data on popular services. Do not forget about contacts so the users can easily reach your company.
Planning. Use deferred posting for social networks to schedule tweets for a specific time. This will allow you to share information throughout the day. Content marketing is based on the systematic, consistent distribution of materials. And planning is the basis of this strategy.
Communication. Twitter is about communication. Reply to other people and retweet as often as possible. Active communication attracts readers and subscribers. The more active the position – the faster you can pump the channel up.
Personality and team. It makes sense to introduce the employees who run the channel; readers should see who they are and how they look. Post a photo and a short biography. Entertain the audience, communicate and speak on a personal level.
Keep your finger on the pulse of events. Twitter is fast and even fussy, but that is the reality. You need to be aware of the world's events and know trending topics and popular hashtags. You will have to spend time online every day, view and discuss issues, think about ways to communicate, even if the audience is not related to the business industry.
Promote the channel. The goal is to demonstrate what your business is like. Fill out the profile, including the biography and description of the channel, link to the official website.
Create guest posts. An excellent way to increase the audience is by writing guest articles on other sites. Find blogs in your industry with an active Twitter subscription, contact them, and try to post at least one guest article per month.
Conclusion
Now you have a better idea of Twitter as an effective social media marketing tool for your business. Of course, you can build a successful business without using the popular microblogging service. Nevertheless, it performs pretty essential functions in the field of Internet marketing. Twitter serves as a constant source of new customers, helps to increase the number of visitors to the site, provides an opportunity to open your new and little-known brand to a broad audience, and then maintain regular communication with it.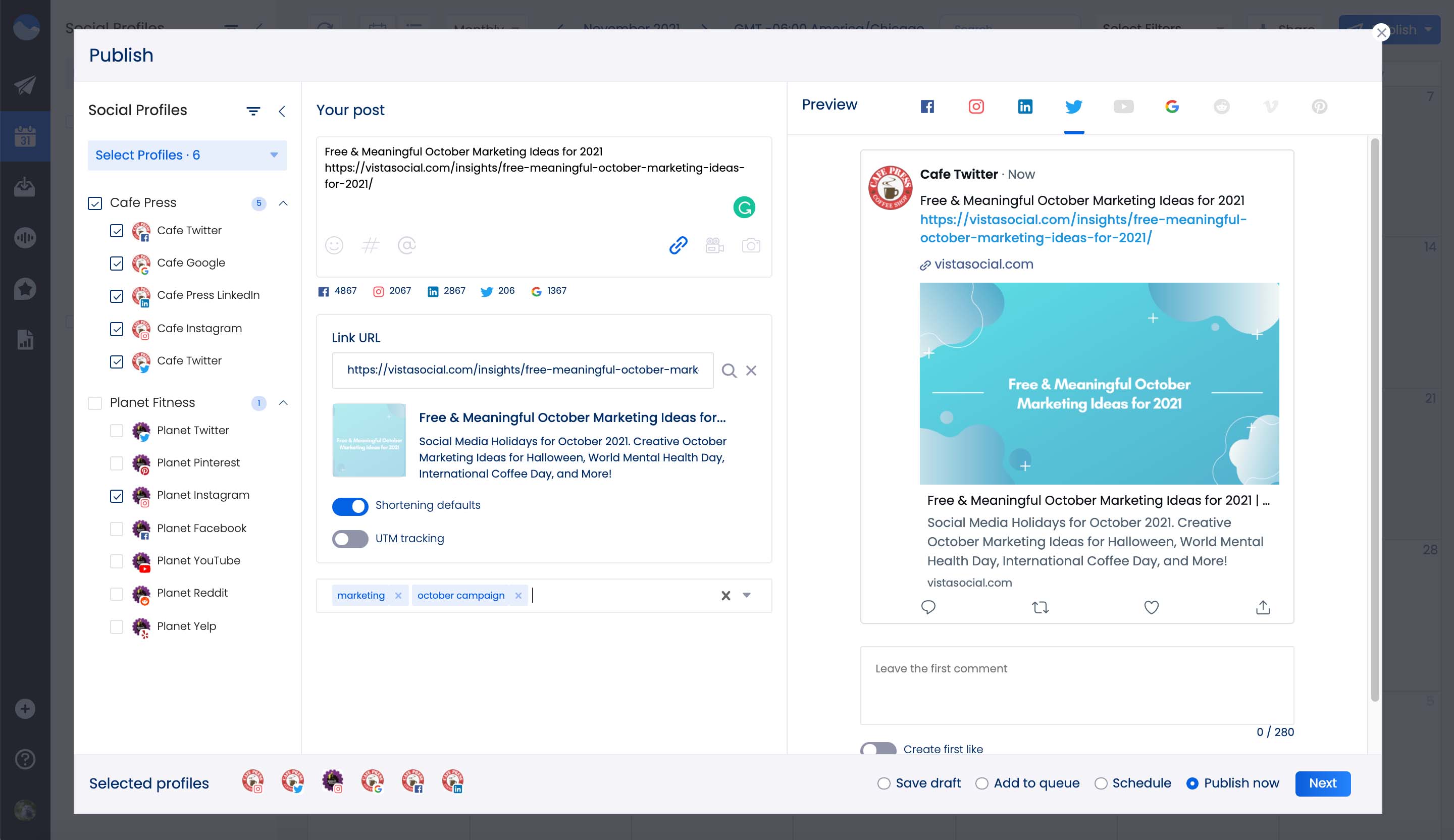 Thanks to the right social media management tool, you will save time and effectively manage your social media account. Vista Social is your right choice to dynamically engage your audience with a robust set of tools to manage your Twitter profiles and Messenger conversations. Vista Social's Twitter integration includes publishing, reputation, and response management tools for Pages and Messenger, as well as rich analytics. Plan content, engage your audience, collaborate as a team, and measure efforts from a single platform. Sign up for free to access the powerful social media management tool.