A business account in social networks has a goal: to capture the audience, increase brand awareness, bring customers to the website, and complete an action (i.e. buying a product, sign-up for a trial). Properly scheduling social media content can increase the number of subscribers, their activity, sales growth, and brand loyalty. Agency Vista has collected ten major mistakes to avoid in scheduling social media content.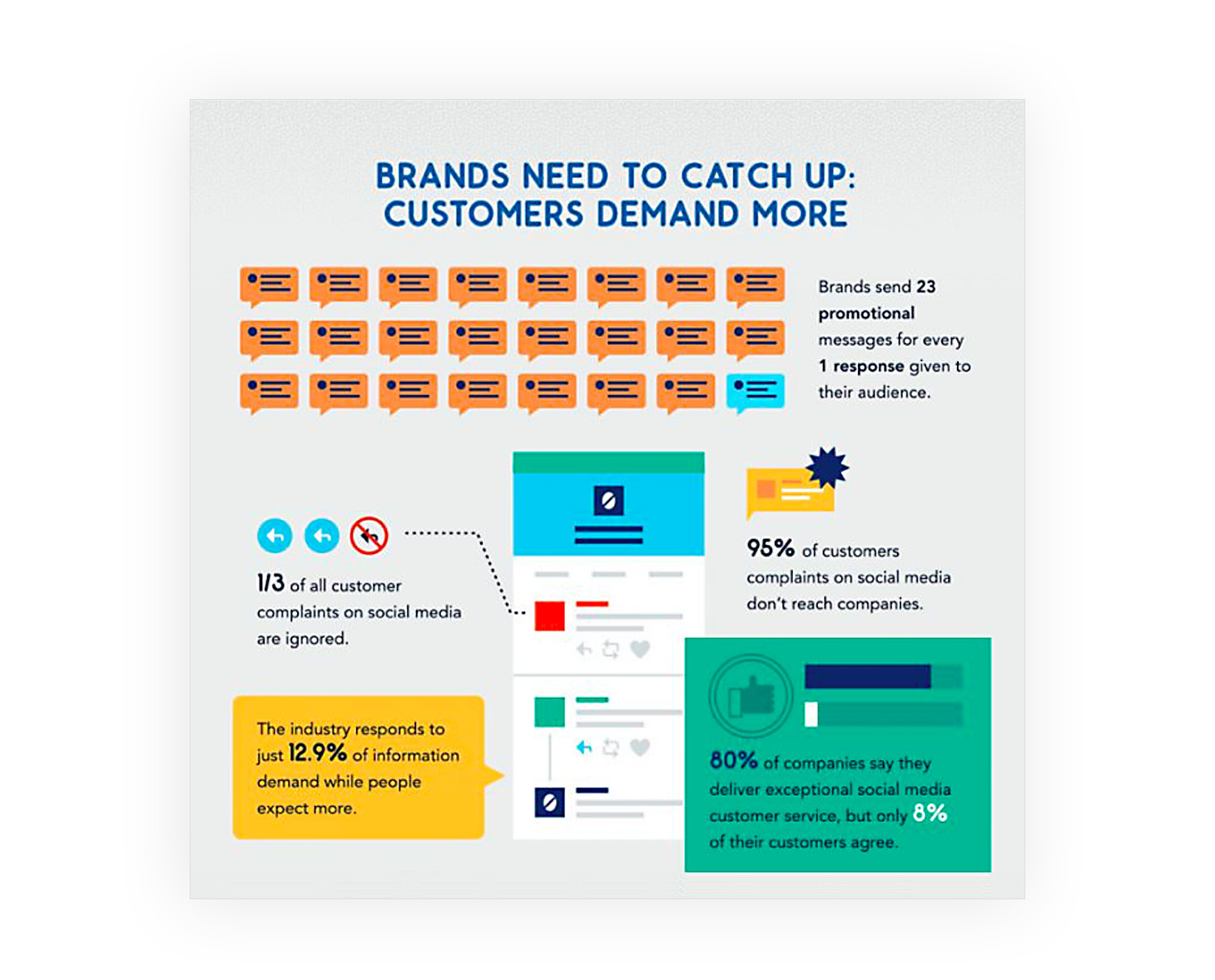 Automation of the social media posting process is no longer just a possibility but an urgent need, especially when the content is added with enviable regularity. Correctly scheduling social media content allows you to save time and flexibly plan your work, and build the necessary sequence of posts. When focusing on developing a permanent presence on the most popular social media platforms, it is essential to learn from those mistakes that can cost you reach and engagement.
Below we have listed the ten most common scheduling social media content blunders you should be aware of. Let's go.
Table of contents
10 Big Mistakes to Avoid in Scheduling Social Media Content
1. Publishing the same content on all social media platforms
Before creating a post, you need to analyze how your target audience interacts on each social network and the content they may be looking to engage with. Each social network has its own specifics: different audience, post format, best practices and text style.
For example, LinkedIn is characterized by more mature and solvent users. With this audience, it is best to communicate formally and in a businesslike way. Instagram is based on high-quality photos and videos with short descriptions and a large number of emojis.
Why would a user be subscribed to your all social media accounts if the content is the same? If you post the same content everywhere, without optimizing them for each social network, there is a high probability that you will hinder your post's engagement levels. Discover what to post on each social channel to stand out.
2. Focusing on quantity over quality
Our brain is addicted to information. Therefore, one of the principles of content marketing is regularity. The quality of posts must be maintained at the proper level. But, posting high-quality content five times a day is rather challenging.
One of the strategies suggests abandoning frequent posts in favor of super-quality content with the effect of expertise or "wow." If this is an article — then it is as detailed and insightful as possible. If it is a company or feature update, then it should include exclusive and up-to-date information. No doubt, creating such content requires significant resources, and you need to decide if you focus on quality or quantity.
The goal of the content published is to help the audience find answers to their questions — to meet their needs, to numb their pain, and to give solutions to their problems. If your followers do not find what they are looking for, they will just go somewhere else.
3. Not using user-generated content
User-generated content (UGC) is any content that is created by the brand's audience. This content can be anything from reviews and blog comments to photos and videos. The company can use it for its own purposes – on the website or on social networks to promote the brand, and often UGC is much more effective than regular content as it fosters credibility from real customers. More than 86% of businesses are utilizing UGC as part of their marketing strategy. Moreover, Buffer confirmed that UGC grew its Instagram account by 500% within six months.
The company benefits from it by getting a fantastic amount of fresh ideas and unique content, which could take many sleepless nights to generate. In addition, most often, user content does not require serious financial investments.
Unlike standard advertising campaigns that focus on sales, campaigns that use user-generated content are based on honesty and sincerity. In any case, that is the impression they make on people.
4. Ignoring the audience's questions on social media
It is not enough to choose and organize different communication methods. It is necessary to provide high-quality communication through them, forming the loyalty and trust of your audience. 70% of buying experiences are based on how the customer feels they are being treated by that company. Communication with the target audience is one of the most important criteria for business success; if not on par with the quality of the product produced, then definitely somewhere nearby.
79% of customers expect a response to their social media posts and questions within 24 hours. By no means all the brands reply to the audience's questions and feedback within this time frame. The client remains unheard, and his negative experience spills out; thus, you lose not just one client, you lose your image.
Do not make your customers or potential customers wait long and get annoyed — answer quickly and to the point. Every mistake in communication can affect a person's decision to become your client or, conversely, a competitor's client.
5. Failing to optimize your social media images
Brought to you by
Try Vista Social for Free
A social media management platform that actually helps you grow with easy-to-use content planning, scheduling, engagement and analytics tools.
Get Started Now
You probably noticed that the quality and size of images uploaded to social networks do not always meet expectations — the quality deteriorates, the size changes, and the photos are cropped. It is essential to optimize your social media images for each platform you are using. If you are promoting a company or personal brand on social networks, your images on all platforms should look appropriate and convey the idea.
The main rule for all creatives is high-quality images. After all, it is the image that the users first pay attention to, and if it is blurred or stretched, they will most likely miss the post entirely. When creating images for social networks, you need to consider many nuances. It is enough to follow the basic design rules to get high-quality images: harmoniously combine colors and fonts, adhere to a single style, and not overload the image with text.
6. Not uploading videos on social media channels
Looking at the rapidly growing importance and popularity of video, it is safe to say that video content is clearly worth the investment. Its viral potential is huge, and therefore, it is easier for companies to use videos to encourage users to talk about themselves and, thus, increase brand awareness. There are many ways to promote your business with videos – from funny video stories to live training videos on social media platforms.
There are two options for video posts: upload the original file to Facebook directly from your computer or post a link to YouTube. Keep in mind that native videos on Facebook have ten times higher reach compared to YouTube links. A native video is able to grab the attention of different target audiences and be effective for almost any brand.
7. Overdoing your social media automation efforts
Automation is addictive. As soon as we realize the effectiveness of this activity, we want to automate everything down to the smallest action. The fact that you can post a lot does not mean that you should. Increase your posting frequency slowly, and play with different timing.
While generally the main concept of the content can be planned for a long time in advance, you should leave room for urgent or spontaneous updates and change your course if necessary. Marketers need to be adaptable based on what's trending in their niche.
Do not automate communication with customers since the human factor and individual approach are the most important communication components in social networks. If your client is faced with a problem and feels dissatisfied, an automatic and inappropriate response will aggravate the situation. Find a balance between what can really be automated and what cannot. Work according to the plan, but remain flexible and curious.
8. Forgetting to review social media results
Social media metrics are digital performance indicators that can be measured and monitored to make sure you work in the right direction. Depending on the management level, you can monitor different metrics.
For a digital marketer, it is important to monitor conversions and the engagement rate (ER). For the business owner, the ROI (Return on investment) or ROMI (Return on marketing investment) metrics are more interesting.
The growth of sales, the number of calls, and the company's profitability are the best indicators that the business is developing on the right path. While automating your social media marketing, do not forget to keep an eye on the results. Evaluating the work only by one indicator is subjective and not informative, and it is very labor-intensive for all metrics. Determine the current metrics for your brand and monitor them.
9. Being on all social media channels
People stopped following and reposting everything. In each social network, you will have to fight a real battle for the subscriber. Promoting on all social networks at once is an expensive option. At first, it is better to focus your attention on several sites, where the response from the audience will be of the highest quality. Leave the channels that give more engagement or more social traffic to your website.
Of course, you can also go to 5 social networks at once. But only if you understand that you have the resources to create the engaging content, and your audience is present and potentially ready to interact with you on all these platforms. Analyze the audience of each social media platform and compare the prospects with the company's goals.
10. Using selling content only
Some companies try to sell something, shout about their exclusivity, and advertise the brand in every post. This is disguised as helpful posts and articles, but this behavior is not content marketing but ordinary advertising. Nearly 3 out of every four users (74%) think there are too many ads in social media, so it is not the right decision to use selling content only.
No one is interested in reading ads regularly, so it is impossible to collect grateful followers in this way. You will have to spend money on targeted and contextual advertising of your posts to somehow attract attention to them.
Keep a balance – advertise yourself, but do not forget about the benefits for the reader. Information about products and services can be added to at least every post, but the publication itself should be useful out of touch with advertising.
Conclusion
With users spending a few hours a day in their accounts, groups, and communities — social media has become an important channel to find potential customers and improve your brand image. While the "set it and forget it" strategy makes content creation much easier, businesses still keep making mistakes that prevent growth and development. Scheduling social media content is an excellent solution, but it needs to be done thoughtfully. Make sure to avoid the mistakes discussed above to build an effective strategy for promoting the brand quickly and efficiently.