There are currently over 4 billion social media users worldwide and this number is growing, according to the industry reporting site, Datareportal. This is a huge market and one that any business would want to take advantage of. The potential to access this market lies in your ability to break through the noise and capture your segment with great content. It's a complex game, but the right person can do this with ease.
Factors to consider
The Situation
You need to take into account the industry you are in, the market you are targeting, your brand personality and your objectives for your business, when considering who to hire as your social media manager. The person must understand your industry, gel with your audience, suit your brand and be able to deliver on objectives.
What they do and qualities of a great social media manager
The Person
A social media manager (SMM) is responsible for managing social media accounts. Their main role is to post content, listen to the audience and respond in the best possible way. They have to ensure the social media strategy is aligned with the overall marketing strategy and achieves objectives. They have to curate and nurture the brand in the public space.

As part of a large organization the SMM may manage a team of content creators, data analysts, paid specialists and more.
In a smaller organization there may only be one person in the social media team, and so they will have to wear all hats or outsource some aspects, like content creation for example. Starting out small is nothing to be ashamed of, this great article tells the story of 7 thriving businesses that started off small and grew through social media.

One of the qualities a SMM must have is the ability to be responsive. Listening to what the audience is saying is very important as things can get out of hand very quickly and so must be well managed. Vista Social provides great social media listening features that can monitor when your business or industry is mentioned on social networks and alert you. This would enable your SMM to respond timeously and ensure your brand's reputation is kept intact.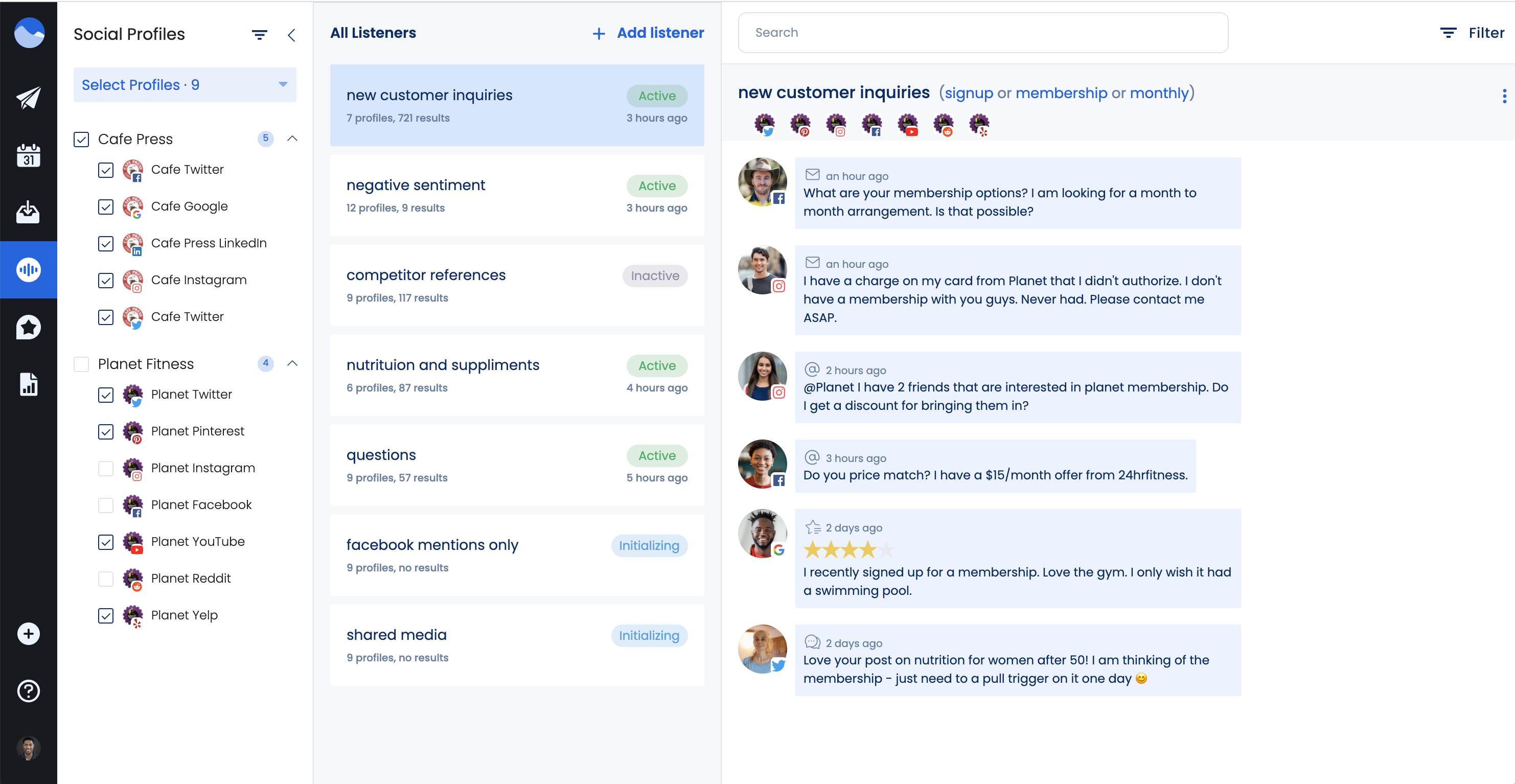 Why hire a social media manager?
The Reason
Brought to you by
Try Vista Social for Free
A social media management platform that actually helps you grow with easy-to-use content planning, scheduling, engagement and analytics tools.
Get Started Now
If you really want to up your socials game you need a professional to help you. As with anything, knowledge and experience prevails and you want these on your side. A great SMM knows all the tricks of the trade and can show you them. If you are spending money on your campaigns you want to get the best ROI you can.
You may be in a situation where you are posting and running paid ads but you are not getting a response. You may be getting a small response but not as much as you would like. A good SMM can improve engagement and can identify where you are going wrong.
You may be totally new to the game, a great idea is to get someone with the knowledge to help from the start. You wouldn't want to jeopardise all the effort you have put in so far.
You may want growth for your business. Making sure you grow in the right way can make a big difference and some expert advice could save costs in the longer term.
How to hire a SMM
The Process
Determine your objectives: Your objectives could be to increase your number of followers, increase engagement for each post, improve content, improve your response time to messages or increase web traffic. Set targets in relation to your spend and efforts. During the interview process you can ask what each candidate's strengths are and if they align with your objectives. Make sure they do. Make sure they can get results from their campaigns and that your objectives will be met.

Set out duties and responsibilities.

Decide what tasks your SMM will be responsible for and how you would like your accounts to be managed. Draft a 'Roles and Responsibilities' document to ensure clarity at the time of hiring. You can also involve the candidate in this process at a later stage. They are the experts and their input could be beneficial.

Search for the perfect SMM

You can find a list of candidates on the socials themselves or through an employment agent. Agency Vista is an amazing site for finding marketing related services, it makes it so easy to find agencies based on businesses needs. LinkedIn is great for finding candidates, or any other social media platform. Upwork is great for sourcing talent. Hold the interview and make sure your new SMM aligns with your brand personality and has the knowledge you are looking for.
A few of the qualities you are looking for are:
Responsiveness: Be able to respond to your audiences timeously.
Analytical thinking: Your SMM must be able to read reports and understand what they mean.
Strategic thinking: They must be able to take information from reports, translate them into problems/opportunities and adjust the social media strategy accordingly. Are you going in the wrong direction with your new content approach? Is it working well?
Flexibility: Your SMM must be able to deal with change. Social Media is fast paced and you have to keep up.
Vista Social provides great reporting tools to help with analytics and reporting. This is a vital part of your social media strategy and the right help can make all the difference. You need proof that your campaigns are working and you need to see the ROI you were aiming for when you developed your budget.