Social media is now almost a part of everything we do. People use it to share their experiences. Every minute, someone tweet or posts about what they are eating or doing, how cut their dog is, and so much more.

People are always talking about something, and brands are not left out. And they could be saying a lot of different things about brands, good or bad.

This is why social media monitoring is somewhat important for brands. You need to stay on top of what people are saying about you, and that can guide you on what you should be doing on social media or with your brand.

Should brands engage in social media monitoring, and what does it entail anyway? Let's find out why you need to do that as a brand.
What Is Social Media Monitoring?
Social media monitoring works like regular monitoring. That is, you keep an eye on anything and everything that relates to your brand on social media.

More than that, it also entails you responding to your brand's mentions on social media. You need to monitor what people are saying, from reviews, service complaints, product questions, tags, and more.

Sometimes, people don't tag you on their posts, but they just mention your brand name and hint at you. These kinds of comments probably won't show on your timeline; however, you need to pay attention to them so you can respond to them.

Social media monitoring is different from listening. With listening, you only watch out for what customers are saying; however, you pay attention to responding to them when monitoring.

Practicing social media monitoring will help improve your brand strategy and provide huge insights into what you should be doing. And this brings us to why you need to engage in social media monitoring and how it can help your brand.

Benefits of Social Media Monitoring
Brands can benefit a lot from social media monitoring, making you see why you should be doing it. You should engage in it to:

Discover your brand popularity
The first reason and benefit of monitoring your social media are to discover how famous your brand is. For known brands, this should probably not be an issue.

Everyone has established that they are popular. Microsoft or Facebook, for instance, is famous, and you don't need anyone introducing them to you for you to know them or what they do.

Not only that, you would have used the products at different points, and you already have experience with the brand. However, for new and upcoming brands, you need to monitor your popularity on social media.

This does not established brands out of the equation. They still need to monitor their popularity and know if people still know them or talk about them like they used to. In addition, they need to follow their positive and negative review.

When you monitor social media, you will know how many people are talking about you or your product. Also, you will find out how many people are using your brand's hashtags, tagging you on their posts, or sharing their experiences with your brand.

This will help you to better serve your customers or leads.

Learn customers' feelings and perception
Customers' perceptions about a brand are very important. They either make or mar a business. If a customer says they have the best experience with your brand or your customer service is top-notch, it influences others' perceptions.

Of course, no brand wants a negative narrative around their brands, and you can avoid that through social media monitoring. So listening is not enough, but you have to monitor and turn the narrative around to what you want your customers or prospects to perceive about you.

In addition, you will get to learn about your brand's reputation among users. Then, you can examine your brand's reputation and build up a strategy to improve your customer's experience and your services.

Therefore, you need to note the keywords customers use on social media when talking about your brand. Then, see if it resonates with your online marketing activities or improves your brand's personality.

Your aim for social media monitoring should be about learning about their feelings and perceptions and improving them.

Learn customers' interaction with your brand
It is not enough that you have a brand or online presence. Your customers are an essential part of your business.

With social media monitoring, you will learn and monitor your customers' or prospects' interaction with your brand online. For example, how many people commented on your posts in a day?

Are they happy with your products? Are your marketing campaigns performing well? All these and others are some of the things you want to know about.

With monitoring, you will get to know which of your campaigns are performing better. You will know which posts get more engagements, shares, likes, or comments.

That way, you can tailor your content calendar or future social media campaigns to what you know will interest your customers. As a result, your online activities will be successful.

Furthermore, you will be able to manage crises more when you monitor your social media. For example, when you see negative interactions about your brand, you can be quick and proactive in responding to them and changing the narrative to favor you.

This will help guard your online reputation and improve customers' interactions with your brand.

Stay ahead of the competition
Competitors are part of the business world, online and offline, and you cannot afford to be lagging on social media when your competitors are doing a lot. However, social media monitoring will help you keep up with the competition and help you stay ahead of them.

You can monitor your competitors' online activities to know what works for them and where they are lagging. Furthermore, you get to learn about the influencers promoting their brands online.

That way, you can research and find industry influencers that can help promote your brand online. Therefore, if you want to be above your competitors on social media, then you need to engage in social media monitoring.

It will help you improve your social media marketing plan and strategy and meet your customers' needs online.
Improve customer service
Your customers are important, and for online platforms where information spreads quickly or can be permanent, you should not joke with social media monitoring. If you neglect your customers, they will move on to a brand that cares about them.

It gets frustrating when customers have to wait for hours before they get a response to their complaints via social media. People are more likely to return to a brand if they have a good experience with the brand.

Brought to you by
Try Vista Social for Free
A social media management platform that actually helps you grow with easy-to-use content planning, scheduling, engagement and analytics tools.
Get Started Now
You should not leave your customers' queries unattended to whether for a long period or never. This may form a negative brand perception in their mind, and they may spread negative comments about your brand online.

Therefore, you need to monitor your mentions, hashtags and be on the lookout. Sometimes, they may forget to tag you on their posts, but they still expect a response nonetheless.

For example, on Twitter and Instagram, you can track customers' engagements or queries using hashtags or mentions to note posts talking about you. You should also not neglect your messages, no matter how many they could be.

If you are a small business and doing that is a bit overwhelming for you, you can hire someone who will be responsible for social media monitoring. That way, you will not miss out on engaging your customers, and you can improve your customer service.
Generate new leads
Another benefit of social media monitoring and why doing that should be non-negotiable is that you can generate new leads for your business. People are always searching for different things on social media.

They may not necessarily know your brand, but they may need your service, and when you track keywords on social media, you can direct them to your brand. So how do you do that?

First, you can monitor your brand keywords online. Check tweets, posts, or tags that mention your brand in them, including misspelled brand names.

Then, you can track industry buzzwords on social media. For example, if you run a skincare brand, you may want to search for buzzwords like "organic skincare," "face care," "skincare routine," and others.
That way, you can find conversations that revolve around what you do as a brand.

After, you look for location-specific keywords that relate to your brand. If you are based in New York, for example, you can type in the keywords "beauty spa in NYC," and you will find posts that have those keywords in them.

You are less likely to see this on your timeline, but you can see them with social media monitoring. With that, you can direct your new leads to your social media page or your business.

If your competitors are not doing this, it is an opportunity for you to solve your leads' problems, and they, in turn, convert to customers.

Note influencers and advocates
Social media monitoring also helps you note influencers and advocates for your brand. And from there, you can establish rapport with them.

Influencers are a thing on social media, and their opinions matter a lot to their followers, especially when it is brand-related. So if an influencer has used the product before and recommends it, then it should be good.

That's what many of their followers think. Working with influencers will help to publicize your product to a wide audience range. And these audiences are more likely to patronize you since they trust the influencers.

So, you can monitor social media to note these influencers who can move an audience and influence their opinions towards your brand.
How to Monitor Your Social Media
Monitoring your social media can be a lot of work. You can either choose to monitor it manually, which can be a little time-consuming, or you can do that by using a tool.

Earlier on, you would have read about monitoring using keywords, location, industry buzzwords, and brand keywords. You can also monitor via mentions and hashtags.

Mentions: Monitoring through mentions is somewhat easy. This means that you are watching out for people's posts where they tag you, using the "@" symbol.

However, there are other times where they will not tag you but mention you. This is where you use your brand keywords or hashtags to monitor, including misspelled brand names.

Hashtags: You can also monitor your social media with hashtags. This includes your brand hashtags or a campaign's hashtag. It could be a social media challenge.

When you monitor hashtags, you will not miss any posts relating to your brand.

Competition: Another way you can monitor social media or something you can monitor is your competitors. You need to check how they go about their social media marketing activities.

Also, you would need to note how they respond to customers' queries or solve their problems. Are they proactive or swift in responding to them, or do they neglect them?

You get to know their audience's dislikes and how you can incorporate that in improving your product or services.

Using social media monitoring tools
You can make things easier by using tools to monitor your social media. Vista Social, for example, allows you to monitor everything that concerns your brand on social media.

This is a better alternative if you don't want to manually monitor using the methods we mentioned earlier. If you have to monitor multiple businesses on different platforms, it is easier for you to use a tool.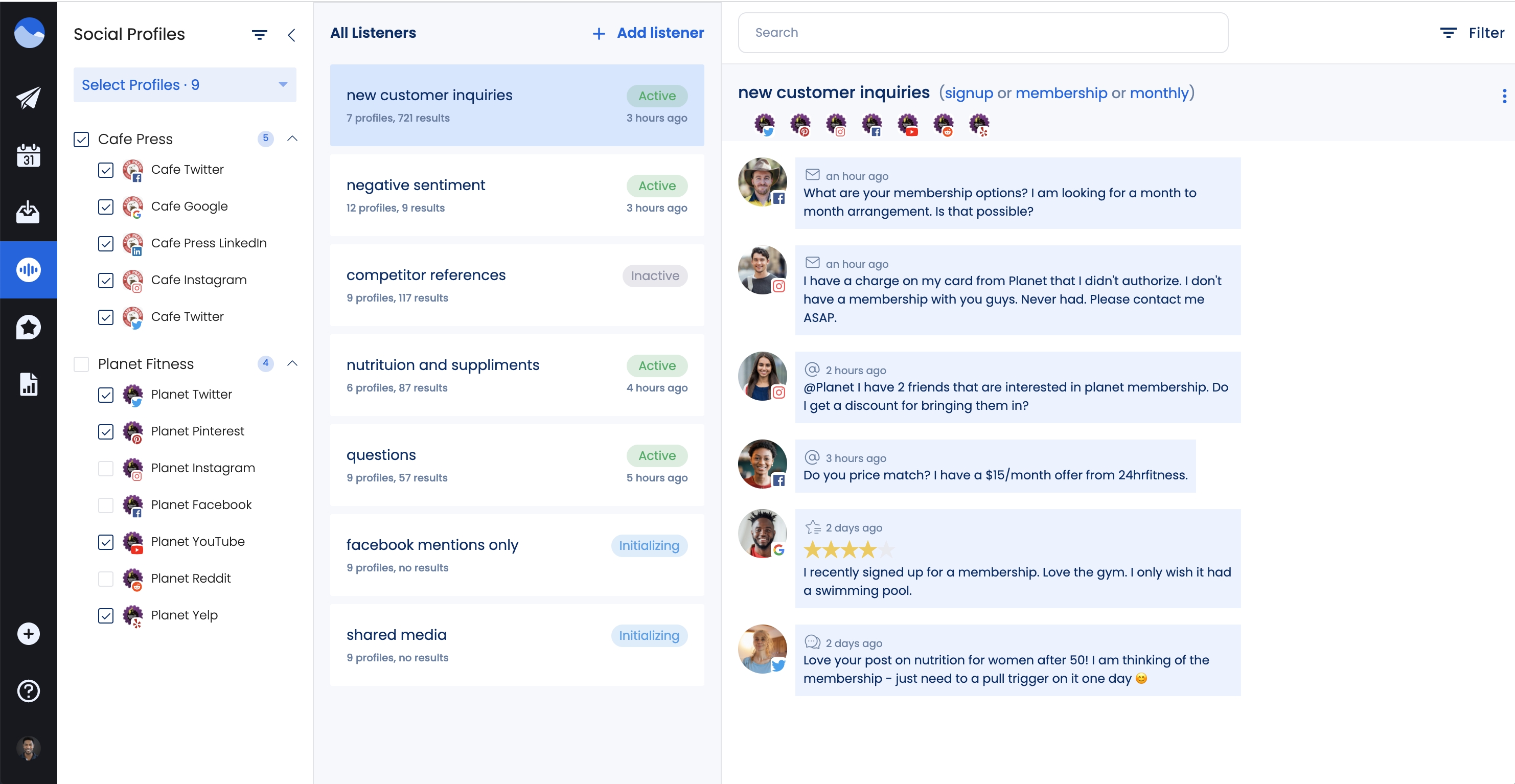 You can add multiple people to monitor a wide range of things on your social media. Then you can swiftly and easily respond to social media conversations revolving around your brand.
Analyze your social media monitoring
Monitoring your social media is not enough; you also need to analyze the report to help you improve your social media activities.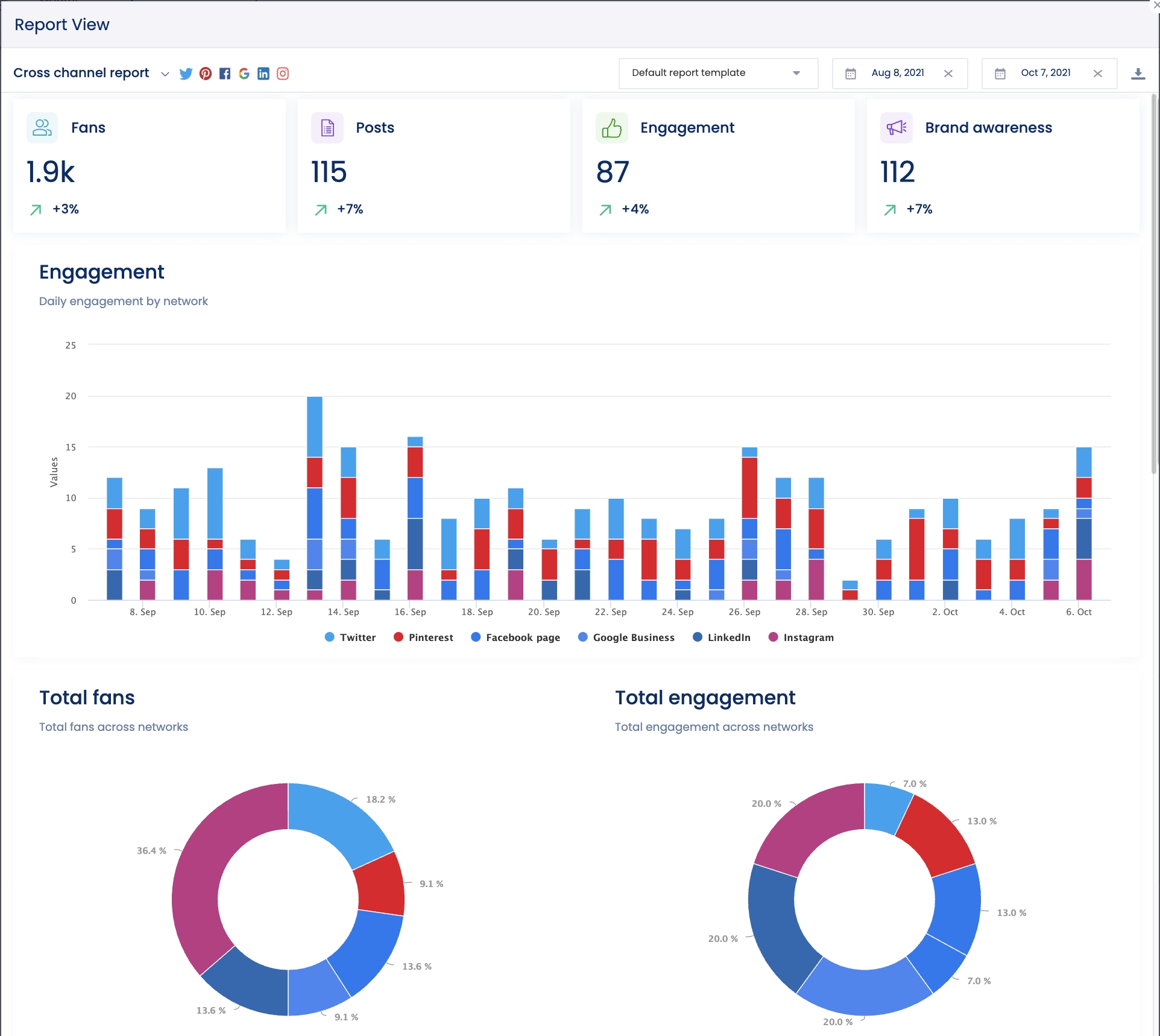 Using a tool like Vista Social will help make analyzing your social media easier for you. With the analysis, you can set new social media goals.

Also, you get to know which campaigns perform better than others, have better impressions, views, or clicks. That way, you can further improve your future social media campaigns.
Conclusion
Social media monitoring is somewhat non-negotiable if you want your brand to succeed on social media. It offers too many benefits that your brand should not be missing out on.

And since monitoring entails different things, it is best you use a social media management tools like Vista Social, which does not only help with listening and monitoring but also has wide range of features such as social media analytics, customizable reports, publishing of content, and managing reviews. Using social media monitoring tools is not so difficult, and you can sign up and start with a free trial with Vista Social.