Your customers already spend a lot of time on social networks and interact with brands and businesses through social media channels. And if you still do not communicate with your audience via Facebook, Twitter, Instagram, Pinterest, or YouTube, you will lose your clients' loyalty sooner or later. Discover the best times to post on social media in 2021 in this article!
Note that 90.4% of Millennials, 77.5% of Generation X, and 48.2% of Baby Boomers are those who use social media actively. Social media marketing is all about creating and distributing content on social networks to achieve your business goals in marketing and branding. But social networks are reluctant to show posts of the commercial account with declining organic reach. Against this background, the best time to post becomes more relevant.
Today social media algorithms increasingly move away from the chronological feed towards sophisticated relevance-based ranking algorithms. SMM marketers work hard on creating high-quality content and maximizing opportunities to attract attention. Therefore, it is essential to choose the best time to publish posts when most of the audience is active, and the social network is not oversaturated with other posts. By posting at the right time, you get more reach, traffic, and sales. We will tell you how to determine the best times to post on the most popular social networks.
Table of contents
Best Times to Post on Instagram
Best times: 11am-1pm, 7pm-9pm
Best days: Monday, Wednesday, Thursday
Post frequency: Once or twice a day
If you analyze the engagement throughout the week, you can quickly see how different the audience's behavior is each day. For example, Wednesday and Friday are the days of the greatest involvement, which, on the contrary, can not be said about Saturday and Sunday.
The recommendations are similar: the best time is called the noon (11 am – 1 pm) and evening (7 pm – 9 pm) of weekdays. Posts made at night (from midnight to 6 am) gain fewer reactions. The worst time for a publication is 5 am. The best days for your posts are Monday, Wednesday, Thursday. Posting frequency may vary from one to two posts per day. (Blog2Social, 2020).
Set priorities and carefully plan the time of your posts. For example, the best content should be placed on the days of the greatest audience engagement. Of course, this does not mean that no one will see your publications on other days, but still, first-class content should get the maximum audience attention.
Best Times to Post on Facebook
Best times: 1pm-4pm, 6pm-10pm
Best days: Tuesday, Thursday, Friday, Saturday, Sunday
Post frequency: Twice a day
There is a fierce struggle among companies for the attention of users. Facebook's algorithms display posts from friends and relatives of the user in the feed priority. But at the same time, you can calculate the peak moments of user activity and increase the views of your posts.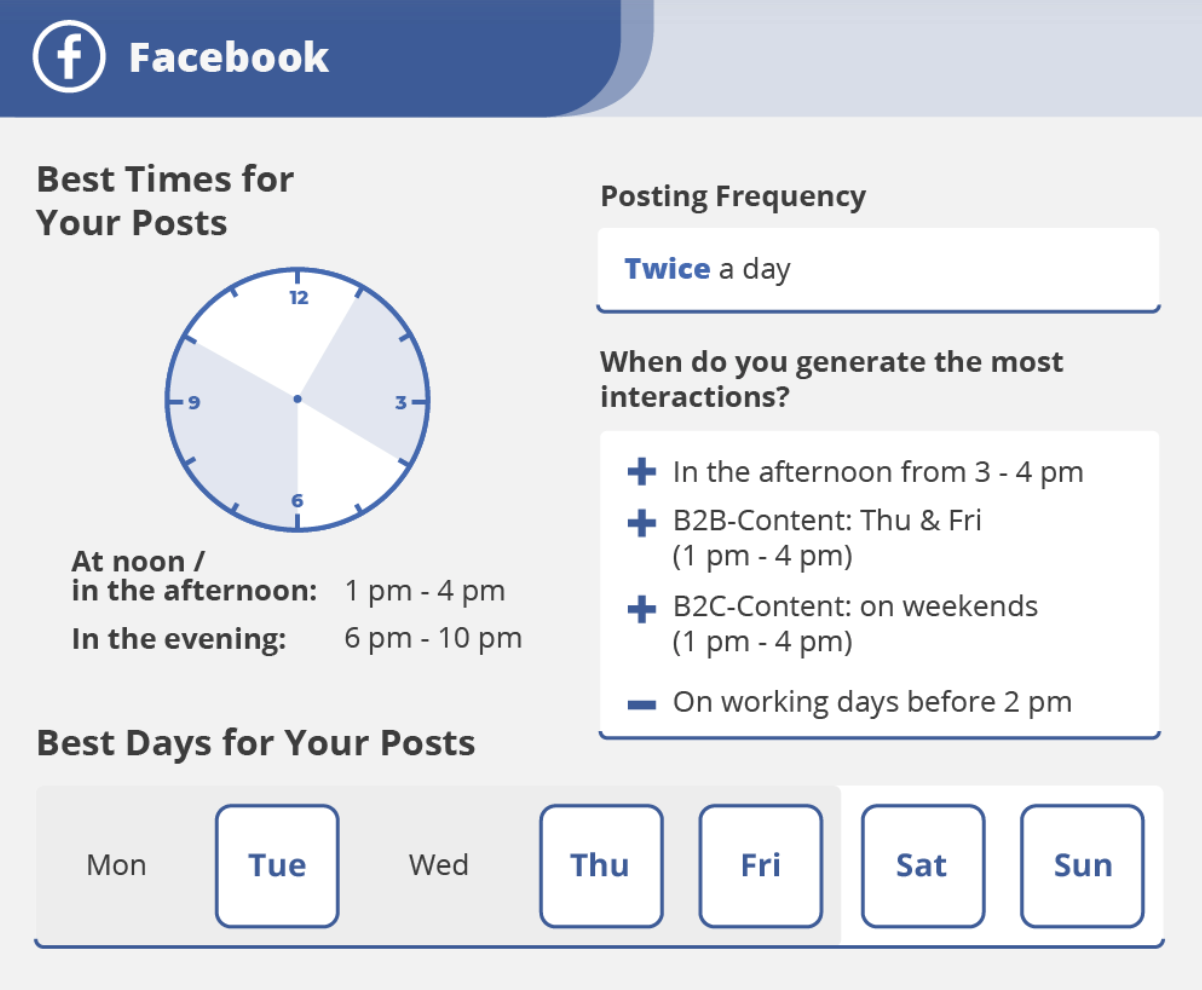 To determine the best time to post on Facebook, you should pay attention to your target audience (someone working a 9-5 may only be on social media before 9 am, at 12 pm, or after 5 pm during the week). For Facebook, the best days are Thursday, Friday, Saturday, and Sunday. The peak of engagement is at the weekend. The worst day is Tuesday. The best time to publish posts is from 1 pm to 4 pm and from 6 pm to 10 pm. (Blog2Social, 2020).
Experiment with the time of posting to choose the best option for your business niche. Post news at the same time so that your subscribers get used to the regularity of posts.
Best Times to Post on Twitter
Best times: 8am-10am, 11am-1pm, 5pm-6pm
Best days: Monday, Tuesday, Wednesday, Thursday, Friday
Post frequency: Three times a day
Brought to you by
Try Vista Social for Free
A social media management platform that actually helps you grow with easy-to-use content planning, scheduling, engagement and analytics tools.
Get Started Now
Twitter is a unique and versatile tool for finding, distributing, and collecting information. According to the statistics, 82% of B2B content marketers used Twitter for organic content marketing in the last 12 months. In terms of marketing, this social network helps you to capitalize on your brand, form a target audience, present your products and service, and promote corporate content.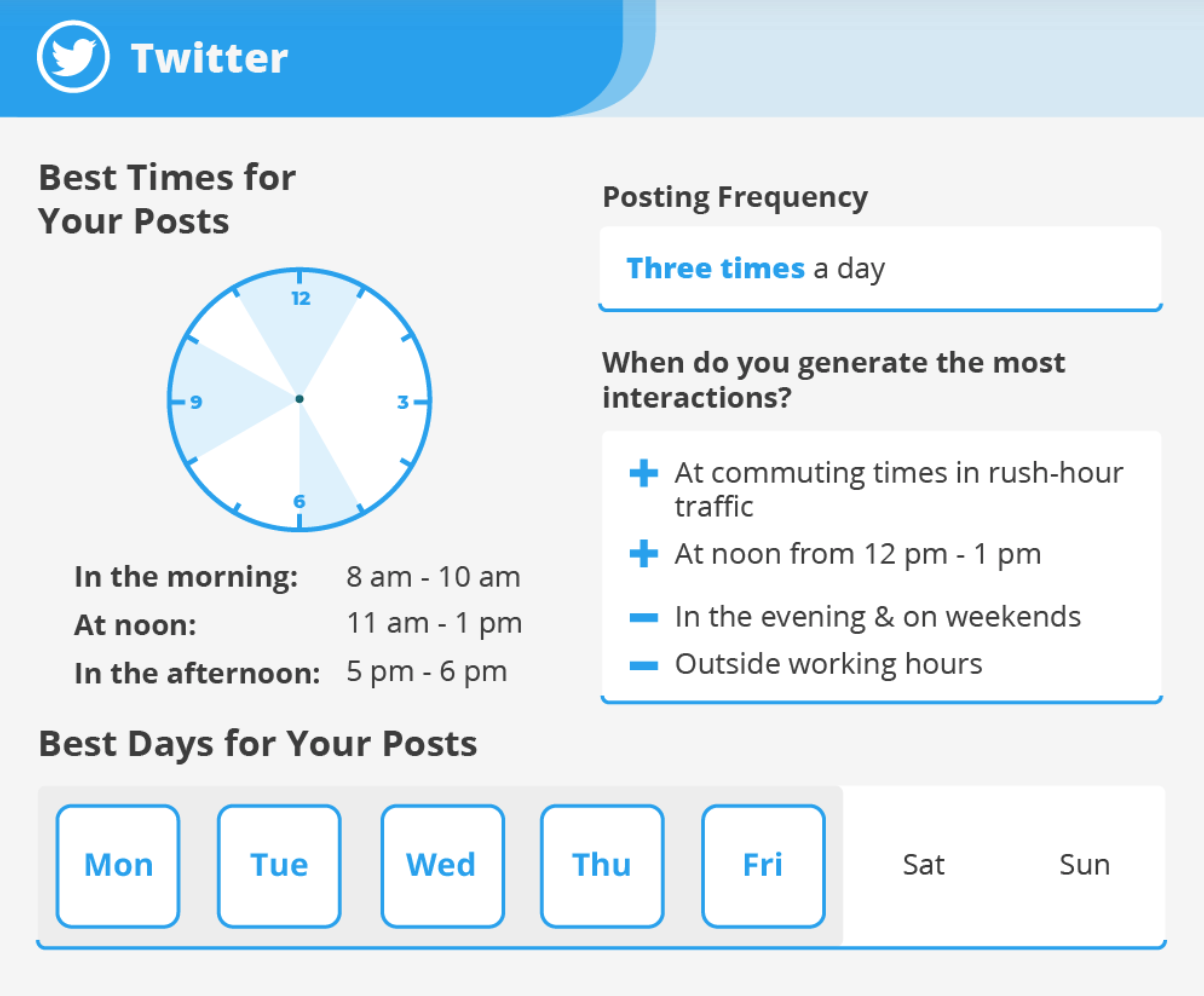 Surely, every Twitter user has faced a situation when you tweet cool posts, and the result is zero. The content is perfect, and the pictures are great, but the promotion does not work. Why is this happening? Because the time for posting was chosen incorrectly. If you want to reach your subscribers, then choose your timing wisely.
All of the above is still a universal recipe, but its own prime time is created in each particular niche. It may not coincide with the average one at all. That is why for a brisk start, it is better to be guided by the nearest neighbors' experience in your niche.
Best Times to Post on LinkedIn
Best times: 8am-10am, 5pm-6pm
Best days: Tuesday, Wednesday, Thursday
Post frequency: Once a day
While most business people consider LinkedIn as a free resume database, the most forward-thinking entrepreneurs use social connections between users of this resource. They build relationships with potential consumers and partners and build trust in their brand, using their LinkedIn accounts. LinkedIn is the #1 channel B2B marketers use to distribute content at 94%.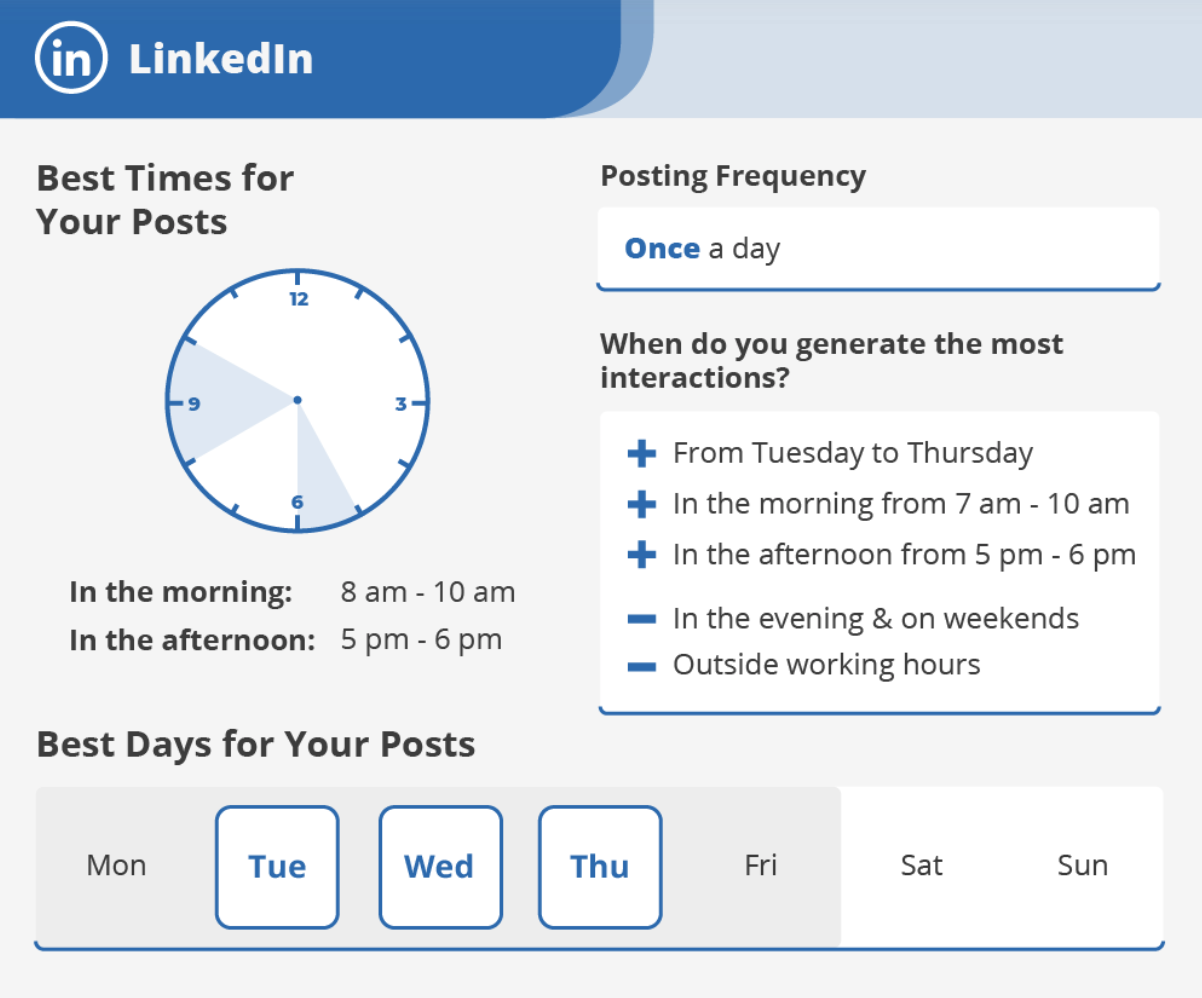 Unlike Instagram, where the principle of "show and tell" operates, LinkedIn is more likely to live in a "show and sell" culture. Show people that your content will improve their work (teach them something by posting a guide, record a video from the "how-to" series, and so on). Combine educational content with entertaining content, for example, in the interview format. We would recommend making short posts 1-2 times a day — they need to share brief observations, start interesting conversations, and give small tips.
When exactly? Choose Tuesday, Wednesday, and Thursday in the morning from 8 am to 10 am, and in the evening from 5 pm to 6 pm. Monday is the day after the weekend when users (most often) are depressed, anticipating a long working week. It would be best if you did not burden users with a large flow of information on this day. (Blog2Social, 2020).
Best Times to Post on YouTube
Best times: 2pm-4pm
Best days: Thursday, Friday
Post frequency: Once a day
The maximum number of users is browsing YouTube from 2 pm to 4 pm from Thursday to Friday. Between 7 p.m. and 10 p.m. is when YouTube receives the most traffic, so you'll want to have your videos indexed by then (How Sociable, 2020).
Keep track of the statistics of video views to adjust the time if necessary. Statistics can be viewed in YouTube analytics. Upload videos regularly at the same time, so subscribers will know when to go to the channel for a fresh video.
Conclusion
The social media market is still a tasty piece of cake for businesses that have identified social media as one of the channels to promote their products or services. The analytical studies show the dependence of the time of day and day of the week on users' behavior in social networks. Based on the studies' data, it is possible to conclude when posts' effectiveness will be the highest. Do not hesitate to follow the recommendations above, but be sure to consider your audience and industry's specifics. Experiment and find your perfect formula for success!