Instagram has been the square grid photo, lovely image forum on social media networks for the last several years. However, Instagram's CEO, Adam Mosseri, declared in June 2021 that the social media platform has changed and no longer supports the photo and square photo-sharing features.
Most individuals feared that the familiar grid pattern would become obsolete. However, it was also a welcome relief and a positive development for several others. Growing numbers of Instagram users are using the platform's video capabilities, so let us take a closer glimpse at the many video files it allows and the best ways to utilize them.
What's the Big Deal about Instagram Video?
For those of us who want to see our favorite businesses and content creators in a more authentic light, just like Instagram grid photos, Instagram's video choices are a great way to do it. Each day, 500 million individuals utilize Stories, and 70 percent of Instagram subscribers view them. Until the introduction of Instagram videos, there has been a growth of up to 80 percent rise in the platform's time.
Video is an integral aspect of Instagram, based on the overwhelming number of individuals viewing, uploading, and engaging with the platform's numerous video forms. Even though Instagram videos generate twice as much interaction as images, they are an excellent method for companies to relate with their customers and create a sense of community.
Various Video Formats for Instagram Video
Video on Feed
Once you are going across your feed, you will notice videos on your feed. This is because they are included in your personalized profile section in the same way grid photographs are.
The "play" button in the upper right area is a video on the feed, as indicated by the "play" button.
A time constraint of fifteen seconds was applied when the function launched (as Instagram's initial attempt on videos). However, in today's digital age, companies may generate lengthier movies that run up to a minute by filming and editing directly from their mobile devices.

The Video Dimensions of the Instagram Feed
Approximately a minute in length
Landscape, square, and portrait are all options for the shape of the image
The aspect ratio must be at least 1.91:1 and no more than 4:5
Instagram Feed Video Tips and Tricks
The videos on your feed are a portion of your profile dashboard; therefore, they need to suit your brand or feed design if you expect to maintain the same visual identity. The following are also possible uses for feed videos:
Introduce a brand-new product to the public
Investigate the origins of your company's name
Publish the results of your interviews with company personnel and manufacturing industry representatives.
Demonstrate the distinct culture and features of your business.
Create a unique video experience with Instagram's built-in tools, such as filters and GIFs.
How to publish a Video to Your Feed on Instagram
A video may be added to your feed in the same manner as a picture. To submit a video, immediately press the "+" symbol at the highest point of the screen and select the video. Including a filter, adding a caption, and related hashtags is carried in a relatively easy pattern on Instagram.
Reel on Instagram
Reels replicate TikTok's rapid short-form video format. Thanks to the help of a variety of innovative tools, users may make 15-second films that include numerous footage and sounds. If you want to get even more exposure for your reels, you may now post them to your feed.
The Dimensions of Instagram Reels
The maximum duration of an Instagram Reel is 15 seconds
The dimensions are: portrait
It comes With a 9:16 aspect ratio
Instagram's native editor tools and audio choices are used to build reels.
Instagram Reels Tips and Tricks
Visit Instagram's "Explore" section, and you will notice a wide range of uses for reels, from joke films to business unpacking videos. They are an excellent fit for the following:
Assisting readers in learning about your company or product
Fun ways to show off your merchandise
Shoppable content creation
Invoking social media dynamics to engage with your audience
Video shows your brand's behind-the-scenes activities
Posting an Instagram Reel: A Quick Guide
Click the "+" symbol in the uppermost right area and scroll down to the "Reels" section. You will be able to attach videos, sound, and effects on the left side. If you like, you may record it into the application directly.
Post your Reel to your account, your feed, and the Explore section if you would like once you are satisfied with it.
Instagram Stories
Instagram Stories are video clips of fifteen Seconds that expire once 24 hours elapses and may only be seen once. Instagram is renowned for making it difficult for businesses to connect with consumers and drive traffic to their websites, but these tools allow you to do just that.
Brought to you by
Try Vista Social for Free
A social media management platform that actually helps you grow with easy-to-use content planning, scheduling, engagement and analytics tools.
Get Started Now
It is possible to check who has seen your Stories, set up a chart to send questions to your followers.
The Dimensions of Instagram Stories
A maximum length of 15 seconds.
The squared, landscape, and portrait dimensions of Instagram Stories
1.91:1 is the smallest and largest possible aspect ratio for Instagram Stories
Instagram Stories Tips and Tricks
No rule says Instagram Stories have to be brief bursts of information. However, Instagram has added Story Highlights, implying that your most popular Stories may now be saved and pinned directly above your profile. But to get the best out of stories, they should be immediate and have a goal, like:
Share your brand's backstage content.
Footage of an incident being shown in real-time
Adding shopping links to posts
Use the Swipe Up function to drive users to your webpage.
Training customers and potential customers about your business and its goods
Using Tale slides to create a story.
Promoting participation through surveys and Question and Answer Debate
Posting With Instagram Stories
Use the "+" button in the upper corner to expand the menu, then select "Stories." A movie or picture from your photo stream or a live photo/video can then be chosen. Filters, GIFs, hand-drawn components, and functionality like Swipe Up, surveys, location feature on Instagram, and Question and Answer Discussions will subsequently be available to you. If you are unsure how to get started, choose an Instagram Stories theme.
Instagram Live Broadcasts
Live broadcasts on Instagram are called "Instagram Live" videos. Even though they are only possible through mobile devices, live streams are an excellent method to interact with your audience on the go. With the opportunity to record Sixty minutes of the film and keep it for followers who weren't online during the time of broadcast, Instagram Live is Instagram's most lengthy video option.
The Dimensions of Instagram Live
Up to an hour in length.
Vertical lengths
It comes With a 9:16 aspect ratio,
Instagram Live Tips and Tricks
Whenever your business is going through a hectic period, using Instagram Live is an excellent way of connecting with your fans. For example, "Going Live" could involve things like:
Live interaction (such as announcing a grand prize winner or just saying "hello") with your followers is essential.
Observe and record events as they unfold.
Put up a live show to show off your goods.
Interact with your fans and answer questions from them
Posting Insta-Live Videos: A Quick Guide
Once you have opened the Instagram Stories cam, scroll down to find the "Live" button. Discover the numbers of your followers that are available online at the time to send out a notification to the rest of them. Click the play tab when you are prepared to commence your Live.
It is possible to see viewers' queries and add backdrops using your camera roll while applying filters during the process.

Instagram TV (IGTV)
There is a connection between Instagram Stories and inside away. IGTV allows individuals to produce short movies that could accommodate your clogging up carefully selected feeds, whereas Stories are disposable slides of information that expire after 24 hours.
The Dimensions of Instagram TV (IGTV)
Verified/large accounts may post up to Sixty minutes of video on IGTV, while lower accounts can post ten minutes.
A landscape or portrait orientation for IGTV
Instagram video's aspect ratio is 9:16 for portraits and 16:9 for landscapes.
IGTV Tips and Tricks
Instagram's vision for IGTV was to create a micro-YouTube for producers to post videos on a routine basis. As a result, the following uses for IGTV are well suited:
Shorter videos that do not make it into the Stories section
Transmitting information about your company's activities in real-time
Instructional content
Your businesses very own branded Video channel
Access your profile page by clicking on the "+" symbol in the upper right-hand corner. Next, choose IGTV from a list of video options that appear on the screen. After this, you will be able to either import movies using your camera roll or record new footage directly from the app itself. Once you are satisfied, click "publish," A new section for IGTV videos will display on your account.

Final Thoughts
Instagram is the most popular and most successful social media platform in the world today. Undoubtedly, this platform has become one of the most sought out means for business advertisement and social media marketing. One must take advantage of the various features on this renowned platform, which is Instagram Video.
Try out VistaSocial today as it lets people post their content in different formats to instagram. Vista Social will automatically adjust the size of your media to ensure it is supported by Instagram. It automatically changes size to maintain aspect ratio while still being visible enough at higher resolutions than what an ordinary phone would allow.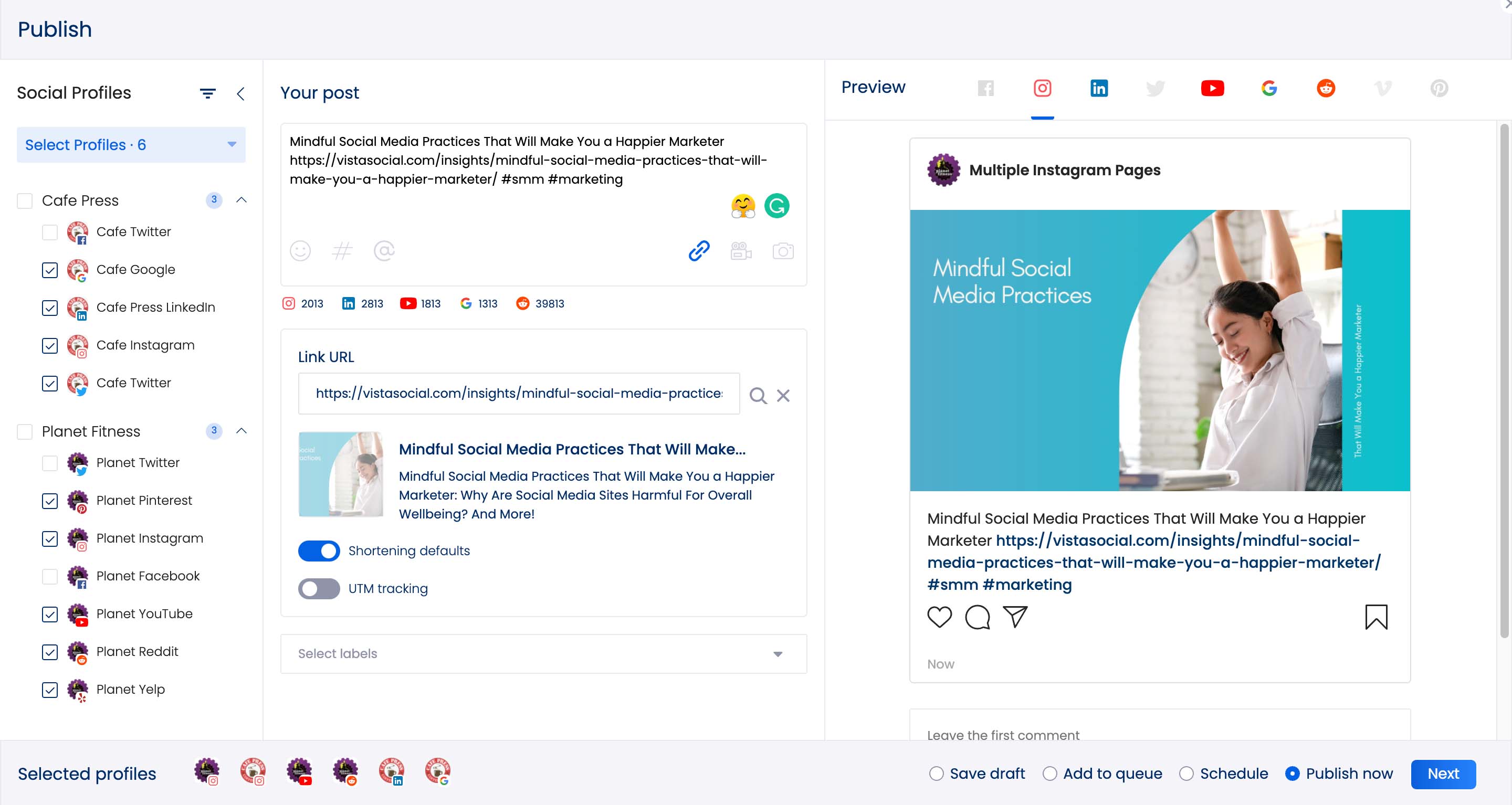 With the help of this guide, you can ensure that you gain the basic knowledge of all the Instagram video formats that will help you promote your brand.