If your target audience consists mainly of representatives of Generation Z and young millennials, building your brand's presence on TikTok is a reasonable strategy. Within only a few months of launching internationally in 2017, TikTok has become one of the fastest-growing apps worldwide and a global viral phenomenon. Moreover, the app's popularity keeps growing – in January 2022, TikTok downloads via the Apple App Store only experienced a six percent growth worldwide.
TikTok today is not just a platform for entertainment but a full-fledged advertising channel for business promotion. The platform's format gives freedom of creativity: trends change every week, new challenges, ideas for scenarios, and shooting techniques appear. We have grown to the point where we have tons of content for TikTok that needs to be skillfully scheduled for a month to give your followers new portions of punchy video constantly.
This post will talk about TikTok and its value for marketers and list the best scheduling tools to succeed in your TikTok posting strategy.
What Is TikTok?
TikTok is the quintessence of Vine, Instagram Stories, Snapchat, and other services focused on the format of short videos. In TikTok, users post small vertical videos 15-60 seconds long – mainly music videos, comedy sketches, dancing, reactions to trends, and other activity. Anyone can create, edit, and share short-form video clips that are jazzed up with filters and accompanied by the latest music trends. The social network was launched in 2016 in China and has gained massive popularity in record time: now TikTok celebrates reaching 1 billion monthly active users.
Experts include TikTok in the primary trends of modern digital marketing. There is no doubt that TikTok effectively and quickly increases brand awareness. The task is to turn this result of actions into a real profit. Most often, this is accomplished by increasing sales. To effectively stimulate this process, it is necessary to refer to the company's products or the features that characterize them in TikTok videos.
Effective TikTok marketing helps find the target audience, increase brand awareness, increase sales, advertise offline businesses. Below we have listed a few reasons why marketers use TikTok for business in 2022.
Low competition. There is little competition among commercial organizations, but there is an opportunity to get high coverage with the help of trending content.
Opportunities for promotion. You can boost your PR through bloggers, use cheap services to promote your brand, drive traffic from your social networks, and more. Advertising is as "native" as possible in a user-friendly interface, minimizing negativity and better perception.
The popularity of the application. The popularity of TikTok keeps growing. People use the app every day to create and share short videos about themselves or watch many TikTok videos uploaded to the platform. Discover how to get more followers on TikTok.
Future perspectives for businesses. TikTok's audience is open to trends, viral content, and new mechanics. At the same time, they are solvent. TikTok tools allow companies to quickly find their brand advocates and customers, automatically eliminating those not interested.
A good marketer knows that the only way to get ahead of the competition is to use a proactive approach to developing marketing strategies. TikTok is an excellent solution for your brand to expand your marketing channels.
5 Best TikTok Scheduling Tools
The promotion algorithm encourages authors to make content diverse and make a lot of it. Still, making dozens of posts, checking hundreds of comments, and sticking to the content plan is quite a time-consuming process. Sharing the content is a matter of a few clicks if you do this right away or remember to publish a video sometime later.
When talking about scheduling of TikTok videos, there are two types of TikTok schedulers – either posting directly to TikTok (the platform does not offer a built-in method of scheduling posts) or scheduling posts through the 3-rd party tools and receiving reminders on the mobile app when it is time to go live.
Below we have picked up the five best TikTok scheduling tools that help you focus on the most crucial aspects of your business and not watch the clock.
1. Vista Social (TikTok Direct Publishing)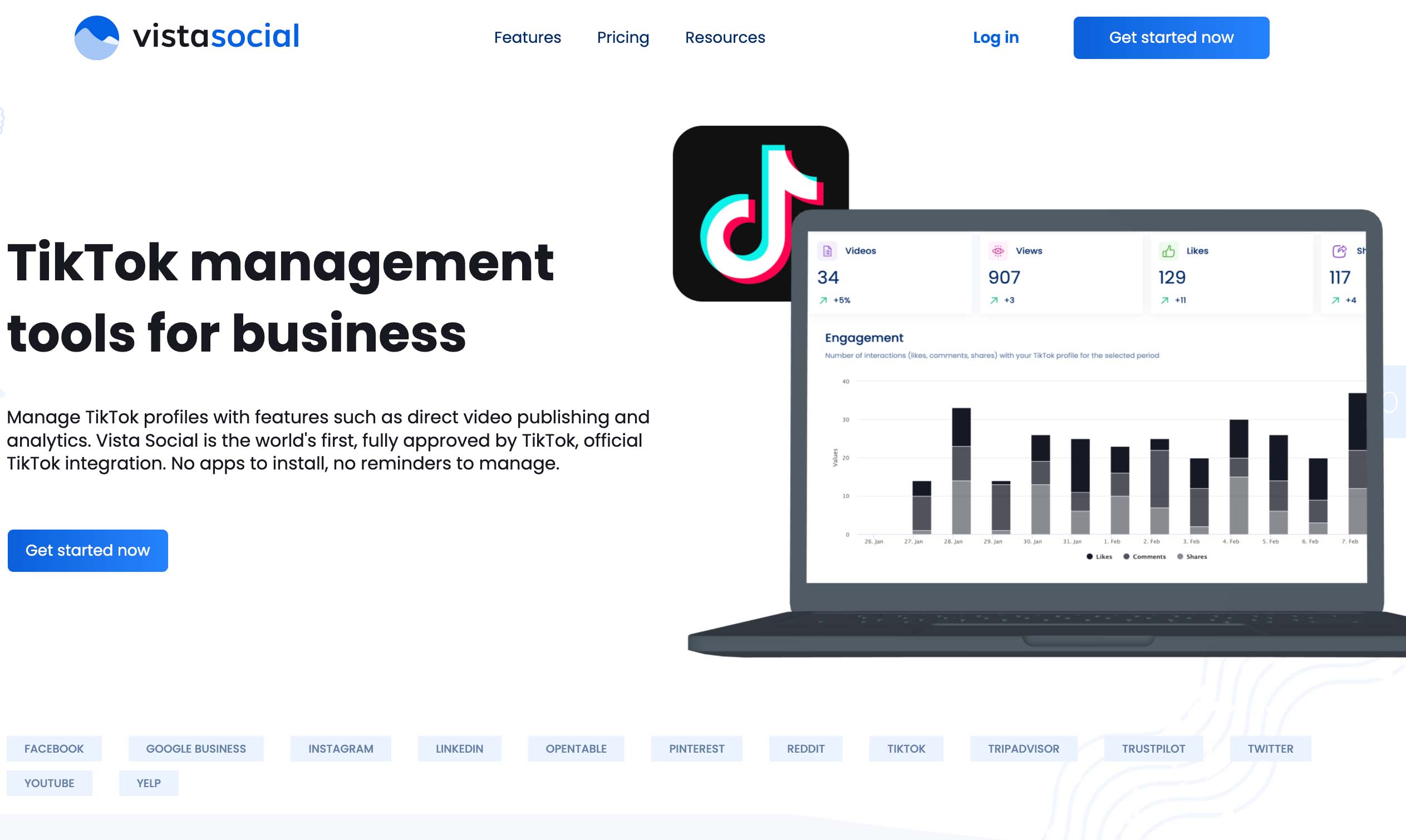 While reminders on the mobile app are super inconvenient because they require you (and your customer if you are an agency) to install a custom app, Vista Social is the world's first, fully approved by TikTok, official TikTok integration. As a result, you can manage TikTok profiles with direct video publishing and analytics features with no app installs and no reminders to manage. In addition, the platform makes it possible to ensure the content is published only during the times that you decide are best for your brand.
Planning content, engaging your audience, collaborating as a team, and measuring efforts from a single platform – these all are possible with Vista Social.
Pricing: A free plan is available. The premium one starts at $2/month per social profile (billed yearly).
2. Loomly (TikTok Reminder Scheduling)
Loomly offers to simplify brand and content management for marketing teams. This social media management platform allows you to plan content ahead of time: just set it and forget it; Loomly will publish it for you. Still, when talking about TikTok specifically, only manual publishing (powered by reminders and the Loomly mobile apps) is possible. Loomly offers an intuitive interface and innovative features to help you take social media marketing to the quality new level.
While there are few functions for the TikTok service, you can run ads through it, respond to comments and reactions, and view analytics if you use it in parallel with other social networks.
Pricing: A free 15-day trial is available. The premium plan starts at $26/month (billed yearly).
3. Later (TikTok Reminder Scheduling)
While Later positions itself as the world's favorite Instagram marketing platform, the service still offers to plan and schedule TikTok posts in advance with TikTok Scheduling. When it is time to post, they will notify your phone app that holds your TikTok-ready video and caption. Then, all you need to do is to open TikTok and post.
Later helps you plan and post your content across Instagram, Facebook, Pinterest, LinkedIn, and Twitter. In addition, you can repost content across all your social profiles and see everything you have got going on on one platform. Moreover, the platform helps you understand what works for your business and gives you unique suggestions to optimize your social strategy.
Pricing: A free plan is available. The premium one starts at $12.50/month (billed yearly).
4. SocialPilot (TikTok Reminder Scheduling)
SocialPilot is social network management and automation tool that allows you to connect and manage an unlimited number of social network accounts through a single dashboard. They were the first social media management service that offered TikTok Scheduling Tool. SocialPilot gives you the flexibility of editing, rescheduling, and re-sharing the posts directly from the content calendar. In addition, agencies and small businesses can now manage multiple accounts with SocialPilot's TikTok scheduler. Schedule and manage content from your mobile with SocialPilot's Android and iOS app.
Social Pilot automates the flow of your social marketing efforts. Free access to Social Pilot means you can focus on your business, and SocialPilot will take care of the rest.
Pricing: A free 14-day trial is available. The premium one starts at $42.50/month (billed yearly).
5. Crowdfire (TikTok Reminder Scheduling)
Crowdfire is another powerful social media tool used by businesses and individuals worldwide to drive social media engagement and growth. Crowdfire helps you discover and schedule content and manage all your social accounts from one place. Schedule all your TikTok posts in advance and publish them automatically at the best times or at times chosen by you, saving you tons of time and effort!
Pricing: A free plan is available. The premium one starts at $7.48/month (billed yearly).
How to Connect Your TikTok Profile to Vista Social
While all the TikTok scheduling services listed above help you schedule and manage TikTok content, we will stop on and take a closer look at how to schedule TikTok posts with Vista Social. So far, Vista Social is the only tool officially authorized to publish to TikTok with no hassle related to custom apps and reminders. No doubt, you should take advantage of it.
Follow the simple steps below to connect your TikTok profile to Vista Social:
1. Log in to your Vista Social account and go to Profile Settings > Add Social Profile.
2. Choose a brand/entity to add the profile to. You may create a new one if the entity is not on the list yet. Click Continue.
3. Select TikTok from the list of social networks.
4. Log in to your TikTok profile and click Authorize to authenticate Vista Social.
5. Once the profile is successfully connected, you will get a notification, and the profile will appear under Profile Management.
Once your TikTok profile is connected to Vista Social, you are ready to schedule your posts on TikTok.
How to Schedule Posts on TikTok through Vista Social
Schedule a TikTok post
1. On your Vista Social dashboard, go to Publish > Publish a single post.
2. Select the profile you would like to schedule on the left-hand side of the publishing window.
3. Write your content and click the video icon to upload the video you want to push to the selected TikTok profile.
4. On the lower right-hand part of the screen, choose the publishing time and select Next.
5. Confirm the posting schedule and click Publish. The scheduled post should now show in the Calendar as Uploaded. Pending publication.
Publish a TikTok post
Schedule videos to TikTok through Vista Social and publish them through push notifications from the TikTok app on your phone. No other custom apps are required.
1. On your TikTok mobile app, go to Notifications, and you will find a notification that says Your video from Vista Social is ready.
2. Click on the notification to open the video.
3. Complete the post and publish it to your TikTok profile.
Monitor Your Performance
Scheduling and posting to TikTok are not enough. You need to benchmark your TikTok performance. With Vista Social's analytics tools, you can gather paid and organic insights for one or many TikTok profiles to measure fan growth, analyze engagement, and track post-performance.
Visualize TikTok profile data. Understand likes, shares, comments, and views behavior with data visualizations and dynamic charts.
Identify your best content. Dig into TikTok Insights data and identify best performing content (engagement and viewing).
Leverage customized and export reports. Export insightful reports or customize and build your own to deliver to your stakeholders.
Conclusion
Previously, promoting social media accounts required constant involvement and monitoring of results, but the situation has changed with the advent of auto-posting services. Any human factors are excluded when using a more organized and less labor-intensive approach: mixing up, skipping, or forgetting to publish something becomes much more difficult. Scheduling TikTok posts is no exception. You just need to pick up your favorite scheduling tool and stop watching the clock.
Plan ahead, and grow your channel with Vista Social. Direct publishing to TikTok is a huge time saver, and Vista Social is the first modern social management tool to offer you this functionality. Get started for free now to manage your TikTok profiles with direct video publishing and analytics features.