Get creative with your Facebook post formatting to grab your audience's attention.
When you publish Facebook posts using different font styles, your posts "pop" because most posts on Facebook follow the standard font style of the platform.
Go beyond standard features like Facebook mentions, Q&A sessions, and live streams to help your clients get their audience's attention.
Give your clients a unique and unmistakable identity on Facebook by using special Facebook text formatting.
Table of Contents
TL;DR: Facebook post formatting is dead easy with Vista Social
Vista Social lets you skip the tedious parts of using formatted text on Facebook. Using the platform's built-in 'Publish' tool, use various formatting options to create eye-catching posts in no time.
Without Vista Social, you need to write your content, copy the parts you want to format, paste it into a text formatting app, and paste it back to your Facebook post. This route is both time-consuming and cumbersome, especially if you handle several client Facebook profiles and want to format multiple bits of text in the same post.
Create a free account. Try Vista Social's post formatting feature now.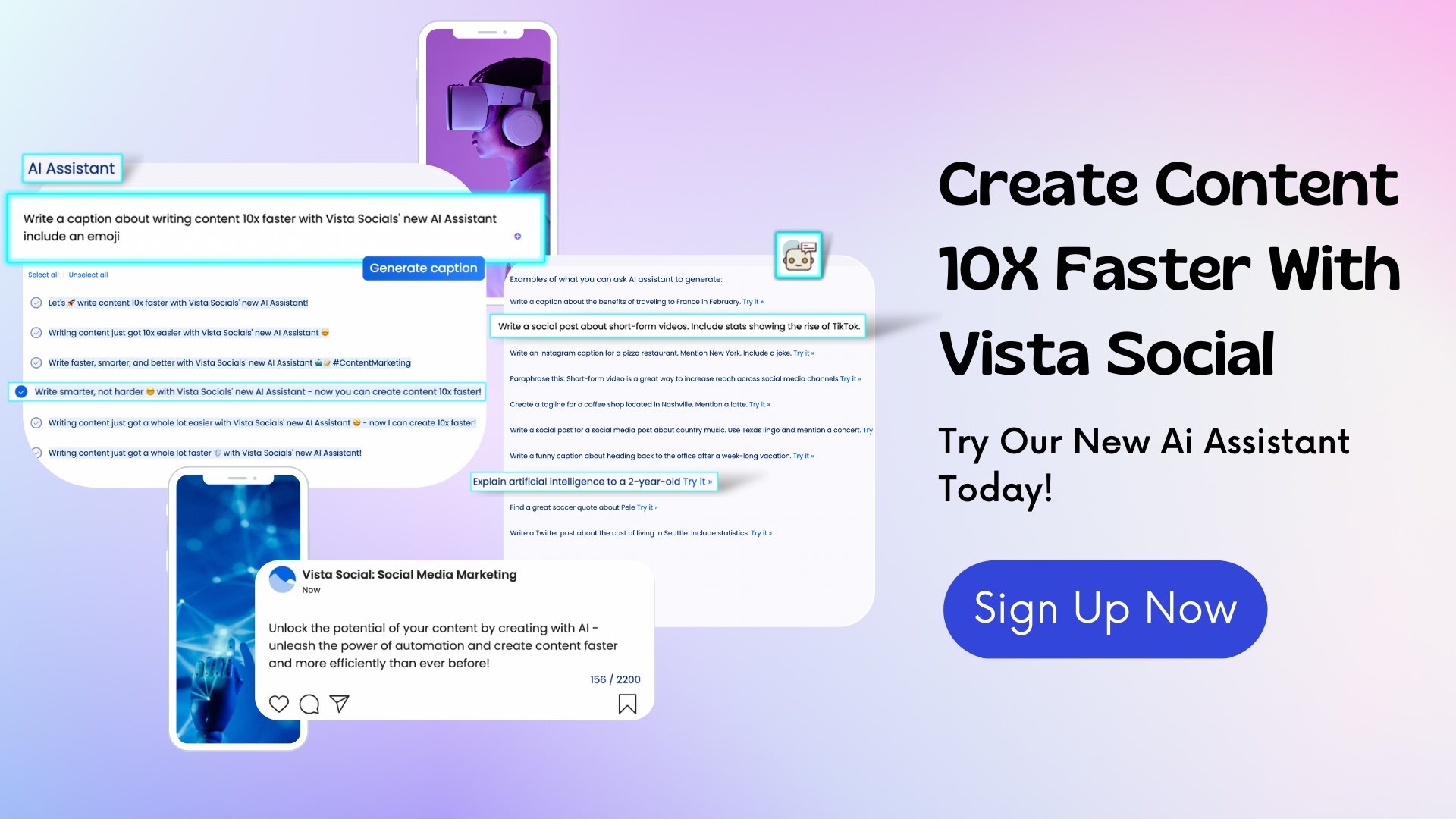 Ready to give your content workflow and posts a major upgrade? Try AI Assistant powered by ChatGPT today! 🤖💙
Importance of Facebook post formatting
Here are the most significant benefits of using text formatting in your client's Facebook posts:
1. Emphasize keywords
There's a reason why bloggers and publications italicize, underline, and bold text in their website content.
Some words are more significant and impactful than others. CTAs, power words and other keywords can make posts more compelling and effective for generating user engagement.
Using italicized, underlined, or bold text on Facebook helps your audience focus on your post's important parts. This drives up user engagement and, in turn, conversions.
2. Improve readability
Text formatting is important in establishing the structure of an article.
Numbers, headers, bullet points—these formatting elements make posts more readable in the eyes of users.
Custom formatting also helps readers scan content for the information they need. This works on blog posts, news articles, as well as social media posts.
It's not always a must-have, especially if your content strategy involves keeping it short and to the point.
But in social media posts that require loads of additional information, using different formatting for content structure elements is crucial to the user experience. This is important for agencies trying to get clients on Facebook whose primary audience includes inquisitive decision-makers.
3. Make your client's brand more recognizable
Facebook users see dozens—if not hundreds—of posts on their feed daily.
Using a consistent text format in your posts will make them stand out. It will also help your client build a more recognizable brand amongst the sea of content publishers on Facebook.
All this fosters brand loyalty and establishes your client as a go-to information source on the platform.
If text formatting is so helpful, why isn't everybody using it on Facebook?
That's because Facebook doesn't have text formatting options baked in—unless you're an admin creating Facebook group posts. To use custom text formats on posts, you need third-party apps to construct and format your post first.
Here's how:
How to italicize on Facebook
The traditional way to use italics on Facebook is to use a tool like YayText.
Simply go to their website, type in the words, and copy the formatted text.
Brought to you by
Try Vista Social for Free
A social media management platform that actually helps you grow with easy-to-use content planning, scheduling, engagement and analytics tools.
Get Started Now
Let's say you want to italicize the text below.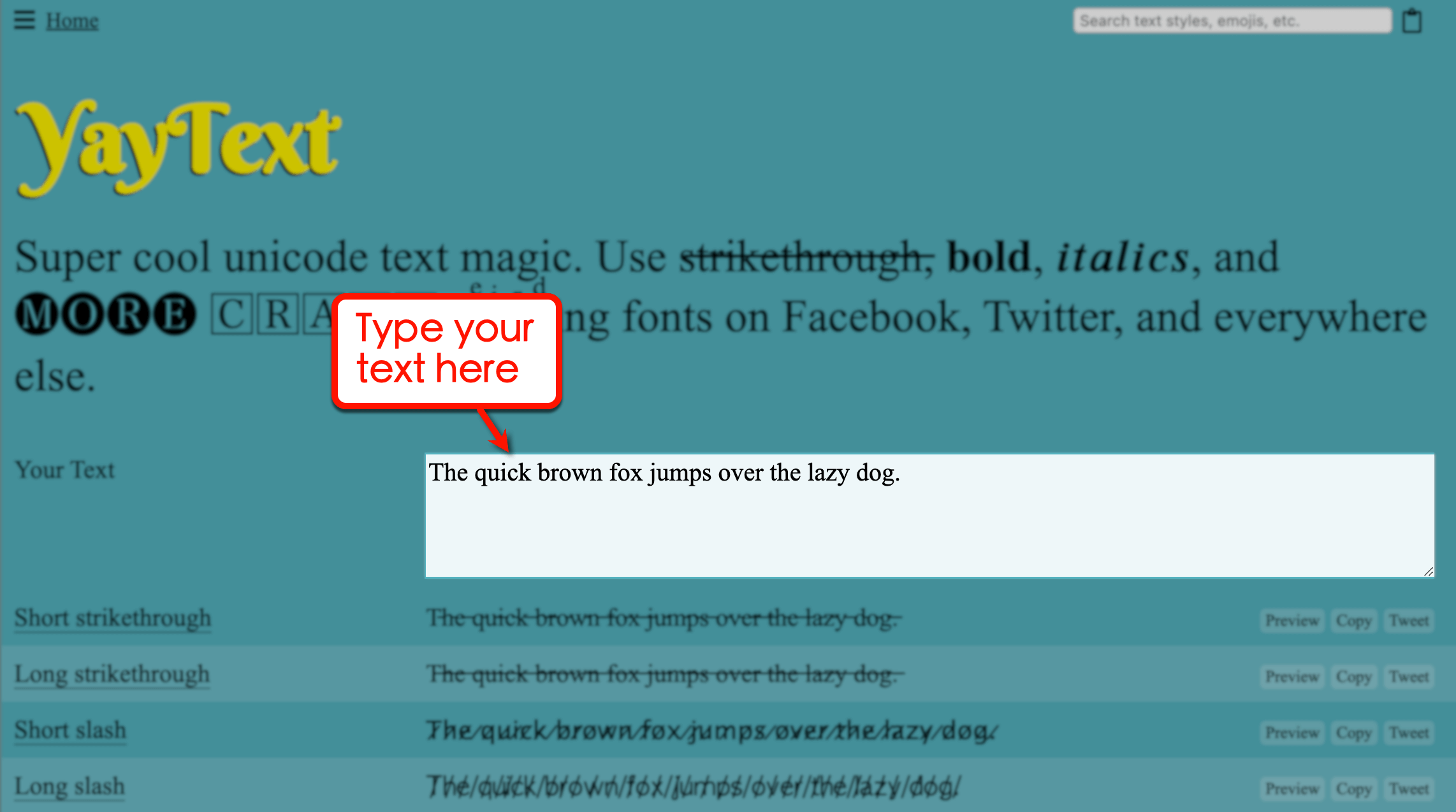 YayText automatically generates the italicized version of your text. Just scroll to the "Italic" rows and copy the format you want.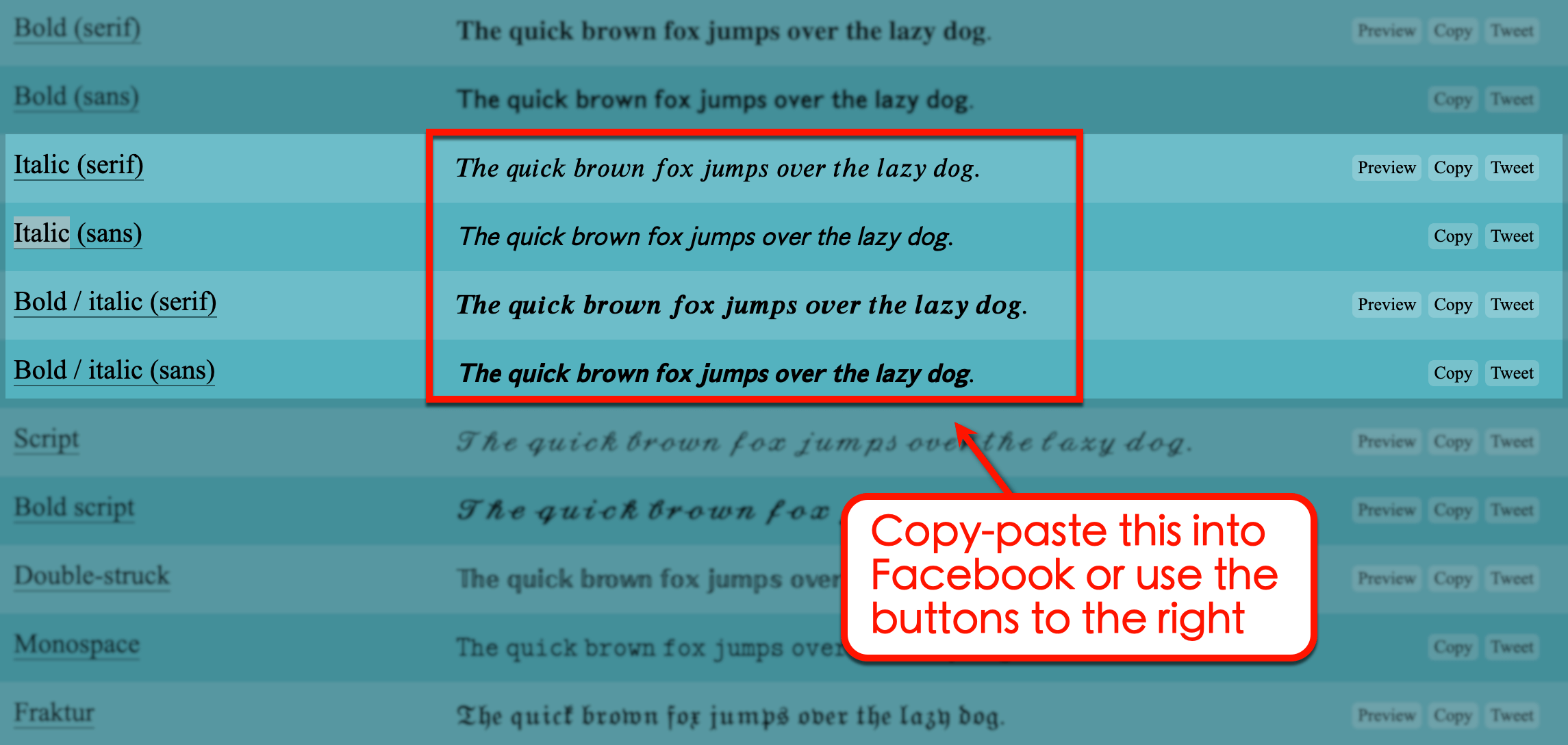 The glaring problem here is, YayText applies formatting options to the entire text all at once.
To use formatting on specific words, characters, or phrases of your post, you need to process them through YayText separately.
A more efficient way to italicize text on Facebook is to use Vista Social's publishing tool. Fire it up by logging into your dashboard, selecting 'Publish,' and clicking 'Publish a single post.'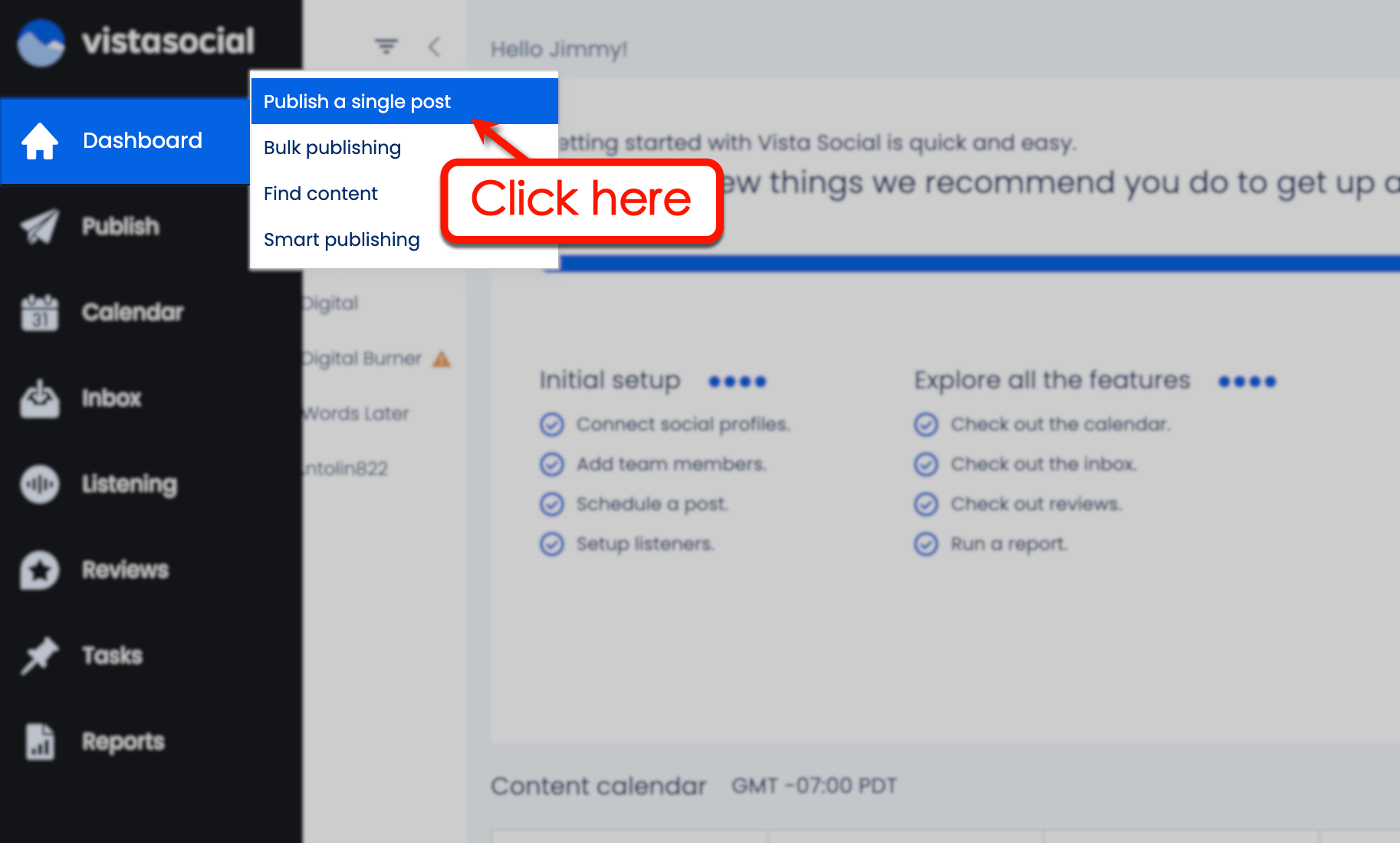 Select your client's Facebook account and begin creating your post as usual.
In the "Write your content" field, enter or paste the copy you want to use. Highlight the text you want to italicize, click the formatting options button, and choose any of the four italicized text formats.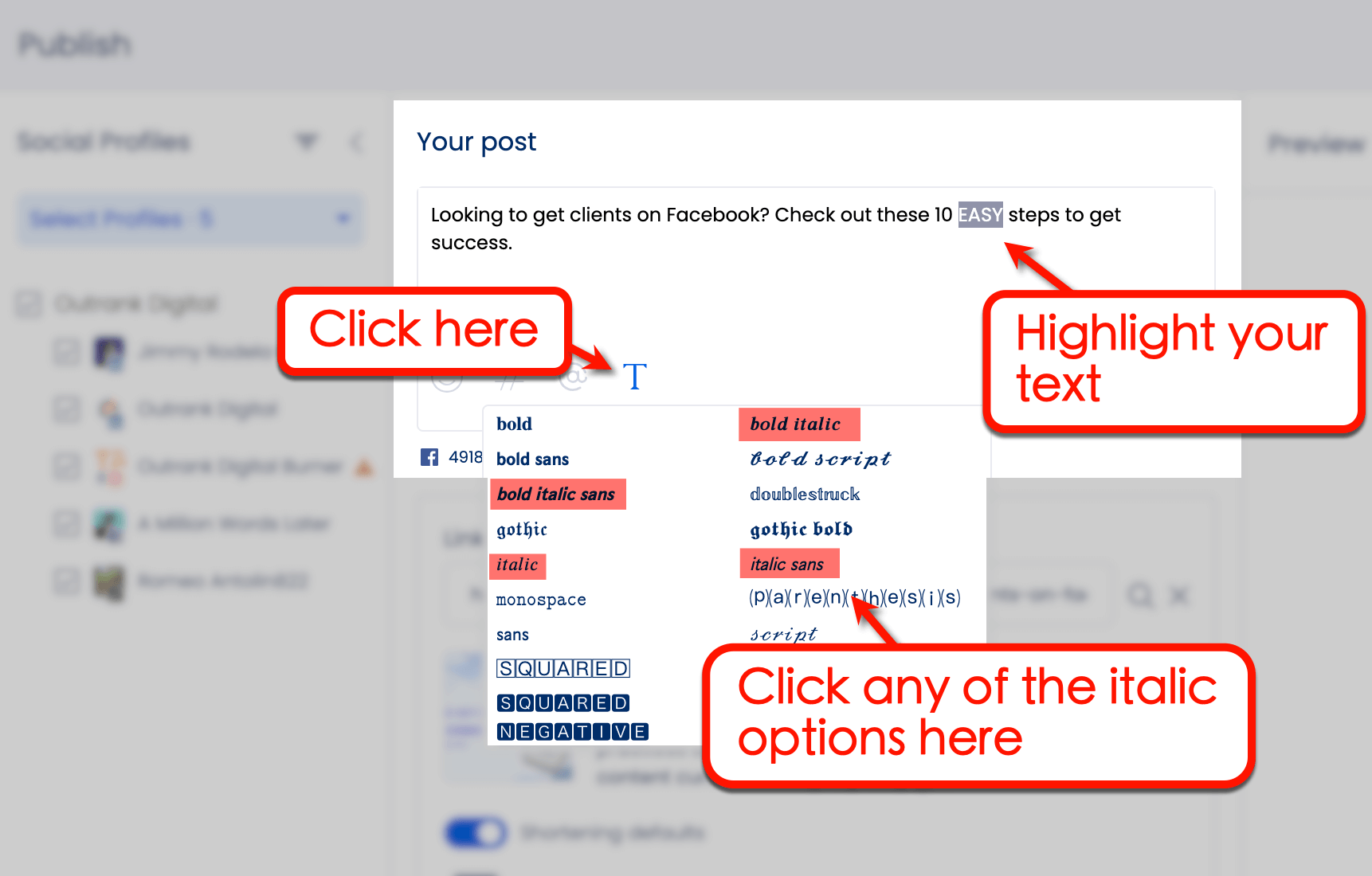 Vista Social instantly applies your chosen text format in the text field and the post preview. This allows you to make adjustments in a snap if something doesn't look right.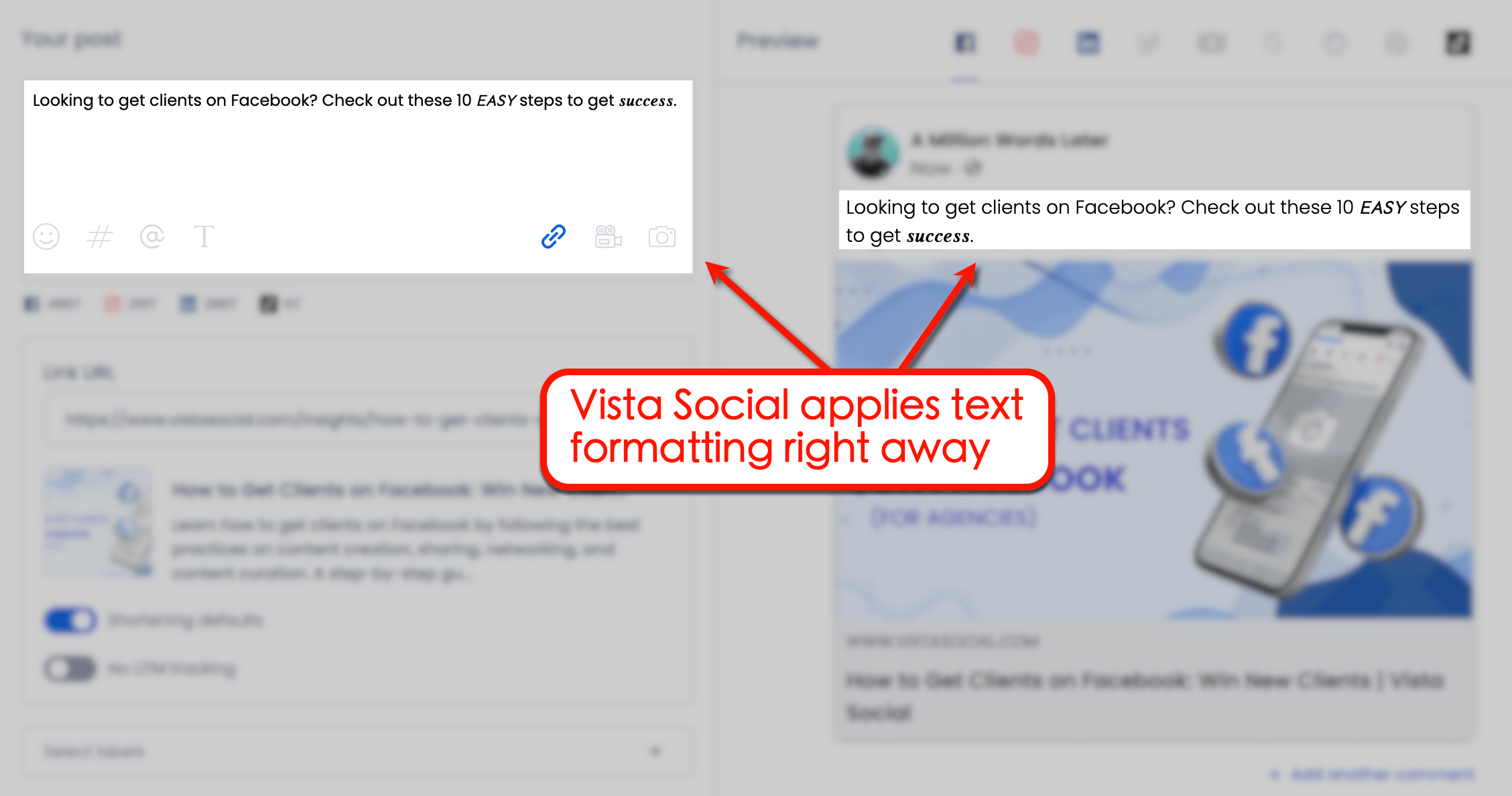 How to bold text on Facebook
Using bold text on Facebook involves the same steps as using italics.
You can either use third-party tools specifically for text formatting or a social media management platform like Vista Social.
Going with the latter is the more efficient route. Just build your post using Vista Social's publishing tool and format the text you want to customize.
Only this time, pick one of the bold options.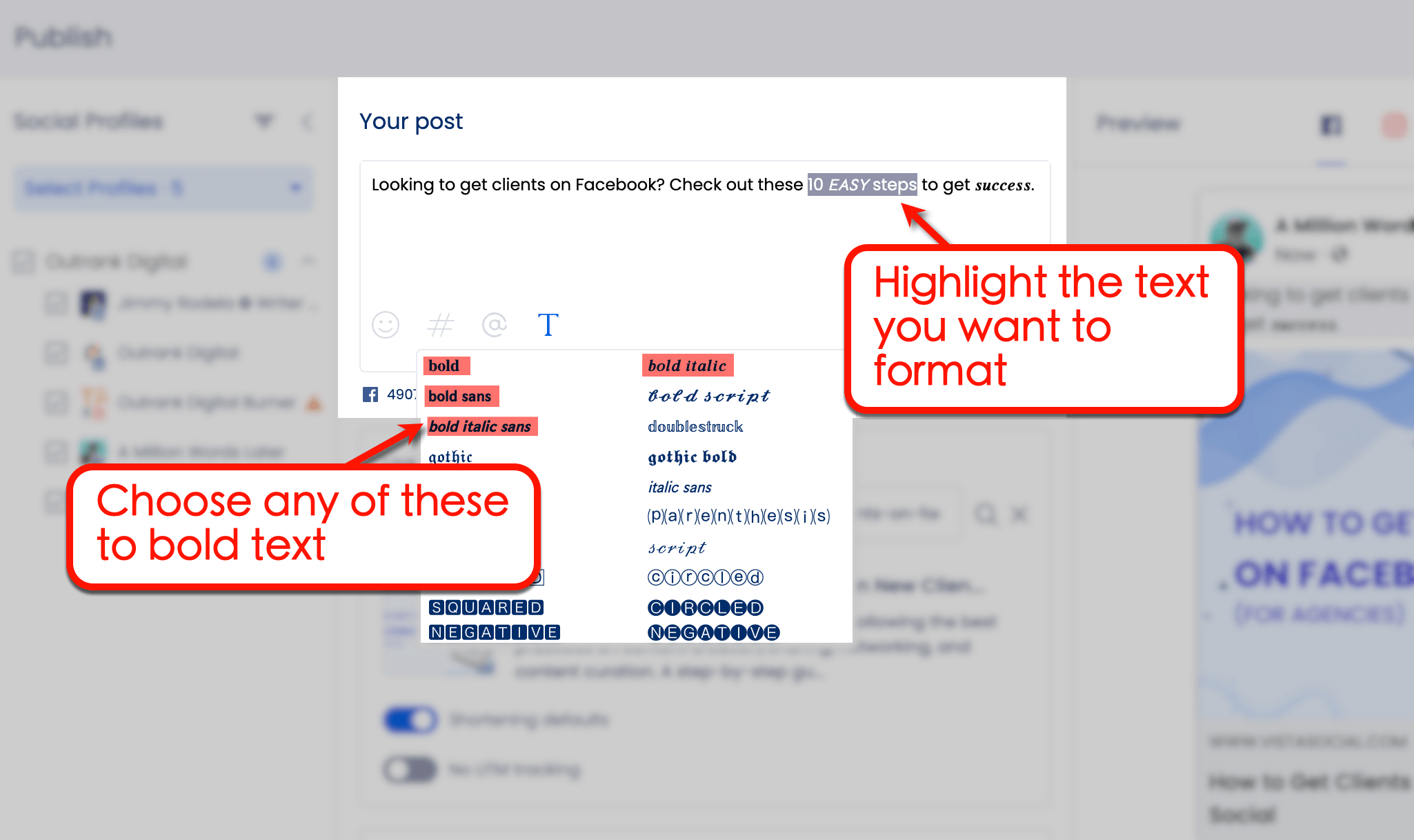 Again, it only takes Vista Social less than a second to work its magic. There's no need to go back and forth between multiple apps to format your Facebook post.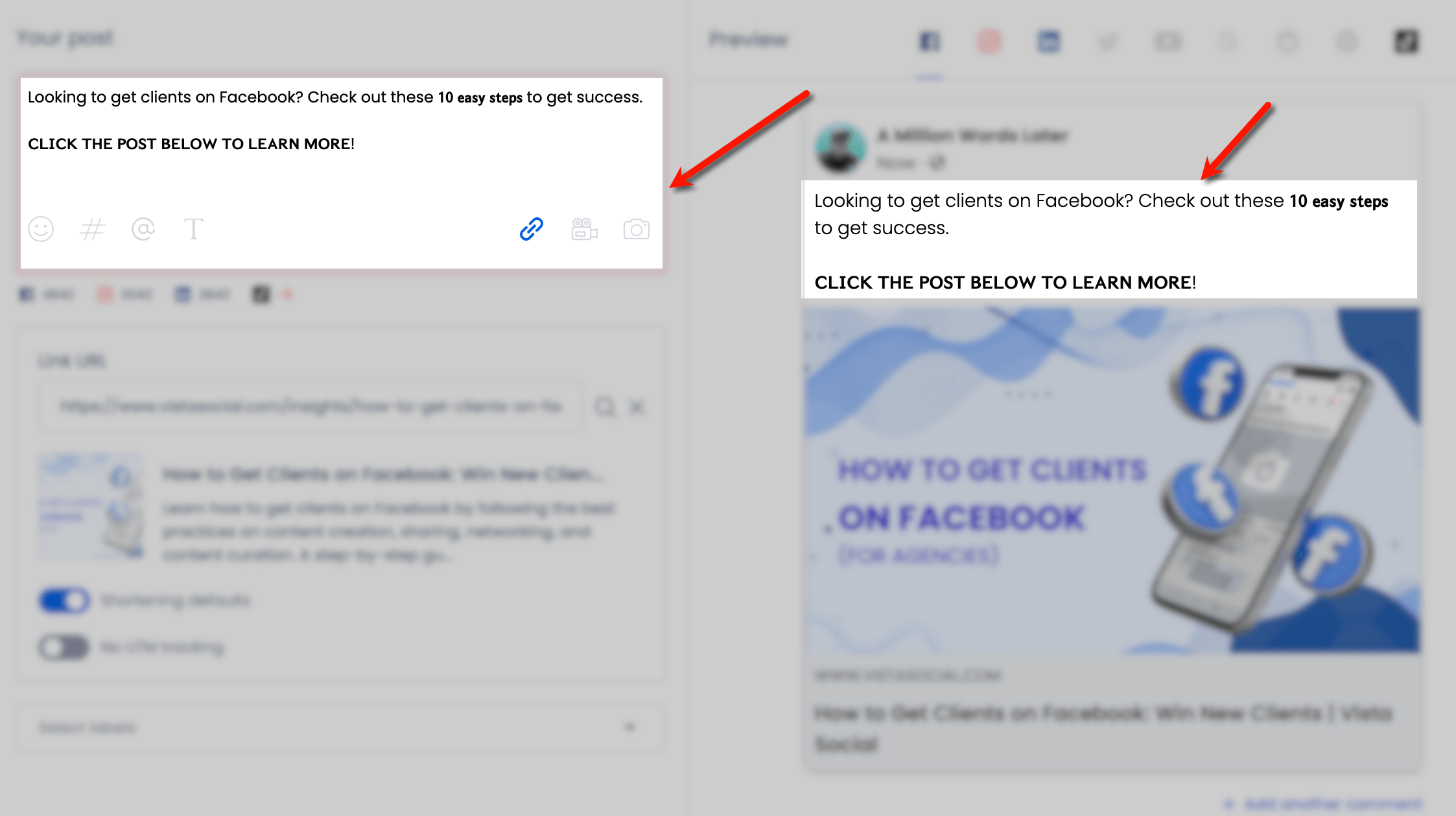 Take note that text formatting is just one of Vista Social's arsenal of social media management features.
After creating a cool and customized post, queue it up directly in your automated publishing calendar. You can also automate the first comment, fine-tune the audience targeting settings, and track your post's performance over time.
Facebook post formatting FAQs
How do I customize text in a Facebook post?
Use a text formatting tool like YayText or an all-in-one social media management platform like Vista Social to customize text in your Facebook posts. As of writing this post, Facebook doesn't offer a built-in tool to use customized text formats except for group posts.
How do I put bullet points in a Facebook post?
If you own a Facebook group, you can use the post composer to create bulleted lists in group posts. For regular Facebook posts, you can use special characters or emojis instead of bullet points.
How do you post bold text on Facebook?
Currently, group admins can use advanced formatting options (including boldface) in group posts. Regular users can also use asterisks (*bold*) to bold text on Messenger. For regular posts, a third-party app or social media management platform like Vista Social is needed.
Apply Facebook post formatting now
Imagine what you can do with custom text formatting on Facebook. You can highlight CTAs, use bold text as subheaders, emphasize keywords, and more.
With Vista Social, creating Facebook posts with custom text formatting has never been easier.
See for yourself by creating a free Vista Social account today.