Many brands have already realized the need to create engaging content to increase the number of their Instagram followers. But the trick is to post photos, videos, and Stories at the right time. Unfortunately, the wrong time is chosen – and your audience will not see the post. Instead, when posting during the hours when most of the subscribers are online and active, you can quickly increase the reach of followers.
So, what is the best time to post on Instagram? If you google this question, you will get thousands of answers on the web. Such companies as Sprout Social, Later, or Hootsuite have conducted their own marketing research to dig out the truth.
Let's stick to the Later's results that the company received after analyzing 35 million global Instagram posts. With the data you will discover in this post, you will be able to go ahead and schedule your Instagram content effectively.
What is the Best Time to Post on Instagram in 2022?
Below we have listed the best timing throughout the week:
Monday: 5 AM
Tuesday: 6 AM
Wednesday: 6 AM
Thursday: 5 AM
Friday: 6 AM
Saturday: 6 AM
Sunday: 6 AM
What about the worst timing for Instagram posts? Here you go.
Monday: 2 PM
Tuesday: 1 PM
Wednesday: 10 AM
Thursday: 11 PM
Friday: 9 AM
Saturday: 8 PM
Sunday: 4 PM
We are surprised to see such early hours for the recommended Instagram posting. We had always believed that the correct approach was to post when your audience was the most active. While it still works, this factor is not the only one that impacts the audience's engagement.
Undoubtedly, Instagram's algorithm considers timing, but probably not so much as before. Instead, the strategy "early to rise, early to post" is here. So, do not hesitate to post earlier in the day to avoid competition and be the first in the users' feeds. Then, whether your audience is active now or will be online in a few hours, your content has all the chances to be seen by the target Instagram audience.
Schedule your Instagram posts at the peak times automatically with Vista Social for free! No credit card is required.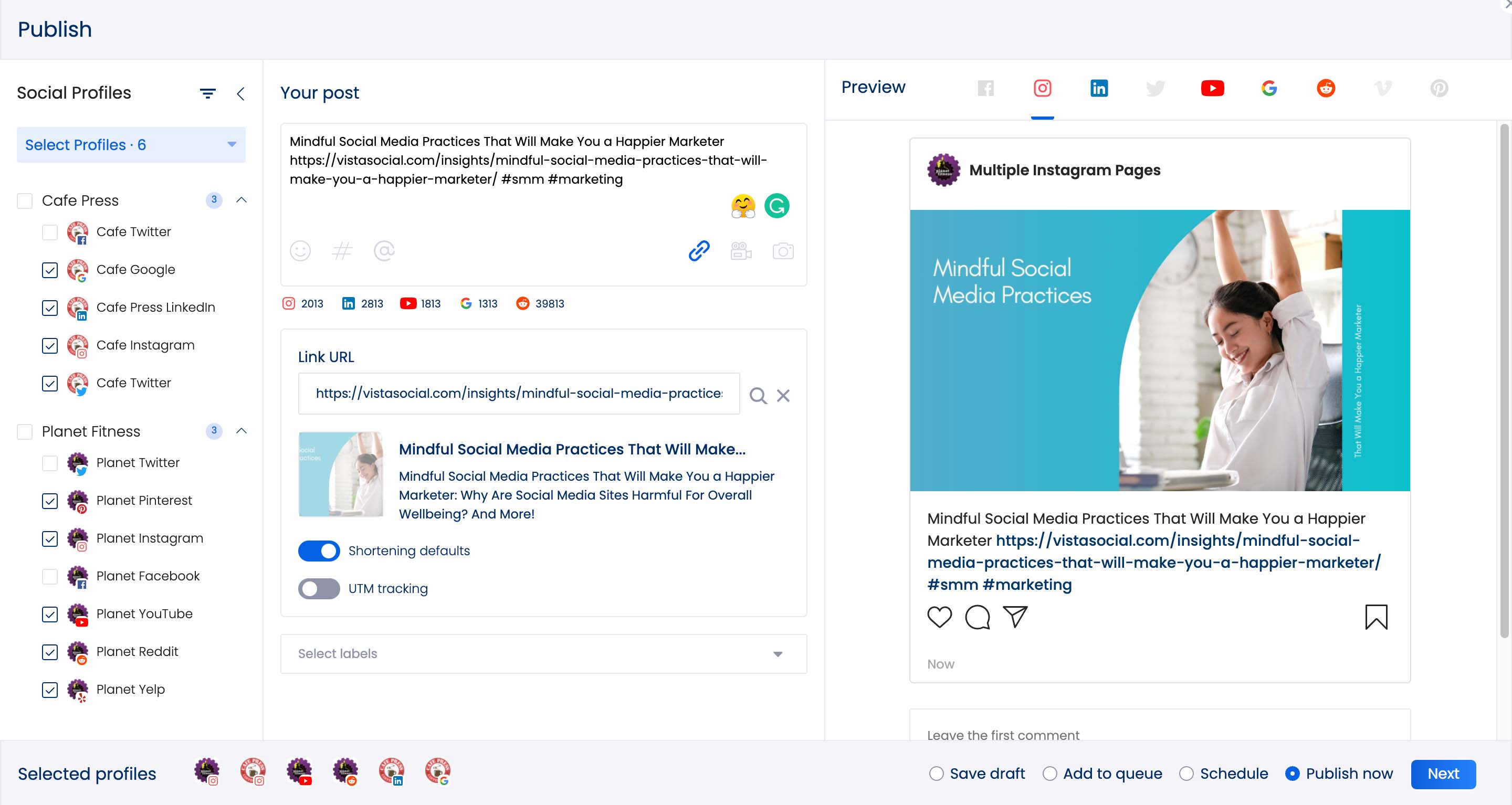 What is the Best Time to Post on Instagram by Location?
When talking about the best time to post on Instagram, your target audience's location also matters. Different areas may have different time zones, and this difference should be considered when scheduling the posts.
For instance, Texas is 2 hours ahead of California, but Instagram accounts based in Texas will likely have a target audience across both areas.
Consider these best times to post (in local times) across different time zones:
US and Canada (Western): 12 AM-6 AM
US and Canada (Central): 6 AM-8 AM
US and Canada (Eastern): 4 AM-9 AM
South America: 4 AM
UK: 4 AM-6 AM
Europe (Western): 6 PM-8 PM
Europe (Eastern): 5 AM-7 AM
Africa: 6 AM
South Asia and the Middle East: 3 AM
East Asia and Southeast Asia: 11 PM-4 AM
Australasia: 11 PM – 2 AM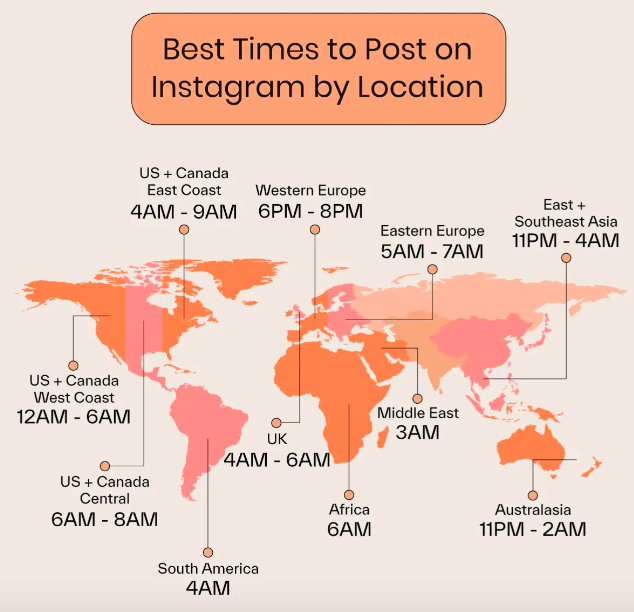 When you equip yourself with the knowledge about the right posting time and consider various time zones, you have all chances to cover most of your followers.
Are you looking for more tips on how to boost engagement? Then, discover the best ways to engage with your Instagram audience!
How to Find Your Optimal Posting Time on Instagram
While it is essential to consider "best time to post on social media" studies, you should come up with the personal best times to post on Instagram.
Here are a few options to check engagement activity and define your unique best time for Instagram posting:
Instagram Insights allows Instagram business account owners to see analytics related to their profile and posts. With this data, you can analyze your content and determine what works for your audience and what does not. Creating and scheduling content considering your audience's location and active hours will become much easier with this information.
Using a spreadsheet and its manual filling allows tracking your Instagram posts' performance. It is convenient, practical, and very informative. At the end of the month, you can easily output average indicators in terms of engagement and see the best posting time for your account.
1. Instagram's Built-in Analytics
Instagram Insights is a native analytical tool that reports data on demographics and subscriber actions.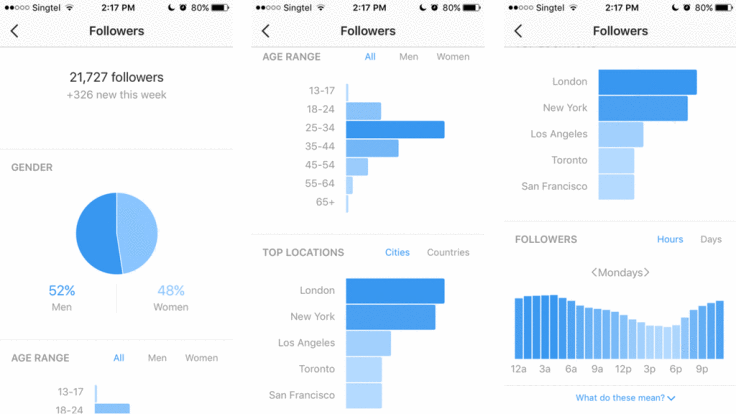 This information will help get a complete picture of the audience, where it is located, and, thus, conclude when it is most effective to reach the audience on the platform.
For example, if most of your followers are in Texas, you can schedule your publications for 6 AM CDT.
How to access Instagram Insights? Go to your profile. Tap the Insights action button. You can also go to and tap Insights in the upper right corner. Tap the metrics under the Overview section or specific content you have shared for a more detailed breakdown.
With Vista Social analytics tools, you can also track essential reporting and metrics about your followers. Take the guesswork out of your social marketing strategy and maintain complete oversight of your Instagram account with easy-to-use, user-friendly, and customizable reporting options.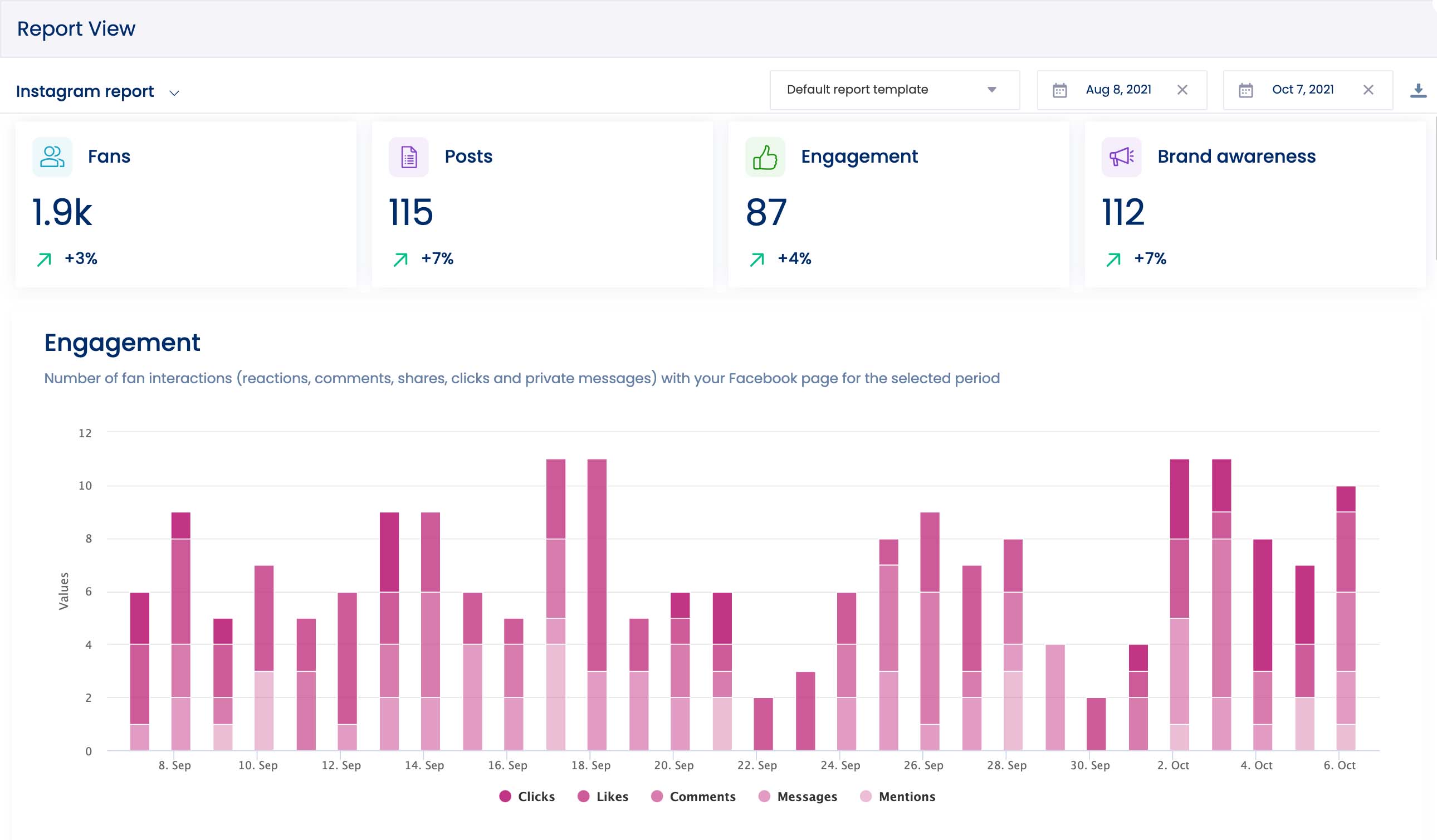 2. A Spreadsheet to Manually Track the Best Times to Post
If you prefer playing with numbers on your own, create a spreadsheet and keep track of posts' engagement at different times on different days. Experiment with different times throughout the week and check the difference you receive in engagement rates.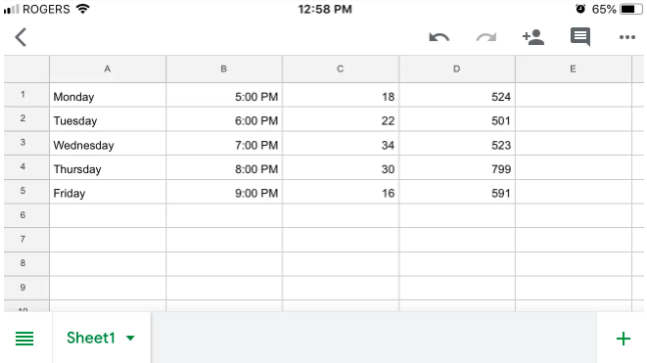 Once you have an idea of the best posting time, you can schedule your publications at those specific times.
How to Benefit from Your Best Time to Post on Instagram
Below we have listed a few tips on correcting your content strategy to make the best of it.
1. Plan and Schedule Your Posts for Prime Times
Consider either global best times for Instagram posting or your unique research to schedule your posts. You will boost your account's engagement and reach when posting at the proper times.
Remember, Instagram engagement has a compounding effect, so when your post gets the maximum reach and activity, it will get higher up on users' feeds. Moreover, it is a cyclical process – the more engagement, the more visibility, and circle-wise.
2. Prioritize Your Posts
When you have an idea of the best time to post on Instagram, you can prioritize your posts accordingly.
For instance, you see that weekend engagement is relatively low. With this information in mind, you can postpone your important posts to the weekdays.
Instagram reach and engagement are the most essential and complex indicators that Instagram algorithms are aimed at. Therefore, pay special attention to the post prioritization to get the best result.
3. Use Videos and Reels
Today, we mainly talk about feed posts, but the same posting rules apply to feed videos and Reels.
Video views directly impact the impressions of videos in 'Recommended' and search results. Accordingly, they play a role in promoting the account, forcing the owners to monitor the performance indicators regularly.
Instagram Stories have a 24-hour lifespan, so they are less time-bound. Still, it is also recommended to post them when your audience is most engaged.
How to Schedule Your Instagram Post for the Best Times
With all the information in hand, you are ready to schedule your Instagram posts for your unique best times to go live on Instagram. Planning and scheduling content ahead of time ensures that your post will be published at the correct times on Instagram.
An excellent way to achieve this is to use Vista Social scheduling and publishing tools. The platform allows you to speed up your efforts by creating predefined publishing queues (time slots) for your profile with no need to select a publishing time every time you post. Moreover, you can specify what kind of content you are looking for and how frequently to publish, and the system will do the rest. Easy, right?
Conclusion
No matter what products or services you sell, Instagram is a powerful channel to promote your business in 2022. But today, it is not enough to publish your posts whenever you wish.
Leverage optimal timing to post on Instagram and schedule your content with Vista Social. Start with a free plan to discover incredible content publishing power.